Five Reasons To Watch "The Lizzie Bennet Diaries"
Five Reasons To Watch "The Lizzie Bennet Diaries"
by Janet Potter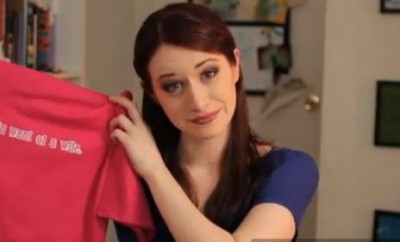 Next Thursday, March 28th, I'll be sad to see "The Lizzie Bennet Diaries," a brilliant web series that adapts Jane Austen's Pride & Prejudice to a modern-day California setting, come to a close with its 100th episode. Created by Hank Green and Bernie Su, both prolific producers of web-specific content, this series has, lamentably, reached the end of its source material.
Its premise is that Lizzie Bennet, a 24-year-old graduate student in mass communications, starts a video blog as a school project. Providentially, she starts this vlog just as rich med student Bing Lee moves to the neighborhood and starts macking on her sister, and everyone's lives go bananas. Since April 2012, two episodes of the "Diaries" have been uploaded per week, in between which the characters are active on social media, such as Jane Bennet's Pinterest boards and Mr. Darcy's Twitter account.
I got on board earlier this year, after idly (and skeptically) clicking on the first episode. Then I caught up in three marathon viewings, and now the days that the new episodes go up are high points of my week. There is something about Pride & Prejudice that makes me love having the story told to me over and over again. From the number of times I've read the book or watched the BBC and movie adaptations, the plot no longer holds any surprises, and yet the suspense is always there. "The Diaries" retains the tartness and romance of Austen's original story, even when Bingley's name is Bing Lee, nobody is wearing bonnets, and Kitty Bennet is an actual cat. Now that you can watch the series from start to finish, here are some reasons why you should.
1. BENNET SISTER GIRL POWER
In Austen's time, five sisters spending their days together was commonplace, but transplanted into a modern context, the genuinely close relationship of the Bennet sisters gives the series its refreshing, endearing center. The series demotes Mary and Kitty to cousin and feline status, respectively, and the Bennet parents are never seen, leaving us in the able hands of Jane (Laura Spencer), Lizzie (Ashley Clements) and Lydia (Mary Kate Wiles). All three are in their 20s and still live at home: Jane is underemployed, Lizzie is in grad school, and Lydia is an undergrad. Jane and Lydia regularly pop in to Lizzie's videos to help her relate what's been going on in their lives or, more frequently, to discuss whichever sister is not present. They are unflagging advocates for each other's happiness, a fact which becomes especially striking after The Incident of Lydia's Disgrace, and it makes you realize how much the loyalty and support the Bennets give each other is at the core of Austen's novel. (And they're all redheads!)
2. LYDIA BENNET: NOW LESS VEXING!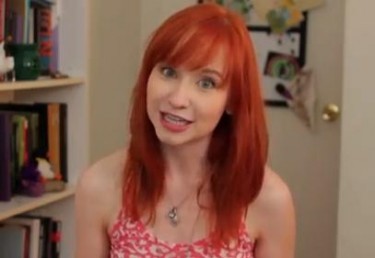 Although I've always loved to hate Lydia Bennet, this is the first time I've flat-out loved her. In Green and Su's adaptation, her blind exuberance and zeal for flirting are simply the result of her moxie taken to its extreme. It doesn't represent the totality of her personality: she is also perceptive, adventurous, and loyal. Watching Mary Kate Wiles juggle these contradictions, all the while making mischievous side-eyes at the camera, is an unending treat. Particularly after The Incident, her portrayal of a chastened party girl reviewing her life choices is complicated and compelling, with hints that her inner spitfire will soon surge back. For the first time I'm rooting for Lydia instead of rooting for her to be shoved off a bridge somewhere. (When Lizzie is away from home for extended periods, visiting Netherfield or with her friend Charlotte, Lydia maintains her own spin-off vlog, also produced by Green and Su, and this is great.)
3. AN A+ DARCY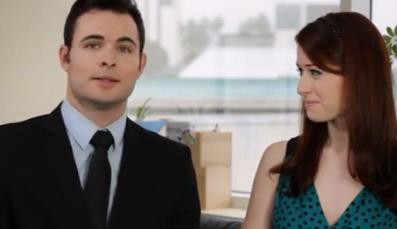 My heavens, this dreamboat. Because of Lizzie's original antipathy for him, Darcy doesn't appear for the first seven months of the "Diaries," he's just mentioned as an odious person to see at a party. Wondering when he'll turn up, and how he'll live up to the role of one of the most crushed-upon men in the history of fiction was a tall order for Daniel Gordh, but he manages to be true to the character as Austen wrote him and to make Darcy seem unique to this adaptation. Granted, the alchemy of Austen's story is such that if Pride & Prejudice was staged as a sock-puppet show I'd probably develop a crush on the argyle Darcy. But Gordh hits a perfect mark between gentlemanly reserve and simmering emotion — I could watch him sit uncomfortably in a chair for the rest of my life.
4. THE PLEASURES OF ANTICIPATION
Many of us, if I can presume I'm representative of a demographic, have Pride & Prejudice memorized scene-by-scene. It's great fun to know what points of the story are coming up, and waiting to see how they're updated. Is Mr. Collins really going to propose to two best friends within a week of each other? What will be the history between Darcy and Wickham? How will Lydia disgrace her family? What's ailing Anne de Bourgh? How will Mrs. Bennet connive to have Jane stay at Bing's house? Will Bing, Darcy, and Wickham have jobs? Will Lizzie take a turn about the room with Caroline? Will it be refreshing?
5. EVEN WHAT'S BAD IS GOOD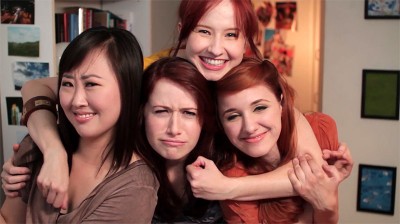 Because the series' conceit is that Lizzie is vlogging on a laptop, the only way to incorporate other characters is to have them join her in front of it. Have you ever been sitting at your desk when someone drops by to chat, and instead of you getting up, they sit down beside you at your desk and you talk to each other sideways. No? Neither has anyone else in the history of time, but so we can watch, this is how Lizzie has 98% of her conversations. Sometimes she and her interlocutor are purposely recording their conversation for the vlog, hence the strange seating arrangements. Other times, notably the first handful of times we meet Bing or Caroline Lee, they simply find Lizzie sitting at her computer and join her there for bizarrely revelatory dialogue.
These shoulder-to-shoulder conversations can be distractingly implausible. What would be worse, however, is if the series only showed conversations that Lizzie would realistically record for a vlog, thereby preventing us from ever seeing Bing or Darcy. That, as alluded to above, would be a grave misfortune. And while the series pushes the limits of encounters that would naturally happen at a desk, there are many other scenes that this particular format can't capture, no matter the contrivance involved. Lizzie and Darcy's first dance, Lydia making a spectacle of herself at parties, and Mrs. Bennet's flair for the ridiculous are all beloved elements of the book that are presented secondhand in the series.
Every storytelling medium has its limitations, and many of this series' machinations to overcome them have long been present in the theater (as anyone who's had a school play director bellow "face the audience!" at them during every rehearsal can attest). By choosing to adapt such a familiar story, the series' creators are allowing you to notice these limitations at each turn. You're not just watching them recreate Pride and Prejudice, you're watching as they problem-solve their way out of the constraints of the format they've chosen. Sure, it may have been easier to adapt a story in which less pivotal action took place at public dances that they can't show, but it may also have been boring. Watching Green and Su take on a story that stretches the capabilities of a new storytelling genre is both a primer for that genre and a testament to their ingenuity.
But technical and creative accomplishments aside, Lizzie and Darcy are about to have their first kiss for the 8 millionth time in history, and you should be there.
You might also enjoy: 'The Secret History': I Know What You Did Last Reading Period
Janet Potter is a staff writer for The Millions and blogs about presidential biographies at At Times Dull. Follow her @sojanetpotter.