Smart, Sportsy Things For You To Say During Super Bowl XLVI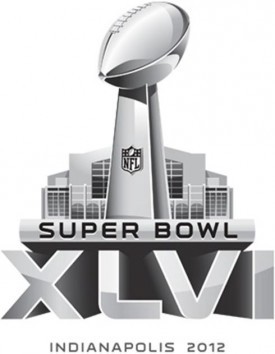 Want to be a pretentious show-off with your friends this weekend when the big game is on? But you don't know the difference between the infield fly rule and a two-line pass (or even to what sports they apply)? Well, it's OK. Sports radio enthusiast and noted laundromat-lurker Jim Behrle, who graced us with his haiku picks this NFL season, has once again written down a cheat sheet of smart-sounding things you can spout during the Super Bowl! Remember, always take a pause in the middle of every sentence for maximum gravitas. Don't choke on a nacho while you opine!
PRE-GAME
"During their last meet-up in the Super Bowl the Giants wrote the book on how to beat Tom Brady. Interior pass rush with pressure straight up the middle and meanwhile hitting receivers at the line of scrimmage. Also, not giving Brady the ball back with a chance to win the game in the fourth quarter."
"If the Giants' secondary can contain the young tight ends of the Patriots it could be a bleak day for them. Hernandez is fast and Gronkowski has great hands. If they're allowed to dominate they can eliminate the Giants front four as a major factor. Their crossing patterns take less time to transpire than one of those Wes Welker scampers."
"If Gronkowski's foot isn't 100% this will be a blowout worse than LaBalme's Massacre. Look it up on Wikipedia."
FIRST HALF
"Listening to NBC's Cris Collinsworth opine upon football and life is like listening to one of the Polonius speeches in Hamlet. Minus the Shakespeare and the desire to sit through it. He talks like a drunk uncle but is as obvious, wooden and boring as January Jones eating a sandwich and then vomiting it back up."
"Giants wide receiver Victor Cruz is just delightful." (Nothing else needs to be said about him.)
"The Patriots' defenses may be statistically one of the worst in the league, but they keep teams in front of them and limit the damage in the Red Zone. The Giants stats aren't that much better. The best thing both defenses have done is become better each and every week. There's no reason to think that they both won't play their best football of the season today."
"The Giants shouldn't rely on Eli Manning for more 4th Quarter heroics. Long drives with lots of straight-ahead running is their best bet. Whereever Vince Wilfork lines up, run the other way. If they can control the ball and the clock, they'll put Brady into positions for him to be at his Favreian worst; trying to put balls into small windows and into double coverage. He's handsome, but sometimes Tom is dumb, too."
"Ah, Brady often tends to second-guess himself at the line, trying to read the blitz when maybe no blitz is forthcoming."
"The Patriots were way better when they used to tape other teams' practices."
"I bet Jets' coach Rex Ryan is crying somewhere right now."
"I wouldn't be surprised if the Super Bowl MVP ends up being Patriots running back BenJarvus Green-Ellis."
HALFTIME
"The more I think about Tarantino's semi-amusing deconstruction of Madonna's 'Like a Virgin' in Reservior Dogs the more wrong-headed it seems to me. The song isn't about the pain of deflowering, but once again feeling nervous butterflies due to the anticipation and excitement that goes along with being deflowered. It's about feeling special, really giving yourself to someone — taking a huge sexual step with one person your first time. Wanting to feel that again: excited, anticipatory, breathless. Before the time when sex was just another thing to do: trying to recreate when it's the most important thing you've ever done. Feeling that."
SECOND HALF
"I bet Los Angeles gets a new football franchise before the U.S. gets another Republican president."
"Did you know that Patriots' punter Zoltan Mesko is actually Voltron's cousin?"
"Football will never approach the sheer beauty of a well-fought soccer game. But American football games are so much more satisfying. All the scoring and all the hits make it kind of a perfect morsel."
"Soon helmets will be made of something soft like leather, again. Something with a little give. You'll see a lot less trying to stop a man with your face, and a lot more open-field running and tackling. With zero concussions."
"When the NFL starts seriously testing for HGH all of these players will probably be suspended. Only Tim Tebow will be left. Until they prohibit in-game assistance from God."
"Belichick isn't an evil genius. He probably just has Asperger's."
POST-GAME
"Pitchers and catchers start showing up for spring training in the next two weeks!"
"'The Voice' makes about as much sense as HBO's 'Luck.' Minus the David Milchian iambic psychogarble. But with the very same level of self-importance."
"I'm already looking forward to next year's Letterman and Oprah ad. Who will star in it with them? President Romney and Vice President Gingrich, no doubt."
Jim Behrle tweets at @behrle for your possible amusement.