Who's Afraid Of Lana Del Rey?
Who's Afraid Of Lana Del Rey?
by Adam Rosen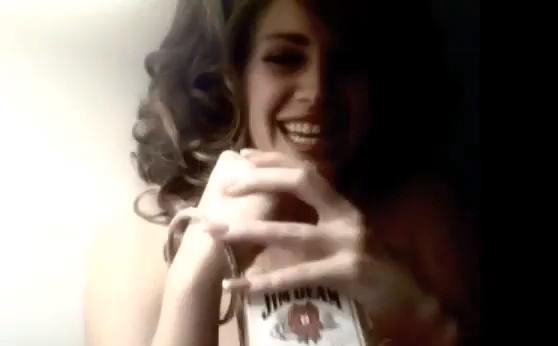 After nearly ripping the Internet apart, "Lana Del Rey" will make her grand U.S. debut tonight at the Bowery Ballroom in New York. Del Rey is the stage name of one Lizzy Grant, who, all the way back in 2008, arrived in the city from Lake Placid to try to make it as a singer-songwriter. Her hair was platinum blonde then, and her music, earnest and surf-inflected, was heavy on the organ. Though she did stick around long enough to do an interview with the Huffington Post, Grant ditched her persona (and her hair color) and emerged, this summer, as the current Interscope Records-signed entity known as Lana Del Rey. If you haven't heard of her yet, I'm informed there's a very good chance you will soon: according to The Hollywood Reporter, her "striking Lauren Bacall-like looks, perfectly-plumped lips and enchanting, hushed singing style" have made her "among the most buzzed about artists to emerge in recent months."
And buzzed about she is. In less than three and half months since its posting on YouTube, her single "Video Games — a schizophrenic montage that marries "'World of Warcraft' screen clips and paparazzi footage with vintage backyard home movies and skateboarding flicks" — has been viewed almost nine million times. Tonight's show, originally scheduled for the smaller Box on the Lower East Side, was moved to the Bowery after selling out in an hour; tickets to that show sold out in presale, and as of a few weeks ago scalpers were charging $175 for the $13 ticket. The real feather in Del Rey's fixie, however, came on August 3, when Pitchfork crowned "Video Games" a Best New Track. Not done with her, on September 30 the site published a 1,600-word exegesis on why she seems to provoke as many people as she awes, no small feat considering the "gangster Nancy Sinatra," as Del Rey's team touts her, hasn't yet released a full album. Although last Friday, Del Rey announced that her first album, Born to Die, will come out Jan. 30.
If Pitchfork's doting is one expression of Del Rey's rise, then so is the fact that meme arch-authority Hipster Runoff has devoted (as of this writing) 21 posts to mocking her. Business Insider, another in a growing list of passengers angling for a ride on the trash train, declared her a "hipster robot" and "musical equivalent of a smoke-filled room." (The heart pains to even think about Brooklyn Vegan, home to the music universe's most agitated hive of commenters.) You see, Del Rey is no regular old buzz beast. Plucked from obscurity in record time and with a boarding-school pedigree, she is a breathing projection of the most sensitive issues in navel-gazing today, chief among them authenticity, popularity and the intersection between the two. Given all of the wild imputations, interpretations and polarized reactions — again, despite Del Rey having done little more than release a very popular YouTube video — a more accurate "gangster" likeness may well be Hillary Clinton.
The reasons for this are not so complicated. As you are probably well aware, there is nothing — nothing — more important to the self-regarding music fan than authenticity. A high ass-shaking quotient and other traits may occasionally be permitted to mask flaws in verisimilitude, but the concept of realness remains sacrosanct. Even if she succeeds, Lana Del Rey will forever be the artist formerly known as Lizzy Grant. Bob Dylan may have been Robert Allen Zimmerman from Hibbing, Minnesota when he arrived on Bleecker Street, but, lucky for "Bob," there was no YouTube to tip anyone off. Sure, he couldn't pass as, say, Leadbelly (famously discovered by Alan Lomax at the brutal Angola Penitentiary), but Zimmerman could have reasonably refashioned himself into something happening without too much suspicion.
Such mercies no longer exist. A Tumblr in Comic Sans, a boring tweet, a shaky YouTube clip from an early open mike — the past, particularly for performers, is now near impossible to leave behind. When Del Rey calls you "honey" three times in "Video Games," a certain type of listener can't help but swear on Patsy Cline's grave. And thus explains, in great part, why the hype surrounding Odd Future Wolf Gang Kill Them All and Jay Reatard was considered justifiable, while the buzz over Del Rey is abominable. Whether you liked his music or not, Jay Reatard (not his given name) commanded respect because of his background — he spent his teens living in a trailer park in Memphis — and his "shocking" stage name. After criticism that Odd Future's lyrics were homophobic, front man Tyler, the Creator responded by telling duo Tegan and Sara (both gay) to hit him up for "some hard dick." You don't have to like Jay Reatard or Odd Future, but you will respect them. Because if you do not, the fragile ideals that prop up indie exceptionalism quickly give out to the simple matter of whether or not someone sucks.
(Such trifles are, of course, boringly mainstream; discerning fans would never judge an artist solely on whether or not his music is pleasing. The ascension of AIDS Wolf and The Fucking Idiots is not, presumably, due entirely to their soaring melodies.)
It is not exactly difficult to expose Lana Del Rey. As more than a few people have (gleefully) observed, her transformation between 2009 and now is almost remarkable in its adherence to certain trends in "thoughtful" music: South-infused twinge, check; slow-burn crescendo, check; plaintive nostalgia, check. (Having a rich daddy is, of course, another — Edwin "Win" Farnham Butler III, anyone? — but one often overlooked when it suits.) At this point, however, charges of corporate manufacture or artifice are about as cliché as the pretenses they point a wagging finger at.
So, does the new persona of Lizzy Grant suck? If her YouTube views and ticket sales count, it's obvious that many think she doesn't. The people want their gangster Nancy Sinatra, gatekeepers of authenticity be cursed. Adored reinventions Lady Gaga and Amy Winehouse were no less tools of the "corporate hand" (to use Business Insider's phrase) but their aims were different and more mainstream. With her striving "Macbook vlog style video," however, Lana Del Rey dared try to impress the type to enjoy a Macbook vlog style video — and for that she must pay.
However you view the Manichean death match between veracity and popular consumption, the Del Rey Affair has brought head-scratching and hand-wringing to new highs. Thousands of moans have been expended, but, fittingly in a made-for-Internet outrage, the most poignant commentary on the "scandal" (and the sorts of people who find the vagaries of an aspiring singer scandalous) comes from a commenter to a New York Vulture post about the singer:
ooh- a gangsta nancy sinatra! a backlash against her before real people hear her music! the mere mention of Paz de la Huerta! indie cred/disdain! i can't wait to NOT CARE!
Bitter, confused, wearied, and incredulous, this aside manages to encapsulate in two lines the entire spectacle of modern pop culture appraisal — and quite possibly the entire existence of anyone born in the 1980s. If only Lana Del Rey would make a song about that — you'd probably check it out. Maybe.
Adam Rosen is an online editor at Oxford University Press, and co-creator of the Real or Onion? news quiz.