Note From A Fanboy, by Adam Frucci: Ideas For Conan!
by Adam Frucci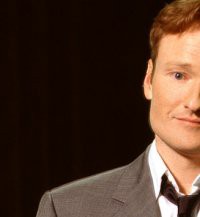 Conan O'Brien really might leave The Tonight Show. He's taken the high road with that letter that you've surely read by now, and good for him. Maybe he'll walk. Is that so bad? Conan's brief run on The Tonight Show has not been great, and I say that as an enthusiast.
The bigger stage doesn't seem to fit Conan, who's always been perfectly suited as the smartass flinging rocks at the adults. Now that he's one of them, he doesn't seem to be all that comfortable. The show feels scattered, and the rehired Andy Richter acts as more of an awkwardly distracting presence than comic foil.
But this shouldn't have, in part, precipitated a crisis. Conan took at least three years to really find his voice on Late Night. And while modern network TV is not exactly a medium that gives content a chance to slowly achieve its full potential, it's an old assumption that The Tonight Show gig was something you were committed to for decades… for better or worse.
At 46, Conan can do whatever he wants. There's random talk of him jumping to Fox, but that's more likely than not pure stick-in-the-eye posturing on Fox's part. Because, you think NBC has affiliate issues? Try selling a late night show to affiliates who have local news at 10pm, followed by lucrative syndicated sitcoms. And the cost of developing a late night show from scratch is $70 million or so. So it's safe to chalk Fox's "we love Conan" talk up to Kevin Reilly antagonizing Jeff Zucker.
What I'd really love to see is for him to do something else entirely. His pilot for "Lookwell," written with Robert Smigel, wasn't picked up when it was made, but that's because he was a 28-year-old kid.
Plus, now we have the Tina Fey Auteur Model. She left SNL to create a sitcom and ended up with 30 Rock, the best (if not most-watched) sitcom on TV. Five years ago, a comedy writer would think it insane to leave the position of head writer at SNL. But she's only now doing the best work of her career. What could Conan pull off with a change of format? With more than eight hours to polish his jokes?
And even Tina Fey can tell you that network television isn't getting any more relevant.
Conan is going to leave this situation — if indeed he does — with the most public goodwill that he's ever had. Cable networks from HBO to FX should be lining up to offer him a place to land.
Meanwhile, let me help Conan out with five ideas:
1. Go meta-and independent. Conan could follow in the footsteps of 30 Rock, Curb Your Enthusiasm and The Larry Sanders Show by creating a fictionalized version of his persona-including using The Tonight Show. Is he unsuccessfully trying to get acting gigs in Hollywood? Has he formed an elite squad of paramilitary fighters to get back at the executives that wronged him? Or, you know, just the sad tale of a man who may be getting paid tens of millions of dollars a year to not work, depending on how these contract talks go.
2. Use the "web." There's moderate success in the world of web comedy in CollegeHumor and Funny or Die-and, in a different vein, Dr. Horrible-and networks desperately churn out secondary content for their shows to place online (see: Heroes), but it still feels like we're waiting for the next big step forward. Conan is strong at short bursts of absurdity, which fits perfect with the format of web video. He could create a TV show that's inextricably linked to additional content on the web, bridging the gap between the two mediums. Or a TV show that's not even on TV.
3. Go back to your roots. A new Conan-penned Simpsons episode would be the highest-rated episode of that show in at least a decade. Adam West isn't doing anything right now, is he? Remake Lookwell and turn it into the series it should have been!
4. Become a magnate. Conan has the potential to walk away with an obscene amount of money. (He already has some!) If this time change ends up being considered a breach of contract, he could end up with as much as $50 million from NBC. Why not dump it into Conaco, his production company? He'd be free from corporate needling and could position himself as the Apatow of TV comedy (preferably minus the casual misogyny).
5. Write a book. Steve Martin went from stand-up to film, then started writing for the New Yorker, wrote two novellas (like Shopgirl, which he then turned into a movie) and a memoir. Conan is much funnier than (modern-day) Steve Martin. Conan's Harvard thesis was on the use of children as symbols in the works of Faulkner and O'Connor, so you know he's got the goods to write a hilarious novel.
Sure, all these things actually seem like risk, from where he is. And he surely doesn't want to follow in the footsteps of fellow obscenely-rich comedian Jerry Seinfeld, who's done basically nothing of merit since his titular show ended a decade ago.
But they're not risks. Because the thing that everyone seems to be forgetting is: who really cares about The Tonight Show? Like newspapers, vinyl records and having sex in the backseat of a car, it's something that people think they like, mostly for nostalgia's sake. It's 2010! Late night network talk shows are no longer all that relevant-the "brand identity" (sorry!) is negligible. Let Jay Leno go down with that sinking ship. This is a chance for Conan to work on a platform that's based on how people are entertained today, not how they were entertained in the 60s. He's got the talent, he's got the money and he's got the public on his side. And it's totally possible that soon he'll have all the time in the world. He's just got to figure out what to do with it all.
Adam Frucci is an editor at Gizmodo and a performer at the UCB Theatre.