The Missing Episode of VH1's "Tanning Of America": Ladies Make Noise!
by Justin Charity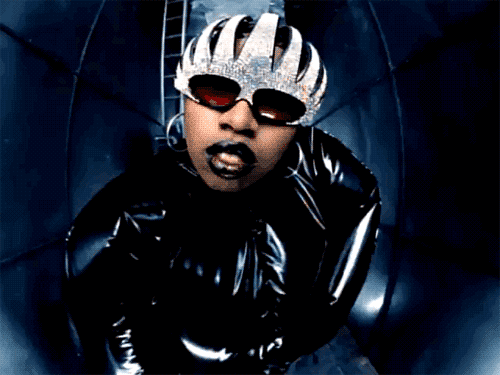 All my women in the house love hip hop, and yet it does often seem that hip hop has trouble loving them back. Gangsta rap and corner boy narratives aside, even the most thoughtful, most nakedly vulnerable emcees will identify a woman — if not all women, in general — as the vessel of their frustrations and fatalism. Kanye West will punctuate his "black excellence" thesis and anti-capitalist invective with poignant misogyny. In 2014, Yeezus is state-of-the-art.
But enough about the boys.
Watching VH1's four-part Tanning of America documentary — a broadcast reconfiguration of rap executive Steve Stoute's book of the same name, published in 2011 — you'd never guess that women listen to rap, much less that women have frontlined more than a few legendary careers since the genre's Bronx dawn in 1976. In VH1's exhaustive chronicling of hip hop's pop cultural march, the "rock doc" dedicates more than half an hour to parsing Eminem and the Beastie Boys and white rappers as a "phenomenon." Meanwhile, quite oddly, Queen Latifah is featured briefly as a commentator in spots — despite the documentary's neglecting any mention of her career. (Oddly, the doc's most prominently featured female perspective isn't even Latifah, but rather R&B; singer Mariah Carey.)
Consider that in a study of how marginalized communities mobilized to assert their shared values and various styles in American culture, VH1 dedicates eight minutes to Eminem and zero minutes to Lauryn Hill.
Since the late 1970s, with hip hop culture's flourishing throughout all subsequent decades and across all media, only a couple dozen female rap acts have achieved mainstream success, and none of them are fucking with Missy Elliott despite their talent and acclaim, histories such as Tanning tend to fail these women, much as the record labels fail as seekers and developers of female talent from the start.
We must at least revere the legends.
Ah, but first! — yes, yes, there's a few exclusions in what follows that are bound to annoy you, especially if your "all-time favorite" emcees are all backpackers with busted Keds and 3,812 followers on SoundCloud. No, we're talking classic artistry here. Cultural milestones. Arena mic drops. Funk Flex bombs. We're talking about the greats. Angel Haze is gonna have to wait, y'all. What we're gonna do right here is go back… way back… back into time…
ROXANNE SHANTE

"A lotta MCs today really know how to please, / But I gave birth to most of them MCs; / So when it comes around to the month of May, / Send me your royalty check for Mother's Day."
Hometown: Queensbridge, Queens, NY
Boss Type: Around The Way Girl Who Ain't Playin' With You Clowns
Career High: 'Roxanne's Revenge' (1984)
Farewell Hit: 'Have A Nice Day' (1987)
1984. Fourteen-year-old Lolita Shante Gooden from the Queensbridge Projects asked pioneer rap producer Marley Marl for a spot on one of his beats, to throw a diss at red patent leather rap troupe U.T.F.O. The four dudes from Brooklyn had just crafted rap's earliest Nice Guy(tm) rant, "Roxanne, Roxanne," about a girl who won't give them the time. Hence Lolita derived a moniker — meet Roxanne Shante.
In hip hop's Bridge Wars between KRS-One's Boogie Down Productions and Marley Marl's Juice Crew, Shante's affiliation with the latter crew — and the cross-borough popularity of her "Roxanne's Revenge" against U.T.F.O., a freestyle recorded in one take — meant all the grown-ass men within ten feet of a mic hopped on record to throw their most cringeworthy insults at the one teen girl who'd outsold most of them. (Rick James, at least, was a fan.)
By the end of the 90s, Roxanne had laid down more than a few last words in re the haters that had strafed infinite jabs at her family and sexuality. Monie Love would eventually tour with Big Daddy Kane, only to suffer Kane's "playa-proof" advances backstage. Dr. Dre would go on to brutally assault a veejay host in public, slamming Pump It Up!'s Dee Barnes' face to a wall, repeatedly, and then beating her down in a women's restroom. Roxanne was done sparring creeps, for the most part. But all the other girls were just getting started.
SALT-N-PEPA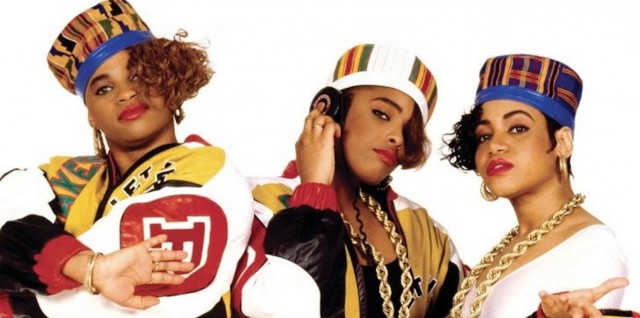 "I'm not shy so I asked for the digits; / A ho, no, that don't make me; / See what I want, slip, slide to it swiftly."
Hometown: New York City, NY
Boss Type: Three 18K Gold Cuban Link Lassos A La Wonder Woman
Career High: 'Let's Talk About Sex' (1990)
Farewell Hit: 'Whatta Man,' 'Shoop' (1993)
Despite hip hop's hand-wringing about Def Jam's imminent commercialization of its sound, the second act of LL Cool J's success in 1990 ("Mama said knock you out!") proved that hip hop could box with Madonna. The mogul Russell Simmons himself had previously swore against Salt-n-Pepa's longevity beyond 'Push It' and 'Tramp,' one-upped by 'Let's Talk About Sex' in 1990, and then again by 'Shoop' and 'Whatta Man' w/ En Vogue in 1993. Pepa recently told Billboard: "When our music started to get popular, believe it or not but we got slack when our songs were crossing over. Back then they'd call you a sell-out. That's what we went through. It's like we were outcasts. It was cool to be hardcore and underground, starving. We're like, 'We're not doing any of that. Sorry guys!'"
Excluding TLC's supremacy as rap-R&B; hybrid (more on that later), Salt-n-Pepa is still the most successful all-female rap group of all time. Russell ain't even mad.
QUEEN LATIFAH

"I punched him dead in his eye and said, 'Who you calling a bitch'?"
Hometown: Newark, NJ
Boss Type: Boxing Gloves With Tri-Color Stripe: Black-Red-Green
Career High: U.N.I.T.Y. (1993)
Young Monie Love's mentor but hardly so bubblegum herself — Latifah's All Hail The Queen debut in 1989 cut Public Enemy's fury with De La's funk. Between KRS-One and Chuck D, hip hop had Afrocentric intellectualism covered. Excluding feminist articulation, of course. Salt-n-Pepa were cute and saucy and all, but Latifah's biggest hits often featured her explicit confrontation of disrespect from the homies. Hip hop's first anti-street harassment advocate. Chief rocka of the revolutionaries. MC Lyte was prototypical. Queen Latifah was sound-checked, curtains-up, and with purpose.
What, in retrospect, was most delightfully unexpected: Latifah's pivot to a resoundingly great sitcom plus some forgettable talk show slots; or the fact that at this stage in her career, Queen Latifah's biggest vocal showings come courtesy of her jazz cover compilations and the Hairspray score? More than a decade after her Black Reign, Queen Latifah is prime-time iconic, a multi-variable diva of the highest order. Who else could mass-officiate a wedding televised during prime-time coverage of the Grammy's? Yeah, the Queen is sovereign like that.
TLC

Thinkin' short of what you got; / Better get it while it's hot; / Ain't no better love than your own.
Hometown: Atlanta, GA
Boss Type: Two Snaps To Materialize Graffiti All Over Your Mom's Living Room Walls
Career High: 'Creep', 'Waterfalls' (1994)
Farewell Hit: 'No Scrubs', 'Unpretty' (1999)
Resurgent Hit: 'Crooked Smile' (2013) w/ J. Cole
Here's the first of these emcees that the Gen Xers and the Millennials might adore in common.
Left Eye wasn't Snoop or 2Pac or even Naughty By Nature beau Treach — she was hardly the most impressive rapper of her generation. But as a tribe of three, TLC was a critical marker of hip hop's winning a greater share of the U.S. music mainstream without sacrificing its signatures: Bounce, blues, scratches, edge, and graffiti aesthetic. Whereas Roxanne, Salt-n-Pepa, and Queen Latifah confronted men as the chief antagonists of daily dramas, TLC was happy to evict men from the conversation when necessary.
Let us sing of cosmetics and proverbial waterfalls.
TLC's run wasn't a sprint, but rather a marathon. From OshKosh groove and gymnasium pump-stepping in the early 90s, through urban femme contemporary's electronica-clavier phase, see: "No Scrubs," also 50 percent of Destiny Child's catalogue, etc. TLC's doubling as both rap and R&B; craze — in the decade where both forms flourished in tandem, worldwide — accounts for the group's present status as the second-best-selling girl band of all time. "TLC" spelled backward is "MTV," no, not now, I mean the "TRL" renaissance, RIP.
After Lisa "Left Eye" Lopes' death in a car crash in 2002, TLC effectively passed the power-pop mantle to Destiny's Child and Beyonceé. Yeah, they were kind of a big deal, too.
LIL' KIM & FOXY BROWN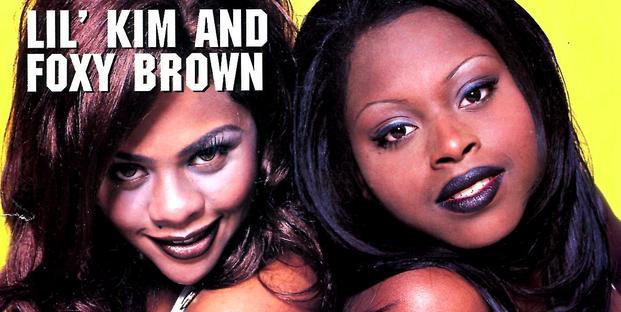 "Nasty girl: don't pass me the world; / I push the V, not the backseat-girl."
Hometown: Bed-Stuy and Park Slope (respectively), Brooklyn, NY
Boss Type: Bulletproof Mink, China White, And Puckering That Poison Ivy Lipstick
Kim's Career High: 'Crush On You' (1996), 'It's All About The Benjamins' (1997) w/ Puff Daddy and the Bad Boy Family
Foxy's Career High: 'I'll Be' (1996) w/ Jay-Z, 'Firm Biz' (1997) w/ Nas
Two Gotti-styled vixens listed together in this one entry because (1) their peaks overlapped and (2) they eventually came to loathe one another, and hey, look, I don't want no problems, alright?
As mafioso noir defined many of the mid-90s most critically acclaimed rap careers — the Notorious B.I.G., Nas, Wu-Tang, Mobb Deep, and Jay-Z — both Kim and Foxy were as good as the best of them and as bad as the worst. Not as mob wives, but rather as gangsters with their own fearsome repute. Lil' Kim was Bad Boy's belladonna. Until Biggie was gunned down in 1996, Kim was Puffy's second-largest in charge, scoring a top-charting debut in 1996 — Hardcore, rap's first classic LP from a female emcee. She wasn't the best-selling rapper on Bad Boy. But in hip hop's earliest age of glamour and brand power, Kim was iconic. Much as Biggie rocked Coogi and Versace down to the socks, Kim bragged forth as "the first rap bitch to rock Chanel." And unlike Rev. Mason Betha, Lil' Kim hustled well through the early 00s, dropping two more platinum projects in 2000 and 2003 in high-profile collaboration with 50 Cent and a pre-Dropout Kanye West.
Between the two of them, Foxy is the lesser celebrated darling these days. Ever the consummate trouble-maker, she spent much of her career between prison stints for violent altercations with fans, acquaintances, and police. And then she lost her hearing for a few months (?!) between 2005 and 2006. But at Foxy's height a decade earlier, she was a wunderkind in demand. Until "Big Pimpin," the highest-charting performance of Jay-Z's catalogue was his choral assist on Foxy's 'I'll Be' in 1996. The career-pivotal single from Jay's debut album that same year? "Ain't No Nigga," featuring a then-16-year-old Foxy Brown on the mic, stealing the show. Bow down, Mr. Carter.
LAURYN HILL

"In the Year of the Dragon, lots of men disappear, / Quiet as it's kept; they won't be back next year."
Hometown: South Orange, NJ
Boss Type: DARPA Prototype Personnel Railgun Camouflaged As Acoustic Guitar
Career High: Lost Ones, Ex-Factor, Doo Wop (That Thing), I Used To Love Him, Everything Is Everything — all in 1998
Farewell Hit: 'Mystery Of Iniquity' (2002)
The late 90s were hip hop's West Egg years. Jermaine Dupri in the pearl coupe, and the LOX in those shiny suits. Back when Hype Williams started sinking one or two million dollars per hit music video. For anyone who doubted that hip hop could hold onto its soul — as even dear Nas slipped into the sparkling abyss — there was A Tribe Called Quest, there was Outkast, and there was Lauryn. Everything Drake's given credit for today — the hardbody resolve of a precious kid, the nimble juggle of rap and R&B; and straight blues — Erykah attempted it first, and Lauryn did it better than anyone before or since.
Wyclef Jean, Pras, John Forte, and Lauryn. Four high school friends assembled first as the Tranzlator Crew and signed to Columbia's Ruffhouse imprint in 1993. Three years later, the sophomore savants turned in their homework, The Score, one of the very-most important crew albums of all time, in the pantheon with Run-D.M.C. and N.W.A. 'Killing Me Softly,' 'Ready Or Not,' 'How Many Mics' — Lauryn's voice defined the Refugee's breakout album as much as she ultimately came to define the tapering wit of the century's conclusion. Her solo debut, The Miseducation of Lauryn Hill, sold nearly half a million copies in its first week out, and more than a million copies by the end of 1998. Every track an anthem, all the anthems everlasting — Miseducation yet retains its spot as America's Soundtrack Of Self-Empowerment And Breakups With Foul Dudes.
Her run was brief but unimpeachable. No desperate, awkward, unforgivable reaches for new audience and pop appeal. Lauryn Hill didn't flame out. Homegirl just strummed her last set, and peaced.
TRINA

"Okay, are you sure you wanna sleep with me?
Hometown: Miami, FL
Boss Type: Pneumatic Black Bond With Ponytail Whiplash And Lethal Backhand Reverb
Career Highs: 'Naan Nigga' (1998) w/ Trick Daddy, 'Shut Up' (2000) w/ Trick Daddy
It was 1998 in a stank Miami studio when noted diamond-grill model and thug rapper Trick Daddy leaned to twenty-year-old Katrina Taylor with a challenge: "I want you to talk trash on [a] record for me…. Imagine I just pissed you off and you're just trying to tell me off in the nastiest way with your veins poppin'."
And thus a star was born.
If Lauryn Hill signifies the distressing adage that black women have to be twice as good (as Wyclef) to catch wreck in America, consider Trina the alternative counsel: sometimes you just gotta disregard, disobey, flip your two proudest press-on nails to the lens and say "fuck it." Lil' Kim had the Hardcore vanity cover, but Trina was the Hardcore pin-up on every track, in every video, 24/7 on BET. So here we have her as always — pouncing from all fours, shoving pliant men against headboards. Just raw sex appeal, and with untouchable mean girl charisma. And yes, she does bite.
At the end of the 90s, when the South's diamond grills were running victory laps around Manhattan, Trina was the essential "bad bitch" who held her own against Trick, Master P, Juvenile, Mystikal, Rick Ross — all those hollaback horndogs. Plus, of the women in this here chronology, remember that Trina was the first female rap star to grace the global internet age, e.g., Yahoo! Image Search, i.e., mom, one sec, I'm just, uh, finishing my sit-ups! The boys have no shame, nor did Miss Trina. Please believe, she gives zero fucks about your #respectabilitypolitics. Trina was a tease, alright, but she is #NotYourVixenSideChick.
MISSY ELLIOTT

"Planet-Rocker, showstopper, / Flow proper, head-knocker / Beat-styler, tail-dropper; / Do my thang, motherfuckers!"
Hometown: Portsmouth, VA
Boss Type: NASA-Engineered Tracksuit Designed For Jogging Laps On The Sun And Around Black Holes
Career High: Get Ur Freak On (2001), One Minute Man (2001)
Resurgent Hit: Nobody's Perfect (2011) w/ J. Cole
If you read Virginia's Constitution closely, down to the jot of amendment fine print between Article VIII, Secs. 8 and 9, you'll notice there's a proclamation of three artists' dominion over all things: Dave Matthews (sigh), Pharrell Williams, and Missy Elliott. Hence, a disclosure: I'm from Richmond and thus a Missy fanboy by law.
Her run was longer than you remember — from 1997 through 2005, just about. From Ja Rule, through Nelly, through Ludacris, Missy and her VA neighbor collaborator, Timbaland, redefined bounce, and thus redefined pop. Together they perfected the art of summer dance anthems and twerk spazzing, before "twerk" had even caught on as a word. As the frontwoman of Timbaland's synth jungle, Missy Elliott broke some glorious sweat. Her mind in the gutter, her feet in pristine Reeboks, always. When Hip Hop Got Its Groove Back.
All that said, Missy could rap, as her 1999 rap radio hit 'She's A Bitch' illustrated (with a two million dollar music video). Her affiliation with New York traditionalists Jay-Z, Method Man, and Busta Rhymes never diffused the booty-boom ethos of her partnership with Timbaland, her early work with Aaliyah, and some of her biggest hits with Ludacris. Yet never let it be said that she was just some hook dropper — even without a rapper-of-the-year all over her single, Missy was flipping spaz-infectious club cadences as late as 2005, until she was sidelined by tremors and complications due to Graves' Disease.
Dance first, dance later. In Missy's absence, perhaps The Black Eyed Peas and The Pussycat Dolls took it all too far, alas. Once upon a time, as the freshmen gathered 'round beer pong tables all across the land, a white girl learned to pop that ass and twist those shoulders — with feeling! Shout out to Missy.
NICKI MINAJ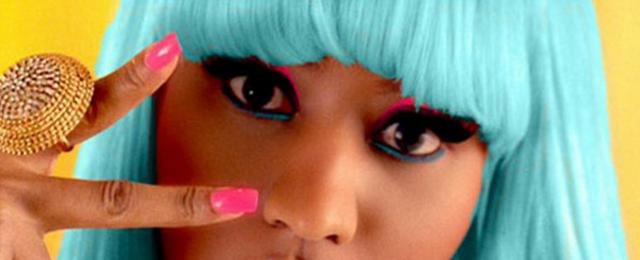 Hotter than a Middle Eastern climate! Violent! / Tony Matterhorn: dutty wine it! Wylin'!"
Hometown: Southside Jamaica, Queens, NY
Boss Type: Lip-Glossy Venetian Admiral With Anime Eyes And A Mute Perplexing Blink
Career High: 'Super Bass' (2010)
Resurgent Hit: 'Lookin' Ass Nigga' (2014)
Withstanding Kanye's Graduation in 2007 and Lil' Wayne's Carter III in 2008, "artful" hip hop had withered for a few years, in a rut. As rap classicists feared (again, ugh) the genre's reconfiguration as The New Pop, Nicki matched Eminem's dexterity and aggression with a certain bottle-service sensibility that somehow also made room for feminist melee. When not confined to wax, then in interviews. At every turn, she's all up in our faces.
There was a time when we regarded Nicki Minaj as an emcee more impressive than Drake, and potentially superior to Lil' Wayne. In 2010, she humbled none other than Kanye West, who recently conceded that Nicki contributed the single most impressive verse of his Beautiful Dark Twisted Fantasy. That same year, Nicki's own Pink Friday debut sold a couple hundred thousand copies, in a climate where the prevailing industry concern was that a rapper might go Gold, but Platinum debuts were exceedingly rare.
Nicki's second act wasn't a sophomore album, but rather a conquest of the pop cultural landscape. Briefly casting as a talent judge on "American Idol." Co-owning a fledgling moscato brand, which puts her in youth consumerist contention with the likes of Puffy and Jay Z.
"I've never been afraid to walk into the boy's club," Nicki told Forbes' Susannah Breslin. "Ever. Ever, ever, ever."
A few months ago, when Nicki sprung from studio hiatus with a remix of PTAF's 'Boss Ass Bitch', Complex magazine overlord Noah Callahan-Bever hyped that homegirl could be a top-three emcee "if she cared to." Trouble is, Nicki Minaj is fully booked, babe, sorry! She's a media darling, a conspiring mogul… though she swears that neither of those global distinctions dilutes her supremacy as emcee. At once a veteran and an insurgent within hip hop culture, homegirl can still snatch a wig. (N.B. Not to say we don't love you, too, Mariah.)
Justin Charity is a fiction writer and a freelance struggle correspondent in New York.