"The Hunger Games: Catching Fire": Your Eyes Are More Hungry Than Your Games
by Natasha Vargas-Cooper and Mary HK Choi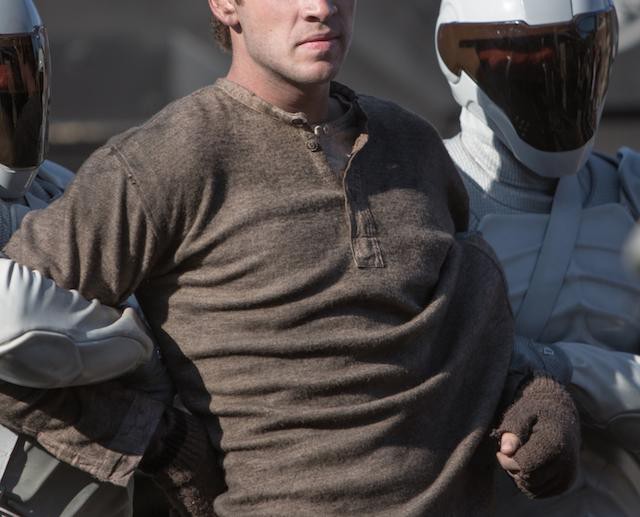 Once again, Mary HK Choi and Natasha Vargas-Cooper discuss the successes and shortcomings of the current popular cinema: now it's this weekend's box office burner The Hunger Games: Catching Fire.
Mary HK Choi: OK, did you watch the last movie ever again after the theater? I did not. Not even on the plane or VOD.
Natasha Vargas-Cooper: NOPE.
MHKC: RIIIIGHT? No desire, right? Like, zip?
NVC: Zero! And I know why: 1) Zero camp 2) Too much bad teenage acting 3) No hot teen sex scenes. Once you've seen Spring Breakers the world is DIFFERENT. IT IS DIFFERENT NOW.
MHKC: YES. This shit no longer has YA movie vibes at all. NUNZO. It's a proper big-ass, regular summertime jam, no? Or holidaytime jam.
NVC: It's mad proper in the sense that you loose 5 hours of your afternoon and there are sobbing girls around you BUT can I tell you??? CAN I CONFESS?
MHKC: GO.
NVC: I kind of REALLY LIKED IT.
MHKC: DUDE. ME TOO. The whole time I was like, 'OOOOOOOOH this is a good movie?'
NVC: And could it be because of the lack of YA vibes? And the adult actors??? I MEAN, JEFFREY WRIGHT??? AMIWRIGHT?
MHKC: Maybe for us? Like, I wasn't as mad throughout. Tucci continues to be excellent. The characters rule way harder.
NVC: I will tell you the moment the movie won me over: The commitment to fascist dramaturgy. I FELT IT! THE EAGLES! THE RED BANNERS! THE CROWDS!
MHKC: THOSE FREAKY VIDEO CAMS. I was super impressed by the tech, too. The keypad in the archery machine, the TVs.
NVC: Let's address one of the most crucial aspects that has improved between part 1 and 2. Firstly: THE GOWNS.
MHKC: OH YES. Not even JUST the gowns. Remember last time when I said all that shit was Eileen Fisher linens? This time, all that shit was RICK OWENS and that makes a huge difference. E-BANX's LOOKS WERE BEYOND. Her makeup, her shoes, the construction and the movement of her dresses.
NVC: Absolutely beyond. It was vulgar without looking cheap! Because, right, before it looked like Jinky's Basement Cyberpunk 1998 B-roll!
MHKC: The last one looked crazy budget. This was a total season 2 "Gossip Girl" moment. Season 6 "SatC."
NVC: Now, the BIG issue remains: there is Katniss and there is Jennifer Lawrence.
MHKC: And the two are now very different. And I LIKE HER. You know how there's this whole thing about how J.Law is your BFF and so norms and well-adjusted and dope and she has mom-hair and that's COOL NOW etc, etc. She's SO FAMOUS NOW and doing a good job. BUT….
NVC: Yes. J. LAW: Doing A Good Job At Being Famous.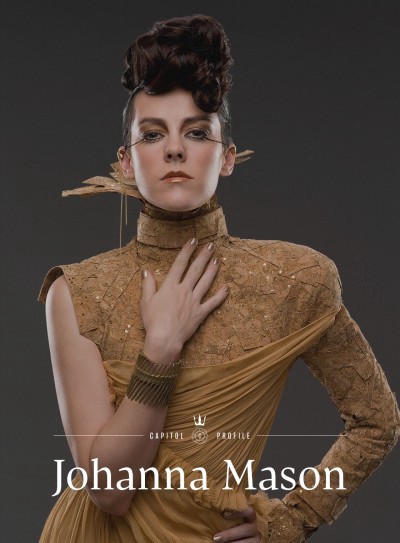 MHKC: I fucking do not like her in this role. Where IS SHE? Because to me Jena Malone KILLS AND EATS HER IN EVERY SCENE. #hongree
NVC: TEAM JENA MALONE.
MHKC: And I know she has shiny special vibes inside there that she can switch on. So where they be at?
NVC: I am not throwing shade on J. Law and her ability to maintain some sense of an authentic personality while being an A-Lister but I think she was kind of weak?
MHKC: Absolutely. Also her hair color is wrong and distracting.
NVC: She has this huge cat face that laps up the camera but she doesn't move much of it and I just felt like she had to empty herself out for it whereas K-Stew has to bring up her listless persona to its limits to play Bella in Twilight (RIP, miss u).
MHKC: I felt like she never quite got it up. She felt like she was a little over it? Maybe I am full-tilt distracted by her fameness for me to be into Katniss…
NVC: How do we feel about Katniss? As like, a role model?
MHKC: Oh, apples and oranges. She's so wack. Despite what President Snow's granddaughter thinks…
NVC: I think she's BORRRRRINNNGGGGG and FRIIIIIIGGGIIIDDDD.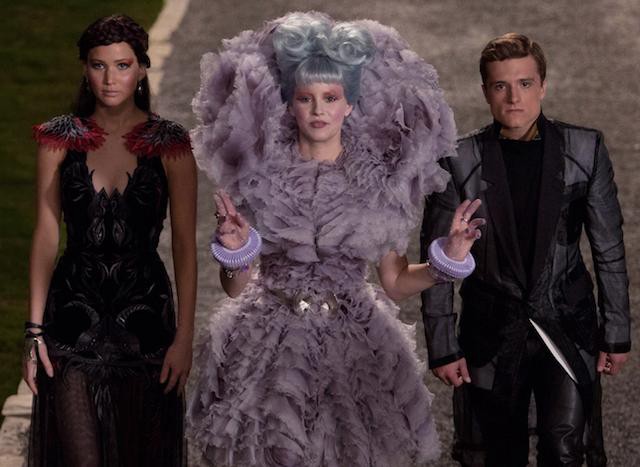 MHKC: Also, she wants to be the Mocking Jay OR DOES SHE?
NVC: She certainly does NOT.
MHKC: THANK YOU.
NVC: Whereas Jena Malone has such bizarre twitch intensity that even her non-verbal stuff is like WOAH WHAT TRAUMA CENTER DID YOU JUST GET RELEASED FROM?? And I would want to be like her running around the island with my oyster-knife chasing Career Boys. Also she brought eyeliner to the island, which is clearly important.
MHKC: OH GIRL. Speaking of eyeliner, can I just say I cried a LOT in this movie? Which is not at all the move. But there I was in my 10:05 a.m. matinee weeping a little.
NVC: UGHHHHH ME TOO????
MHKC: OH GOOD because I also kinda STAYED crying?
NVC: I KINDA WEPT IN THE DISTRICT 11 SCENE???? When they shot the withered African American man?
MHKC: It started with Rue. Got worse with Effie Trinket losing her shit. There are so many cry scenes. AND THEN CINNA. LENNY. CINNA.
NVC: Also for some reason when Magda from "Sex and the City" walked into the poison fog. RIP, OLD LADY YODA.
MHKC: Tiny, mute, sweet Magda who never once tied her hair up no matter how muggy that shit in that game got.
NVC: Bad bitch shit!
MHKC: Can I tell you what that scene where Cinna's getting beaten up and J. Law was going up that chute into the games kinda reminded me of?
NVC: Yes, please,
MHKC: Erm… Did you ever see the AHEM Katy Perry movie?
NVC: HA. No but am not HATING ON HER.
MHKC: There's this part where she's in PIECES, where she's getting a divorce from Russell Brand but has to play her SHOW and going up in that thing with her boobies twirling. It kinda reminded me of that. Actually her boobies were sparking? NO MATTER. Ugh. It made me sad.
NVC: I really felt that during her Claire Danes ugly cry. It was very Samantha Jones in the elevator!
NVC: Can we address Peeta and Thor Cyrus???
MHKC: Peeeeeeta. He's in for the long con, man. Like at the start? I was like, OH this fool and his breads are bitch-made. And then so many clutch and manipulative moves.
NVC: FALL BACK, CAKE FACE!
MHKC: PITA. Like where the fuck did he get that photo of Gail for that locket? Because to me: that tactic was AWESOME. For him to give it to her is so I LOVE YOU ENOUGH THAT I CAN LET YOU GOOOO in a way that is very next level. And must be insincere.
NVC: WAIT, HANG ON. I might be missing subtext here. Are you putting forward the proposition that Peeta is NOT a straight-forward dude? Because I thought that was his whole appeal!! I Bake Cakes and Don't Cause Trouble Peeta.
MHKC: No dude.
NVC: Oh man.
MHKC: It's an alpha roll — masquerading as some OH I'M WILLING TO TAKE AN L for you because I care regardless of what you're willing to give me.
NVC: I feel used and naive?
MHKC: While Gale is 100 percent salty. Peeta is on some, 'I know that I don't have a right to being salty because your heart is your own, this is your choice and I will take your friendship if you offer it. And then starts just MAKING INROADS because they're quarantined together.
NVC: GIRL, THIS IS A LEVEL OF EMOTIONAL COMPLEXITY I WAS BLIND TO.
MHKC: She's trapped with him so he's giving her space. Because it's his ONLY SMART PLAY.
NVC: I thought the deal was that Pita Bread is like kind of runty and reliant on Katniss for strength and protection and the Dusty Miner/Jim from "The Office" of Dystopia is just cool bad dude who is like, "Yeah, whatever"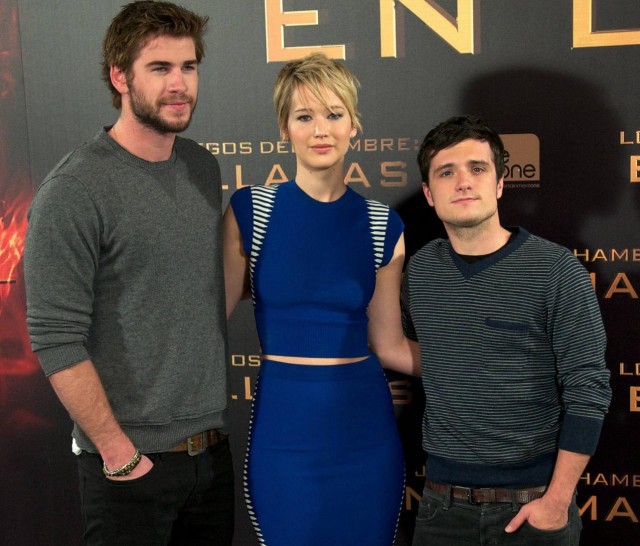 MHKC: Katniss is psychologically FUCKED. Peeta is creating a safe space for her to imprint on him.
NVC: YES! SPEAK TO ME IN THE PARANORMAL TERMS MY HEART UNDERSTANDS!
MHKC: Because in the beginning when both dudes are mad at her.
NVC: Right.
MHKC: And I was like, UGH. Annoying and then ol' Peeta played his hand. And well. When she's losing her shit when he hits that forcefield you can see all the good work he's put in. It's good stuff.
NVC: Also not trying sex stuff in the food train, just wholesome PTSD cuddles.
MHKC: YUP. Night terror cuddle puddle. He's sort of unfortunate though.
NVC: Because he is small and his face is wonky?
MHKC: My dude leaned over to me at one point in the movie and was like, 'Yo how much iller would this movie be if it was Parker Posey and Scott Caan in the leading roles?' Peeta suffers from Caanism of the face and headshape.
NVC: Absolutely. We need to review more outfits.
MHKC: The knits in this movie were GLORIOUS.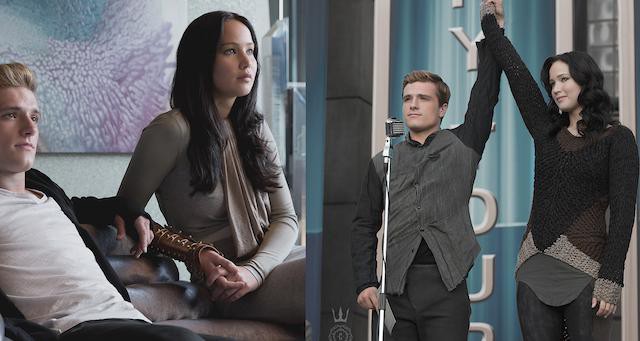 NVC: It was total Heidi Klum candids shots.
MHKC: Yeah with a GOOD BOOT. And those chunky ass little weird holster knits and her nighttime sleeping knits. The costuming was great. Trish Summerville kilt it.
NVC: Can we talk about Oscar Winner Philip Seymour Hoffman?
MHKC: OMG.
NVC: Girl, listen, my feelings about the Hoff are this: I feel him the HARDEST when he is featured. When he is weeping in a tank top on New Year's Eve to Mark Wahlberg. When he is bullying Matt Damon in Italy. When he is naked duct-taped to a chair in front of Ralph Fiennes. P-Hoff is like a biscuit. I cannot have a whole meal of him — too buttery and rich.
MHKC: RIGHT.
NVC: But just a few bites. SENSATIONAL I loved him. I loved every second. I savored him and his greasy frump cut!!!!
MHKC: I loved how NORMIE NORMSTORM he looked.
NVC: YES. Nordstrom Rakish.
MHKC: In that party scene he was basically playing Philip Seymour Hoffman. In a totes regs suit. With the BROWS.
NVC: Right? Did they dye his eyebrows? OR DID HE JUST COME LIKE THAT? They are like sink clog yellow.
MHKC: WELL I KNOW THIS ONE: the hair dept. made a gel that you could suspend dye particles in and combed it into hair and brows. That crap WARSHED right out.
NVC: I love this.
MHKC: Man, that shit looked so expensive. EVERYTHING LOOKED EXPENSIVE.
NVC: INCLUDING THE FOG BOILS!!!! I loved those!!!
MHKC: Oh yes. So time-consuming looking. And gnar.
NVC: HPV of the face is on POINT.
MHKC: Also, I love how Katniss tests anything out by sticking her hand in it?
NVC: There is another fundamental issue to address: the length. How do we feel in this Age of HBO Go and binge-watching?
MHKC: It's funny just when I was like, YES YES I LIKE THIS MOVIE BECAUSE IT IS A GOOD MOVIE AND WAY BETTER THAN FIRST NON MOVIE, it ended.
NVC: I was mad at the ending. Partly because I wanted more but also because I was like this is where the book-to-franchise shit comes in. I feel kind of "jerked around" for watching a 3-hour cliff hanger.
MHKC: Kinda thought the same thing; it's like, ugh, JUST GIMME.
NVC: LIKE, I WILL SIT HERE FOR ANOTHER 3 HOURS.
MHKC: RIGHT. And now part 3 is two parts. It's like waiting for the fucking BBC, it's just bad for morale, and frankly un-American. It's been YEARS since I read the books. FUCKING YEARS.
NVC: I also feel like the actual Hunger Games lasted six hours. I didn't even get… HUNGRY. LOLOLOLL
MHKC: I love that the hunger aspect is so gone. It's fine because there was no hangry in the first one either.
NVC: Totes fine. They had sashimi and were like "k, finished."
MHKC: "I have a pearl for yooooou, BYE."
NVC: OYSTERS!!!!??? Like, can I get a reservation at Hunger Island?
MHKC: They had zero mignonette so they SUFFERED.
NVC: Is this a "good movie" or a just good "movie experience"?
MHKC: The latter.
NVC: What makes Hungry The Games Sequel the latter? And isn't that just what most movies are these days????
MHKC: OH WELL LET'S NOT BE CRAZY.
NVC: CUZ EVERY ONE JUST WANTS TO GET HOME AND SEXT AND HAVE CHAMPAGNE FACIALS!
MHKC: Look, I LOVE garbage. And will watch anything, especially if it's extra large. I love the shit out of a movie experience and this was a "better" movie.
NVC: It is as equally as satisfying as just a plain good movie for you?
MHKC: Sometimes yeah. It's like eating ALL the Doritos. I'm OK with that. Because also Imma be straight with you sometimes I can't deal with a GOOD MOVIE.
NVC: OOO YES.
MHKC: Sometimes I want to Men in Black light myself in the face right after a movie and have lunch about it.
NVC: Right and not be curled up with FEELINGS. Or sometimes, for me, in all realness, some weird envy.
MHKC: I'm so lazy, NVC, and I like being inert and entertained at. Who needs to parse feels? Just movie me…
NVC: And be like, "Take me where you are, Mark Wahlberg."
MHKC: Yeah. Movie me right in my fucking face.