Seizing The Freedom Of Men: A Road Trip Alone
by Maya Rao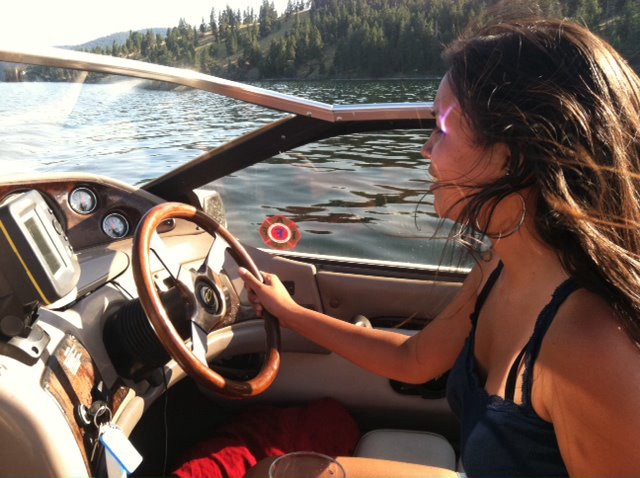 Driving Mario's boat on Flathead Lake in Montana.
A day and a half after meeting at Moose's Saloon, Jude and I boarded a raft with his pit bull and began floating down the north fork of the Flathead River.
He called himself a mountain man, and was eager to guide a city girl on life in the outdoors.
"We're going down the river, going to have a Montana adventure today… because we're craaaZAY!" he sang loudly, as other people sailed by.
I hadn't showered in three days because I was sleeping in the car to save money, but Jude didn't seem to care. Neither did his dog, who kept leaping into my lap. Jude grinned, turned up some reggae music, and broke out his stash of marijuana.
We were just south of Canada.

Three weeks and 5,000 miles earlier, I took a month off from my job as a newspaper reporter in Philadelphia to roam around the country by myself in my blue Toyota Yaris. Day after day I broke every rule on how to travel alone as a young woman:
Sketch out a schedule. Reserve hotels ahead of time. Don't talk to strangers.
Instead, I woke up in my car at some truck stop or side street — inside a $20-a-bed hostel on the luxurious mornings — with only a hazy idea of the day's schedule, all subject to change if some interesting person or opportunity crossed my way. I did not want to spend thousands of dollars on hotels, and in any case, continental breakfasts at the Holiday Inn are not what proper road-tripping is about.
Taking such a journey is a declaration of independence and self-reliance, traits that women are expected to have but not have too much of. It is socially acceptable for a woman to fly alone to Paris or Buenos Aires and pay good money for good accommodations. But rambling around the West with randos, hanging out in boats and bars with strangers, and showering in truck stops? That is the domain of the male explorer.
Women are conditioned not to take as many risks as men in this regard. We are deluged with messages that we are vulnerable by ourselves, that men can prey on us. I still have memories of my mother discouraging my sister and I from wandering around much as children in our virtually crime-free suburb, warning that somebody could kidnap us. She readily admitted that she would have let us do much more if we were sons. These are more dangerous times, she and many other women insisted to me over the years: Look at all the scary stories on the news!
So I grew up envying the freedom boys had to chart their own course. Years later, and living on my own, I struggled to identify with my many female peers who were turning inward, settling into the comforts of home and relationships. I was haunted by the vastness of everything I had not seen and experienced and felt a push toward the unknown. Weeks before my 27th birthday, the road opened up like an answer.

I drove. I drove west. I kept driving, across interstates, down faded main streets, past mountains and forests, beyond my own fears, until somewhere in central Arizona, as signs loomed on Route 66 for Los Angeles, I was too far away to turn back. My defenses began to sink.
I met a college basketball coach in Flagstaff, Arizona, the little town south of the Grand Canyon where the planet Pluto was discovered in 1930. He introduced me to Tuesday night karaoke at the landmark Hotel Monte Vista, where a loud singer named Avianna Acid was hogging the spotlight and an old man jutted his hips to "Foxy Lady." In Salt Lake City, a bar referred to me by a hiker at Zion National Park turned out to be lousy, but I encountered a former Australian expat there who showed me around Utah on his Harley while the locals geared up for the Days of '47, the commemoration of Mormon pioneers' arrival in the state. We knocked back Polygamy Porters to celebrate. After exchanging pleasantries in the park, I went rafting down the Boise River in Idaho, the westernmost point in my journey, with a business student and his middle school brother.
As their friends gave us a ride in a pickup back to my car down some winding road in the boondocks, just four words ran through my head: What. Am. I. Doing.
While I hung out with some other women on the road, including a Hungarian au pair who was seeing the country by bus alone until her visa expired, most of the people who struck up conversations with me were men. They naturally had fewer defenses up, and were more inclined to be off-the-cuff. I laid down the boundaries of a traveler seeking only a friendly guide and not a romantic encounter, and my companions accepted that without incident. I usually lied that my sister was meeting me at the next stop, or was somewhere nearby. I was always vigilant, looking for signs of anything awry; the more miles I traveled, the stronger my intuition grew.
Still, finding the right nighttime accommodations could be difficult. I was haunted for days after hearing fumbling noises at the side of my car in the parking lot of the St. Louis airport — they sounded like a thief with a pistol, but turned out to be a possum. After staying too late at the Grand Canyon, there was nowhere to crash when night fell except the isolated parking lot of a hotel that charged $117 for its cheapest room — more than I could justify paying — and I could barely sleep for fear of being kicked out. (I should have just paid.) In Salt Lake City, fed up with a hostel room that reeked of my roommate's musty body odor, I pulled into a Flying J truck stop, but soon decamped for a residential street after a handful of men smoking cigarettes across the parking lot outside stared hard at the car for several minutes.

Two and a half weeks in, I woke up screaming in Boise after seeing a shadow creep up to my hostel bunk bed in the dark. I felt a tap on the shoulder. "Sorry, I know there's nothing scarier than waking up to a black man standing over you," I heard someone say. My eyes adjusted. Oh. It was that guy who had been hanging around the hostel common room the evening before; his name sounded something like Jaysan and he seemed to live there. "It's not because you're black," I said, "it's because it's six in the morning." Then came his invitation: Would I like to go for a hike and see the city just after sunrise?
ALL THE SINGLE LADIES (AND THE MARRIED ONES TOO)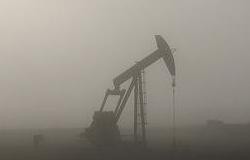 I was barely a moment inside Walmart, studying the cucumbers and avocados, when a middle-aged man came up to say hi.
We started talking about the oil boom sweeping Williston, North Dakota. He said his coworkers were losing it out here in the middle of nowhere. Maybe he would lose it too.
"You gotta really be focused on your shit," he said. "And it's hard. And on that note, that's why you should let me take you to dinner."
As we drove out to a hillside and began our trek, he told me he tried to live life like a movie to entertain his ancestors who were watching from the skies. His dream was to start a commune for African-Americans in Idaho. He claimed to have walked across Japan, had a dishwashing stint in Russia, sold drugs in Harlem, and lived with gypsies in Romania.
It was a relief to seek counsel about my journey from such a nomad extraordinaire. With this skinny, goateed man I'd never see again, I could run on about all those taboo things you can never say in polite company, like how the best places to sleep in the car are the parking lots of airports and upscale hotels and residential neighborhoods near college campuses. He had some lessons of his own to share, like how he scored free peanuts and ice cream samples in Boise to save money on food. He stayed afloat with odd waiter jobs, a secure career, as he put it, because even in a bad economy people always want to be served. Before departing for work that morning, after we had breakfast at a coffee shop, he called up a kid at the hostel to accompany us on a tour of the eccentric murals in an underground parking garage.
If the spirits of my ancestors really were watching, like Jaysan supposed, I wonder what my great-grandmother would have thought, born on a farm in southern Minnesota in the late nineteenth century when the prospect of a woman going off on her own truly must have been unthinkable. Or even my grandmother born in India, married and pregnant as a teenager while the country was still a colony of the British Empire. In twenty-first century America, women have every means to explore: we make our own money, we get to decide when, and if, we want to have a family, and we have the benefits of cars, smart phones, AAA, and GPS. The psychological barriers to bumming around by ourselves are much larger than the real ones.

I left that same day for the 370-mile journey to Missoula. But night fell too quickly. I kept forgetting that the uninitiated should not drive after dark in the West, where the black sky is eerily vast and animals dart into the road like ghosts. Alone in the mountains, the only lights navigating the Lolo and Clearwater National Forests were my own. I started tripping on my own anxiety. Shadows of trees morphed into sneering goblins protecting their territory, chasing me.
I burst out of the wild onto Route 12 so late the McDonald's was already closed. The road was lined with casinos flashing neon signs. I gave up trying to find some hostel I had read about on the Internet after a series of wrong turns and instead walked into a saloon. Soon after ordering a Moose Drool I met an older, tattooed firefighter named Mario who was on vacation. I said I was traveling with my sister and she was sick back at the hotel.
He was married with children and showed friendly concern for such a listless traveler who knew nothing about Montana. He invited us to Wild Horse Island on Flathead Lake, where he was visiting extended family who had a cabin.
I confessed that there was no sister, but he stood by his invitation. He picked me up on a boat two days later off a gravel road an hour-and-a-half north of Missoula to come meet his family back on the island. His uncle and twentysomething nephew talked to me like it wasn't weird that some Philadelphian they didn't know had showed up at their cabin to drink their mimosas.
The fun was short-lived. Mario took me for a walk in the woods about an hour later. "Look, I really messed up," he said.
His aunt was livid because it was her last night of vacation and someone she didn't know, however polite, was hanging around the property. He should have checked with them first. After taking me around the island on a quick boat ride, all the while apologizing, Mario dropped me off on the mainland, and said I could find a place to stay an hour up the road in Kalispell. He told me to check out Moose's Saloon, if it still existed — the last time he was there was 15 years ago. Mario then gave me $50 for a hotel because he felt so bad, which was like making money since I never stayed in hotels.
I should have been mortified, but my sense of shame had dissolved a few thousand miles ago.

Moose's Saloon was still standing, and I went inside and ordered a pizza. That is how I began talking to Jude, a carpenter from Whitefish. I could barely hear him above the raucous crowd jammed together over a floor covered in sawdust, but we got along all right, and after less than an hour of chatting he invited me to go rafting and camping with him just outside of Glacier National Park.
Since he seemed to have some romantic interest, I told him I would go only as long as he understood we would not be hooking up. He grinned.
"I bet I can change your mind," he said.
I hesitated — camping might be going too far — and told him I would call him later and let him know.
But driving around Glacier National Park the next day was sad and dull. Unlike the parks in Utah, I couldn't hike solo here — there were warnings against it because of the bears. Being alone in such a remote place was not an adventure; it was a handicap.
With my guard stiff, I dialed Jude's number and told him I would go. As a friend, I reiterated. He seemed goofy and harmless. I showed up the following day still un-showered since the last time we had met, with no makeup and wild hair, figuring repulsiveness was a sufficient barrier. Jude had me meet him in West Glacier with his dog, Kona, named for a part of Hawaii Jude had never visited.
I followed him along back roads to the Flathead River, where the road ran through remote terrain and finally became all dirt. It sloped down a hill and along rocks fronting the riverfront, a route that appeared only designed for the pickup trucks that everyone in Montana drives.
We pulled up by the water and he began unloading his camping gear: axe, knives and all. The plan was to take his truck up to the point where we'd begin the rafting trip, float down to the spot where we were leaving my car, and camp there before I drove us back to his truck in the morning.
It took four hours to get to the camp spot, where we made stir-fry while it grew dark. As we ate sitting on a log, Jude told me about his wife leaving him three years ago and how he cried and struggled to mend his heart again. He was not bitter. Montana, he said, fostered an indomitable spirit in people.
I began to fear what would be expected of me, so I fake-yawned and told Jude I would go to bed early, leaving him to drink vanilla-flavored vodka by the campfire and sing to the moon. But we woke up at about the same time, and he threw an arm around me. It was time to get out of there. I leapt from my sleeping bag and climbed out of the tent. "It's too hot in here," I said.
As we were packing up, he said that I was too reserved for him.
"I go off on a camping trip with a guy I don't know and you're calling me reserved?" I asked.
I told him that, yes, I was holding back a little, but that was largely because I had to keep my guard up in case he was going to kill me.
He suggested that I quit my job and move to Whitefish, an offer that I gently declined.
My little car had transformed into a toxic dump strewn with clothes, fast food, and empty water bottles, but I cleared out just enough space for Jude and Kona in the backseat. The road back to where we'd left his truck was the worst stretch my Toyota had ever ridden.
It groaned and struggled over the pebbly road as the Montana pickup trucks blared their horns at us and flew past. I began yelling at Jude. I didn't think we'd make it. "It's okay," he told the whimpering dog. "We're going home soon."
A couple miles later, we arrived. Thanks to Mario, I had some cash on me when Jude, noting he was broke, asked for 30 bucks for the food, booze and camping fee.
So they began driving west and I took off south, then east for many days through mountains, plains, and cities. It had been a little scary, I thought, as I neared home after four weeks and 8,000 miles. But not as scary as it was liberating in the knowledge that I really could chart my own course. Not scary enough not to try again sometime.
Maya Rao is a staff writer for the Minneapolis Star Tribune. Her dream road trip is driving across Russia, but she is not crazy enough to attempt that one solo.