Who's Endorsing Whom? A Complete Guide To New York City's Mayoral Race
by John Stillman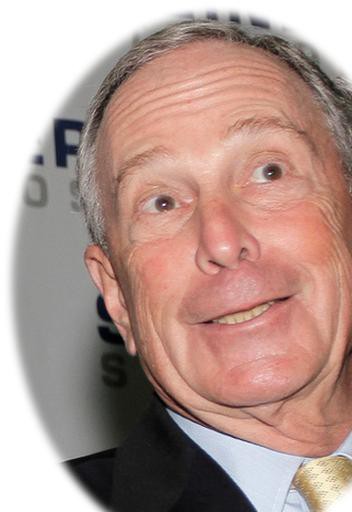 As the candidates for mayor of New York City narrow in on the primary elections, the mad dash for endorsements is only getting more cutthroat. Pollsters and pundits are closely monitoring the trade winds of public opinion, but with Cyndi Lauper continuing to withhold her endorsement (she tipped the scales for Bloomberg in 2009), the conversation is woefully unsubstantiated.
So here is a list of everyone we think relevant, from the teachers' union to Lady Bunny, from Ingrid Sischy to Marv Alpert to Plumbers Local 1.
The primaries are set for September 10th, and then, just under two months later, New York City will finally elect a mayor who isn't Mike Bloomberg. It'll be over before you know it. We're going to do this in alphabetical order, just to be polite.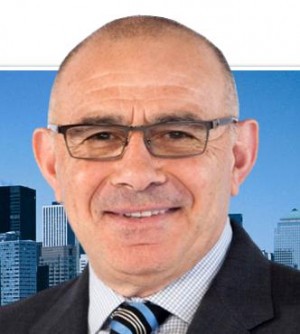 SAL F. ALBANESE
The former New York City councilman has launched his underground campaign. Keep an eye out for Mr. Albanese next time you ride the 2, 3, 4 or A, where he was recently mistaken for a Mormon..
• Paul Murphy, the MTA Bridges and Tunnels manager
• Uniformed Firefighters Association PAC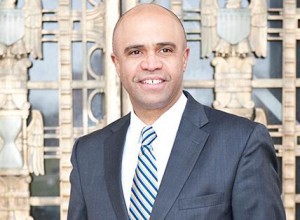 ADOLFO CARRIÓN JR.
Former Borough President of the Bronx, Carrión lives on City Island and once enjoyed a coconut ice on a hot day. The Independence Party's endorsement ensures that he'll be on the November ballot.
• Michael Reagan (of Ronald Reagan fame/parentage) urged the GOP to let him enter their primary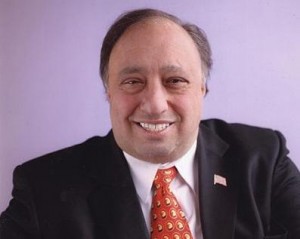 JOHN A. CATSIMATIDIS
The son of a lighthouse operator in Greece moved to West Harlem as a boy, started a grocery chain, and now he's worth $3 billion, basically; proponent of limiting street-vendors' location options.
• Liberal Party of New York (after previously supporting Tom F. Allon, who withdrew)
• Craig Eaton, Brooklyn Republican Party chairman
• Phil Ragusa, Queens Republican Party chairman
• Dan Isaacs, Manhattan Republican Party chairman
• George E. Pataki, former governor of New York
• Andrew Lanza, New York State Senator
• Luis Fortuño, former governor of Puerto Rico
• Vito Fossella, former U.S. representative from Staten Island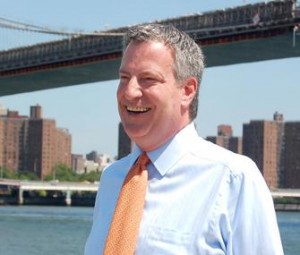 BILL DE BLASIO
Husband of Chirlane, father of Chiara and Dante, brains behind the Worst Landlords Watch List. As the Journal insightfully points out, Sarah Jessica Parker's endorsement confers on de Blasio all the trappings of Obama.
• Alec Baldwin
• Cynthia Nixon
• Alan Cumming
• Sarah Jessica Parker
• Russell Simmons
• Michael Musto
• Lady Bunny
• Steve Buscemi (protested firehouse closings alongside de Blasio, was arrested)
• Debbie Harry
• Service Employees International Union Local 1199, New York City's largest union
• Ruth Hassell-Thompson, state senator from the Bronx (Wakefield)
• Luis Sepulveda, state assemblywoman from the Bronx (Parkchester)
• Bay Ridge Democrats
• CWA District 1
• Barack Obama Democratic Club of Upper Manhattan
• New York Communities for Change, progressive group
• Independent Neighborhood Democrats
• The New Kings Democrats
Donors:
• Paul Simon
• John Turturro
• Amy Sohn
• Gregory Dinallo (writer of "Walker Texas Ranger," "Knight Rider," others)
• Warren Eisenberg, CEO of Bed Bath and Beyond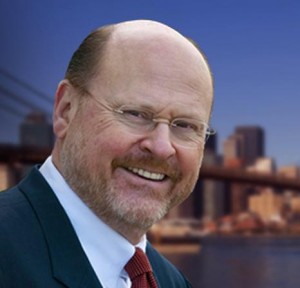 JOSEPH J. LHOTA
Here, try out this montage of Lhota doing classic New York Stuff all over New York City. In slow-mo. With the tagline "Joe Is New York."
• Steve Schirripa (The Sopranos)
• Martin Golden, State Senator
• Peter T. King, U.S. representative, 2nd congressional district
• Michael Grimm, U.S. representative, 11th congressional district
• All four Republican members of the New York City Council: James Oddo and Vincent M. Ignizio of Staten Island, and Eric Ulrich and Daniel J. Halloran III of Queens
• Rudolph W. Giuliani, former mayor
• Bronx County Republican Party and Jay Savino, its chairman
• Staten Island Republican Party
• Charlie Gasparino, Fox Business Network reporter, deputy mayor during the Giuliani administration
Donors:
• Mitchell, Robin, and Ashley Modell (CEO of Modell's and family)
• The Dolans (Cablevision, hell)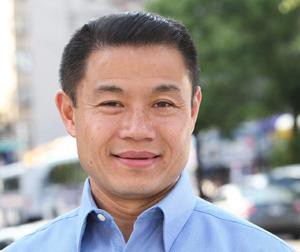 JOHN C. LIU
Currently serving as comptroller (that is, the one responsible for the city's finances), Liu is charging ahead while the FBI takes an interest.
• Boilermakers, Cement Masons and Insulators unions
• Plumbers Local Union 1
• CWA Local 1180: Communication workers, public sector
• DC 37: NYC's largest municipal public employee union
• National Organization of Women (Brooklyn-Queens Chapter)
• Central Brooklyn Independent Democrats
• Staten Island Democratic association (and Dem. Org. of Richmond County, South Shore Democratic Club; basically, Staten Island Democrats)
• Manhattan clubs: Downtown Independent Democrats, Three Parks Independent Democrats, and Village Independent Democrats
• Peter Koo, city councilman from Flushing
• Inez Barron, state assemblywoman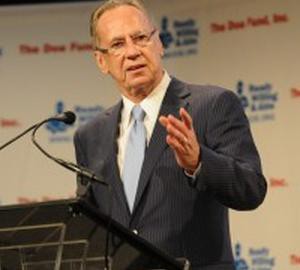 GEORGE T. MCDONALD
The founder of the Doe Fund has business smarts and a record of charitable deeds, but he lacks endorsements. For what it's worth, Mayor Bloomberg donates to his organization.

ERICK J. SALGADO
The minister and radio personality brings socially conservative views and Staten Island swagger to the Democratic primary.
• State Senator Ruben Diaz Sr. (his son is endorsing Thompson!)
• Rev. Hector Crespo, President of Clergy for Justice
• Joseph Hayon, a Jewish activist and former Assembly candidate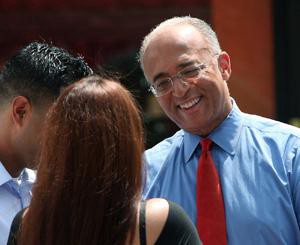 WILLIAM C. THOMPSON JR.
The former Comptroller ran for mayor in 2009, bagging the Obama endorsement, as well as the endorsements of his current opponents Weiner, Liu and de Blasio.
• Rev. Floyd H. Flake
• Rep. Charles Rangel
• Former Mayor David Dinkins
• Rubén Díaz, Jr., Bronx borough president.
• Karim Camara, state assemblyman from Brooklyn, leader of Albany's black, Hispanic and Puerto Rican caucus
• Herman D. Farrell, Jr., state assemblyman, former head of the Manhattan Democratic Party
• Richard Ravitch, former lieutenant governor of New York
• Gregory Meeks, U.S. representative, 5th congressional district
• José E. Serrano, U.S. representative, 15th congressional district
• José M. Serrano, state senator
• Al Sharpton endorsed him in 2009, but has not yet endorsed
• United Federation of Teachers
Donors:
• George W. Haywood, former Managing Director for corporate bond trading and Proprietary Trader at Lehman Brothers
• Mannie Jackson, chairman and owner of Harlem Globetrotters (played on team 1962–1964); first African American with controlling ownership in an entertainment organization and international sports
• Cynthia Bailey (model, donated in 2009)
• Nicholas Kalikow (documentary film producer)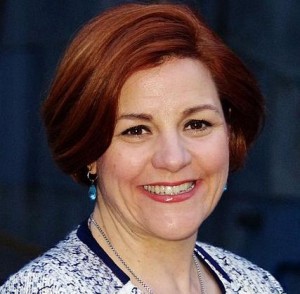 CHRISTINE C. QUINN
The longtime front-runner — anointed as the "obvious" candidate — has Hollywood in the palm of her hand, sort of. But the most recent poll, showing a three-way heat between Weiner, Quinn and Thompson, suggests that having cool friends might not be the most effective way to win an election. Often perceived as billionaire mayor's sockpuppet.
• Brooke Shields
• Whoopi Goldberg (held a fundraiser at her home)
• Edith Windsor, DOMA plaintiff
• Candice Bergen
• Christopher Albrecht, the CEO of Starz
• Rob Reiner
• Ingrid Sischy
• Stephanie March ("Law & Order: Special Victims Unit")
• Joanna Coles, editor in chief of Cosmopolitan
• Mario Batali
• Congressmember Joe Crowley
• State Assemblymembers Edward Braunstein, Michael DenDekker, Andrew Hevesi, Margaret Markey, Michael Miller, Francisco Moya, Catherine Nolan, Michael Simanowitz, Aravella Simotas and David Weprin.
• Gustavo Rivera, state senator
• Matthew Titone, state assemblyman
• Dan Quart, state assemblyman
• Carolyn Maloney, U.S. Representative, 12th congressional district
• Marty Markowitz, Brooklyn borough president
• Gloria Steinem, feminist writer and activist (conditional support?)
• (the late) Edward I. Koch, former mayor of New York City
PACs and Unions
• United Auto Workers (UAW)
• Lambda Independent Democrats (LGBTQ focused)
• The National Organization for Women of New York City (NOW-NYC)
• Democratic Organization of Queens County
• Gay & Lesbian Victory Fund
On the fence:
• Goldman Sachs Chief Executive Lloyd Blankfein declined to endorse Quinn but said she "wouldn't be bad"
• Salman Rushdie: "I guess Quinn will win, and I don't mind…. I'm OK with it."
Donors:
• Anna Wintour
• Harvey Weinstein
• John Bongiovi (of Bon Jovi)
• Terry Semel (former Yahoo! Inc. Chairman and CEO)
• Ashley Olsen
• Bobbi Brown
• Louis Susman (former US Ambassador to the UK)
• Ronald Meyer (President/COO of Universal Studios)
• Brett Ratner
• Thomas DiBenedetto (partner in Fenway Sports Group, owner of Boston Red Sox)
• Maria Cuomo Cole (executive producer of The Invisible War)
• Laura M. Ricketts (co-owner of the Chicago Cubs)
• Ari Emanuel (talent agent, co-CEO of William Morris Endeavor)
• Jeremy Stoppelman (Yelp CEO)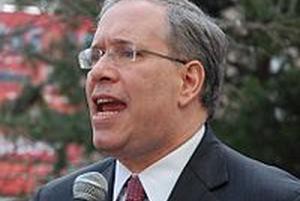 SCOTT STRINGER
He's running for comptroller instead. But here's who he had.
• Scarlett Johansson (her twin brother Hunter worked in his office and her grandmother worked with him in the 1980s)
• Lady Gaga's father, Joe Germanotta (Lady Gaga thanked Stringer for defending her honor after James Molinaro called her a slut)
• Larry Gagosian
• Sigourney Weaver
• Nanette Lepore
• He's got a lot more in his new race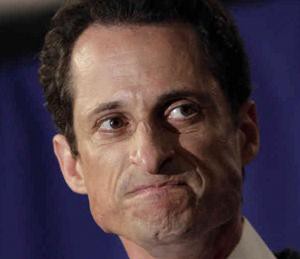 ANTHONY WEINER
Weiner Weiner Chicken Deener!
• Keith Ellison, U.S. representative from Minnesota (unsolicited, with the lead-in, "Look man, nobody here is perfect")
Donors:
• Marv Albert
• The Yankees

John Stillman is an Awl summer reporter.