Inside Maximum Fun's Podcasting Shindig In The Poconos
Inside Maximum Fun's Podcasting Shindig In The Poconos
by Chris Chafin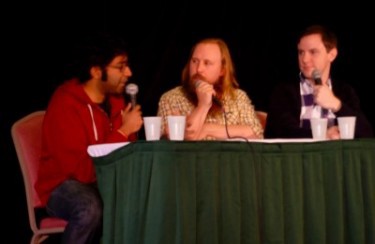 At around midnight on a recent Friday night in the Poconos, television personality and geek humorist John Hodgman was shouting trivia questions about the character actor Vincent Schiavelli (you know him). "What actress, married to Vincent Schiavelli for many years, played Agnes DiPesto on 'Moonlighting'?" he asked. The question was met with groans of confusion (the answer, which I only learned just now by Googling it, is Allyce Beasley).
There were 200 or so of us in the audience, seated around the giant, slightly antiseptic ballroom of the Inn at Pocono Manor. It was the first night of complicated cultural happening MaxFun Con East, a weekend convention celebrating the insular, devoted fan culture that's built up around the podcasting network Maximum Fun. In the audience were fans from Brooklyn, Texas, Canada, South Africa, and points in between.
Hodgman, whose latest sartorial flights (including shaggy hair, a bushy jet-black moustache and a penchant for pocket squares and velvet jackets) make him look like an ailing relative of Badger from The Wind in the Willows, was leading several rounds of so-called "pub trivia." The questioning, which went on to include everything from Presidential ghost stories (Reagan and Carter both claimed to have seen UFOs) to movies that made less than $100,000 (several questions on Donnie Darko), went on until a little after 1 in the morning. The teams combined civilians with the relative celebrities of the MaxFun universe: Dave Hill, Michael Ian Black, famous pencil-sharpener David Rees, as well as hosts of the network's shows, like "The State" alum Kevin Allison (who hosts the "Moth"-like story podcast "Risk"), Jordan Morris (an LA-based comedian and co-host of "Jordan, Jesse, Go!"), and Canadian Olympiad Donna Vakalis, who made the modern pentathlon a major source of MaxFun fascination during the London Olympics.
***
The next morning, I asked Michael Ian Black what he'd made of the trivia night.
"I got the sense that everyone in that room was like, 'I just want to go to bed,'" Black said. He was the only attendee to have brought children, and as I observed him, his attention seemed focused most of the weekend on following them around and trying to keep them amused. When I approached him, he'd been rather glumly reading brochures at the hotel's front desk, as his son wandered around him in circles, eating a bag of potato chips. "Nobody was gonna stay up," he continued, ruefully, "There wasn't going to be, like, any make-out sessions, nobody was going to be skinny dipping in the pool. It was pretty much like, 'I want to get to bed so I can get to my beard-painting class first thing in the morning.'"
He wasn't kidding about the beard painting class. There was indeed one, held Saturday morning. Other activities included an effective and surprisingly business-like PowerPoint presentation on the finer points of satire from The Onion's Carol Kolb, a course on writing radio comedy with BBC Radio producer Colin Anderson, a combination crafting and writing workshop with Julie Klausner, as well as one on comedy improv with podcaster Jordan Morris.
Nothing about the weekend is simple for outsiders to access. "It's weird having to explain to your parents' friends what a podcast is," Dave Shumka, one half of the hosting team of MaxFun show "Stop Podcasting Yourself" told me over the phone before the convention. "It's very weird having to explain what a podcasting network is." So let's try to dispatch it quickly. Maximum Fun distributes a group of podcasts, all under one stylistic and monetary umbrella — a full list of them is here. The network is administered by the network's founder, 31-year-old Jesse Thorn, and a few close aides. It's based out of L.A., where Thorn lives. Banded together, the networks are able to raise funds together, much like your local public radio station, and then distribute that money between the network's 10 shows to pay for administrative costs, and the occasional tour or live taping.
Further, all of the shows share a certain editorial thrust, Thorn explained to me. He characterized it as "a sort-of spirit of inquisitiveness and creativity and intelligence combined with humor." Not only is Thorn the host of PRI's "The Sound of Young America," MaxFun's most visible product, broadcasting on regular terrestrial radio across America and Canada, he's also the bailiff on satirical judge show "Judge John Hodgman," the quizmaster on BBC-style quiz show "International Waters," and one of the titular pair on "Jordan, Jesse, Go!" a show that follows a similar format to many others on the network: two friends joke around about whatever, sometimes with a guest, and sometimes not.
***
Maxfun Con East is the fifth convention thrown by the network, and the first to be held on the East Coast. The convention's site, The Inn at Pocono Manor, is less the rough-hewn woodsy retreat that you might imagine hearing its name, and more like a geographically non-specific family resort and convention center that happens to be in the mountains (it could just as easily be on the beach, near a waterfall, or in the South Pacific, save for the occasional pair of antlers hanging over a fireplace). Everywhere you went in the resort there were ads for its spas and activities like horseback riding. At breakfast on my first morning, a man in gorilla mask and full-body camouflage handed me a bite-sized Snickers and a flier advertising skeet shooting. It's the kind of hotel that has overstuffed couches in lurid shades in every hallway and near every window, and which names its meeting rooms with a sort of hodge-podge of Presidential and American history: Friendship, Fireside, Candlelight, Province Town, and so on. But this history was lacquered on: In the ballrooms, there was stone wallpaper, not actual stone walls.
Most of MaxFun Con was confined to the Horizon and Manor Ballrooms, although I did view some exquisite 1950s 3-D photography while seated in a high-backed leather swivel chair around a long conference table in the Andrew Jackson meeting room, and also peeked into beard painting in Buchanan.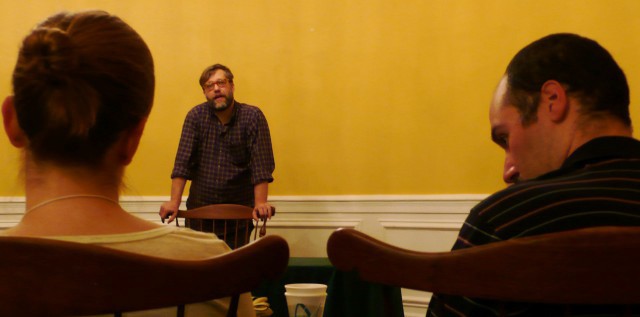 The Long Winters' John Roderick leads a storytelling workshop
What had brought hundreds of people — most of them white, but split fairly evenly between men and women — out to the mountains with a hurricane bearing down on the east coast? While there were of course different reasons among the attendees — Todd Mazierski was celebrating his 30th birthday with his girlfriend, while Ian Mullan, from Nova Scotia, wanted to meet other people who working creatively in their spare time — many people gave a variation on the answer of attendee Jonathan Carp.
"No one listens to podcasts because they're happy," he put it to me, rather bluntly. I'd found him outside smoking a cigarette with a small group of people during a rare bit of unscheduled time on Saturday afternoon. He'd recently turned 22, although he looked older. While we were talking, he guessed that he might be the youngest person in attendance, which turned out to be true (he won a prize for it on the weekend's final afternoon).
"Basically, everyone here is depressed and anxious at some point in their lives," he told me. "Last night I was sitting on the couches, with just like six people I didn't really know, and we were all just really open about having anxiety and depression and social anxiety especially.
"These are kindred spirits, these are friends, these are family," he continued. "I think that's the main reason [I came]. People who don't normally have friends, and we can all come together."
***
Maxfun's design purposefully fosters and encourages this sense of community. The network's message boards, its meet-ups, even its multiple shows are all an effort to be more deeply engaged with its audience. The benefit here is mutual: listeners get added perks; in turn, their loyalty makes the network better able to keep its podcasts on the air by encouraging listeners to donate. Before every standup show, longform interview, or live podcast taping, our benevolent cruise director, Jesse Thorn, would bound onto the stage. He would thank everyone for being there, crack a few jokes, and generally endeavor to make us all feel like one big family.
On the last afternoon, he said that he'd heard the masquerade ball went really late. He asked people to raise their hands for when they went to bed. "Who stayed up until 4? 4:30? 5?!" he asked, sounding increasingly incredulous. The last person to bed (6 a.m.) was handed a box of macaroni and cheese by Thorn as her prize. Then another question for the audience: who'd been to the most Maxfun Cons? This was a couple in their late 60s who had been to all five. They also turn out to be the oldest people there, but he awarded the prize for "oldest person" to another woman, 62, as that couple had already won something.
"Because donations are our number-one source of income," Thorn told me, "everything we do should deepen our connection with our audience. Someone who's supported by advertising is all about the breadth of their audience connection — they want to capture as many eyeballs as possible. That's why everything on television is like, the goal is to just get you to not turn it off. And, for us, it was always about, how can we mean more to people?"
The conventions, which Thorn described as "summer camp plus baseball fantasy camp plus the Wayman Tisdale Jazz Cruise," have turned out to play a major part in this group-bonding. Thorn is a compulsive community builder, and tends to speak about MaxFun as a "we," even when he is the only person making decisions. "We decided we wanted to do something in the real world," he said, before backing up a bit. "Well, basically, it was just me. We wanted to do something that was both a place for our fans to come together, and something bigger than us."
He ended up putting the payment of the $35,000 deposit for the first conference, held in 2008, on a series of credit cards. Many of these same cards dropped him soon afterward. That first year was the most chaotic. Communication and logistics planning was poor — stand-up comedian Tig Notaro, arrived after her performance time, since no one had told her when her set was supposed to be. This forced a last-minute reorganization of the entire weekend. "I was flipping out, as you would imagine," Thorn says. Yet despite everything, the weekend was a success. "People were like crying and hugging me at the end," he says.
The secret isn't the guests, or the following enjoyed by some the podcasters, Thorn explained. "What you're essentially doing when you're creating something like this is creating a space for people to share among other people that are like them, and share their interests and passions."
Michael Ian Black had similar thoughts. "People listen to John or Jesse's podcasts or 'Risk' or whatever," he said, "and they're just like, 'Yeah, I would get along with those people. That's a community I would like to be a part of.' And I guess I sort of feel that way, too. That's why they came."
The idea of summer camp inevitably came up a lot over the weekend. Strangers, thrown together in a short but intense period of time, who probably share at least a few interests, but might normally be too shy to talk to each other. I had to duck out before the absolute final moments of the last-event Sunday (I was trying to return my rental car before Sandy closed everything down), but still got to observe a small moment of this togetherness before I left. People were filing into Horizon for a live taping of "Stop Podcasting Yourself." As I walked by, I noticed a happy buzz coming from the room, the sound of hundreds of strangers laughing and hugging and talking to each other. Everyone had made friends. It had worked out nicely.
Chris Chafin writes for a few places about things you can listen to, play or consume. Here's his Twitter, which isn't super compelling.