Super Sexy Women's Halloween Costumes
Super Sexy Women's Halloween Costumes
by Christian Brown and Tully Mills
SCANDALIZING TANTALIZING NEWSWEEK COVER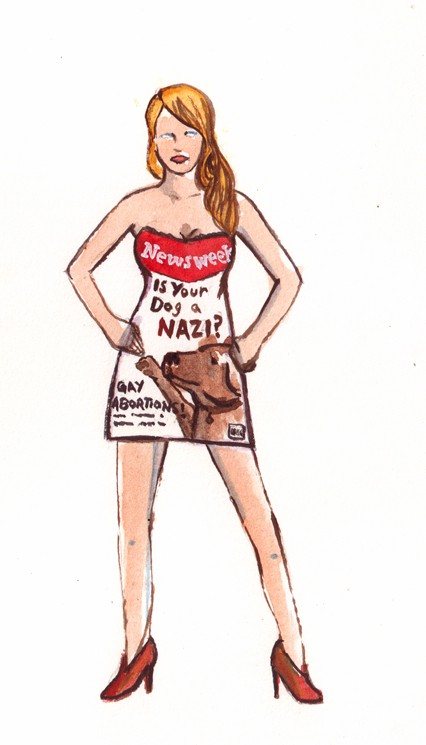 Nothing makes a bigger splash than a daring headline, and nobody does daring like Newsweek! Whether it's comparing liberals to terrorists or single mothers to other, angrier terrorists, you're sure to get everyone's blood boiling in this 100% recycled newsprint costume. Comes with swappable covers to maximize offense to whoever will be seeing you in it, and racy advertorial bustier that'll really get his pages flipping.
$6.99. One size fits all, available for shipping to US only.
SEXY JUNIOR SAFETY PATROL COSTUME
You'll have to blow your whistle to get him to stop when he sees you in this sexy, cute costume. An elegant poncho in neon orange polyster will give him flashbacks to elementary school and pulling the pigtails of his favorite crush. And the reflective yellow belt/poly blend microskirt will make sure everyone sees you coming. Play safe!
Officially licensed from the Honorable Order of Safety Patrol Officers of America
$59.99. Stop sign and ponytail holders not included.
TELECOMMUNISEXIN' FAX MACHINE COSTUME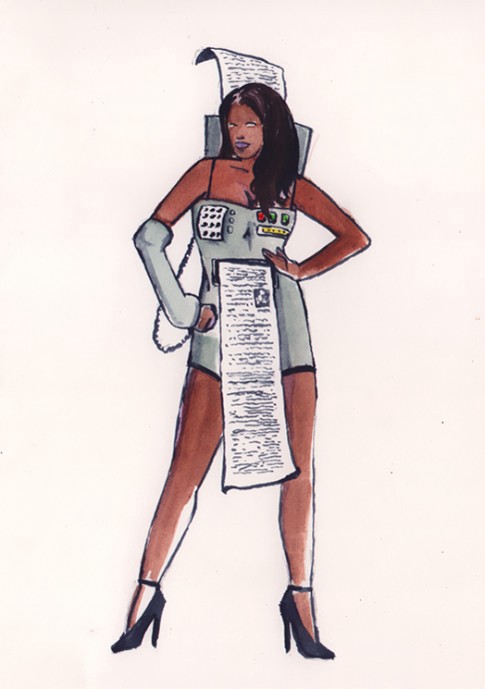 Hang up the phone, I'm expecting a fax — a SEXY fax! Everyone at your next Halloween or 80s dance party will love this sleek gray number, which includes way more buttons than really makes sense for a glorified printer, and a phone handset for some reason? Tell him to hit your "resend" button and you'll be faxing all night long, or until someone trips over the phone line. Includes oversized paper and oversized spam faxes sitting in the tray. 100% polyester foam.
$89.99, or $129.99 for working SPOOKY SOUND™ EFF-X™ version, with loud fax noise and button press sounds.
ADULT WOMEN'S RELIEF MAP OF NORTHERN IRELAND COSTUME
Show off your mountainous terrain in this geographically accurate (and sexy!) map of the western coast of Ireland. People will travel from miles around to get a photo at your Cliffs of Mohan in this elastic and poly mix dress/rectangle — just don't let 'em get a gander at your beautiful bays. You'll need a shillelagh to beat off the boys — unless you want to start the Easter Rising!
$49.99, shoes and Irish flag headband not included.
JAPANESE GIANT HORNET
Buzzz! You'll float like a butterfly, sting like a three-inch long hornet when you put on the latex mask and flirty black-and-yellow-striped cotton minidress. You may not be making honey, but you'll be turning heads when they see your enormous 100% polyester wings and your bee-devouring mandibles. He'll be begging for you to carry him back to your hive and feed you to your squirming pupae.
$49.99. Stuffed bee thoraxes not included.
KFC FAMOUS BOWL™ WOMEN'S COSTUME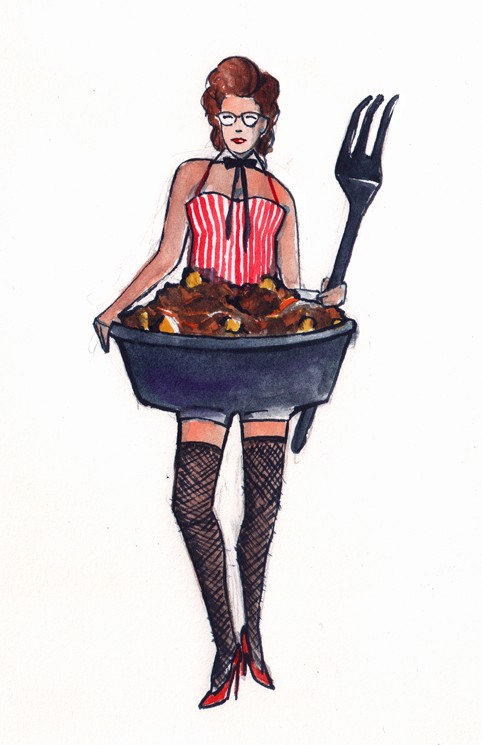 Officially sponsored and officially deliciously sexy, you'll be steaming hot in this 100% latex enormous bowl with polystyrene veggies, meat and gravy piled high. He'll want to eat you up with a spoon — or maybe a spork! Comes with savory fishnet stockings and high-heeled shoes with popcorn chicken applique. 100% cotton detachable collar and Colonel Sanders string tie brings together a finger-lickin' good ensemble.
Comes in Chicken 'N Biscuit, Rice, and Mashed Potato variations.
$129.99, or $199.99 for four-pack "Family Meal" combo
WOMEN'S JUNGLE FEVER WESTERN LOWLAND GORILLA COSTUME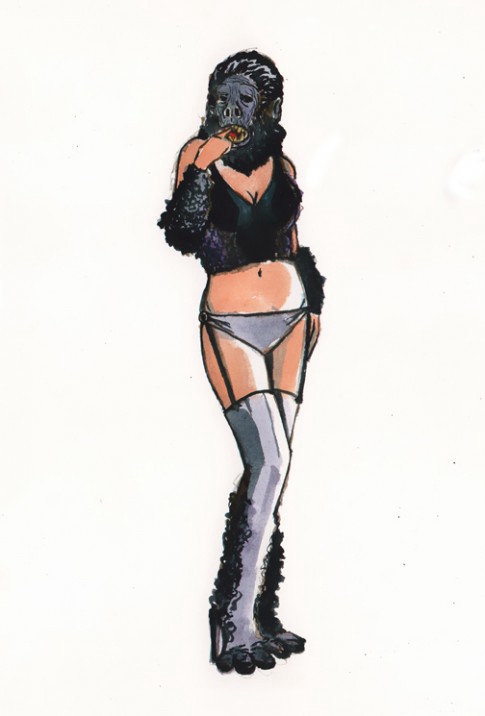 He won't be able to keeps his hands off your silky pelt — and that's BEFORE you offer to eat his banana! The polyester fur torso and arms will make you the hairiest monster at the party, but the barely-there gorilla bikini briefs bottom and high-heeled gorilla's feet shoes will let everyone know that you're an ape who knows how to have fun. You'll be beating your chest all night long — or maybe he will! Comes with optional glowing gorilla eyes.
CAUTION: Do not wear while driving or operating heavy machinery — peripheral vision is almost non-existent.
$212.99, L M S XS XXS XXXS
ADULT WOMEN'S HOUSE UN-AMERICAN ACTIVITIES COMMITTEE COSTUME
Every girl knows witches are overplayed on Halloween — so maybe this year, a witch HUNT? This democratically sexy number features an oak desk suspended from the slenderest of sensual suspenders, with pinko defendants cowering in front of you. You'll get his gavel banging when he sees you blacking the balls of all those effete traitors! The pint-sized pinko puppets are machine-washable. Tiny, shouting McCarthy not included.
$269.99, one size fits most.
SEXY WERNER HERZOG COSTUME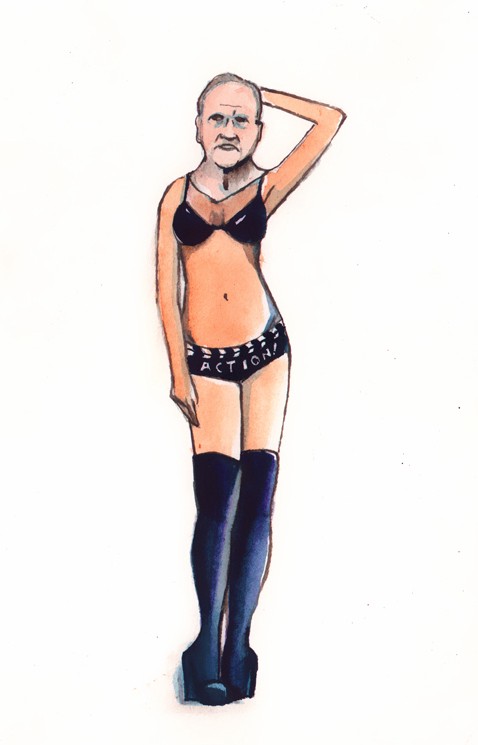 Find your Kinski in this sexily lifelike rubber and latex Werner Herzog mask. He'll be willing to drag a boat over a mountain for just a glimpse of your Cave of Forgotten Dreams. The sexy filmmaker's bikini and thigh-high go-go boots will make sure you're the most-watched documentarian at the next Halloween or Oscars party. He'll be acting like a Bad Lieutenant before you know it!
$79.99. Accent not included.
Christian Brown (text) is an animator in Los Angeles, but that doesn't stop him from sometimes writing about sexy gorillas. He is currently busy shopping for the exact perfect eye patch for this year's Halloween costume.
Tully Mills (art) is an illustrator living in San Francisco.