Where Are Bill Clinton, Heidi Klum and Nicole Kidman Now?
by Matt Haber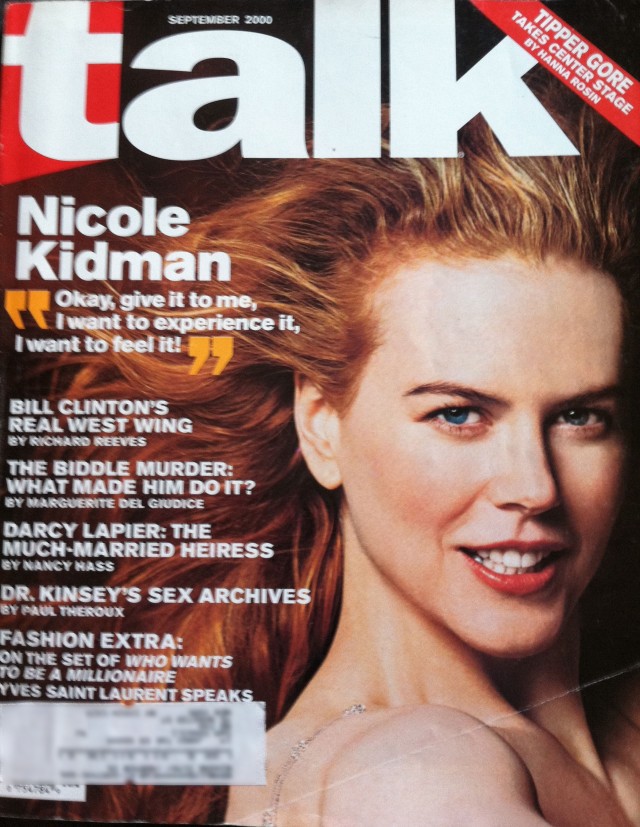 Once upon a time there was a magazine. It was called Talk, and Tina Brown made it with her friend Harvey Weinstein. Now Tina Brown has a magazine called Newsweek and she makes it with her friend Barry Diller. Let's look back, and also look forward.
Tina's Philosophy
"A year ago I introduced the magazine by saying that I wanted to bring intimacy to the American conversation, to marry emotion to ideas. In a deeply political season, I'm happy to reiterate that desire." — Tina Brown's Notebook, September, 2000.
Actual things people said in the September, 2000, issue of Talk
"He's really cute and normal. He's really nice and he's really fun. He's a venture capitalist," Candace Bushnell on her boyfriend, interviewed by Nancy Hass; "We want them out there more. It would do so much if people could see him in that context. On the other hand we don't want to turn their marriage into a campaign tactic," unnamed Al Gore adviser on Tipper Gore, quoted by Hanna Rosin; "Well, we can be apart for three weeks — we are allowed to be — but I think 13 days is the longest we have ever done," Nicole Kidman, talking about Tom Cruise, to Nell Campbell; "No, I'm not worried wearing a $425,000 necklace. After all, I've worn a $10 million bra!," Heidi Klum, "Who Wants to Look Like a Millionaire?; "My narrator has to end up alone. Someone told me that I had to end with a coupling, but I just couldn't force my characters into the weird matrix me and my gay friends are supposed to live in," Mike Albo, "Love on a Dead-End Street"; "My character has the anxiety of going straight to video. Skipping the cinematic part of your relationship and going straight to renting movies," Lucinda Rosenfeld, ibid.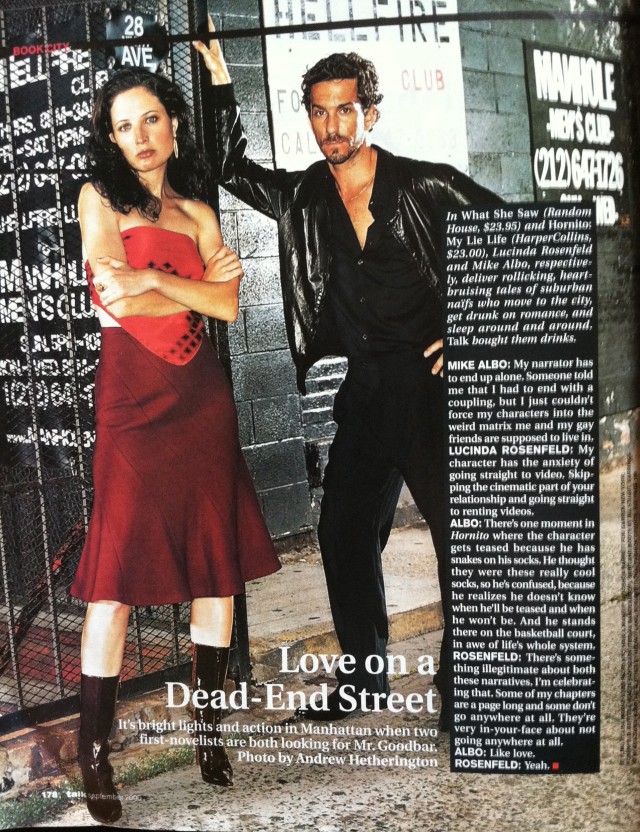 Compare and Contrast: Then and Now
Then…
"'Most women just experience what I call a crotch sneeze,' [Dr. Vera] Bodansky says, adding that what people tend to think of as a female orgasm is just an imitation of what men experience when they ejaculate. 'You tense up and can't bear to be touched,' she says. 'And when you tense up, you cut off circulation to the nerve endings, which in order fire need oxygen and blood to flow to the area.' Bodansky's technique is designed to prevent women from tensing up. 'It's like a stepladder or a stair,' she says. 'You can break and then go higher until you decide to release.'"
 — Sarah Paley, "Yes, Yes, Yes!," Talk, September 2000.
Now…
"Tabloids on both sides of the Atlantic had a field day last week when The Sun ran a story about a 44-year-old New Jersey woman with a rare condition that causes her to have up to 100 orgasms a day. Diagnosed with persistent genital arousal disorder (PGAD), Kim Ramsey, a nurse, even sat on a bag of frozen peas during one four-day episode of constant climaxing.
"Writers and readers responded with one orgasm pun after another. 'Come again?' asked a Sun commenter, while the New York Post lamented that 'some girls have all the fun.'
"But it's no laughing matter for Ramsey. 'People who don't understand the disorder think multiple orgasms are a luxury, but I'm constantly in pain,' she said."
 — September 10, 2012, Lizzie Crocker, Newsweek.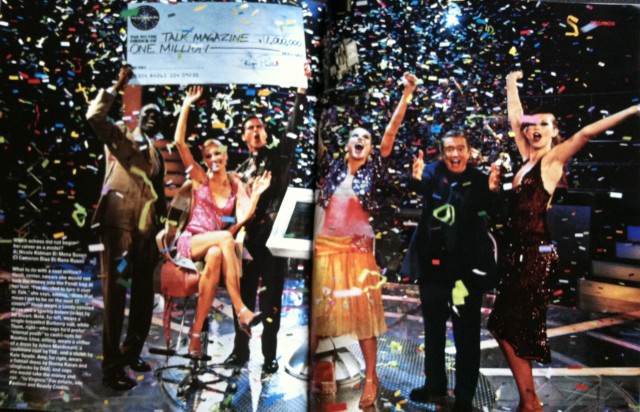 Then…
"Clinton combines this sheer brilliance with this phenomenal ability to connect with people on the retail level," John Emerson, deputy assistant to the president for intergovernmental affairs under Bill Clinton, quoted by Richard Reeves, "Days and Nights With Bill Clinton," Talk, September 2000.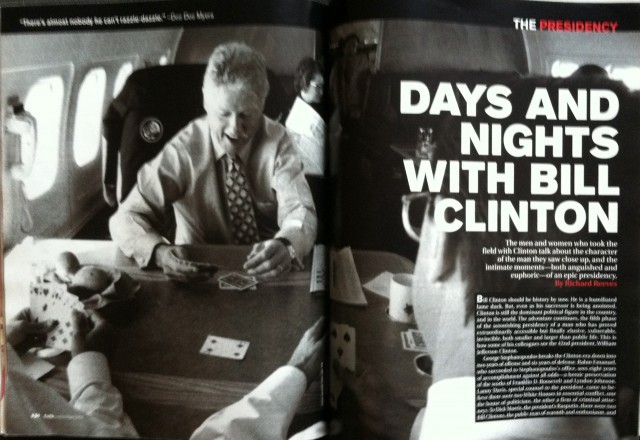 Now…
"Clinton's brand of liberalism was designed to win elections, and brought Democrats back after a generation in the wilderness," Peter J. Boyer, "Why Barack Needs Bill," Newsweek, September 10, 2012.
Then…
"Beautiful women in search of husbands have always made good copy — see Lily Bart, or Isabel Archer — but never more so than now, when the advantages conferred on women by feminism have created both greater choice and deeper ambivalence about the merits of marriage."
 — Rebecca Johnson, "Picky, Picky, Picky: The Dilemma of the New Single Woman," Talk, September 2000.
Now…
"There are blogs, endless newspaper columns, and television shows devoted to the hapless single lady looking for love. But the ladies in the top financial tiers have an even bigger problem. Not only can they not pick up guys in bars for fear of appearing on Page Six, they can't shop online without knowing that somehow their profile will mysteriously appear on sites like Gawker, which will mock them mercilessly."
 — Paula Froelich, "More Rich, High-Powered Women Are Turning to Matchmakers to Find Love," The Daily Beast, August 15, 2012.
The Takeaway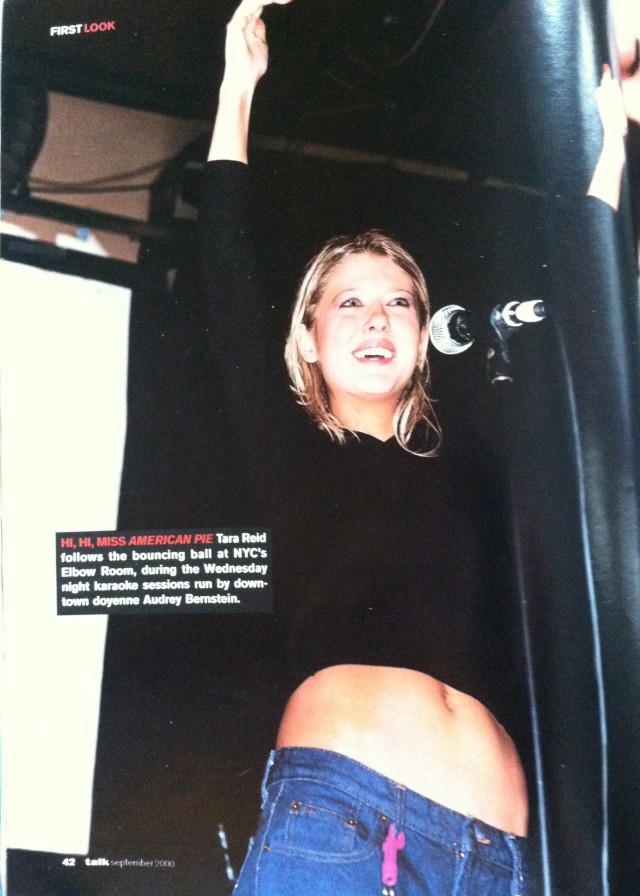 In September 2000, magazines still didn't have URLs on their covers, but they had party photos of Tara Reid ("Hi, Hi, Miss American Pie"). Balance was extremely important, so much so that during convention season, an issue of a monthly magazine had a seven-page profile of Tipper Gore (with eight photos) and a seven-page profile of Jeb Bush (with four photos), whereas a weekly magazine with a website could split the two up, say, running a full-throated endorsement of a Republican one week and an essay about a Democratic incumbent another week.
Understanding Synergy in the Year 2000
Ads for Martin Amis' Experience — which was featured on the cover of the June/July 2000 issue of Talk! — and ads for Douglas Murray's Bosie and Padma Lakshmi's Easy Exotic (all published by Talk Miramax Books), ads for The Cider House Rules on DVD, four-page ad supplement devoted to Blow Dry (both produced by Miramax), short profiles of Padma Lakshmi (author of a Talk Miramax Book), Christopher Rice (author of a Talk Miramax book), photo spread of Heidi Klum (star of Blow Dry).
Previously: 12 Years Ago in 'Talk': Angelina Jolie, Martin Amis and Prince William: Where Are They Now?
Yup: this summer, Matt Haber found a stack of old Talk magazines on Broadway near Canal Street.