The 2006 World Cup With No Game Plan
by Noah Davis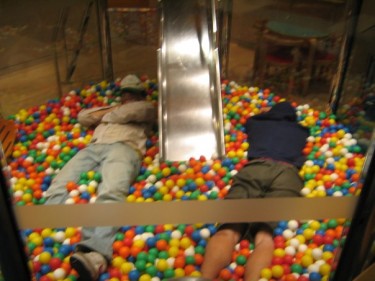 Part of a month-long series on terrible trips, great journeys and getting lost.
When we were planning a trip to the 2006 World Cup — and, as you'll see, I use "planned" in the loosest sense of the word — I did not picture a friend and me sleeping in a ball pit at the base of a slide in a kid's play area on an overnight ferry steaming from northern Germany to southern Sweden. There were four, sometimes five, of us on the trip. We were a year out of college and more or less broke, so we decided to save money by not paying to sleep anywhere. I expected some strange arrangements to present themselves, but a ball pit? I did not see that coming.
The idea to go to the World Cup installed itself in our heads four years before. We spent three weeks during the early summer of 2002 watching three games a night. The tournament was held that year in South Korea and Japan, which meant the matches were shown live at 2 a.m., 4:30 a.m., and 7 a.m. on the East Coast. We did not get a lot of sleep. Luckily, our summer jobs had not yet started, although even if they had, I suspect we would have simply arrived bleary-eyed. We became, strangely, surprisingly, remarkably dedicated to that World Cup. It was this secret, cool thing we did while the rest of the country was sleeping.
When the United States defeated Mexico to reach the quarterfinal, we burst out of my friend's basement into the early morning Providence light. We were ready to celebrate with an equally excited crowd. Instead, we found ourselves completely alone on Blackstone Blvd. Next time, we said enthusiastically to each other, we should go.
***
For three and a half years, Geoff and I invited nearly everyone we met to the World Cup with us. Friends, acquaintances, girls we kissed, strangers at bars. If you ask enough of them, they will come. Two of them, our high-school friends Andrew and Jeremy, did. Geoff's college friend, Tom, also signed on. We bought plane tickets in January, booked a rental car through Avis in March, and filled two, two-liter soda bottles with Castillo Rum (a going away present from the bar where we worked) and Coke in June. Then, we jumped on a plane. We had high hopes for the American squad, ranked (ridiculously) 5th in the world, and no expectations for the trip.
The plan, vaguely, was to meet Jeremy and Tom, both already in Germany, in Gelsenkirchen on June 12, the day of the first United States game. We thought, optimistically, it would be simple to spot two people among the throngs of Red, White, and Blue dressed supporters streaming into the train station of the former coal mining town. It wasn't. The Czech Republic, the US's opponents on the night, share our colors. There were thousands upon thousands of arriving supporters. But the eternal optimism of 22-year-old dudes prevailed. Somehow, we managed to find Tom and then Jeremy.
A couple rounds of pints and "Star Spangled Banners" later, we headed to an abandoned field where the tournament planner had set up a huge projection screen to show the game, which was being played just up the road at Schalke 04's Veltins-Arena. Our quintet was confident. We lacked tickets for the match — getting those would require a) money, which we didn't have and b) organization months prior, with which we hadn't bothered — but we could watch Landon Donovan, Claudio Reyna, and Brian McBride on the screen in front of us. (One of the most serendipitous aspects of the whole serundipitious trip was the presence of big screens playing games everywhere to support the ticketless masses. Germany, unlike some of her visitors, was organized.) There were additional American fans milling around the dirt field but we were soundly outnumbered. It didn't matter. Nobody outside of the small American contingent believed in the US's chances, and we didn't care. We were in Germany to kick ass and take names, a fact we told the Czech supporters standing next to us.
Then, the game started. The Czech's Jan Koller scored in the first five minutes, and it was clear the Americans were massively outmatched. We quietly watched the rest of the destruction, Tomáš Rosický diagonal ball after diagonal ball. 3–0 Czech Republic, and it wasn't that close. It was sad. But there were two group games to go. And, you know, we were in Germany with four good friends. So we went to a bar. There are reasons to celebrate, even when there aren't.
***
The summer of 2006 was a strange time to be an American in Germany. We (the United States) had elected George W. Bush to a second term after what was increasingly obviously a disastrous first four years. The Europeans couldn't understand this. Frankly, neither could we but our little group was American (obviously, loudly so), and we became representatives of the Bush Doctrine even though none of us voted for the President, supported him, or approved of his methods. The intricacies of the American political system are difficult to explain, especially when you're wearing the Stars and Stripes, talking to [pick a group of Europeans] at a loud bar, and all anyone really wants to do is watch soccer. Eventually, we accepted it and moved on. "Nobody likes us, we don't care," became a rallying cry, one that was both ironic and far too true.
***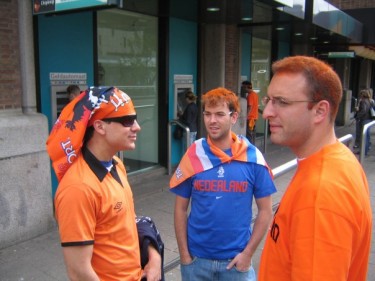 Western Europe becomes rather small when you have four or five drivers willing to reach excessive rates of speed on the Autobahn (and a crew whose primary sleeping space is the backseat). We started driving to random countries the day they had a game and watching in bars or viewing areas with the home fans. If you can't beat them, join them and cheer for them for a couple hours. A friend from high school was living in Rotterdam, and we had time before the next US game, so we went. We bought blue and orange Dutch gear (made by Nike), orange hairspray (produced locally), and rode borrowed bikes to a stiflingly hot covered tent. We stood packed from shoulder to shoulder with our adopted countrymen. They accepted us wholeheartedly. When Robin van Persie hit a blistering ball that found the back of the net against Côte d'Ivoire, we celebrated like we were Dutch. Why not? We sort of were. And winning is far more fun than 3–0 defeats.
Later, we picked a Swiss border town, drove there, and watched Schweizer Nati contest a match while huddling under a large tent with 75 confused residents. We weren't wearing red and white, an oversight on our part. They let us stay, mostly because we were so supportive of the team's star, Alexander Frei. Also, it was pouring outside, and the Swiss were too polite to throw us out into the weather. When the game ended, we said our dankes and drove away. We parked at a train station down the road and fell asleep. Two border guards armed with bright flashlights and one very large, menacing dog woke us up at 3 a.m. We showed them our passports and, after a protracted internal debate, they decided that if we were crazy enough to stay there, they weren't going to stop us. The next morning, we "showered" in Lake Constance. We agreed this was a low-point, although mostly because it really hurt to walk barefoot over the rocks.
***
Andrew, Tom, and I went to get ice in Kaiserslautern before the US-Italy game. The case of beers we purchased was sold warm (per custom), and we needed to cool them (per being Americans). A butcher looked confused by our request but sold us a bag that he chopped from the depths of his freezer. (Yes, he actually went into the freezer, cut some large blocks into smaller ones, put them in an extra plastic bag and handed the thing to us with a disgusted look that said, "Here, you weirdos. Now please leave.") When we returned to the car, Jeremy and Geoff were nowhere to be found. Had they been arrested for playing "Born in the USA" too loudly? Or too ironically? Not ironically enough? Whatever. The beers needing chilling. We figured they would turn up, eventually.
They did, giddily bouncing out of a house right in front of our car 45 minutes later. Each was simultaneously spitting out a rapid-fire explanation for the absence, but we eventually managed to understand that there they were, jamming to The Boss and minding their own business, when a man came out of the establishment — possibly to ask them to turn down the music — and, subsequently, invited them in for a beer. Which is how they ended up imbibing in the bar room of a German fraternity.
We joined them, then spent the afternoon eating sausage, shooting the shit, and comparing stories. Our affable host Güntar, who spoke in a mix of English and German, occasionally said things Tom refused to translate because they were so racist. (Later, Tom very quietly informed us the Nazi party started in some of these fraternity establishments.) A one point, a couple families who were involved with the frat arrived with children in tow, which made us feel marginally better about the whole thing. Afternoon wore into evening, and the five of us took our leave to watch US-Italy. Güntar made us promise to return to spend the night. We reluctantly agreed, with little intention of doing so.
Once again, we didn't have tickets so we found the viewing area. It was overflowing with Italian supporters. We continued walking, locating a spot outside of the corrugated metal wall with a view of the large screen that was showing the game. Four Americans from South Carolina were close. Our groups merged, driven together by the 4,000 Italians surrounding us. One of our new friends had climbed a tree before we arrived and strung up an American flag. It was a couple yards above an Italian flag. "Look at their flag. Not nearly as high," he said into our video camera. We laughed. We chanted "USA, USA" and cracked more pints of pils, glancing around at the unfriendly masses. We wondered if we'd have to fight our way out of the mob if the Americans won. Or if they lost. Or really, for any reason. Tom, not inappropriately, made a reference to the Battle of Thermopylae. We laughed, more nervously this time.
The US did not win. They fought bravely, heroically even, earning a 1–1 draw. By the end of the match, the American's plucky performance on the field and our general enthusiasm off it seemed to have won over many people in our area. (Thankfully, they missed the string of profanities we spewed toward Daniele De Rossi after he elbowed McBride.) We were obnoxious Americans, but at least we were cheeky and fun obnoxious Americans. That played well in the World Cup world, where supporting your country is everything.
Somehow, Güntar found us in the throng after the match, and once again extended his invitation to sleep at the fraternity. Geoff and I were convinced we were going to be murdered — blame Hostel, released six months prior — but we accepted nonetheless. It seemed rude not to. We did not die, but perhaps because Jeremy stayed up all night drinking with our host and talking about World War II. Apparently, it got emotional around 4 a.m.
***
The summer of 2006 was also a strange time to be a German, especially a German teenager. We learned this while visiting the school where Tom was teaching. There were four days between the match against Italy and one with Ghana, and we were desperately in need of a shower and a place to sleep that wasn't the car, so we drove to Güstrow, a small town 40 miles south of the Baltic Sea. We talked to Tom's high school classes about life in America, and the 16-year-olds told us how they were, cautiously, proud of their country for the first time in their lives. The World Cup was well-organized, and the young German squad was surprisingly playing exciting, attractive soccer. Nationalism was still, and would remain, a touchy subject for Germany, but we could see how happy they were to have something positive to claim as their own.
***
If you wanted to pick a good time to drive into Nuremberg, I wouldn't choose the middle of the night. There is plenty of awful history and at least one giant, foreboding concrete structure that is downright terrifying at 4 in the morning. None of this, however, stopped us from joining a 300-person, Red, White, and Blue march through the streets 12 hours after we arrived.
The US needed a victory over Ghana and some help from Italy to advance, and we decided we were going to buy tickets no matter the cost. Despite FIFA's best efforts to prevent scalping, we found two separate people willing to sell us a pair each at exorbitantly inflated prices. We worried about the difference between the names on the tickets — mine: Katharina Bannasch — and our own, but we bought them anyway. And luckily, no one bothered to check at the stadium.
Before the game, we joined the majority of the American contingent at a bar somewhere in Nuremberg. Spirits were high despite the team's poor results. We were drinking pints, juggling soccer balls, and singing the national anthem. The meetup had no discernible central organization, but 90 minutes or so before game-time, people slowly started filtering out of the bar and walking to the train station. They were chanting. We joined the loose, red-white-and-blue-clad pack and wound our way through the cobblestone streets. The town's residents observed with a look that I can only qualify as: WTF?
The US, of course, lost. We were distraught. Our quartet walked the four miles back from the stadium in silence. The reality — that we had flown 6,000 miles and spent thousands of dollars we barely had to watch the US dramatically underperform — came crashing down. They were supposed to at least make it out of the group stage. You can't follow a team that's no longer in a tournament. We had another week without anything to do. Back in the town square, we sat in silence for awhile, fuming and ripping chain-smoking cheap cigars (yeah) while the Brazilians — there are always Brazilians, everywhere, at major soccer tournaments — drove around honking their horns in celebration.
***
The ferry from just north of Hamburg to Malmö takes seven hours, which is most of a night, and the best sleeping spots are taken quickly by experienced riders. Our group — exhausted, depressed, hungover, filthy, and unable to understand German or Swedish — was in no shape to battle for the prime areas. We found a couple thin benches and sat talking about the trip. Despite the American's inability to play well, we were trying to stay positive. The further we got from Nuremburg, the more it became clear that this trip was never really about the soccer. We had another week to explore Europe, a car, and really nothing on the schedule. We decided to keep with the general plan, which was to have no plan at all. We tried to get some sleep. Andrew and Jeremy took the benches. Geoff and I wandered off to find somewhere else. That somewhere else happened to be the ball pit. We thought it would be comfortable. It wasn't.
We arrived in Malmö, drove to Stockholm, and paid for two hotel rooms for that night. We wandered around the city, wondering why everyone was so tall and why the sun never seemed to set. We got some dinner, then went to the hotel to sleep. We crashed hard. It was wonderful. The next morning, we got up, drove aimlessly until we found a fjord, jumped into the frigid water so we could say we jumped into a fjord in Sweden, and continued on our merry way back to the ferry, refreshed and rejuvenated. We avoided the ball pit on the return trip.
Previously in series: Portraits From A Cross-Country Road Trip, Fly Fishing The Universe, A Chat With A Person Who Has Been To Disney Parks 40 Times and Hiking The Grand Canyon In A Day
Noah Davis is frequently lost.