A Chat With A Person Who Has Been To Disney Parks 40 Times
by Claire Zulkey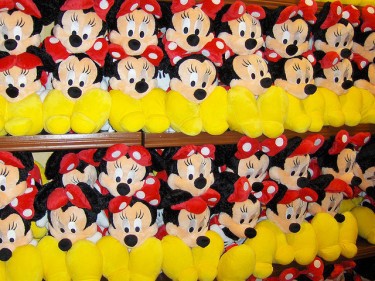 Part of a month-long series on terrible trips, great journeys and getting lost.
Last fall, I had dinner with my cousin, his wife and their two teenage sons, none of whom I get to see that often since they live in northern California while I'm in Chicago. My cousin mentioned that the family would be heading to Disneyland after they returned home. "That sounds like fun!" I said, but the two boys just rolled their eyes. "We go all the time," one of them said. "Our mom is obsessed." I was intrigued: I'd known my cousin's wife, Kris, for almost 20 years, but never knew about her dedication to Disney. I've always felt neutral-to-positive about Disney, myself, having been to the parks in California and Florida each a couple of times. So I decided to ask Kris about what keeps her returning to the park.
Claire: How often do you go?
Kris: I typically go to Disneyland two to three times a year, Disneyworld once every other year. Disneyland is about a six-and-a-half-hour drive from us, but Disneyworld is technically more affordable, aside from the flights. Size-wise, it compares to a city like San Francisco: it has different theme parks and a water parks and the hotels are Disney hotels on-site.
Give me the lowdown on your average trip to Disneyland.
Usually we go down Friday through Sunday. The problem with driving down there is hitting L.A. traffic, which is horrible, and unfortunately Anaheim is on the other side. It'd be nice to fly but if we all go, it's expensive. You're going to think I'm the biggest nerd, but [my husband] Dave and I have actually annual passes but [our teenage sons] don't. It's kind of our secret shame. We tend to go down there more often by ourselves, now that the kids are older.
Ideally, we'd go into the park right when we get into town around 2 or 3 [in the afternoon], party until closing and see the fireworks show. We always park hop. Disneyland and California Park Adventure are across from each other, so it's easy to go back and forth to each one, whereas at Disneyworld you have to take a shuttle. We get fast passes for the rides, where you can go and stick your ticket into this machine and it gives you a return time and you bypass the line.
We'll spend the whole morning in the park, starting with when the park opens, and you'll get as much done as possible without the crowds there. We head back to the hotel room around 1 and 2 to rest. It's sensory overload, even for adults. You're spent, you're dealing with crowds, sounds, sights, so it's nice to go back for a respite and have a glass of wine and take a nap. And then we go back in the evening for the nighttime entertainment.
What are your favorite rides?
We always go on Space Mountain first, and then we try to end the trip on Space Mountain. You can't beat it. At California Adventure, it would be Soarin' over California, where the idea is that you're hang gliding. They lift you up in these chairs and your feet are dangling and you're in this surround-sound theatre and this IMAX screen is all around you and you're flying over different parts of California and the score is beautiful.
What are your favorite parts of the park?
We always walk down Main Street towards the Castle and that's when I know I'm in my happy place. It's very old-town USA, kind of nostalgic. And then of course you've got the Castle in the distance. Adventureland at night is really cool and romantic, since there are torches everywhere and it's dimly lit.
Do you remember the first time you went?
I was 18, because I grew up in New York. I wasn't really hooked though until we took the kids. Ben was 6 and Alex turned 9 during the trip, and we had gone to one of the water parks that Disney owns called Blizzard Beach. He was going down a slide and then he came back and said "This is the best day ever: I never want this to end." To see him look at me like that, I just felt so blessed that I could give him that experience.
Tell me about your job, and how Disneyland is an escape.
My job is to maintain a database of all patients who come through the emergency room for a Level 1 trauma center. I go through each patient's medical records and abstract all of their injury details for performance improvement as well as research. Every day, we read about these horrible accidents that happen: gunshots, stabbings, motor-vehicle crashes, falls. Sometimes it's okay, but sometimes you just go home and cry because you read about something just awful. Terrible things happen to people. I think that's why Disneyland appeals to me so much: when you walk in there, it is complete escapism with so much attention to detail. You leave your cares at the gate.
Is your husband as into Disney as you are?
People will tease him a bit about it. He'll say, "Kris loves Disney and I love Kris," but he definitely enjoys it and has an amazing time there too. I don't know if I should admit this, but we'll sneak in a little water bottle of vodka. It's the happiest place on earth and if you can have your drink and sit on Main Street or go on rides a little buzzed, why not?
Do you ever participate in Disney special events?
I love the Disney races. They're very expensive, with registration at about $150, but they're worth it. They do an amazing job organizing it, and when you can see Mickey on Mile 8, that's really going to lift your spirits, plus the medals are huge. I'm doing a half marathon at Disneyland with the girls, and we always dress up. We wore red skirts last year with Minnie Mouse ears. I think this year we're all going to be princesses.
I'm also doing the Disneyworld for the Wine and Dine half marathon, where you run through three parks total. It's a nighttime race that starts at 10:30, and then there's an after-race party where the food and wine booths will be open for the racers and their families. You get a coast-to-coast medal for running a race in California and in Florida in one year.
What are some of your favorite Disney resources?
Disboards.com: it's mainly for Disneyworld but they have other forums for Disney, like the cruises. Any question you have could be answered there. Allears.net is a very good resource, especially for menus. I also love the PassPorter: not only is it a guidebook, but it's sort of interactive. It has a map and checkboxes next to the rides/attractions, along with journaling pages for each day and pockets where you can tuck things away.
All Disney fans are planners: we're a certain personality type. You can do so much research on Disneyland and Disneyworld, have Excel spreadsheets and binders and micromanage completely each day down to the hour. I think that appeals to people because there's this cool build-up to the trip. I can't tell you the number of times I've gone there and you've seen people clustered around a map looking lost. You could be there for an entire week and not do everything.
How would you improve the parks, if you were in charge?
Just recently they had a huge ticket price increase; I think it was 17%. It makes me sad to think that you really have to be pretty stable, financially, to go to a place like that. I think that's a shame, I really do, especially young families, or if you've got one income. It's really sad that people can't bring their young kids where there's so much fantasy and they can't experience the wonder. It's so cool to see their reactions and it's sad to think that not everyone can go.
Tell me some behind-the-scenes info about Disney.
We learn about all kinds of trivia, especially on the DisBoards. There is a place called Club 33 in Disneyland and that's for members only and it's very expensive. It's corporations that have memberships, typically. That was a place that Walt Disney himself would go and bring his VIP customers and it's the only place in Disneyland that serves alcohol. Walt wanted it to be dry: he wanted it to be very family oriented. We've taken tours before: they have all kinds of behind-the-scenes stuff, but they won't truly take you really behind the scenes because they want to keep the mystique. On Main Street the buildings aren't as tall as you think they are, same thing with the Matterhorn: they call that forced perspective. There are tunnels underneath at Magic Kingdom where the cast members can go from place to place so the guests have a completely immersive experience. They have all kinds of tours where you can have lunch with a Disney Imagineer and meet Disney employees and talk about different rides and whatever they were involved with.
Have you ever seen anything really crazy at the park, like people having sex?
No, but if you go on the DisBoards there are whole discussions about that. Otherwise, people change diapers on park benches and that's pretty gross. A lot of people tend not to wear deodorant. I'm not looking for those things, though. I'm in my zone at that point.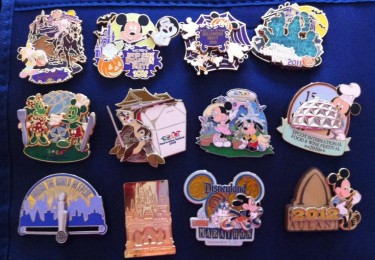 What are your favorite souvenirs from the parks?
We do pin trade. You have a lanyard around your neck and you have all these trader pins. You can buy them at the park or buy a bunch on eBay and then anybody in the park who works there (they call them "cast members") has to trade with you. Any big event has a pin for it. If we go to a special event like the race or the flower and garden festival, where they put amazing topiary and flower arrangements all through Epcot, we always get a pin from the event.
I do have a lot of Mickey Mouse t-shirts, I'm embarrassed to say, but I only wear them there. I sometimes wear them out in public but rarely. I'm a little shy about it, but it's socially acceptable in Disney. I wear Disney Crocs there too. Crocs! But they're so comfortable. Also, we collect ornaments. They're not what you expect: they're usually shaped like Mickey's head, the three circles, in some sort of pattern. Our tree has kind of become Mickeyfied.
If someone was to take his or her first trip to Disney, what would be your tips on having a great day?
It's important to get there right at rope drop, when the park opens, because you really will beat a lot of the crowds that come later after they've slept in. It's great to bring in snacks. They have lockers, so if you wanted to bring a full lunch, you could. Disneyland is surrounded by a bunch of old hotels and restaurants so if you wanted to save some money you could leave the park. I think it's important to take a rest in the middle of the day. If your kid's having a meltdown, leave. It's not fair to them or everybody else at the park, so just go give them a rest. I also always bring glow sticks from the dollar store. It's silly, but when everyone is wearing one at the fireworks, you want one.
Do you think you'll ever bring your kids there?
Sure, although my husband, who is from Phoenix, is adamant that Disneyland is superior to Disneyworld whereas I think Disneyworld is pretty cool too.
Dineyland has a special place in my heart because it's local: it's my park. A lot of the L.A. residents feel the same way. Disneyworld is very different because it's just a bunch of tourists coming in. The locals are more into it at Disneyland. When they changed Small World, you would have thought the sky was falling. The fans flipped out. All they did was add a few more contemporary characters, but they really felt it was taking away from the original artists. It's just how strongly they feel about the park.
Would you ever go to Eurodisney?
I don't think I would. If I went to Paris, I'd just be in Paris. We do other things — we do! We don't talk about Disney a lot because not everybody shares this particular passion. It's not looked upon as very sophisticated. We do travel a ton, but we always end up back at Disney.
Previously in series: Portraits From A Cross-Country Road Trip and Fly Fishing The Universe
Claire Zulkey lives in Chicago. You can learn so much more about her here. Photo by Joe Shlabotnik.