The Tiny Newspaper In North Carolina That Scooped Up Journalism's Big Prizes
The Tiny Newspaper In North Carolina That Scooped Up Journalism's Big Prizes
by Dan Cooper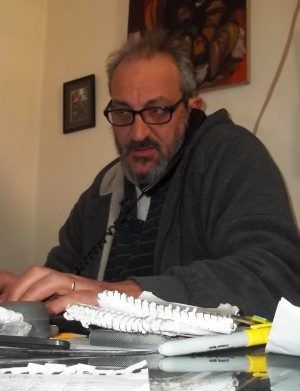 Yancey County is located in the mountainous western stretch of North Carolina, about 45 minutes from Asheville. The county's population is less than 18,000, and yet it has two local papers to serve it: the Yancey Common Times Journal, which has been in publication more than a hundred years, and the "other" newspaper, the Yancey County News, founded in 2011. The paper's masthead lists only two people — husband and wife Jonathan and Susan Austin — but nevertheless, its first year out, the Yancey County News has won two major journalism awards, the E.W. Scripps Award for Distinguished Service to the First Amendment and the Ancil Payne Award for Ethics in Journalism.
The prizes were both awarded for stories reporting on corruption in the county's official channels. In one series, the paper revealed that the county's deputy-sheriff had pawned county-owned firearms for personal gain; another series uncovered absentee ballot fraud, voter coercion, and voter anonymity rights violations in the county. Juries for both awards recognized not only the quality of the reporting, but the extraordinary efforts necessary to get such reporting done in a paper's first year of existence.
The Yancey County News is a weekly, available online for free as well as in print for fifty cents. In addition to its prize-winning journalism, the paper also prints out the school's weekly lunch menu. Its print circulation is 1,200. The other day I spoke to Jonathan by phone, and over the course of our conversation, he had some gems to offer about the history of journalism, his commitment to rigorous reporting, and what it's like to operate in such a small community.
Your First Amendment award cited admiration for doing great work "despite risks both financial and physical." You modestly claim only to be doing what any journalist learns in Journalism 101. How were you able to uncover corruption where others weren't?
Part of it is that I haven't been wedded to one job for fifty years. I've worked at the Montgomery Advertiser, CNN.com, Media General, Gannett. I've been a newsroom reporter, copy editor, news editor, city editor, all in a variety of Southern communities.
It's gone now, but I'll argue this as long as I live, there was a point where the New York Times was this fascinating and very valuable resource for their regional newspapers. A lot of people didn't understand that the New York Times did have small dailies all over the South. When I first started with them in the early 80s, they had a skilled and highly knowledgeable manager to interact with those papers that were all over the U.S. The first was Seymour Topping; we would meet him on at least a yearly basis. But the one I miss so badly was a gentleman named John Lee. After being the business editor of the New York Times, he became the editorial advisor for the regional newspapers. He was a resource. I could pick up the phone, call him, and he would answer the phone and help me become a better manager.
I think it's always more beneficial for a journalist to have thrown a wide net with their career and seen a wide variety of issues over 25-plus years as opposed to working at only one paper and with one job.
At one point, the New York Times went a route that meant abandoning the regional newspapers. You can't predict the future, but I trace it to when they bought the Boston Globe. They were wanting to lock up the advertising corridor of the US Northeast. At the same time, they were working on buying the Boston Globe
they had the opportunity buy what had been the Multimedia Newsgroup, which was a wide-ranging capital city grouping but they let Gannett get that. Can you predict the future? No, but they rolled the dice buying the Globe for a billion, and I think they may not have had the great payoff they had hoped for. As a result, I think that the regional papers suffer.
I was sort of unique in the world of journalism. I was in the army reserve. There was training in that arena, which is tremendously valuable. When you go back to my formative years I can happily say that most of the editors had been veterans. In almost all circumstances, we learned, that we're almost all not alike. There's nothing quite as abrupt as going to basic training with 120 people from everywhere.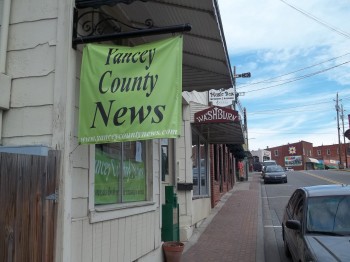 How did you come to start a news agency in Yancey County, only a couple hundred yards from the 100-plus-year-old Yancey Common Times Journal?
When my dad was in his low 90s and my stepmother died, he was starting, for the first time in his life, to deal with WWII PTSD. So my siblings and I decided that it would be best if someone could be with him and I was lucky enough to be able to live here with him and be the editor for a neighboring county's weekly.
I started in newspapers in the early 80s. My father and stepmother lived here [Yancey County] and on my frequent visits here I felt no one was reporting on the community in a way that I thought that basic journalism 101 required… This week, for example, they've [The Yancey Common Times Journal] put out a piece on the county commissioners meeting on the first of the month but they've written nothing on what went on. I just don't agree with the 'pick and choose' style of journalism. I come out of the school that says, if there is something going on, you try and write about it. Though I fail miserably in so many ways, because there is so little time I have, because I'm just one man, I try and touch on everything I can."
In many ways, it's just what you learn in journalism 101. It's not investigative aggressive; it's showing up aggressive. It's covering as many of the items of what goes on in a community in any given week. We're storytellers so when I'm talking to journalists, I try and remind them that we come up with scripts for the things we don't necessarily want to tell our grandma and I remind them — Who, What, When, Where, and Why. That community I felt didn't have anything aggressive enough.."
Where does your funding come from, and how do you imagine you will continue to fund and feed yourselves?
It's not that expensive. I use my computer, my wife has a computer. I have a digital camera, so I'm set. No more pica poles or reduction wheels. It's so easy now. My wife and I had a savings, some little inheritance; we don't have a house payment, we don't buy new cars, we live frugally, and, at this point, we have consistent advertising revenue.
One thing that E.W. Scripps said at one point in his career, is that it was the purpose and requirement of newspapers to anger their advertisers by reporting the truth and the facts and damn the outcome. There has been a war waged on us in this community by the people whose foibles or criminality we have exposed. Nonetheless, there is an open… or maybe just a part of the community that was hungry for what we're doing here. The reason my first edition had a story about the state opening the criminal investigation into the 2010 general election because people here had reported criminal activity in the election and the gathering of votes… so we do have tremendous support here in a segment of the population that doesn't have a dog in the fight.
What's interesting is that I'll be out and someone will slide up alongside me and, almost like a cartoon, they will whisper, "Hey, I really like what you're doing." and then they'll slowly move away. Don't be seen congratulating the other paper, don't be seen congratulating Jonathan. But many do.
A state bureau of investigations agent told me that downtown merchants have been repeatedly told by law enforcement that if they advertise with me there will be repercussions. One retailer, selling fifty-plus papers a week, suddenly stopped, saying they "couldn't keep up with the quarters." But it turns out according to their staff, who came running out of the store to tell us, that, actually, they love the paper; some high-ranking person had told them that if they kept selling the paper they would lose the contract to feed all the prisoners in the jail. People will engage in war against you and there has been an economic war waged against us because we did expose the individuals who were expected to enforce the law, but who may in fact be the largest organized criminal group in the community, or they may even be controlling the crime.
You affect your community because you provide content that children read. We are in a unique situation here in Yancey because the older medias have chosen to avoid — to go out of their way to "not affect their community." Why did they do that? That's for them to say. I feel like they were a little too comfortable.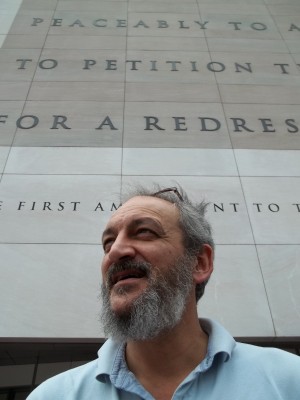 The E.W. Scripps award judges congratulated you for pushing your resources "to the limit, day after day" to produce excellent journalism. There are only two people on the masthead. How do you do this?
We are a two-person staff. We get some help from our son-in-law, to deliver [papers], but otherwise, we are a two-person newspaper. One thing that was really interesting to start a new newspaper was actually finding a press because the number of all newspaper press facilities are shrinking. Even Asheville, which has, like, a 50,000 daily, closed their press and consolidated at another Gannett press in Greenville. So we found a press about an hour and ten minutes away. So Mathew, the son-in-law, goes and picks it up from the press and brings it back and then helps me get them to the post office and then delivers it to all of our retailers Since we rented our Main Street facility, he gets to live rent free upstairs.
We're now 70 editions through — 70 weeks done. I don't care whether people… To me, it's just another arena that in the long run will benefit my business. I don't charge for obits; everyone else does, so I don't and I don't ever foresee charging for them. For me, I don't have to meet a target budget for an owner somewhere out of state. We are the owner. So long as we are satisfied, and we feel like we can have some safety net, then I'm fine with that.
How do you see the relationship between local and national news agencies developing? Do you foresee yourself ever working with an organization like Patch.com?
Could I see me becoming a content provider for Patch or a bigger metro paper in an independent way? If they see value in it, I'll talk with them. That might be one of the problems with the big metros: they have divorced themselves from the small communities that surround them that in many ways are a larger part of the economic base than their downtown area. Very few big papers are going to care about what goes on in our school board meetings unless it involves a dramatic upheaval."
Why do you offer a print version of the Yancey County News?
Not many papers can start off and in a year build up to 1,200, on the fact that people come to realize that I am here for the long haul. I do try and cover all topics whether they like them or not. Even those who have a grudge about the fact that I'm exposing fault lines in the county tend to, in the end, plunk down their 50 cents and buy the paper.
You have to rely on almost 30 years of experience; that's where the editorial process gets going, where the rubber hits the road. As Garrison Keillor would say, "that's righteous time." I try and subscribe to the theory that everything is important to someone. I doubt that anyone not in school bothers to read the lunch page but I bet they understand the purpose for it being there.
I also do a page of the agriculture auctions, not only the ones closest to us but those from Tennessee and Virginia. Since we're so close why not check their prices? I love the concept of the farmer being able to get 27 cents more per pound of this or that if they go over to Auction A rather than B, instead of the auction that may seem the most obvious.
In our country, and I think across the nation, there's a return to the value of agriculture. It's one of the marks that can define the value of a community.
What kind of web traffic are you seeing?
We see 500 a week across the website. We refer to them as 'expats' — former residents, people whose parents live here or whose parents who have an intimacy with the community, but for whatever reason they're living elsewhere.
What does it mean that you've won these awards?
I don't know that I could ever accurately provide an answer to that but I think that based on my background, what it means for me is that I need at least to reach out to the universities — Appalachian State University, to the north; East Tennessee State University, which is to the northwest; UNC-Asheville, which is to the south — and say, "in case you didn't know it, we did this! And if you want to pursue any sort of conversation that might have an impact on your teaching of journalism and to change what your students see as high-quality journalism, I'm here…" Am I going to be a teacher? No. Am I available to have my brain picked? Sure.
I'm extremely proud of the stories we've covered. But that's not all we are. The hardest thing now is to convince people that we're not just muckrakers… The prom is this weekend and I'm very excited about that. It's modeled on the Golden Globes, "here comes Jimmy and Jane!" They have big sky spotlights and a red carpet. It's a big deal. To me, doing that well in any given week is just as important as getting the big investigative story.
Related: A Q&A; With A 'Daily News' Crime Reporter
Dan Cooper contributes to a handful of projects. Some involve writing and others do not. Photos by Susan Austin, used with permission.