All The Presidents' Menus
by Sarah Marshall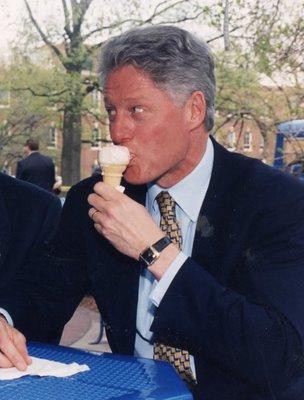 While compiling this list I attempted as often as possible to learn not what the presidents ate at state functions and inaugural dinners but during their solitary breakfasts and family suppers — in other words, their comfort foods. Often this information came from contemporary accounts, and occasionally from the recipe cards of first ladies who left for posterity the dishes they'd cooked for their husbands, during the White House years as well as the early days of their marriages. Where this was difficult to track down (such as with the earlier presidents), I focused on menu items from the more personal of the large events (birthday and wedding dinners, for example) held in the presidents' honor. A lot of this information came from the wonderful Food Timeline, which is maintained as a resource for young students, but can be just as fascinating to readers who don't have to ask an adult before they try to make corn pone.
The evolution of American taste is on display here (Teddy Roosevelt's hominy and green turtle soup traded in for Ford's spaghetti and meatballs), as are glimpses into the very different personalities of the men that have held the office. A few things to look out for: Those who gorged when under pressure (Clinton, Taft) and those who all but starved in times of strain (Nixon, Kennedy, Lincoln); those who used their station to procure the finest cuisine available in their time (Jefferson, Arthur); and those who remained attached to the dishes with which they'd grown up (Truman, FDR, and Grant). And with the Fourth of July fast approaching, here's where to find something intriguingly quaint to make in honor of our country's strange and fascinating history. I've got my eye on Daniel Webster's Punch.
Barack Obama: Nachos and guacamole, chili, burgers, Green Dragon and Black Forest Berry Honest Tea, Planter's trail mix, pistachios, almonds, water, Dentyne Ice, Nicorette, MET-Rx protein bars, apples, broccoli, and spinach.
George W. Bush: Biscuits, chicken pot pie, grilled cheese sandwiches made with Kraft singles and white bread, huevos rancheros, and deviled eggs.
Bill Clinton: Soft tacos, chicken enchiladas, chili con queso, cheeseburgers, ribs, cinnamon rolls, lemon chess pie, peach pie, sweet potato casserole, Egg McMuffins, and Kool-Aid. "Heavy on the meat, dessert at every meal and tiny amounts of vegetables, the tinier the better." — Marian Burros, "Bill Clinton and Food" for The New York Times.
George H.W. Bush: Pork rinds, popcorn, beef jerky, hot dogs, Butterfingers, and ice cream.
Ronald Reagan: Macaroni and cheese, meatloaf, hamburger soup, roast beef hash, Yorkshire pudding, well-done steak, beef and kidney pie, swordfish, baked apples, monkey bread, and Jelly Bellies.
Jimmy Carter: Ham with redeye gravy, baked grits, cornbread, pork chops with cornbread stuffing, fried apples, red beans and rice, ham and cheese sandwiches, spicy spare ribs, collard greens, kale, okra, zucchini, butter beans, fried corn, and peanuts.
Gerald Ford: Waffles with strawberries and sour cream, german apple pancakes, white bread, prime rib, new potatoes, green beans, ice cream, spaghetti and meatballs, liver and onions, lean pork chops, and lemon pudding.
Richard Nixon: Fresh fruit, avocadoes, gazpacho, cucumber mousse, cold poached salmon, cold shrimp and crab, cottage cheese, Rye Crisp, wheat germ, macadamia nuts, corned beef and cabbage, steak, spaghetti with meatballs, meatloaf, and beef stroganoff.
Lyndon Johnson: Chipped beef, biscuits with ham or deer sausage, lamb hash, chicken chow mein, chop suey, spinach soufflé, salad chopped fine and eaten with a spoon, barbecued spare ribs, cold tapioca pudding, and fudge.
John F. Kennedy: Broiled bacon, New England chowder, lamb chops, steak, fish on Fridays, mashed potatoes, baked beans, corn muffins, grilled cheese sandwiches, quiches, soufflés, and beer. "President Kennedy was a small eater; he often had to be reminded that it was dinner time… politics always took preference over food." — The John F. Kennedy Presidential Library
Dwight D. Eisenhower: Roast stuffed breast of veal, beef stew, oxtail soup, chicken noodle soup, rare steak, quail hash, trout, corn pudding, string beans, succotash, fluffy turnips, and prune whip.
Harry Truman: Hot cereal, buttermilk, fried chicken, cornmeal dumplings with turnip greens, cornbread with sorghum molasses bought on trips home to Missouri, and candied carrots and sweet potatoes. Choosing the menu for a luncheon given in honor of Winston Churchill, Truman ordered oyster soup, celery hearts, filet mignon, asparagus hollandaise, and watermelon pickle.
Franklin Delano Roosevelt: Creamed chipped beef, corned beef hash with poached eggs, bread pudding, fried cornmeal mush with maple syrup, kippered herring, kedgeree, Welsh rarebit, doughnuts, scrambled eggs for dinner on Sunday nights, lobster, steak, soup with fairy toast, and apple pie. Terrapins, caviar, and foie gras on occasion. When King George VI and Queen Elizabeth toured United States — making them the first reigning British monarchs to visit America — the Roosevelts served them hot dogs.
Herbert Hoover: Gumbo, lobster, roast lamb, Virginia ham rubbed with currant jelly and sprinkled with breadcrumbs, egg timbales, corn soup, homemade candy, griddle cakes, fried cornmeal mush, Oregon black cherries.
Calvin Coolidge: Roast beef, Vermont pickles, Vermont chickens (raised in a yard he had built behind the White House over Teddy Roosevelt's mint patch), curry of veal, pork apple pies, custard pies, and cornmeal muffins.
Warren G. Harding: Chicken pie, knockwurst and sauerkraut, frankfurters, corn muffins, waffles, and copious amounts of coffee.
Woodrow Wilson: Chicken salad, ham, peach cobbler, fresh eggs (sometimes raw), biscuits, strawberry ice cream, and Georgia kiss pudding.
William Howard Taft: For breakfast: grapefruit, partridge (both potted and grilled), venison, waffles, hominy, rolls, and bacon (at least once in the same meal) as well as steak, oranges, and tremendous amounts of coffee throughout the day; smelts, lamb chops, salted almonds, deviled almonds, lobster stew, lobster a la Newburg, salmon cutlets, tenderloin, cold tongue and ham, terrapin soup, Billi Bi, salads (especially peach), baked possum, and persimmon beer.
Theodore Roosevelt: Hard boiled eggs, hominy, rolls, milk crackers, cantaloupe, tea (especially Caravan and Hu-Kwa), chicken (especially fried chicken with gravy), dandelion greens, fiddlehead fern salad, pigs in blankets, liver and bacon, kidney stew, Indian pudding, white wine, shad and shad roe, game meats, oysters, green turtle soup, and coffee, into which Roosevelt sometimes stirred as many as seven lumps of sugar. His son would later say the President's coffee cup was "more in the nature of a bathtub." — Poppy Cannon and Patricia Brooks, The Presidents' Cookbook
William McKinley: Eggs at breakfast in lunch, potatoes, steaks and chops, boiled fish, red flannel hash, and hot lobster salad.
Grover Cleveland: Corned beef and cabbage, oatmeal, steak and eggs, brown bread, pickled herring, and snickerdoodles.
Benjamin Harrison: Oysters, consommé, bouillon, terrapin, lettuce salad, corn, fig pudding, sausage rolls, chicken salad, and maraconi.
Chester A. Arthur: Coffee and a roll for breakfast, oatmeal and fish for lunch, mutton or roast beef with potatoes and fruit for dinner, beer, claret, macaroni pie, rhode island eels, salmon, oysters, turtle steak, and Nesselrode pie.
James Garfield: Squirrel soup, fresh bread, milk, tea mashed potatoes, parsnips, and Garfield pie (made with apples, not the cat). He willingly ate all foods save for oatmeal: "Told that Indian leader Sitting Bull was starving himself to protest his imprisonment, Garfield said, 'Let him starve.' Then he thought for a moment and said, 'Oh no, send him my oatmeal.'" — James Cook, The Murder of James A. Garfield
Rutherford B. Hayes: Coffee and tea, cornmeal battercakes, green corn fritters, French pickles, oyster stew, corned beef, veal cutlets, white cake.
Ulysses S. Grant: For breakfast, Spanish mackerel, steak, bacon, fried apples, flannel cakes, and strong coffee. For lunch and dinner, roast beef, wheat bread (which he liked to roll into balls and shoot at his children, pretending they were ammunition), hominy, and rice pudding, which he preferred to all other desserts.
Andrew Johnson: Fresh milk and butter (which a White House dairy was established to provide), popcorn, roasted apples and chestnuts, hoppin' john, canvasback duck, wild turkey, pine bark stew, sweet potato pone, sweet potato pie, and sweet potato pudding.
Abraham Lincoln: Apples, coffee, bacon, milk, johnnycakes, honey, and chicken. "Mary Lincoln set a table at the White House, which included such food as aspic of tongue, pâté de foie Gras, turkey stuffed with truffles, and all sorts of wild game, such as venison, pheasant, or canvasback duck. But all too often the President merely picked at his food." — Francois Rysavy, A Treasury of White House Cooking
James Buchanan: Beef, mutton, venison, ham, terrapin, calf's head dressed as terrapin, Pennsylvania Dutch specialties such as scrapple and succotash, moss rose cake, peach charlotte, Confederate pudding and Jeff Davis pie, grape pie, and ice cream.
Franklin Pierce: Fried clams, Daniel Webster's chowder, apple pan dowdy, New Hampshire seed cookies, and New Hampshire fried pies.
Millard Fillmore: Beef stew, mock turtle soup, fish, ham with macaroni, duck, chicken, pigeon, and larded sweet breads.
Zachary Taylor: Deviled crabmeat, hominy, and Cajun food, which had developed a taste for while living in Louisiana. (Taylor was also the only president ever believed to have died in office because of a meal, in his case a large amount of iced milk and cherries on a hot day. He fell ill and died several days later.)
James K. Polk: Ham, corn pone, omelets. Of a trip to New Orleans, Polk wrote that "all the dishes were prepared in the French style of cooking, and to one unaccustomed to it it was difficult to tell of what they were composed…. I took a cup of coffee and something on my plate to save appearances, but was careful to eat none of it. As soon as an opportunity offered I asked a servant in a low tone if he could give me a piece of corn-bread & broiled ham." — quoted in Mark Eaton Byrnes' James K. Polk: A Biographical Companion
John Tyler: Woodcock, pigeons, oysters, kidneys, ham, venison, champagne, and grateful pudding.
William Henry Harrison: Squirrel stew, roast wild duck, apple cider, cornbread, cheese, and fresh vegetables.
Martin Van Buren: Boar's head, oysters, doughnuts, figs, raisins, and apples.
Andrew Jackson: Tenderloin with jezebel sauce, corn cakes, lamb chops and leg of lamb chops with rosemary, hoppin' John, rabbits, oysters, wild duck and goose, fried ham, fried apple pie, leather britches, "Old Hickory" nut soup, Daniel Webster's punch, and French wines.
John Quincy Adams: Quincy Adams was often satisfied with a few crackers and a glass of water for dinner, but he was fond of fruit, enjoying apricots, plums, pears, and apples from the White House orchards. "It is a matter of some curiosity that Adams, with all his exposure to diverse European cuisines, showed so little interest in food. His culinary education had certainly been extensive…Yet throughout the Adams diary food references are sparse." — Poppy Cannon and Patricia Brooks, The Presidents' Cookbook
James Monroe: Fried chicken with rice, biscuits, tomatoes and eggs, spoon bread, chess cakes, sponge cakes, and cream jumbles.
James Madison: Chicken and okra soup, pickled eggs, corn oysters, popovers, seed cakes, gingerbread, ice cream, and Yard of Flannel.
Thomas Jefferson: Waffles, macaroni, parmesan, figs, ragout, soufflés, and anchovies (all of which he had developed a taste for during his travels in Europe), pineapple, turnip greens, Virginia ham, crab, shad, oysters, partridge, venison, and Madeira wine.
John Adams: Baked salmon, oyster rolls, codfish cakes, Baptist cakes, cream of corn soup, green turtle soup, scootin-long-the-shore, Plymouth succotash, Indian pudding, beggar's pudding, flummery, syllabubs, gooseberry fool, and copious amounts of cider.
George Washington: Madeira wine, hazelnuts, sliced tongue and toast for breakfast, hoe cakes, rice waffles, macaroons, gingerbread, cream trifle, lettuce tart, mutton, assorted wild game, and beer.
Related: Presidential Pets
If Sarah Marshall were President she would require that the White House be stocked at all times with at least three thousand dollars worth of runny cheese. Photo of Clinton courtesy of Penn State Archives, via.