Lobstah And Crafts! A Summertime Guide To Portland (The Real One, In Maine)
Lobstah And Crafts! A Summertime Guide To Portland (The Real One, In Maine)
by Alexander Chee
This post is brought to you by HomeAway. Discover the world's largest selection of vacation home rentals with HomeAway.com. Let's stay together.
Portland, Maine, was my first city. I grew up outside it, in Cape Elizabeth, so I always think I know it, but every time I go home, I find it slowly turning into a better place than I remembered, maybe even the place I'll want to return to someday. What I loved about Portland growing up is still true: there are lots of bookstores, especially used ones, old bars and vintage shops that are nearly junk shops. It is still quiet, with beautiful skies, and the ocean on three sides. But now there's also excellent locavore food culture, local coffee culture, local breweries. We used to dread attempts at food more foreign than what we called "Italian," and now there are open-air bars with Belgian beer and mussels right from the coast side by side with some amazing new ramen joint. Now when I come home, I love to see my mom, but I also make plans for dinner out most nights.
Most people who come to Maine drive right to the beach. Growing up, I always found this to be a little funny — it's still very cold — but when it's hot out, I will say, it's a pleasure to throw yourself in.
The real motto of the state of Maine isn't on the flag: "Preservation through neglect." Translation: "Money has never ruined us because it has never been here." Most of the old buildings you see are there because no one has bothered to tear them down, and, as the owner will usually tell you, they were built to last. This is also a way to say Maine was abandoned financially after the Great Depression, one of a few states that didn't receive federal reconstruction aid, and it was also one of the first to be hit hard by outsourcing — I grew up with empty factories that used to be full. Now they're waiting to be your next amazing project in a post-industrial space.
It was and still is also a summer home to the rich, mostly along the coast, though Rangeley up north is another enclave — and there are vast estates where many of the old-money families in this country vacation or live year-round. But you rarely see them except sometimes in these beautiful new restaurants.
Portland is the biggest city in Maine, located on the southern coast, about an hour over the border from New Hampshire. It isn't the capital — it's the cultural capital, the New York City of Maine, as it were. So it is, yes, where we gays and our friends come down out of the woods to live and make culture, along with beautiful furniture, hair and food. Stonewall Kitchen, for example, one of the state's big success stories in recent times, is named for the Stonewall Riots had one of the sweetest beginnings you can imagine. (When I go to Portland, if I drive up, I like to stop at their flagship store on the way, and take in the LL Bean of jams, mustards and housewares (they have a Portland location too).
What never changes is the strangely witchy feeling to the city, as if the sorrow of every sea captain's wife who waited for a captain to return mixed with the smoke of the fires that burned the city to the ground four times have combined and left a tint on everything, no matter how sunny it is. A kind of spiritual Instagram. Most of the buildings stop at about four stories, so the sky feels big overhead. It's a good place to sit with a whiskey or a coffee and smell the sea breeze and read a book. And then when you stand up, here are some things to do.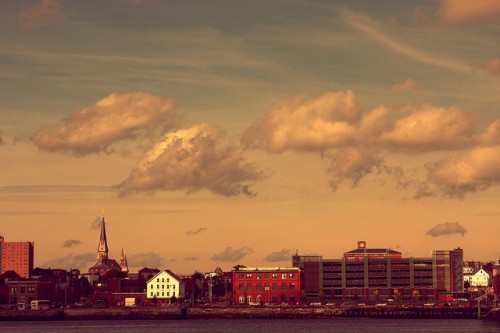 1. To get there: If you drive, rent a car, or drive in your own, and enter the state on Route 95, though try to avoid the 3 p.m. Friday traffic into the state and the 3 p.m. traffic on Sunday on the way out. For a bus, buy one of many inexpensive bus tickets available, including some express options. If you fly in, Jetblue, if booked ahead, can be cheaper than many other ways of getting there, and flies out of NYC. Or take the Amtrak from Boston North Station.
The Amtrak route north is peculiar but worth it — the Maine route being the single Amtrak route that is profitable, the stations are very clean, cleaner than most things in the United States, and the quality of snacks in the café is much higher. Shipyard Beer is served, for example. But this line does not connect to the lower lines. You'll have to transfer from South Station by subway or taxi, which is easy to do. If you don't know this, and you try to book passage from south of Boston, you'll find the Amtrak site will act strangely, and this is why.
2. The major hotels in Portland are disappointing. I would suggest renting, either apartments or houses. This is especially true if you rent on one of the islands and come into town on the ferry or by water taxi. It's very affordable, and you'll likely get something much nicer than the chain hotels in town. There are also a few terrific B&Bs;, like the Inn at St. John, the Carleton Inn and the Pomegranate Inn. Right in Portland, the neighborhoods you'll want most are the East End and the West End, and the Old Port (if you don't mind the noise at night).
3. The International Cryptozoology Museum… do I need to say more than "P. T. Barnum's FeeJee Island Mermaid"? She is there now, on exhibit, along with an amazing fiberglass ceolocanth and a life-size model Big Foot, and much, much more. The museum is right next to the Green Hand Bookstore, a very fine used bookstore, where I can easily browse for two hours. A beautiful afternoon can be spent between these two places, with a ramen lunch at Pai Men Miyake nearby.
4. A runner's path circumnavigates the town. I've never used it as I personally loathe running, but my runner friends always return happy. I aspire one day to use it. In any case, running is a big deal up here.
5. Portland is surrounded by abandoned Naval bases and they are often hidden in the woods of many of the islands and a few of the towns nearby, like Great Diamond, Cushing and House Island. One of the most striking is in plain sight in Casco Bay, Fort Gorges — with granite walls rising right out of the water, gun slits that you can see through to the other side and a beautifully overgrown sod roof, it was the mystical villain hideout base fantasy of my childhood dreams.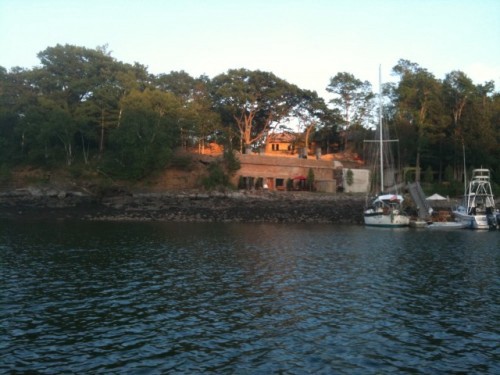 As you pull into Diamond Cove, everyone is jealous of the guy who bought and converted this abandoned naval bunker into a summer house.
You can visit Fort Gorges (pictured in very top photo), due to stone spikes set in the water around it that still deter boats, but you can pass by it safely and see it from the Casco Bay Ferries that leave daily from their Commercial Street location. And in general, any chance to get on a boat in Maine should be taken. The harbor cruises are always very soothing to me for some reason. (Updated to add: You can visit by kayak or small boat (and you should! it sounds fun!). Sorry about that.)
Great Diamond is open to visitors by the ferry or boat, but House Island is privately owned and requires reservations. House Island was once called the Ellis Island of the North, and was also a place new immigrants were sometimes quarantined. The tour of the island and Fort Scammel, is terrific, especially if you like walking through abandoned naval bases underground (yes, I like this). I've been coming here since I was a child. Highly recommended: Tour groups can arrange for a lobster bake in the old whaling camp there as well, complete with chowder, lobster, and corn on the cob served on those gingham table clothes. And yes, it is an ideal place for a wedding.
6. Every time I come to Portland I go to Fore Street for dinner. In the time since I grew up here in the 70s and early 80s, Portland has become a serious food town, and Fore Street is the king of the scene, a beautiful restaurant in a post-industrial space with an open kitchen and a commitment to locally grown foods, plus a view of the waterfront. They have their own kitchen garden, for example, and trusted providers for their seafood and meats. Call ahead for a reservation but if you don't get one, don't lose hope: the restaurant saves a particular number of tables for walk-ins, and if you show up at 5 and ask for a reservation in person, you can get one. Do not try to call and force this one over the phone — they will not be having you. If you can't get in at the restaurant, the bar is my favorite anyway — the bartenders are incredibly nice and knowledgeable, and you can order the entire food menu from there anyway. Also, it is marginally quieter than the rest of the restaurant. This is a great option for that table-for-one diner like me, who comes in with a book and just wants to eat something amazing while I read.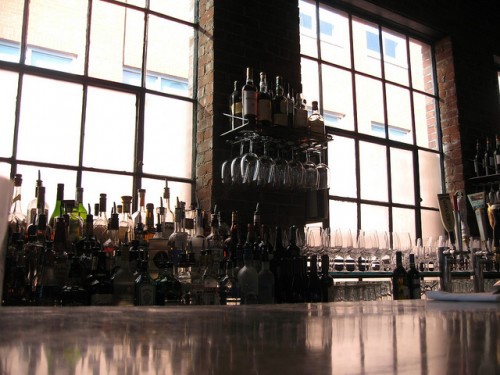 They do a spectacular job with their fish, and in particular, I like to come in and order oysters, a martini and their version of a lobster roll. Fore Street was on the Gourmet Top 500 Restaurants in the US, back when Gourmet existed as a magazine, and this restaurant stands up against all comers.
7. If even the idea of a martini makes you angry, and you just want to sit outside and drink a good beer in the summer, well, there are several places for that. Novare Res is the newest and I think the best one, a beer garden located just off of the Old Port Exchange, with lots of terrific microbrews and old-school Belgians, and some excellent pub food. A great place for lunch or just watching the sun set. If Belgian beer makes you angry, hit J's Oyster Bar, right on the water, for Guiness pints and oysters for 1.00 a piece (this was as of summer 2011, prices may vary).
8. And if it's a whiskey you want, with a view of a graveyard, please go to the Snug, on the East end of Congress Street.
9. If you, like me, now require slow coffee and need those beautiful swirled leaves on your latte or cappuccino, Bard Coffee on Middle Street is the place for this.
10. If you need fried clams or steamers out where no one will find you, Benny's Fried Clams is one of my favorite seafood shacks, located on an otherwise empty part of Commercial Street near the water.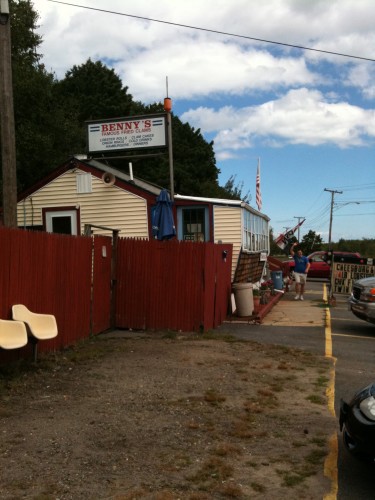 11. Some notes on neighborhoods: The Old Port is one of the main shopping and dining areas of the city. It can get overwhelming in the summer, but this is where you go for street life, a t-shirt with a lobster, an old map of the area, handmade pottery, wi-fi, you name it. It is, to be clear, heavily populated with Tourists. Portland's hipster enclaves, with their nice cafes, bars and restaurants, are located in the West End, around Brackett Street and Congress, and the East End, near Congress and the Eastern Promenade.
The Eastern and Western Promenade offer incredible views and architecture also, though the West end was typically a wealthier neighborhood historically — the ancient brownstone mansions over here are much as they've always been. For one that is open to the public, try the Victoria Mansion, open to the public, one of four historic house museums in Portland.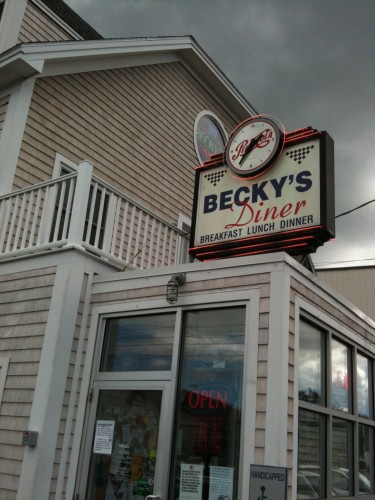 12. Some other restaurant standouts: Bresca, a bit of the opposite of Fore Street in ambience — this place has about five tables. But the chef is as at home with those foams and jellies as she is with your basic fois-gras-driven crowd-pleasers, and the menu is always interesting; Caoila's is probably the place you want to go to for brunch, but it is good at any time and has outdoor seating; Duckfat, which sounds like a gimmick and kind of is but what a beautiful, wonderfully executed gimmick, especially when you have the French fries with their housemade ketchup; Street & Co. has an epic Lobster Diavolo that cannot be beat, if you like that whole spicy marinara with fresh pasta and a lobster in the pan sort of thing; Bonobo Pizza, right near Caoila's (together, with Aurora Provisions, they have created a small hipster enclave around them), has many satisfying pizza options, prepared in a brick oven and with a great beer and wine selection; and then for Japanese food that makes use of the fresh fish locally, there's Miyake, for sushi, and their sister restaurant, the aforementioned Pai Men Miyake, for ramen. Also recommended: make a reservation at Diamond's Edge in Diamond Cove on Great Diamond Island, take the ferry over for the dinner seating, ride back on the ferry at the end. There's a water taxi if you stay too late and miss the ferry. George H. W. Bush likes to stop by here for dinner or drinks. If you see him, be sure to smile and say, "Hey murderer, how's your murderer son?" Or whatever greeting you might favor.
13. Portland is home to a tiny comics scene — The Mutant Ninja Turtles guys were hanging out here when I was growing up — and Casablanca Comics is the center of it today, one of the best comics shops I've ever been to, nationally, and I'm serious. Comics shops are either terrifyingly messy or terrifyingly organized, and Casablanca falls into "nicely organized" somehow — it is reassuring and not scary. If you're sick of what you brought to read and so is your small reading-age child, come here and be satisfied, or head up to Longfellow Books, located on Longfellow Monument Square, a few blocks west, a fine independent bookstore with a terrific used books collection.
14. While in Monument Square, consider ducking into Longfellow House and visiting his restored house and garden, as well as the incredibly nice people at the Maine Historical Society, located there also. If you're looking to research your historical novel, or your family's history in the state, the facilities are well-maintained and the staff is incredibly helpful — though call ahead for research appointments.
15. The Portland Museum of Art is a terrific small museum with some important collections of American artists with strong ties to the state, including three generations of Wyeths, Winslow Homer and, one of my favorites, Marsden Hartley.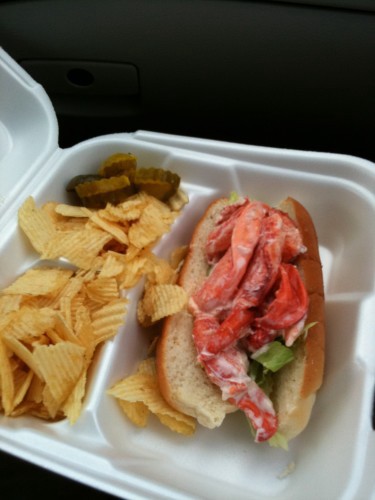 16. Portland has no beaches, per se, though you can sometimes watch the seals from the Eastern Promenade. The island beaches are often though not always rocky. The water is, I won't lie, very cold, though I'm used to it — you may not do much swimming up here without a wetsuit or a swimshirt. For excellent white sand beaches, head out to neighboring towns Cape Elizabeth and Scarborough, to Crescent Beach, Higgins Beach and Scarborough Beach. And for bonus points, hit Two Lights State Park in Cape Elizabeth as you go, as well as the Lobster Shack, located there. The Lobster Shack is one of the finest iterations of this kind of eating, and is located near a lighthouse on a rocky point facing the Atlantic. In other words, the view is amazing, so it would be worth it even if the food was only ok, but the food's better than that. Get the lobster roll or a steamed lobster*, fried clams, the chowder and anything blueberry. Their fries are really excellent too. Grab many handiwipes. Don't feed the seagulls.
* As for those famous lobsters: you used to be able to pull lobsters out of the surf in the 1960s. This was before they were a delicacy, and were so available they were called "poor man's steak." You can't do this anymore. Also, if you decide to freelance and open up someone else's lobster trap thinking "free lobster," it's still legal for the owner to shoot you in the act.
Sponsored posts are purely editorial content that we are pleased to have presented by a participating sponsor, advertisers do not produce the content.
Previously: A Minnesota Nice Guide To The Twin Cities
Alexander Chee is a novelist, short story writer and essayist, and contributes to The Morning News, Paris Review Daily, Granta, NPR Books and now, The Awl. He lives in New York and blogs at Koreanish. Skyline photo by eflon; Fore Street photo by mediafury; all others by author.