What Won The Championship For Kentucky?
What Won The Championship For Kentucky?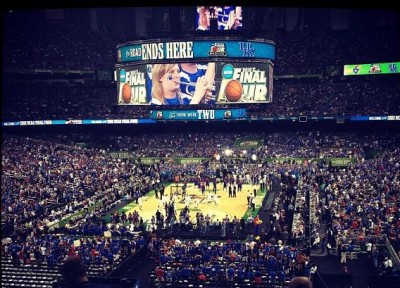 Last night it was pretty clear: The best team won. And along with the title, John Calipari's Wildcats surely deserve consideration as one the best teams of the decade, rivaled only by the 2009 North Carolina squad and Duke in 2002. This season, Kentucky played superior defense, and they played unselfishly, two hallmarks of championship teams that deserve a special place in the conversation of "best ever."
Of course, many fans around college basketball root against Kentucky; that's just a fact. And it was already the case before Calipari arrived in Lexington. The program has deserved some of its bad reputation, most notably due to a massive recruiting scandal in the late '80s. But the animus also stems from UK being one of those 'bully' programs, big and unabashedly so; not many folks root for Goliath over David unless they have some vested interest. But this edition of the Wildcats embraced their own dominance. And in a tournament that otherwise lacked some the drama we've come to expect — no buzzer-beaters and only one overtime game — Kentucky's superior play was a welcome stand-out. Other than the opening Friday when a pair of 15 seeds shocked Missouri and Duke, the tourney went mostly as expected — and the final game did too. Kansas played hard, but Kentucky was simply stronger.
HOW THE CHAMPIONSHIP GAME WAS WON
Yes, Kentucky has a bevy of future pros. But as I've said before, it was the team's defensive intensity in combination with those NBA skills that made the Wildcats so difficult to beat. Anthony Davis, the Kentucky freshman that has swept the national player of the year awards, shot only 1-of-10 and scored just six points in the title game yet was named Most Outstanding Player, confirming how he can impact a game without scoring. Davis had 16 rebounds — 12 on the defensive end — and six blocks to go along with five assists and three steals. He altered even more shots with his mere presence, as Kansas' guards added too much arc and height to their shots with Davis in the back of their minds.
When the Jayhawks cut the lead to 10 midway through the second half, Kentucky sophomore Doron Lamb hit a pair of clutch three-pointers to keep his team firmly in control of the game. Lamb finished with 22 points. On a team with so many stars, as Kansas found, it's nearly impossible to keep all of them in check. On this night, it was Lamb they couldn't shut down.
WHEN THE FINAL WAS WON
With just over 10 minutes gone in the first half, Jayhawks guard Travis Releford canned a three to cut Kentucky's early lead to just five at 23–17. Over the next eight minutes, the Wildcats outscored Kansas 14–4 and stretched the lead out to 16. While Kansas would cut the lead down to as few as five points later in the game, it was that early cushion that allowed the Wildcats to control the pacing and flow of the game for all but a few minutes.
Michael Kidd-Gilchrist, another freshman star for Kentucky, scored all 11 of his points in the first half, many of them during that important 14–4 run. His block with Kentucky clinging to a six-point margin in the waning minute of the game was also huge, all but ending the Kansas comeback threat.
WHO WAS THE GAME'S TRUE MOP?
Davis was the game's MOP, and deservedly so. Lamb scored the most points of anyone on either team. Kidd-Gilchrist had a hand in the win for sure. But Kentucky's most important player might have been freshman point guard Marquis Teague, who played calmly and efficiently in leading the Wildcats attack. Teague struggled earlier in the season as he adapted to the college game. The player that helped win a national title looked markedly different from — and was much more effective than — the one that charged into the lane with reckless abandon in November and December.
Kansas' star forward Thomas Robinson deserves accolades for his performance on Monday night — 18 points and 17 rebounds — as he has this entire season. Senior guard Tyshawn Taylor also played well in defeat, hitting his first three-pointer of the tournament after 20 misses and finishing with a team-high 19 points.
Perhaps the game's true MVP was Calipari, the coach who brought all that Kentucky talent together. The title had to be earned, of course, but it may have been won the day Davis, Teague, Kidd-Gilchrist and reserve freshman Kyle Wiltjer showed up on campus.
STUPIDLY EARLY TOP 5 FOR 2012–13
It's always speculative to look at next season the moment this season finishes, but so what? Obviously the NBA Draft will wreak havoc on college coaching staffs and on absurdly early projections for next season. We got lucky this time last year when several of the top freshmen in college basketball opted to return. We may not be so fortunate this time around.
1. Indiana: After finishing the season with 27 wins and a Sweet 16 finish, the Hoosiers will be overlooked no more. Assuming that star forward Cody Zeller decides not to enter his name into the NBA Draft, Indiana will be loaded heading into next season. Christian Watford, Victor Oladipo, Jordan Hulls and Will Sheehey all return, and a stud recruiting class of Hanner Parea, Kevin "Yogi" Ferrell and Jeremy Hollowell will add talent and depth to the roster. Expectations will be high for coach Tom Crean and his team this fall.
2. Baylor: It's probable that super sophomore Perry Jones III will declare for the draft, but much talent remains in Waco. Brady Heslip, Pierre Jackson, Quincy Miller and Deuce Bello are back after an Elite Eight finish and seven-footer Isaiah Austin will slot into the lineup as this season's marquee Baylor freshman. Coach Scott Drew keeps inking blue-chip players and a breakthrough season seems inevitable.
3. Michigan: If John Beilein can convince star freshman Trey Burke to return to campus for another go around, the Wolverines will be stacked. Tim Hardaway Jr. averaged nearly 15 points a game this season and Mitch McGary and Glenn Robinson III arrive as top freshmen to add size and scoring pop to the Michigan attack. If Burke returns, Beilein will have the most talented team he has ever coached.
4. Louisville: Folks in and out of Louisville were surprised when the Cardinals made it to the Final Four this season, but they shouldn't be surprised if Rick Pitino's team finds itself playing on the tournament's final weekend again next year. Peyton Siva will return to drive Louisville on both ends and center Gorgui Dieng will have another offseason to work on his burgeoning offensive game. Chane Behanan and Wayne Blackshear will be sophomores and the coach is still named Pitino. Expect another season of intense defense and likely a more fluid and dangerous offense next time around.
5. Kentucky: The national champions will likely lose Davis, Terrence Jones and Lamb to the NBA, and could very well see Kidd-Gilchrist and Teague bolt as well. But Calipari recruits with defections in mind and he has top talent set to come in. Ryan Harrow, a former McDonald's All-American who now has a season in the system, transfers in from NC State. All-American freshmen Archie Goodwin and Alex Poythress take over for Davis and Jones and most recruiting observers think that the Wildcats will get another two or three major unsigned recruits in the late signing period, meaning that another young, talented Kentucky team will be aiming squarely at the 2013 title.
Originally from Kentucky, Joshua Lars Weill now writes from Washington, DC. His take on things can be found at Agonica and on Twitter. Photo by kmo, via Flickr.