The Masters, As An Augusta Townie
The Masters, As An Augusta Townie
by Katelynn Bell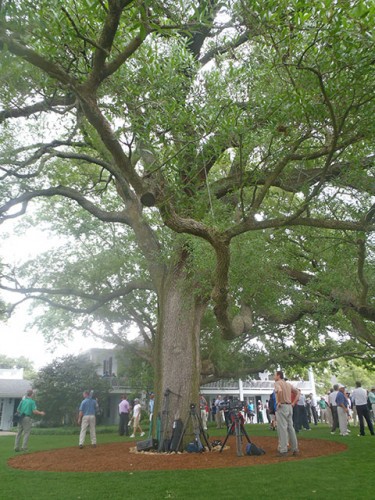 In the weeks preceding Masters week, the air in Augusta turns green. A bilious yellow-green dust forms on the leaves of trees and settles onto every prone surface. People gripe and sneeze, while airing a collection of common sentiments about the upcoming tournament: "I can't believe it's Masters week already."
Every year, thousands of people come to Augusta, Georgia, for the Masters golf tournament. It's the most wonderful time of the year: a weeklong cocktail party, a Mecca for golf-fans that is nonetheless a cocktail party for those who aren't golf fans. I've attended nearly every Masters since I was born during Masters week in 1987, at St. Joseph's Hospital in Augusta. That something like this yearly golf tournament was special did not occur to me until I went to college in Maine and "Masters Week" was called "Spring Break" and moved either side of a week or two of the first week of April. While I was away, I did my best to fly into town to attend the tournament. When it did not work out with my schedule, I stared longingly at a TV, wearing my Masters hat, watching golf.
The word 'tradition' guides any conversation about Masters week: "It's a tradition like no other" or "It's all about tradition." Augusta natives have their favorite Masters week stories: "A few years back, my friend and I passed out drunk under the magnolia trees on the course. Greg Norman woke us up and gave us two of the Powerbars he was promoting…" A few years ago, Tony Romo's father got so drunk with me that he passed out next to me on the couch. Tony begged me not to post a photo online. Later that night I asked Joe Simpson (he was also there because Tony was dating Jessica at the time), "Who the hell are you?"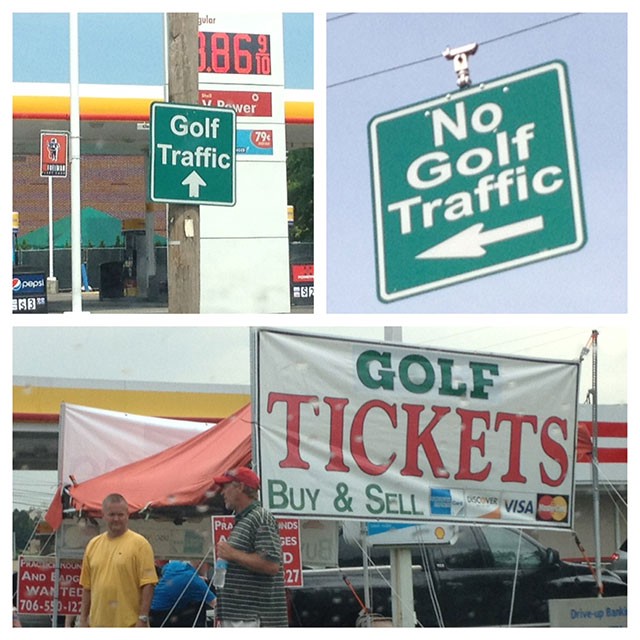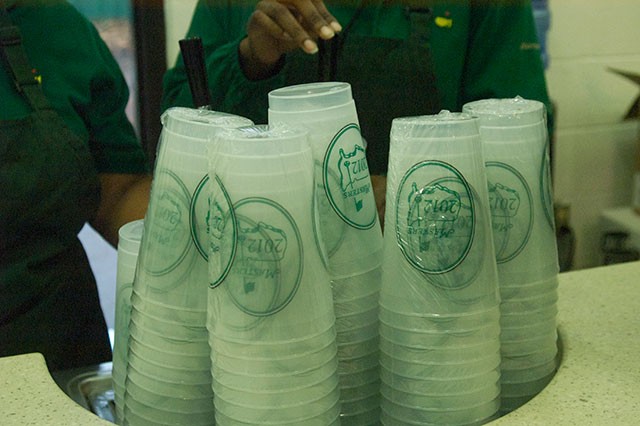 A tournament (or "tuna-mint") veteran has his or her own favorite Masters tournament tradition. Those fortunate to attend every year fawn over the ham and cheese on rye or egg salad sandwiches and the $3 domestic beers sold at the concession stands. Beer is served in a plastic cup with a Masters logo, a dishwasher-safe souvenir.
***
On Sunday, we welcomed the arrival of Masters week with greetings of "Happy Masters!" Overnight, the city transformed; suddenly it was host to tourists, corporations and golfers. Vendors set up their white tents on sidewalks to hawk souvenirs, cigars and badges. I watched as a small group of tourists, gathered beneath the tall hedges concealing the course, dared a look at the entrance of one of the heavily guarded open gates of The Augusta National Golf Club. It's the only time of year you can see beyond the gate, a narrow glimpse of Magnolia Lane, the historic magnolia–lined pathway leading to the Clubhouse.
The Augusta National Golf Club fiercely guards its traditions. They grant membership by invitation only to an elite group, all men, who wear the same green jacket awarded to the Masters champion every year. Cell phones and cameras are strictly forbidden on the course. "It's the only golf tournament where the people watching the tournament respect the integrity of the game of golf," a SunTrust banker from out of town tells me at the bar.
This year in Augusta, we were talking about Sunday alcohol sales. Recently, the Augusta Commission voted to allow retail sales of alcohol on Sunday, overturning a ban that's existed since Prohibition. On Facebook, The Augusta Chronicle asked, "Do you think this will make the Masters different this year?" One man replied, "I guess we can now say that nothing is sacred anymore."
***
On Monday, I attended the Rickie Fowler-hosted Red Bull Off Course Challenge, a competition staged for the media during which golfers Rickie Fowler, Lexi Thompson, and Kelly Kraft lobbed golf balls from a platform in Lake Olmstead to a makeshift skee ball target on land. The event was promoted only a few hours before it started to keep the crowd small and allow unobstructed media coverage. My friends and I met in the parking lot and soon after the competition began, took comfort from the whizzing golf balls at the open bar. I stood by to watch the media coverage, and afterwards, I drove downtown where Tom Watson was receiving a key to our city in a large event hosted by our mayor. Later, I went to CRUMS, a favorite local restaurant, where I talked to three British journalists about the downfall of Tiger Woods, an endlessly fascinating topic at the Masters. One of the journalists lamented:
"I was writing a book about him when the shit hit the fan, so it was quite an interesting time for me too. The way that story unfolded…even when I look at it to this day, there are a dozen things that could have happened differently that would have changed everything… "
"Timing is everything in life," another interjected.
"He was supposed to be in Dubai that week. If he had gone to Dubai, he could have called his wife and said, 'There's a bullshit story in the Enquirer, don't believe it,' and he would have never crashed his car. Secondly, if he hadn't chipped his tooth, he would have showed up the next day and said 'everything's fine.' He wouldn't have been in Arizona getting plastic surgery to repair his tooth. You take one chunk out of that jigsaw puzzle and he could have escaped."
I heard from the restaurant manager that Tiger Woods was at Bar West in Augusta. Later, I drove to the Partridge Inn and met a Nashville songwriter when he bummed a cigarette from a friend.
"Six short months we went together/ Decided it should be forever / Two paychecks are better than one / a diamond ring and it was done," he rhymed. "I'll be here for three days. Come see me at the penthouse tomorrow night."
"That crazy man is here every year," the bartender snorted.
***
Last summer, the National awarded a limited number of tickets for the 2012 tournament to the general public in a lottery system. My sister Hailie received four tickets to attend Tuesday's practice round. At 10:30 a.m., our first stop was the concession stand, where we purchased sandwiches and our first beer. We wandered the course lazily, taking note of the people moving in crowds like schools of fish dressed in stripes, pastels, and khaki shorts. We moved along the fairways, stopping occasionally with the crowds gathered at the crossways and greens, watching a golfer pass with his caddie or sink his final shot.
A guard at Crossway 9 entertained the weary, patient crowd.
"Man, usually we have people coming up and giving us shirts and stuff," he joked.
"Do you want me to give you my shirt?" I asked.
"That beer looks fantastic."
"Do you want my beer?"
"I'm not allowed to drink it, but maybe let me have a waft," he sighed, as I extended my beer toward his nose. "Ahhhh, yes. That should get me through the afternoon. Thank you."
Our friend allowed us into a special "tent" near the Clubhouse with his Membership Badge. This tent is decadence at its finest: with a full dining room upstairs, it was built for this week and will be torn down after the tournament is over. We looked out onto the old practice green on the upstairs back patio and shared Masters stories at the bar downstairs over several more rounds of beer. A special program about Bubba Watson was on the TV.
"He's cool, man, a Georgia Bulldog!"
"I don't trust a man who doesn't drink."
"Where's the General Lee? Oh, damn, look at it!"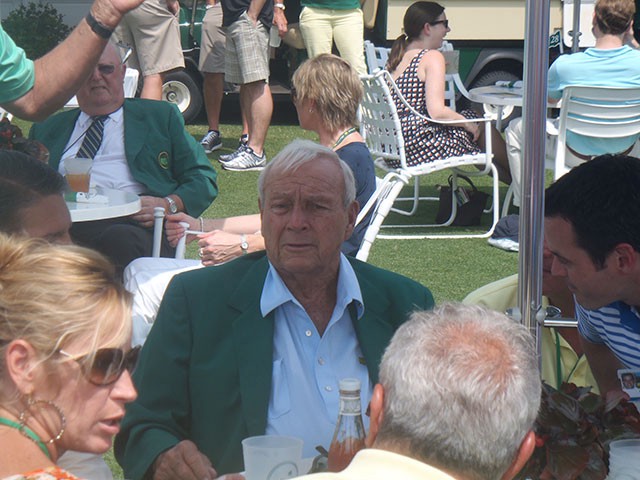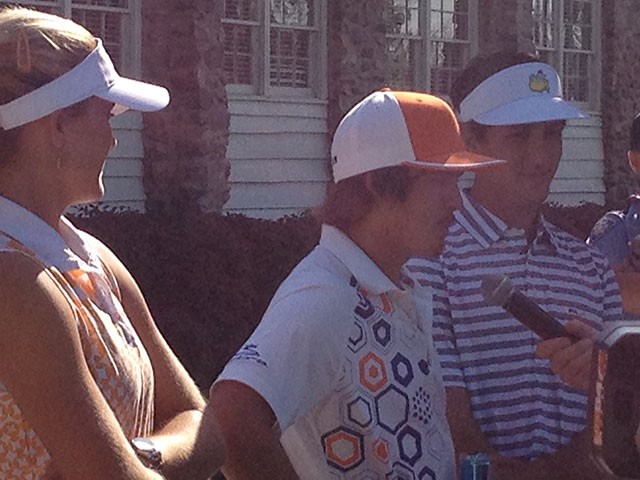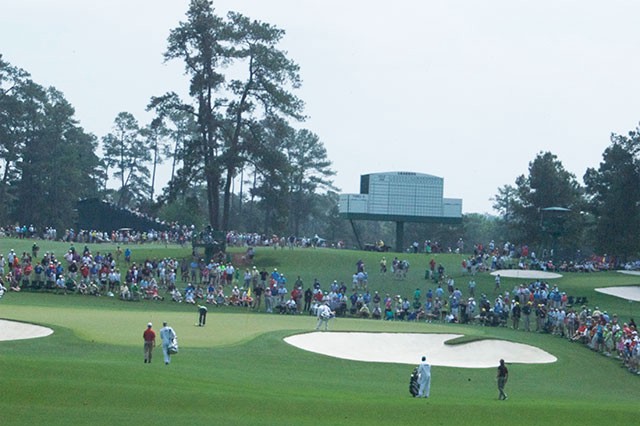 Eventually, the morning clouds cleared, giving way to humidity in the hot afternoon sun and it was time to leave. Arnold Palmer was outside having drinks with Fuzzy Zoeller. Several yards away, I watched Phil Mickelson practice his putts on the green. Hailie and I wandered back through the fairways, with increasing intoxicated ease under the hot sun. I noticed how the pastel clothes seemed to wilt around languid bodies in the heat. "It's an unadvertised fact that at least ten people die playing the Augusta National every year," Hailie said.
***
This year that word "tradition" piqued my brain and had me thinking: it seems right, but whose tradition is it? I borrowed a Masters badge on Thursday and walked to the Augusta National alone. I watched K.J. Choi, Bubba Watson, and Phil Mickelson tee-off. I watched Rory McIlroy, a crowd favorite, come out with the shakes and double-bogey the first hole.
It smells like grass and cigars and the sun is biting my brow hard. When I was a kid at the tournament, I did not know where the action was or how to navigate the fairways and greens. I followed an adult lazily from hole-to-hole, stopping occasionally to shake hands with another adult, uncomfortable in my golf clothes under the sticky sun. The tradition was not yet part of my tradition: it was a tradition of old men and propriety, tall crowds gathered to watch a game I tried to understand. One year, my dad and I stopped beside Sam Snead, a three-time Masters champion. "Do you want to say hello?" he asked. "I sued him years ago, then he hired me, and now we get along. He'll recognize me." I was on the fence. It was hot and Snead was talking to other people. My dad brushed it off as we walked away, "ahhh, another time," and Sam died a month later.
In front of the Clubhouse, patrons greet the golfers politely with chummy nods,
"How you doing, Adam." "Nice one, Bubba."
As I wandered along the rope outside the Clubhouse, I got a specialty drink called an Azalea from a friend with a Membership Badge. I watched the British journalist from the other night work behind the rope, dressed nicely in a purple sweater, interviewing Stewart Cink.
A few hours later, I saw my neighbor, sporting his green jacket. Then I saw a friend from the 2010 Masters, vice president of a major golf talent management group. The year before last, he introduced me to LPGA champion Paula Creamer and Tiger Woods' agent Mark Steinberg. In the wake of the Tiger scandal, "he's having a rough few months," he said.
We smiled and caught up briefly.
"Are you at the same number?"
"Yeah, and you?"
"Yeah."
"Give me a ring." I smiled and punched him in the shoulder.
The hot clouds were building in the afternoon sky, threatening a thunderstorm, but I walked a little longer along the fairways.
***
On Friday evening, I celebrated my birthday at the Partridge Inn, alongside Johnson Wagner, a guy from the New Orleans Saints, and another golf player who had been cut from the tournament that day.
I asked the golf player what made this tournament special.
"Bobby Jones," he deadpanned.
We had a few drinks at his table while chaos swarmed throughout the rest of the bar. This golf player tried to maintain his composure while we drank, but he looked disappointed with his loss, solemnly praising the opportunity, and reaching toward the women who crowded near him. I learned later that Jenna Bush was also at the bar, but I didn't see her.
***
Saturday was my birthday and I wandered the course, watching the bright green hills that have been part of my birthday for 25 years. My 94-year-old grandfather was a gallery boy at the first-ever Masters tournament in 1934. Masters week is as important to me as Thanksgiving or Christmas, and I wondered what tournament traditions would remain throughout the rest of my life.
***
I woke up on Sunday morning in a subdivision in Martinez, Georgia, a suburb in the outskirts of greater Augusta. I walked downstairs, grabbed a Coke from the refrigerator and an Advil from the table, and sat on the couch next to one of the guys I met the night before, a financial planner from New York.
"Coca-Cola in the morning?"
"I guess we're all friends now, right?"
The night before, we met at the Partridge Inn and then took their company shuttle to the house they had rented in Martinez to continue good conversation and drink expensive bottles of wine. The rest of the guys gathered eventually in the living room. We continued jokes from the previous night on the way back into town.
"Happy Birthday," one of them announced.
"Yeah, thanks… I guess it's not my birthday anymore."
They gave me a badge to use for the day, a treat on Easter Sunday of Masters. I bought my first-ever beer on Masters Sunday and ran into some friends on the course, "It's like Masters Sunday is always our Easter and this Sunday is even better because it really is Easter too," one of them said. I guess some things are sacred.
The crowds moved in more dedicated swarms, following the leading players. When you hear the crowd roar, you can usually assume that Tiger is at the green, but Phil Mickelson, Louis Oosthuizen, and Bubba Watson were leading by late afternoon. I watched Phil tee-off at fourteen. He was smiling, not distracted by the crowd, comfortable in their presence. He relaxed while he practiced, then approached the ball quickly and cracked it down the fairway.
"Nice job, Phil," a man shouted, maybe a little too soon.
The crowd bobbed up and down along the pine straw in the hazy afternoon sun. I followed Bubba Watson and Oosthuizen along a few holes. Oosthuizen has been one of my favorites since he won the British Open in 2010, but Bubba was clearly the favorite on the course.
"I just don't want to see a foreigner win it this year," said a man next to me.
"Go Bubba! Keep it up, baby," a blond-haired woman shouted as he walked past us.
We gathered at the Augusta Country Club to watch the end of the tournament. I sat outside with blistered feet, watching the sun set on the golf course in front of me, and determined the winner was Bubba from the tone of cheers from the inside. "Yeah, go Dawgs!!"
I stood up and walked inside to watch the final interviews. Bubba said, "Y'all are going to forget about me tomorrow. And so I'm going have to keep living my life and doing everything… For me to come out here and win, it's awesome for a week and then I have to live my life." And that's part of the tradition.
On Monday, the annual visitors will leave town, the vendors will pack, and the gates will close to the public for another year. Augusta will fall into steady rhythms of what it was a week ago, a midsized Southern suburbia with a fifty-one-week hangover. The doldrums will set in for another year, but that's the tradition, too, and it will all come back again. It's beginning to be about coming back.
Katelynn Bell currently lives in Augusta, Georgia. If you'd like to grab a drink, follow her on Twitter @rksbell.