Joan Crawford Protests: A Short History of 'New Yorker' Corrections
Joan Crawford Protests: A Short History of 'New Yorker' Corrections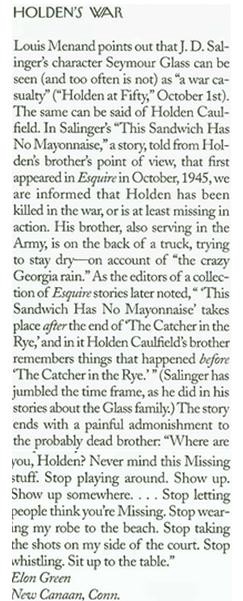 The New Yorker's fact-checking department is singular. Unlike the few similar departments of other magazines, it's got a bit of glam. People actually aspire to work there. And why not? How many fact-checking departments can claim to have been chronicled in the magazine's own pages by John McPhee or depicted — for better or worse — in Bright Lights, Big City? It's been at the top of the fact heap for years, at least in part for its absurd levels of rigor. As an editor noted not long ago, "Every quote, every detail, every attribution, every everything is checked for accuracy" — including the cartoons.
This obsessiveness, I can tell you from personal experience, extends even to the letters. Alongside is one of three missives the magazine saw fit to publish in the October 15, 2001 issue.
The fact-checker called within a week of the submission, unable to verify Salinger's language. The Armchair Esquire, the anthology in which I'd found the story, wasn't in the New Yorker's library, and it would be several years before the story would appear online. I offered to fax him a copy, but such a remedy, said the fact-checker with resigned exasperation, was unacceptable. We went over each detail of my letter until, finally, the poor fellow was able to secure for himself a copy of the long-out-of-print book.
Despite such long-time safeguards — the New Yorker began fact-checking articles in 1927, after a disastrous profile of Edna St. Vincent Millay (see below) — the magazine does find that accidents happen. (It happens to the best of us, including those who may be oblivious to the multiple spellings of blowjob.) And to its credit, the magazine has a long history of airing its errors up front, smack dab in the letters section (update: yes, as well as throughout the magazine). For decades, the magazine gave a platform for readers, some famous, some not-so-famous, to vent about perceived wrongdoings or errors, under such headings as "We Stand Corrected," "Department of Correction," "Department of Correction and Amplification" and "Department of Correction, Amplification and Abuse."
Here are some of the more notable.
COLE PORTER
Issue date: February 12, 1949
Geoffrey T. Hellman had written a Talk of the Town item in which he claimed that Porter — who was in town to record the cast album of "Kiss Me, Kate" — "regards most Yale graduates as colossal bores[.]"
Porter, Yale class of '13 and a member of the Scroll and Key Society, was not amused.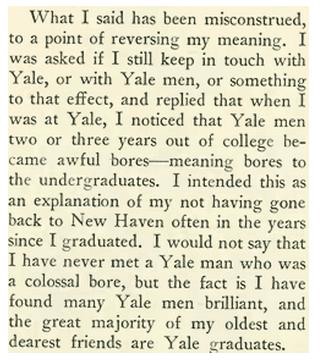 JOAN CRAWFORD
Issue date: May 2, 1942
Margaret Case Harriman opened her profile of Lilly Daché ("Hats Will Be Worn", April 4, 1942) with an account of the ongoing strike among the fashion designer's employees. "The strike has not perceptibly affected Daché's business," wrote Harriman. Indeed, she observed, just "the other day" Joan Crawford sent the doorman past the store's picket line, after which "Mme. Daché had a dozen or so hats delivered to the car for inspection."
Mommie dearest told a different story.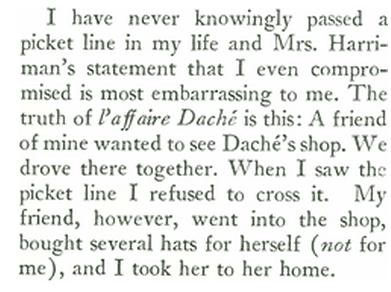 GROUCHO MARX
Issue date: February 2, 1929
Marx wrote to the editors of "your esteemed gazette" to say that New York governor Al Smith had, contra the New Yorker, recently seen five, not four, Broadway shows. Smith, insisted Marx, had been seen at Animal Crackers (which was a musical before it made the silver screen) and apparently was so taken he visited the Brothers backstage, "tears still coursing down his cheeks."
"I'll give you just twenty-four hours to retract that statement before I call on you and horse-whip you within four or five inches of your life," wrote Marx.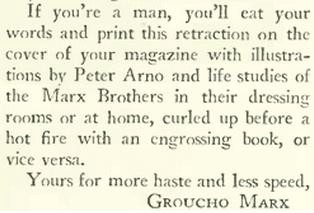 PETER HODGSON
Issue date: September 9, 1950
A "Talk of the Town" item concerned a hot new product called Silly Putty. The toy, which the New Yorker described as "a gooey, pinkish, repellent-looking commodity", was "a perfect furniture leveler; you just stick some of it under the short leg of a jiggly table and there you are."
Hodgson, Silly Putty's developer, wasn't pleased.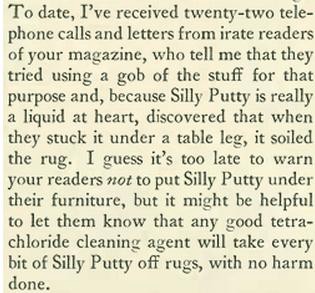 MARGARET MITCHELL
Issue date: June 5, 1937
In May, the New Yorker had quietly broken the news that Margaret Mitchell was planning a sequel to Gone with the Wind. Improbably, Mitchell had disclosed this information in a letter to "an old lady in Urbana."
Mitchell quashed the rumor.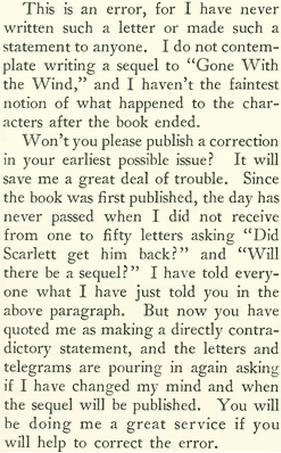 CORA MILLAY
Issue date: April 23, 1927
Edna St. Vincent Millay's mother was furious that the February profile of her daughter by Griffin Barry contained so many mistakes. There were errors in biographical details, she said, as well as in the author's assumptions: Barry had written that Mother Millay "appears to remember little of her own biography."
"It might be that I am more loquacious at times than at other times, but my friends do not seem to think I am losing my memory," she replied.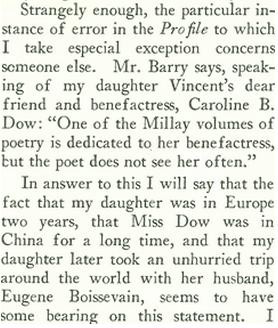 EVANGELINE ADAMS
Issue date: October 22, 1932
The renowned astrologer felt she'd been misquoted when the New Yorker claimed Adams had foreseen a victory by Herbert Hoover in the next election.
No "responsible astrologer would definitely 'predict' results of an election, or the ups and downs of the stock market." Rather, said Adams: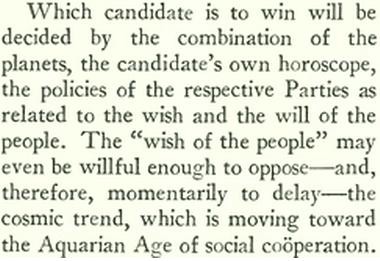 JAMES THURBER
Issue date: February 7, 1959
Thurber, by then on staff at the New Yorker for three decades, wrote in to correct an error of his own making. The previous November, he'd used a Latin expression in the first paragraph of his short story "Midnight at Tim's Place": Horas non numero sine serenas, which he translated as "I count serene hours only."
A New Jersey high school student had written to Thurber, correcting the great man's Latin, which should (apparently!) have been Horas non numero nisi serenas.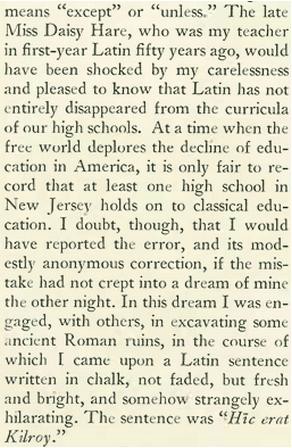 JOHN LYDENBERG
Issue date: May 31, 1947
An article about the New York Public Library's Robert L. Stuart Collection by Geoffrey T. Hellman — him again! — included a quote from "the late" Harry M. Lydenberg, a former director of the library. Trouble is, wrote his son, Lydenberg père was very much alive.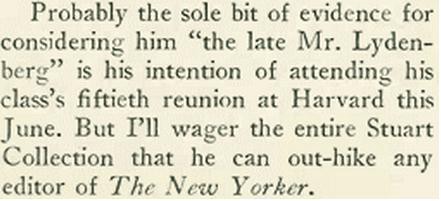 ROCKWELL KENT
Issue date: March 31, 1945
Rufus Jarman's profile of Norman Rockwell revealed that a lot of Rockwell's fan mail was misdirected to another artist, Rockwell Kent. Jarman quoted an article authored by Kent — the publication is unnamed — containing a bitter nod towards Kent's contemporary. "I take my hat off to him, and so do ninety-nine people out of every hundred that I meet, east, west, south, north, who tell me they love his work."
Kent didn't dispute the quote; he simply wished the New Yorker hadn't used it.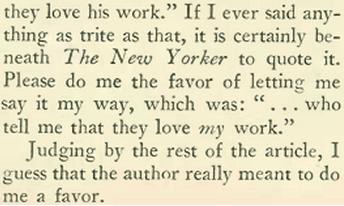 Elon Green writes supply-sider agitprop for ThinkProgress and Demos.
Previously: A Brief History Of The New Republic's Various Stances On War