In Honor of "Revenge," A Brief History of TV's Off-Screen Hookups
by Sara Morrison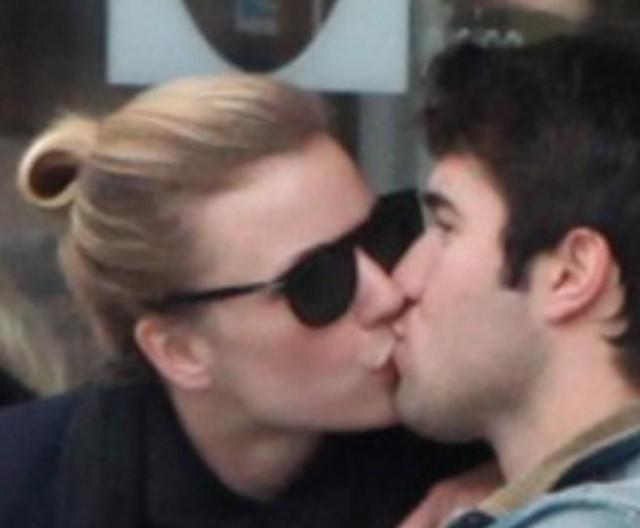 Tonight, "Revenge" returns from its (too-long) hiatus with a crop of new episodes, sure to be full of awesomeness. But will they also be full of awkwardness? You see, Emily VanCamp and Josh Bowman, who play engaged couple Emily Thorne/Amanda Clarke (she has two names, it's complicated) and Daniel Grayson, are together off-screen as well. If a recent photo of the couple is anything to go by, their real-life relationship may have been concluded by the time tonight's new episode starts.
You don't have to be a body language expert to think that Bowman, his arms folded protectively over his chest, his eyes dead, horrified or distracted, is not as into this whole thing as VanCamp, who looms over him, lips mashed against his face, sucking with desperate determination. This presents a potential problem for viewers! We now all know they're dating. If they break up, we'll know that, too. And then we'll all have to watch their characters in romantic scenes together and think about how awkward that must have been to film. If they aren't very good at acting and/or their breakup is especially acrimonious, that awkwardness will be obvious. And that's just unpleasant to watch. We do not want to see real-life problems on our guilty pleasure fun show.
Then again, that could just be a terrible photo, taken at a weird moment. Perhaps things are just fine between VanCamp and Bowman and dating your co-star is a really terrific idea with no foreseeable downside. Perhaps history can be our judge: let's take a look at on/off-screen couples of TV shows past, from Ozzie and Harriet to Billy and Allison; from Sydney and Vaughn to Dexter and Debra, to see just how well that worked out for everyone.
The 50s
In the beginning, there were old married people.
As it happens, the on/off-screen relationship existed before screens did. In the 40s, married couple Ozzie and Harriet had their own radio sitcom, "The Adventures of Ozzie and Harriet," in which they played a married couple named Ozzie and Harriet Nelson. Their real-life sons David and Ricky joined the cast a few years in, and the show moved to television in 1952. It stayed on the air for the next 14 years, as a weird pseudo-proto-reality show based on the family's life. When David and Ricky got married in real life, their wives joined them on the show. So we have plenty of weird on/off screen relationships here.
Ozzie and Harriet were a couple before the show, and they stayed together after it was cancelled in 1966. Their marriage was probably never as happy as their fictional counterparts' (nothing would be, because 50s TV shows loved to portray perfect families and make the rest of us feel inferior), but the real-life version of the couple actually got to, you know, have sex and sleep in the same bed, so I'd call it even. Both sons divorced their co-star-wives, but only after the series was cancelled, thus depriving us of the chance to see what would happen to the annoyingly perfect fake Nelson family if their real counterparts were to break up. In this case, on/off-screen coupledom was a success…
… except for the fact that Ozzie and Harriet's son Ricky and his co-star-wife had twin sons named Gunnar and Matthew — best known to us as the early 90s hair band Nelson. Nelson sucks, and should serve as a warning to any TV people considering reproducing with an on/off-screen partner.
Real-life couples playing fictional couples were apparently big in the 50s, so we also had "I Love Lucy," which starred real-life married couple Lucille Ball and Desi Arnaz as Lucy and Ricky Ricardo. Their fictional counterparts certainly had their arguments, but they always made up by the end of the episode. In real life, Ball filed for divorce the day after they filmed the series finale (at which point the show had evolved into weirdness that was the hour-long "Lucy-Desi Comedy Hour" anyway) — which was also Arnaz's birthday. Ouch! That made the papers, obviously, so by the time the final episode aired, the viewing audience knew the happy fictional couple on TV was being played by a miserable real-life one. Ball never made that mistake again. Though she married after Arnaz — and stayed with her second husband until her death — in all three sitcoms she starred in after "I Love Lucy," her character was a widow.
After that, there's a long dry spell for on/off-screen couples. Either we didn't know they were hooking up in real life until long after the shows aired, or the actors on most of the shows were too busy doing drugs to hook up, or the male leads were secretly gay, or my knowledge of behind-the-scenes gossip decades before I was born just isn't very good. But by the 80s, the age of hungry tabloid journalism made it difficult for stars to keep their romantic lives private.
The 80s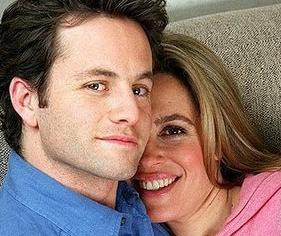 "Growing Pains": Towards the end of the show's run, Kirk Cameron became a born-again Christian. His character, Mike Seaver, started dating some girl named Kate, played by Chelsea Noble, who was also big into Christianity. It was a match made in their unshakable belief in Heaven, and the actors were married the summer before the show's final season. Mike and Kate got engaged in the series finale. The Camerons are still married today, so that could be considered an on/off-camera success in terms of relationship longevity, but Kirk Cameron is so annoying about it, refusing to kiss anyone on-camera except his wife, thus forcing anyone who wants to work with him (which, these days, is relegated to a few fundamentalist Christian filmmakers) to either cast her as his love interest or have her body double in kissing scenes with anyone other than his wife. So, that's a pain. Also, you'd think that anyone who was that happily in love would be open to letting other people find that same happiness with and make those same commitments to their partners, regardless of gender. Cameron most certainly isn't, and we all have to know about it every time he pops up on that Piers Morgan show or wherever, so I'm calling that another fail.
"Night Court": To the best of my knowledge, the cast did not date each other. But I love this show and it doesn't get nearly enough credit or attention, so I thought I'd throw it in here anyway. I still find it hard to believe that anyone could resist the charms of Markie Post and Markie Post's Mullet behind the scenes.
The 90s
With the success of "Beverly Hills, 90210," a new wave of TV shows starring hot young people with gigantic hair and raging hormones burst forth, providing us with plenty of fodder. The "90210" spin-off, "Melrose Place," had its share of bad acting and ridiculous storylines, which usually made it that much more awesome. But not always. Andrew Shue, a.k.a. Elizabeth Shue's less-talented sibling, played Billy Campbell, who started a relationship with Allison Parker, played by Courtney Thorne-Smith, who was at least a better actor than Shue (it's impossible to be worse). Shue and Thorne-Smith dated in real life during the show's first season. Then they broke up, but Billy and Allison were still together. Uh oh. The viewers at home knew all of this at the time, so their scenes as a fake couple had that extra awkward layer of tension, made all the more obvious because Shue was never a good enough actor to close his mouth during a scene, let alone hug his now-ex-girlfriend convincingly. Thorne-Smith has commented on the weirdness of it all in interviews since, but considering she would go on to spend eight seasons playing Jim Belushi's romantic interest, she really has no right to complain about her "Melrose" days. Cupid's arrow struck the "Melrose" set several times: Laura Leighton (Sydney) and mega-hunk of the era Grant Show (Jake) dated for a longer time than their characters ever did. Leighton left the show and ended up with Doug Savant, who played one character Sydney would never have an on-screen relationship with: Matt, who was gay. They're still married. And Heather "Special Guest Star" Locklear and Jack Wagner's characters got married, but the actors were just friends until years after the cancellation of "Melrose." They started dating in 2007 and got engaged last year, but it was called off a few months later.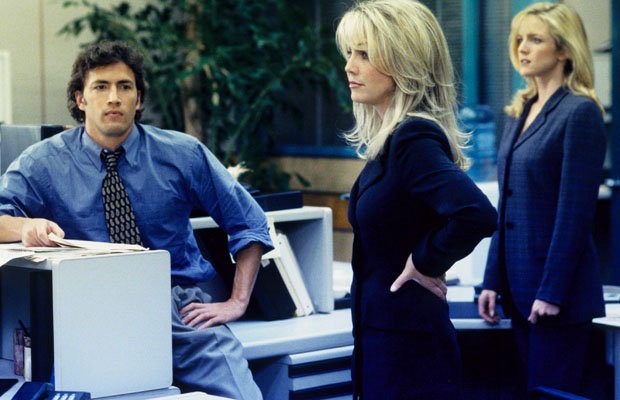 The 00s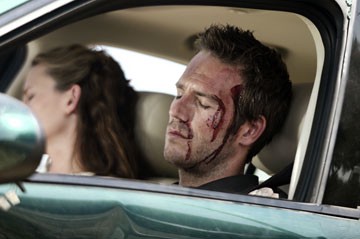 "Alias": Jennifer Garner's history of dating her co-stars went back to at least "Felicity," where she fell in love with Scott Foley. They married and things seemed great until disaster struck and Garner got a role on another TV show with another male co-star: Michael Vartan. Both Garner and Foley have denied that Garner cheated on her husband, but the fact remains that they separated and Garner and Vartan were soon seen together. Their characters, Sydney Bristow and Michael Vaughn, also became romantically involved. But then Garner and Vartan broke up and Garner hooked up with yet another co-star (Ben Affleck, who she met while filming "Daredevil"), who she went on to marry — all this while "Alias" was still in production. It's safe to say things were probably a bit tense on the set between Garner and Vartan after that, and suddenly there was a lot less Vaughn around, culminating in the fifth and final season — during most of which Vaughn was "dead."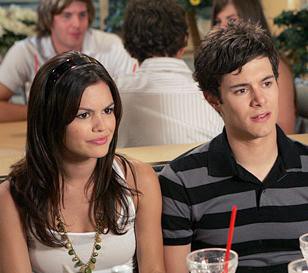 "One Tree Hill": Chad Michael Murray and Sophia Bush met on the set of "One Tree Hill," where their characters also dated. Their real-life romance probably helped that storyline along, especially when Murray and Bush got married after two years together. But then they got divorced, and their show was still on. And Murray suddenly got engaged to some high-school girl who was an extra on the show and Bush started dating another co-star, James Lafferty, and it kind of made everything tough to watch. Fortunately, Murray soon left the show and faded into relative obscurity and Bush found love with yet another co-star, Austin Nichols. Their characters got married on the show; in real life, Bush and Nichols broke up around the time the series stopped filming. Things worked out only slightly better for cast members of the other, better teen drama that premiered the same year: On "The OC," Adam Brody and Rachel Bilson stayed together from the first season, when both they and their characters started dating, until their real-life break up just before the series finale (in which their characters married), leaving the audience with little on-screen evidence of any post-break-up tension.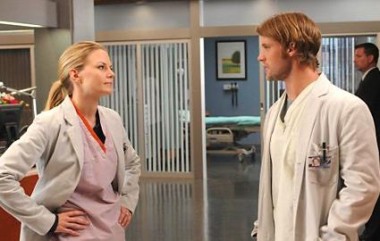 "House": When Jennifer Morrison and Jesse Spencer were revealed to be dating behind the scenes, it was cute. Then the characters they portrayed, Drs. Cameron and Chase, had this weird drugged-out hook-up that evolved into a friends-with-benefits relationship — which would have been fine except for the fact that we never got the sense Chase and Cameron were friends in the first place. Perhaps that storyline was influenced by Morrison and Spencer's relationship, which blossomed into an engagement around this time. All was well until Season Four, when the actors apparently peed on all the writers' Corn Flakes, and all of a sudden their characters were given only a few lines of dialogue or so each week. As their characters' relationship became serious, their real-life one ended. The couple never got married in real life, and even while their characters had almost nothing to do on the show, the writers who obviously hated them made their characters get married after the real-life relationship was over. That must have been a fun scene for everyone involved to film and isn't weird to watch as an informed viewer at all. By the way, after all of that? They kicked Jennifer Morrison off the show and had Chase and Cameron break up for no good reason. They had one more awkward sex scene before Cameron left forever, divorce papers in hand. I have a feeling Morrison was happy to be out of there.
NOW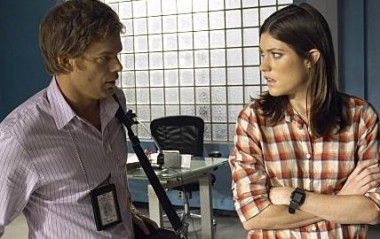 "Dexter": This has to be the most awkward of all on/off-screen hook-ups. First, Michael C. Hall and Jennifer Carpenter played siblings. Yes, Dexter and Debra Morgan aren't blood relatives, but they grew up together and that's basically the same thing as far as I'm concerned. In real life, they aren't biologically or adoptively related, so they were free to carry on. It made things a little weird watching them pretend to be siblings while knowing they probably had sex a half hour before that scene was shot, and my mother and I liked refer to Carpenter as Hall's "sister-wife" after they eloped on New Year's Eve 2008. But it wasn't that bad, and they seemed happy enough — until they weren't. Less than two years after their wedding, Carpenter filed for divorce. People wondered how this would affect the show, guessing Carpenter would have to be killed off. She wasn't. Instead, the writers found a way to make things even more awkward by having Debra confess in the sixth season finale that she had romantic feelings for her own brother. Coming up next season: no less than eight levels of awkward right there, I'd say.
Every other show Emily VanCamp has starred in: When she was on "Everwood," she dated Chris Pratt, who played her brother. A few years later, she dated her "Brothers & Sisters" co-star David Annable, who played her half-brother. Their off-screen romance created so much on-screen chemistry that the writers decided to go with it and made VanCamp's character not related to Annable's after all, paving the way for the characters to marry. By that time, though, VanCamp and Annable had broken up. Their chemistry died, and VanCamp was written out of the series. Oops.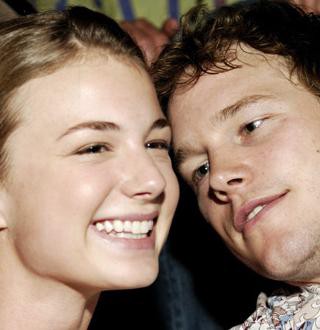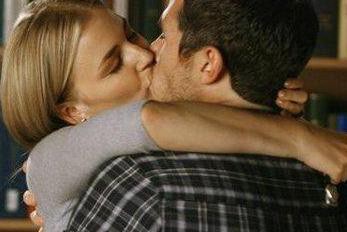 All in all, I think it's pretty safe to say that anyone looking to get involved with a co-star is going to regret it one way or the other. The viewing audience will, too, suffering through awkward post-break-up sex scenes, on-screen sibling interactions full of creepy sexual tension, grandchildren who make terrible music, and homophobic born-again Christians (admittedly, I'm still not sure if that one is the fault of "Growing Pains"). And VanCamp, currently at least 0-for-2 when it comes to dating co-stars, should really know better at this point. Or perhaps this is her PR strategy playbook routine, at this point?
But maybe those crazy kids will make it work, I'll be proven wrong, and "Revenge" will stay awesome. Or, more likely in light of the historical evidence, Josh Bowman is one bad public make-out photo away from being killed off.
Sara Morrison once lived in Los Angeles and played roller derby. Now she goes to graduate school in New York and thinks about roller derby.