Why I Am Leaving the Muppets
by M.B. Cluckerton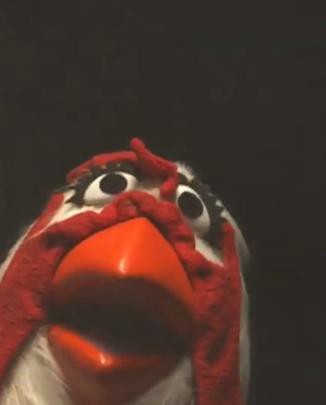 From time to time, we offer our space to individuals with something to say and nowhere to say it. On the occasion of this week's release of the recent film The Muppets on DVD (a "DVD" is what they had before Netflix Instant) and the announcement that a new Muppets movie is expected soon, here is M.B. Cluckerton.
Today is my last day at Disney Muppet Global. After almost 30 years crammed in the back of Fozzie's car — starting out as a summer intern at Fraggle Rep in Williamstown, then doing yellow-chick understudy work at Muppets Dubai — I can honestly say that the environment now is as toxic and salmonella-ridden as I have ever seen it.
I have been working as a background chicken for three generations of Muppetry. Even before Miss Piggy had cleavage. To put the problem in the simplest terms, the original ethos of the entire operation has been compromised.
The chicken division of the Muppets is too integral to the whole freaky franchise — and, hell, to global puppetry — to act this way. I know I seem like kind of a cock here, trying to spitefully ruin a puppet show, but the Mupps have veered ethically way, way too far from the place I joined right out of the coop.
The Muppets — and Chicken Work, especially — has always revolved around teamwork, integrity, a spirit of humility: the secret feed that made our staple-gunned, styrofoam henhouse great. It wasn't just about comically clucking and erratically shedding feathers. It had something to do with pride and belief in poultry puppetwork and efforts to posthumously simulate Frank Oz's voice. (Wait, he's what? Still alive???)
Through the lean years of the 90s and early aughts, and all the way into the warmly received but not totally blockbuster level "comeback" film, I have realized I can no longer look into the large spherical foam eyes of new muppets like Abby Cadabby and tell her what a great place this is to work.
When the history books are written about Muppetdom, they may reflect that the current chief executive officer of DMG, Janice, and the DMG president, Animal, unraveled the Kermit-era moral fiber for which the Muppets once was known.
The pressure is intense and most chicken associates nowadays are up to their beaks in self-inflated braggadocio, with an ego as large as a down parka. Rather than "How can I inspire children of tomorrow?" the most common question I get from junior chickens is, "How can I get a nostalgia laugh?" You don't have to be the fraggin' valedictorian of Roosevelt Franklin High to figure out that the twisted little chick sitting quietly in the corner of the room is being taught a very different way of working. Every day in the studio, back lots or haystacks you can hear smug and tasteless remarks about our human clients, like calling them "skin bags," or "I want to rip out Amy Adam's unvelcroed hair" or, simply "Meep Meep Meep." This doesn't exactly turn a young associate into a model Muppet.
My proudest moments in life — laying a plastic egg in Johannesberg, my LGTB teen awareness work with Bert, becoming Gonzo's 539th domestic partner — have all come through hard work, with no shortcuts. With its cheap efforts to turn Gen X parents misty with sentimentality, the Muppets just doesn't feel right to me anymore. I'm no Chicken Little — if things don't change soon, the sky will indeed be falling.
Seeya, suckers.
Until yesterday, M.B. Cluckerton was Executive of Coop Systems and an Avian Analyst for Disney Muppet Global. In April, Cluckerton will start work as Chief Financial Analyst at Goldman Sachs.
M.B. Cluckerton's ghost-writers, Mike Albo and Virginia Heffernan, are the authors of The Underminer: The Best Friend Who Casually Destroys Your Life.
Previously:
• I Enjoy Being a Lesbian, By A Lesbian Blogger
• Stop Making Fun of The Hulk, By The Hulk
• Hey, Congress Squares, Don't Water Down This Finance Reform Thing, Huh? By Eddie Money
• Hot Gadget News, by Joey, My Building's Porter, Who May or May Not Have Formerly Been An "Exotic Dancer"