by Maud Newton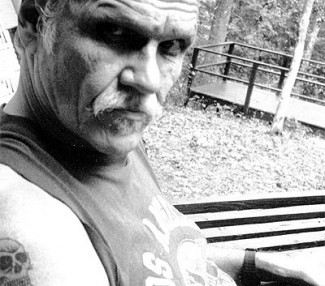 In his fiction and in his life, Harry Crews empathized most with the people who needed it most: the freaks, the fuck-ups, people who'd been broken by loss of one kind or another. Crews died on Wednesday, at age 76. As his son Byron told The Daily's Claire Howorth, "[he] put more miles on the Chevy than most of us."
Crews lost his father, a man he didn't remember, to a heart attack at the age of two. "It wasn't unusual for him to fall in the field," Crews wrote in A Childhood, to lie incapacitated on the ground for an hour or so, and then slowly pull himself up and get back to work. Soon he died in the night, as the whole family slept in the same bed. Five or six years later, Crews lost his stepfather, who happened to be his father's brother, and it was only at their parting that Crews understood his true relationship to the man who'd raised him. "I never was your daddy, but I tried to be one to you," the man said as he left after one final row with Crews' mother. "I ain't gone be by to see you no more." He was true to his word; when Crews found him years later, they did not touch each other, "not even to shake hands." The meeting lasted only minutes. Death and loss surrounded Crews, who also lost his oldest son to drowning.
"I've never enjoyed myself," Crews told Damon Suave in 1996. "I'm incapable of enjoying myself. There's just some people who don't enjoy themselves very much." "How do you like your blue-eyed boy, Mr. Death?" read the tattoo on his arm, a quote from E.E. Cummings.
Crews' over-the-top way of existing has long overshadowed his work and affected criticism of it. He is said to have walked from Georgia to Vermont for a writers' conference and arrived smelling like a bear. He was a Marine; he worked for a cigar factory and as a short-order cook; he once woke up after a bender with a hinge tattooed inside his elbow. He drank, and he drank, and he drank. He was known to put in a good word for Dilaudid suppositories, "Dilaudid is a sweet drug. Doesn't last quite as long as heroin. It's got a better rush." He also fought, studied karate, and had some indefensible perspectives on race and homosexuality, while still brimming with the deepest compassion for humanity. He slept around and favored very young women. "[Y]ou get some gray hair on your head," he said. "And you get some wrinkles. You got to be holding a rap — be able to talk… [I]t helps if you got some credentials…. And young girls, for some curious reason — and young girls, what I mean by that. Let's get them old enough so we ain't going to Raiford [a prison in North Central Florida]. I don't know. Nineteen. Twenty. Eighteen. Nineteen. Twenty. Twenty-one. Twenty-two. Twenty-four becomes very old for what we're talking about here… [T]hey just love old, wrinkled, ruined guys. It's incredible."
At the age of 73, when he spoke to Vice Magazine, Crews was waiting for a young gymnast just out of Auburn University to arrive for the weekend and cook him lobster. Not long before that, he'd spent a month in the hospital after a fight that left him with a scar starting "right in my pubes and [going] up through my navel to my sternum, where it is equidistant between my two nipples. I was gutted, man. I had my guts in my hands."
He appeared on Dennis Miller's show and, depending on your perspective, either highlighted the host's smarmy, smirking, shticky limitations, or revealed himself to be a total nut.
I lean toward the former interpretation. I may be in the minority, but I'm far from objective. The novelist Kevin Canty has compared studying with him to taking a class with Captain Hook. The one class I took with him in the fall of 1991 at the University of Florida was more like studying with a more dangerous, more profane, more artistic version of my grandmother, whom I revered and sometimes feared, and my grandfather, whom I'd never known but who abandoned his first child, married (something in the neighborhood of) thirteen times, was shot in the stomach by one of his wives, and was the son of a guy from Georgia who killed a man with a hay hook. You grow up hearing these kinds of stories, and someone like Crews feels more than a little like kin.
Please understand: I imply no intimacy with the man. I had none. He would not have remembered me or my writing; if he had, I would have been one of the students he denounced as a category to the New York Times, one of the "scared little people [who] come and sit in a scared little class and tremble." I was nineteen when I signed up for the course, knowing nothing of him or his work; I could just as easily have stumbled into any other undergraduate fiction section. Sitting there in my chair on the first day, I was terrified and awed and more than slightly defiant, but I intuited as he stood at the chalkboard, drawing an incomprehensible diagram and shouting, "Fiction is an action!" that I did not have to shrink from darkness and horror in my writing, that he would welcome it.
The following summer I read everything he'd written, and then I read his heroes, Flannery O'Connor and Eudora Welty, and then I read it all again, and again. I did not realize then how unusual it was for a man to speak with such reverence of work written by women. Later I became obsessed with the very book he read and reread and took apart while working on his own first novel: Graham Greene's The End of the Affair, which remains to this day my favorite work of fiction. I never spoke to Crews after that class, but often think of the way he ridiculed my most worked-over sentences, the way he connected with the emotional truths, however overdramatically expressed, however unconnected to my own life, that had driven me to write the stories in the first place. He had to explain to me that an inexperienced writer really should not end a story with the protagonist shooting himself.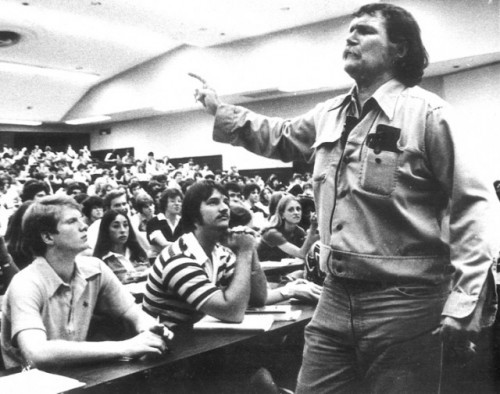 During an interview with him, another of his former students, Damon Suave, expressed embarrassment about his Crews worship. Crews would have none of it. Speaking of the Southern writer Andrew Lytle, he said:
"What the fuck's wrong with that, man? I mean, what's strange about it and what's unique about it? Don't you think that Lytle was god to me and that I went to see him and — in Lytle's case, you walk in his house, and the first thing he does — a silver cup, I told you, a solid silver cup — he pours you a dollop of whiskey, and he says, anything but silver chaps our lips…
And right after the time he died in '93, everybody else I knew that ever studied with him, called him Andrew. I didn't call him Andrew my whole fucking life. Anymore than I would call God Jerry or something. No. He's my man."
John Jeremiah Sullivan, who lived with Lytle as his wood-cutter, assistant and protégée toward the end of his life, wrote a beautiful homage to his mentor. "I tried to apply his criticisms, but they were sophisticated to a degree my efforts couldn't repay," says Sullivan. "He was trying to show me how to solve problems I hadn't learned existed." Crews' criticisms were sophisticated, too, in their remarkable simplicity, so brilliant and unreachable in their straightforwardness that I find myself repeating and puzzling over them still. Fiction is an action. Fiction is an action.
He has been called a fraud, accused of posturing, damned as a writer of caricatures. "I have found that anything that comes out of the South is going to be called grotesque by the Northern reader, unless it is grotesque, in which case it is going to be called realistic," said Flannery O'Connor. Some of Crews' detractors have been Southern, but, contra David Brooks, there are many different Souths. Crews' rings true to me (though I should add that, having grown up in Miami, despite having Southern family, I in no way qualify as Southern).
As a boy, he was a part-time hoodlum. At the age of six he stole an old woman's hubcaps at a friend's suggestion and, when he realized she was in a wheelchair, called back an apology as he ran down the street. He hitchhiked a lot and consequently had a lot of observations and some advice: "Go look down the barrel of a gun or feel a blade on your throat and then come back and talk to me about dying being better than getting your dick sucked." When he joined the Marines, he did so in part "to see if I could do it," "whether my legs were strong enough."
"When I was a boy, stories were conversation and conversation was stories. For me it was a time of magic." You'll read this quote in many profiles, always taken out of context, in the way that Twain quotes are used to make him seem like some sort of kindly grandfather. Crews said this while reminiscing about his bout with polio or some other disease that left him bedridden and then unable to walk for a long time. In the beginning, his legs were so stiff he could barely move, but eventually, he wrote in A Childhood, he "could crab about over the house" with surprising speed. He liked to move just outside his mother's sewing circle.
One of my favorite places to be was in the corner of the room where the ladies were quilting. God, I loved the click of needles on thimbles, a sound that will always make me think of stories. When I was a boy, stories were conversation and conversation was stories. For me it was a time of magic.
It was always the women who scared me. The stories that women told and that men told were full of violence, sickness, and death. But it was the women whose stories were unrelieved by humor and filled with apocalyptic vision. No matter how awful the stories were that the men told they were always funny. The men's stories were stories of character, rather than of circumstance, and they always knew the people the stories were about. But women would repeat stories about folks they did not know and had never seen, and consequently, without character counting for anything, the stories were as stark and cold as legend or myth.
He and the other children sucked on sugar tits, which put them "into a kind of stupor of delight, just the mood to receive the horror story when it [came]." It came, usually, when the subject turned to God.
Crews wrote fifteen novels, an autobiography, and many, many essays. The University of Georgia owns his papers, among which there are myriad unfinished drafts. The strength and fury of his work surges from its — from his — bluntness. "I never wanted to be well-rounded," he said. "I do not admire well-rounded people nor their work. So far as I can see, nothing good in the world has ever been done by well-rounded people. The good work is done by people with jagged, broken edges, because those edges cut things and leave an imprint, a design."
His books are true, empathetic, and often cautionary, filled with freaks and losers running from their past, themselves, or the people around them. A Childhood, his autobiography, is by most critics' reckoning, his best work. A Feast of Snakes, a novel about a rattlesnake revival, comes close, exposing the hypocrisy and strange allure of Pentecostalism with an intensity matched only by Baldwin's Go Tell in On the Mountain. In a later book, Body, Crews suggests that you can change your name and revamp your physical self, but unless you deal with your innermost neediness, the ways life has broken you, all this transformation is counterfeit. Neither your old self nor the new one you've erected on top of it will be strong enough to survive the crap the world throws at you.
Amid the fistfights and the drinking and carousing, Crews was a dedicated wordsmith. "You have to go to considerable trouble to live differently from the way the world wants you to live," he said. "That's what I've discovered about writing. The world doesn't want you to do a damn thing. If you wait till you got time to write a novel or time to write a story or time to read the hundred thousands of books you should have already read — if you wait for the time, you'll never do it. Cause there ain't no time; world don't want you to do that. World wants you to go to the zoo and eat cotton candy, preferably seven days a week."
"When I start writing, I rarely know what I'm writing about," he once said. "Am I writing about all of those great abstract nouns that you've ever heard about — love, integrity, honor, compassion or whatever? The writer's job is to take those great abstract nouns and turn them into flesh and blood and bones. Then they are real. If they aren't flesh and blood, they're ciphers, just names on a page. If they're only names on a page, then you, the reader, will never make judgments about them. When I talk about judgments, I'm talking about moral judgments. Writing fiction is a moral occupation practiced by not necessarily moral men and women. I want you to make judgments. You know, your sympathies and your heart and even your hope will go out to this guy, who ain't a guy at all, he's scribbles on a piece of paper; but he is, you know him, you know what he wants and what he's willing to give up to get it. And then he starts to do something and you say, 'Oh, man, c'mon, don't do that,' and he does it anyway."
His biographer, Ted Geltner of Valdosta State University, last saw him in November. "His health was terrible," he told me yesterday. "He could barely get from the bed to the wheelchair, but somehow he was still managing to work on a novel. He was in constant pain, but he still was willing to sit with me and relive old memories, seemed to enjoy telling stories when the pain subsided, cracking jokes throughout."
A world without Harry Crews is hard to reckon with. But then, in life as in fiction, "Everybody comes to grief over endings. Closures as they like to say."
Maud Newton is a writer and critic best known for her blog, where she has written about books since 2002. Bottom photo courtesy of the University of Georgia's Hargrett Rare Book & Manuscript Library, which houses Crews' collection of manuscripts and personal correspondence; via.