Goodbye Glassing! London's New Permanent Olympics Police State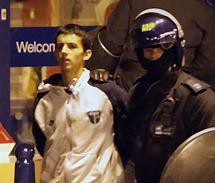 Not only is London overspending for this coming summer's Olympics — the Guardian now estimates that the initial budget of £2.37 billion may be ten times that — but also the city will be turned into a locked-down police state! Sort of permanently, in fact. Neat!
During the Games an aircraft carrier will dock on the Thames. Surface-to-air missile systems will scan the skies. Unmanned drones, thankfully without lethal missiles, will loiter above the gleaming stadiums and opening and closing ceremonies. RAF Typhoon Eurofighters will fly from RAF Northolt. A thousand armed US diplomatic and FBI agents and 55 dog teams will patrol an Olympic zone partitioned off from the wider city by an 11-mile, £80m, 5,000-volt electric fence.
Ooh, it sounds so welcoming! Security is being handled by G4S, which, fun fact, is the world's largest private employer after Walmart — and also is the world's chosen police force in the era of privatization. (But oh so much more! They also run the "welfare-to-work" programs in the UK! The airports in Iraq! "Complete security solutions" in Mexico! They've got it all.)