Learning To DJ At Rock And Soul
Learning To DJ At Rock And Soul
by Josh Sternberg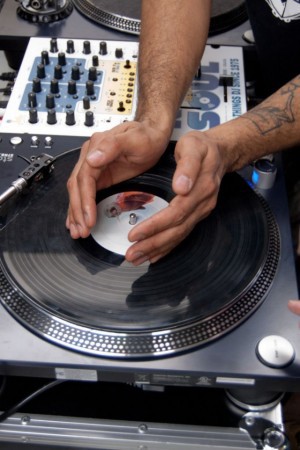 Tucked on 7th Avenue, between 35th and 36th, sits the music store Rock and Soul, which has been providing the city's DJs with gear and vinyl since 1975. Over the decades, a number of influential DJs and musicians have made Rock and Soul their hub, among them Kid Capri, who deejayed for seven seasons of Def Comedy Jam and has produced tracks for Heavy D and Quincy Jones; DJ Funkmaster Flex, who played a pivotal role in introducing hip hop across the radio waves on NYC's Hot 97; and legendary hip hop pioneer Kool Herc.
A couple years ago, the store started offering DJ lessons, and so, on a recent Saturday, I shuffled in for a lesson. After years of sports (hand-eye coordination) and guitar (ear), I thought I'd have a good shot at picking up the necessary skills. But I was wrong. As my instructor, DJ DP One told me, "Nowadays, everyone's a DJ. But it takes practice and passion, and it's not as easy as just pressing a button, though that's what many people think." In this democratized media environment, where the playing field has only gotten larger because of easy access to music, separating yourself from other DJs is hard work.
Like a lot of Rock and Soul fans, DJ DP One has been orbiting the store for decades. He told me he started shopping here when he was a kid (he's 34 now) and feels like he grew up here. "Being able to teach here is so cool."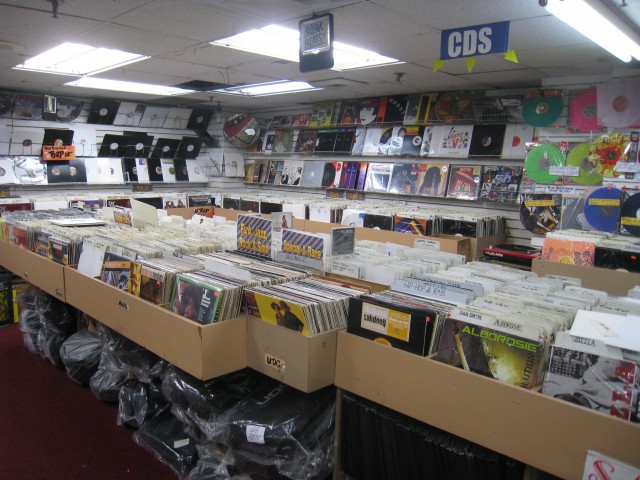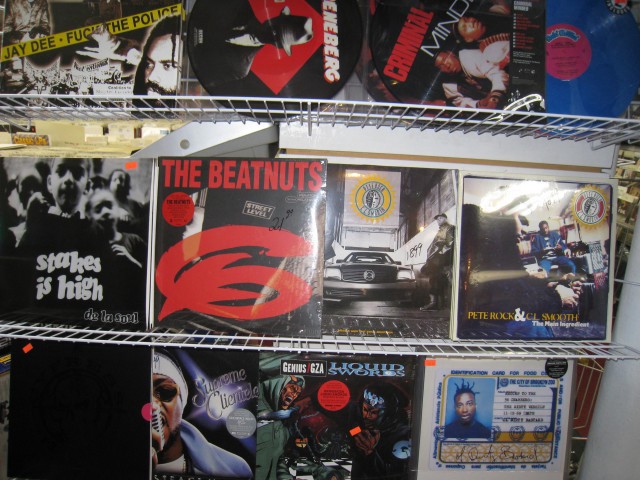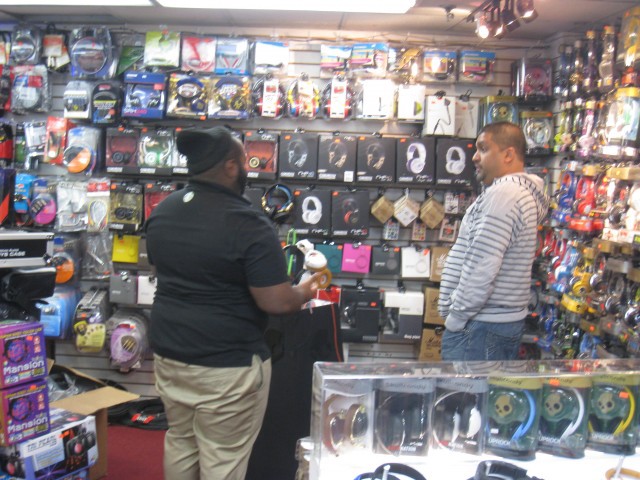 The lesson felt not unlike one you'd take in guitar or piano at your local music store, with the same parallel from theory to practice. First DJ DP One explained the fundamentals, then demonstrated how these techniques are applied. Place your hand here, move your fingers there, because you don't want to pop the needle off the groove or accidentally hit the on/off button. I had a few flashbacks of sitting in my college dorm room learning how to hold the guitar. Fondling the fader switch was like learning to hold a pick; counting bars between songs and figuring out when to add the other track was like switching chords or modulating notes. And just as with the guitar, I had to learn a new vocabulary: scratch, baby scratch, the ah, chirping, forwards, release headphones, release volume. And this was before even learning about the equipment: two turntables, the mixer, the computer and all the computer programs.
Just like any other instrument, in order to get better, you have to practice, practice, practice. "I practice at least two hours a day," DJ DP One told me. "I'm still practicing basics because a lot of new techniques come from foundational techniques."
During our two hours together, the lesson ranged across everything from technique ("Make your hand into a 'v' and place it in the left pocket of the record.") to where not to practice ("I don't recommend practicing in front of a crowd because everyone hears your mistakes if your timing and selection is off.").
He also doled out advice on playing gigs: "Every place has a different energy and vibe that can dictate song selection and strategies. For example, if the crowd is chill, let the song go. If it's a party, play bits of songs to keep people on their toes. No two crowds are the same, so you gotta feel the crowd. Also, take notes as you're spinning: how do the songs flow, how can I make this mix better."
Before my own lesson, I observed DJ DP One in another one-on-one session with a student. During it, he described the steps that any working musician must pass through, no matter his or her genre. Besides the requisite practicing and honing your craft, you also need to hustle. You need to connect with promoters and club owners; you need to apprentice with better DJs and learn from them; you need to take advantage of every little opportunity you get, like when a DJ-friend needs to take a 15 minute break between sets, ask to take the turntables for a spin; open up for more well-known DJs; play at shitty clubs for, literally, beer and peanuts. And then do it again the next day. Talk to any big time band and I guarantee you they will tell you stories about the time they played this little bar, opening up for some other band, only to get screwed out of money. Paying your dues is the great equalizer.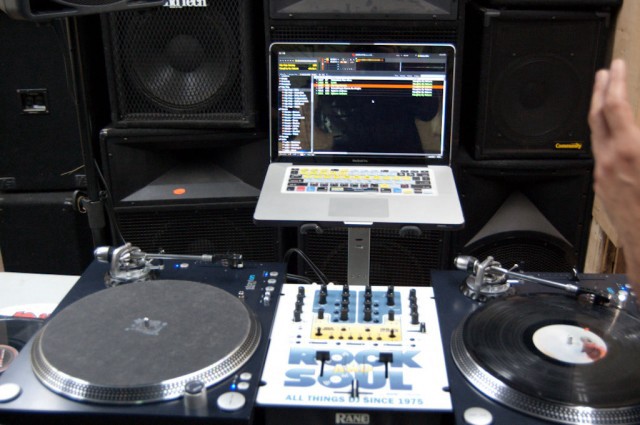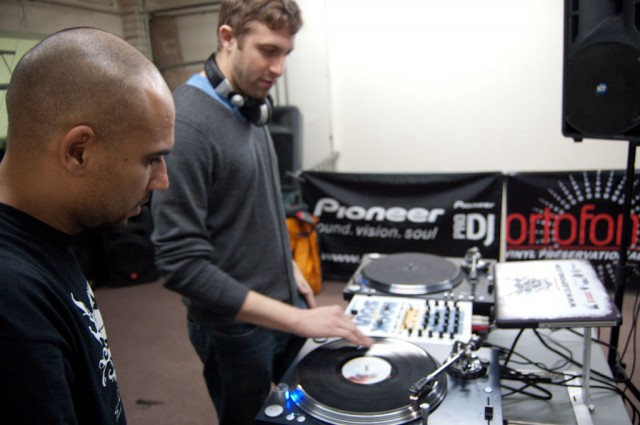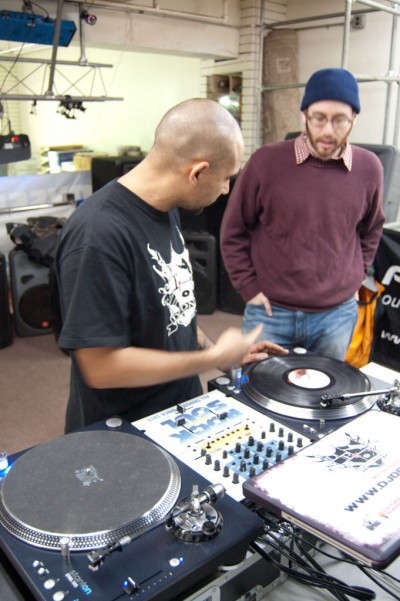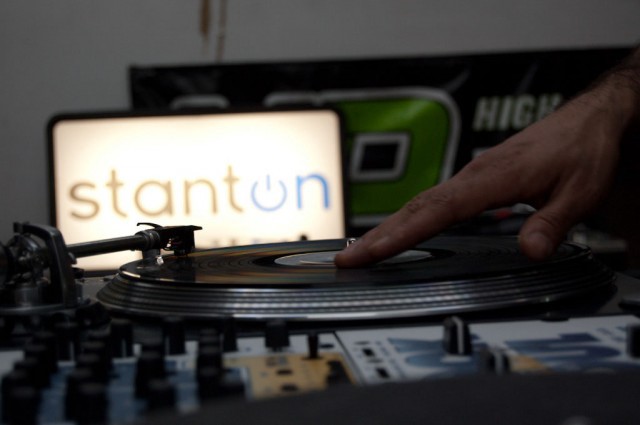 This is one of the advantages of visiting Rock and Soul if you're a DJ. A steady stream of professional DJs stop by there, and a young and hungry DJ can network with some of the best. Several of them give back to the store by giving these DJ lessons, as they know what it's like to be in the young'uns kicks.
"I've been coming through here since the late 80s," DJ Mell Starr, who also gives lessons (and was recently on BET's Master of the Mix DJ/reality competition), told me. "The people that work here — I've known them for so long. I used to come here and not buy, just to say hello. It's a home place."
After just one lesson, it was clear that my body is not as fluid as my mind thinks it is. Trying to spin with my left hand while moving the fader with my right, and then reversing to spin with my right and adjust the volume with my left proved much harder than running a major seventh arpeggio up and down the neck of a guitar. I also learned that, as with other areas of life, having a good teacher makes all the difference. DJ DP One could have easily brushed off my dumb questions — Do I really have to wear headphones? I have a huge monitor blasting beats right in front of me! — but didn't, and had answers to all of them. The earphones, by the way, are so that you can queue up songs and know when to switch decks.
Hanging out at the store you hear a lot of great stories, like the time Harrison Ford came in with his DJ son or when Q-Tip got kicked out for taking the plastic off a vinyl. That's what happens when you're in the same midtown spot for three-and-a-half decades. But my favorite story is this one:
In the mid-1990's, Wyclef Jean walked into Rock and Soul not too long after the release of his album, The Carnival. Posters featuring a picture of him were up all over the store. He walked to the register and began to pay with a credit card when one of the store's owners, Shirley Bechor, asked him for his ID. Jean didn't carry ID, so he grabbed a copy of his album matched it to his face with a huge smile. Shirley laughed and rang him up.
Related: When Did The Remix Become A Requirement and Playing Tennis At Grand Central
Josh Sternberg is a writer based in Brooklyn. You can follow him on Twitter or Tumblr or his blog. Photos by the author and Josh Wolff.