Eight Teams Perched, Precariously, On The Bubble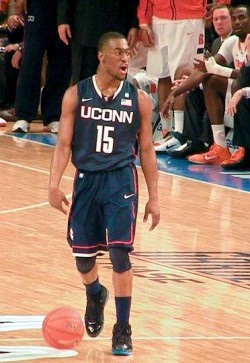 We're now two weeks away from Selection Sunday, and Bubble Watching appears to have become the number-one pastime in the country. Judging from the sheer number of 'Bubble Watch' segments out there, every major sports outlet wants to try their hand, apparently. But then that's all part of the fun of the NCAA tournament process, and the anticipation and prognostication over who's in, who's out and who's sweating it will last until the CBS crew finishes announcing the brackets. In the spirit of fellowship, let's enter the fray and do some Bubble Watching of our own.
UCONN (17–11, 7–9 Big East)
As the defending national champion (and preseason top four team) plays out the end of the season, college hoops fans are debating not whether the team can win it all again, but whether it even deserves an NCAA berth. It's a startling fall from grace for the Huskies, and a classic example of what happens when an über-talented, over-hyped team lacks a soul or leadership.
Like some of the other on-the-Bubble teams on our list, Connecticut has only a few quality wins (Florida State, Notre Dame on the road). That said, UCONN has enough talent to remain a team no one wants to face in the second round of the tournament. But beginning with a road loss to Seton Hall just after the New Year, something within the Huskies seemed to break and what should have been a season spent making plans for a return trip to the Final Four became a slow grind to the Tournament Bubble. After nearly snatching a win over No. 2 Syracuse on Saturday before falling by a basket at home, UCONN has now lost eight of 11. With no chances remaining in the regular season to wow the committee, the Huskies will need to get on a roll in the Big East tournament to lock a bid. The Huskies' trend lines are not good, but history suggests the Big East will get a few teams in that don't deserve it — UCONN may be one of those teams.
NC State (18–11, 7–7 ACC)
The Atlantic Coast Conference has long been one of the game's elite collection of programs, but this season it's looking more and more like a shallow pool. Beyond Duke and North Carolina, a.k.a. the usual suspects, only Florida State has much to brag about, principally wins over those aforementioned ACC powerhouses.
Mark Gottfried has done a great job in his first season in Raleigh, upgrading the talent while also getting more out of who remained from Sidney Lowe's decently skilled roster. But his young squad may have squandered one too many opportunities to make the leap to NCAA tournament-good. With a resume that only looked OK on paper (wins over Texas, at Miami) heading into the stretch run, the Wolfpack weren't able to seal the deal with opportunities against Duke, North Carolina and Florida State in consecutive games. Like UCONN, barring a surprising conference tournament showing, too many narrow losses may mean NC State will be disappointed, and Gottfried's rebuilding job will start in the NIT in Year 1.
Northwestern (17–11, 7–9 Big Ten)
Northwestern has never made an NCAA tournament. Never. As in, never ever. They're the only team in a BCS conference to hold that distinction. Yet with last season's addition of four more teams to the field, and many other middle-of-the-pack teams struggling, the NCAA's perennial bridesmaid may finally see some action.
But the Wildcats have plenty of work left to do. At this point, Northwestern is really hanging its hat on its mid-January win over Michigan State, and understandably so. Non-conference wins over LSU, Seton Hall and Georgia Tech mean even less than usual this year, as only Seton Hall is even a marginal NCAA hopeful. Still, with Ohio State coming to Evanston this week and a winnable game against Iowa looming, there is still hope for the Big Ten's lone tournament virgin. Of course, we've been here before with the Wildcats. There are reasons Northwestern has never played an NCAA tournament game, after all.
Mississippi State (19–10, 6–8 SEC)
A month ago, some were predicting Mississippi State as a sleeper Final Four pick. The Bulldogs earned a top 15 ranking and, with power in the paint and a quality senior point guard, they had the look of a team with the potential to make a bracket run. Somewhere along the way, however, things fell apart, and now six losses in their last eight, including a miserable stretch of five defeats in a row, have put Mississippi State's very NCAA viability into serious jeopardy.
MSU's out-of-conference docket is a chunk of fool's gold. The luster of wins over a then-ranked Texas A&M; (now 13–15) and Arizona (not in the top 50 RPI) has faded significantly and other than a win at home against Vanderbilt, there's not all that much to point to. Factor in the February implosion, and it's looking grim in Starkville barring a sudden resurgence. The Bulldogs had Kentucky on the ropes in a game that might have booked them a ticket, but couldn't close out the Cats last week. Two crummy SEC opponents remain in the regular season, meaning that like so many other teams around the country, it may require a trip to the conference tournament semifinals or even better in order to raise a glass Selection Sunday. Losses to either of the aforementioned crummy teams in the regular season's final week would probably seal the Bulldogs' fate barring winning the automatic SEC bid.
VCU (25–6, 15–3 CAA)/George Mason (23–8, 14–4)/Drexel (25–5, 16–2)
Virginia Commonwealth's unlikely path to the Final Four last season shone a bright light on the Colonial Athletic Association, the conference in which VCU plays and in which it didn't not win either the regular season or conference tournament title before shocking the basketball world last spring. While aficionados of the sport knew there was quality basketball being played in the CAA, in the shadows of the East Coast's major conferences, few understood just how much depth there was until last March, when the Rams proved George Mason's Final Four appearance back in 2006 was no fluke.
Drexel, returning six of its top seven this season, was picked in the preseason to be the league's standard-bearer and that it did, losing just twice in conference and not at all since January 2nd. George Mason and VCU were picked Nos. 2 and 3 in that poll of the coaches and media, and things have nearly held to form, only with VCU leaping over GMU in the conference standings.
But despite the gaudy win totals of each, a lack of marquee non-conference wins make it unlikely that the CAA will get three teams into the field, even expanded as it is. Drexel's best non-CAA win is probably Princeton, which says it all. George Mason's is Bucknell and VCU's is South Florida. Absent a win at what's likely to be a very competitive and entertaining conference tournament, there's no telling whether the NCAA Selection Committee will find enough in any of these teams' non-conference seasons to warrant their inclusion and thus the exclusion of other Bubble teams, especially those in BCS conferences.
Whether VCU's Final Four run last year will tip the scales in their favor is of course impossible to know. It's not supposed to, but maybe it should. These are all three teams heavy on upperclassmen and well coached, and who may toil outside the mainstream but who on a neutral floor would certainly be competitive against fellow Bubble mates.
Xavier (18–10, 9–5 A10)
Heading into the final nine seconds of its 23-point win over arch-rival Cincinnati on Dec. 10, the Musketeers were riding high, sporting a soon-to-be perfect 8–0 mark and wins at Vanderbilt, Cincinnati and Butler. Then the Crosstown Brawl happened, sullying the reputation of stars Tu Holloway and Mark Lyons and the program as a whole in the process. Probably most surprising piece of fallout from the fight is that the team that lost the game actually rallied while the team that emerged victorious tanked.
Xavier dropped five of its next six games, effectively submarining its at-large candidacy in the process. A pedestrian conference season has left the once-top-ten Musketeers in jeopardy of missing the tournament altogether. Tuesday's match-up with fellow Bubble-ites Saint Louis could work as a de facto audition for the Selection Committee, as it's unlikely both make the field of 68 from the Atlantic 10 as at large teams.
The RPI and Strength of Schedule numbers for Xavier are middle-of-the-road, and a road win over the Billikens would surely help gussy up the Musketeers' tournament resume, if not its overall reputation. One thing is for certain, however. Xavier should focus on winning basketball games and not on chest-thumping. Few fans will recall who won the game with Cincinnati, as both emerged losers. Perhaps only by finding the form that got Xavier to the top 10 originally can the program gain back some of its shine.