The Bronies Take Manhattan
by Kase Wickman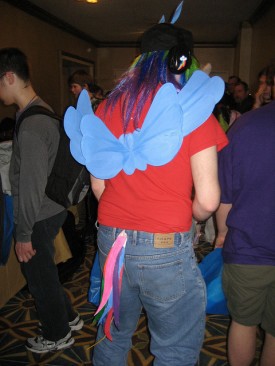 The only hint of their presence in Midtown's Hotel Pennsylvania — the lobby still garlanded for the holiday season and crowded with milling tourists — was a 20-something guy shuffling around in medium-rinse jeans and a lackluster black leather jacket. He might have been one of the tourists himself were it not for the fluorescent pastel sign he held reading: THIS WAY TO BRONYCON! Pictured on the sign was a pink and purple pony in a green field.
The so-called Bronies — a herd of mostly male, mostly white, mostly mid-20s fans of the animated TV show "My Little Pony: Friendship Is Magic" — have had plenty of press coverage of late, but this in-your-face mass gathering was not so typical. Although BroNYCon is held several times a year, Saturday's was the biggest one to date.
Jammed in a holding area by the elevators were several hundred Bronies and Pegasisters — that's the name used for the female Bronies, who were out in roughly 1 to 6 ratio to the guys. The explosion of wild color on display here — the glitter, the rainbows, the homemade pony-mane hooded sweatshirts, all of it bright and sparkly enough to send any pop culture-aware preteen princess into spasms of jealousy — stood out after the neutrality of the lobby. The elevators whisked attendees up to the 5th-floor ballroom ten at a time. The remaining crowd chanted, "P-O-N-I-E-S! What does that spell? Ponies!" Not the most mellifluous cheer, but it was enthusiastic.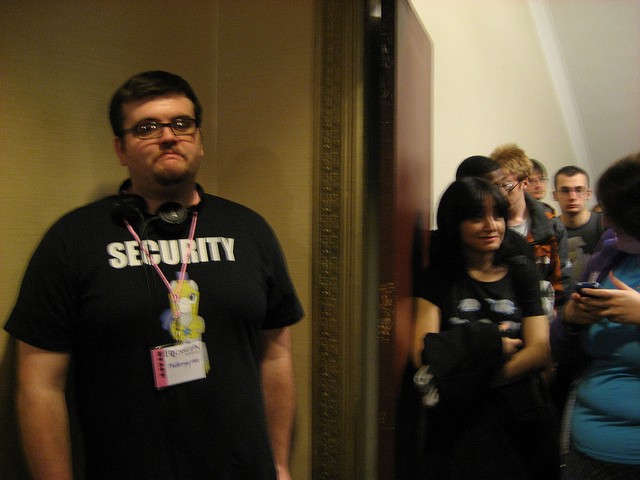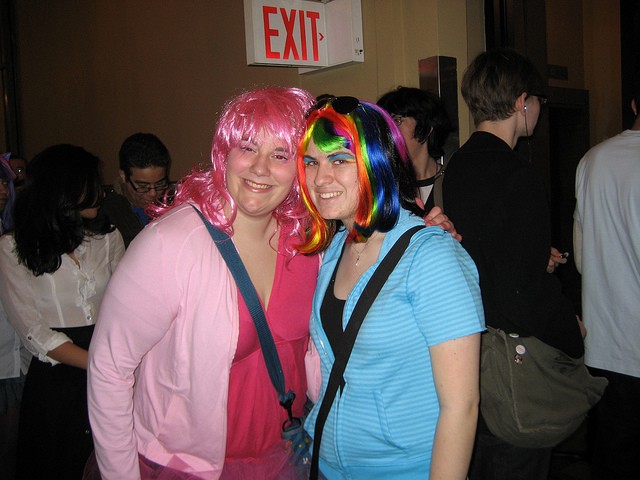 The $40-per-person slots for the conference were sold out, and later in the day hundreds of optimistic Bronies would be lining the stairs, a hallway and part of the city block outside in hopes of scoring a door ticket. One woman, in glasses and a headband with white plush pony ears and a sparkly rainbow unicorn horn, had been watching for hours as her pre-registered peers trotted by. She waited, wringing her hands.
For those lucky enough to reach upstairs, avoiding wings and horns was a hazard of navigating the crowd. But the vendors, the registration packets, the elbow-to-the-ribs crowdedness and warmth — all of this was familiar to anyone who's ever attended a conference before, just here it all had a pony twist. The vendors, Bronies themselves, were selling all kinds of pony-related gear: hats with attached manes, figurines, by-commission pony art and custom Brony shirts ("Fighting the cute crusade!" one of the shirts proclaimed). One vendor asked a fellow Brony how he managed to secure his wings to his hoodie (answer: elastic); afterward, he threw in a sticker with the guy's purchase. "See, friendship is magic," he said. One table housed "Kate's Pony Art," stacks of doodles of My Little Ponies, the edges of the paper still ragged from being torn from a notebook. A can drive was going on behind a "charity is magic" sign. The registration packet promised a performance from NeighSlayer, "Ponyville's Hottest Metal Band!"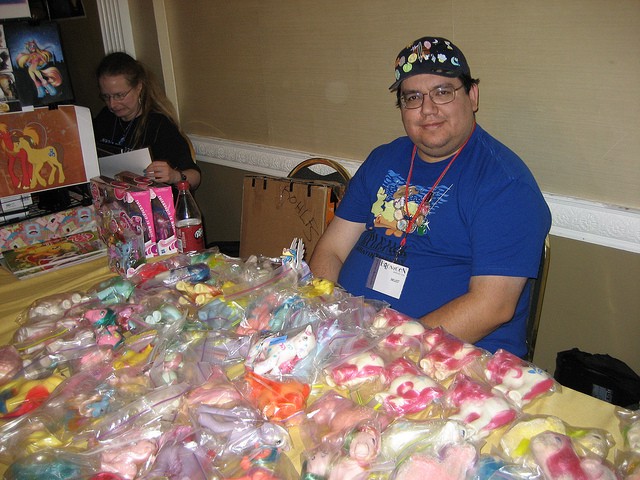 There was even an instance of that conference stand-by: the quasi-academic panel. Early in the day, a middle-aged guy in a white lab coat took the stage and introduced himself as "Dr. Psych Ology" (né Dr. Patrick Edwards, Ph.D). The doctor explained that he has surveyed more than 2,300 Bronies since his son — a young man sitting a few rows from the back with a fleece My Little Pony mane hat jammed on his head and that "Daaaaad!" look of mortification on his face — became one.
"My son said he often asks himself, 'WWPD? What would a pony do?' when deciding how to react to a person or a situation," Edwards said. He decided to study the phenomenon to have data to fight the inevitable sneering blowback directed toward his son. He broke down the study's findings of Brony demographics and behaviors — 86 percent male, average age of 21, 63 percent college educated or above, with varying degrees of participation in the spectrum of out-and-proud Bronyism — then summed up. "It's about love and tolerance," he said, blinking out at the lights. You could tell he was pleased to have explained, to himself and to the crowd, just what in the actual hell his son has been getting up to.
Pushing through the at-capacity space — taking an occasional wing or mane to the face — that claim of love and tolerance rang true. People with their DeviantART usernames and gaming handles (DeviantART's PurpleTinker helped organize the event) written on their nametags hugged it out whenever they met an Internet friend in person for the first time. Other nametags had cute monikers like "Milkshake" and "Cupcake." Conversation seemed to come easily among the pony-loving strangers, many of whom drove hours to attend.
Terence McCarron, 28, made the trip from Schenectady with his wife. She was off visiting with city friends while he wandered BroNYCon in his homemade, hand-painted wings and rainbow tail, pointed robin's-egg-blue pony ears strapped on over a black newsboy cap and rainbow-gradient hair. He got interested in "My Little Pony" the previous summer when a friend introduced him to the show. He didn't know anyone at the conference. His wife, he said, "can't believe" that he's a Brony, but "doesn't oppose." For McCarron, being a Brony is no different than being a hard-core Harry Potter nerd or a fantasy baseball fanatic. He likes the "non-combatative fandom" he found, he likes the art and he likes the friendly message of the show.
"At the very least, I don't feel like I'm getting dumber when I watch it."
Steve Decker, a Maryland Brony who was selling from his stock of hundreds of My Little Pony toys, each of them carefully enclosed in a Ziploc baggie, said that "My Little Pony" saved his life when he discovered it in 2004. His work as a student loan collections officer was making him suicidal. "My job was literally to ruin peoples' lives," he said. "Every day, I'd hope to get into an accident and die on my way to work." Looking for some small, simple happiness, he went to Toys "R" Us. The boy toys were all focused on killing and violence, while many of the girls' dolls were slutty or stupid, he said. The 2-for-1 sale on My Little Ponies clinched it for him.
"Everyone here is out to love and tolerate each other," he said.
He met fellow Bronies online and now goes to monthly DC-area meet-ups, where he's made close friends in the small group. He also has a new job as a courier, for which he's free to wear pony shirts and pins. The happiness he found with ponies has turned his life around.
"I mean, all they do is have parties, make friends and eat cake! I can get behind that."
Kase Wickman lives and brunches in New York. She still isn't sure what to do with the My Little Pony Applejack figurine her mom recently sent her. You can follow her on Twitter.