Playing Tennis At Grand Central
by Ben Worcester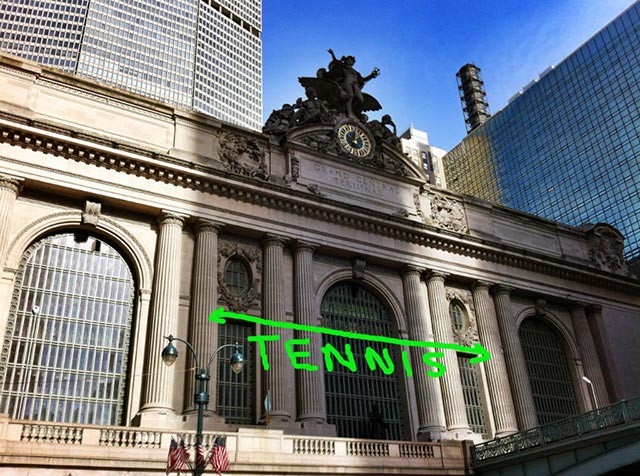 Over the weekend, as Rafael Nadal and Novak Djokovic's titanic battle at the Australian Open effectively put an end to the sport of tennis, I played an hour of the game inside Grand Central Terminal. Up until recently, I had no idea there was an actual, full-size tennis court inside one of the most famous train stations in the world. I would wager that many of the 70,000-plus commuters who pass through every day don't know about it either (perhaps they missed these photographs, as I did). But there I was, tennis bag in hand, with a voucher to play for one hour at the Vanderbilt Tennis Club — so it had to be there.
After asking around a bit for directions, it was clear that many people who work in Grand Central don't know it's there either. So I had to phone the club and ask. My friend and I were directed to the Campbell Apartment, a bar with an entrance just off Vanderbilt street, right across from a Tequilaville. The lobby outside the bar had a stagy old-time feel, like a movie set that was shut down for the day. We called down one of the fake-looking elevators and punched the button for the fourth floor. On the third floor, the doors opened and an MTA worker walked inside, gave me a once-over, and asked in a surly voice where I was going. I couldn't tell if he was trying to be helpful or busting my chops for the big red tennis bag I was carrying.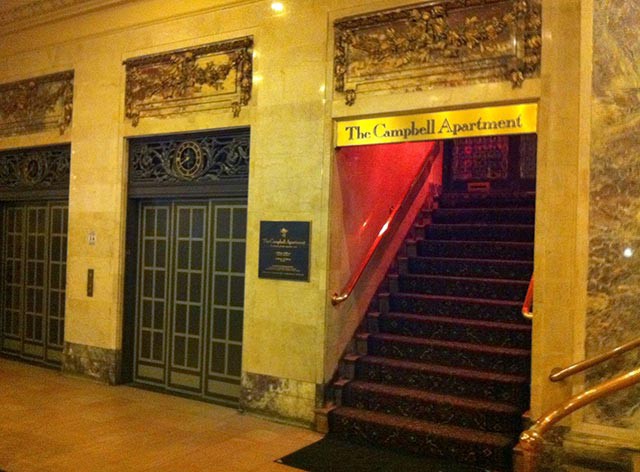 If you're used to thinking of Grand Central as consisting of just that iconic, wide-open main concourse, it may be surprising that the building has much more hidden away, including a little-known annex that's been home to all kinds of things: a CBS recording studio, a series of art galleries and, for a time, a 65-foot-long indoor ski slope. Apparently tennis in Grand Central has been around since the '60s, when two clay courts were installed by Geza A. Gazdag, who founded the Vanderbilt Athletic Club there after CBS departed. (Gazdag is described in most histories of the place simply as "a Hungarian immigrant," as if that explained the ski slope.)
Donald Trump took over the clay courts in the '80s, creating his own private club that attracted many celebrities and other wealthy racquet-sport enthusiasts. Trump's courts were located on the third floor of the terminal. In 2009, the courts were shuttered to make way for a long-overdue lounge for MTA employees, and for a couple years, there was no tennis in Grand Central. But as of this fall, thanks to these high bidders, tennis returned with a brand-new court on the fourth floor.
Technically, the Vanderbilt Club is open to the public. But the prices of renting the courts (between $100-$250 an hour) makes the club seem aimed at a, well, Vanderbiltian clientele (or, as the Wall Street Journal article put it, "hedge fund executives [and] real estate professionals"). On the upside, the court only books one week in advance, so you can plan to play there on relatively short notice. Strangely enough, it's easier to book a time on weekends than weekdays, presumably because the Westchester and Connecticut set are upstate for the weekend. If you hunt around for a Groupon-like deal (they're out there), you'll get a decent discount.
Exiting the elevator, we followed a sign to a single room at the end of a blank hallway. Open it — and there was the court. Even though I knew it was there, walking through a nondescript door deep inside a train station to find a tennis court was strange. I might as well have opened the door to find a chocolate factory or a rampaging robot. We suited up in the small locker room next to the court and then headed out. We didn't have locks for the lockers, but it didn't matter — we were the only ones there.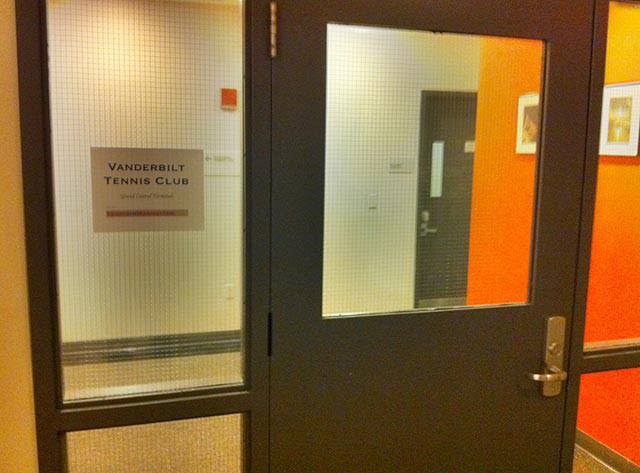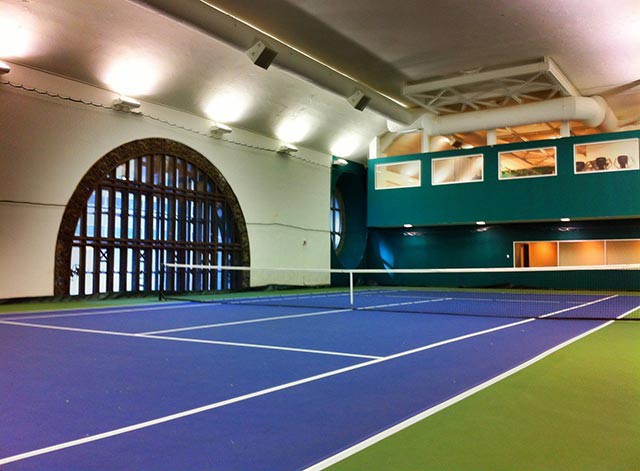 Instead of warming up, we spent our first few minutes on the court exploring and poking around. The main window of the court looks out over Park Ave South. I could see all the way down to the steaming Metronome in Union Square. Staring out the window, I realized where exactly the court was located — directly under the statue of Mercury that sits atop the building. It literally is center court. It also felt strange to be in an environment still fresh from renovation, right in the middle of really old surroundings. The court felt like a nucleus of bright tennis colors and plaster, encased in Grand Central's shell of wrought iron and limestone.
We started playing and immediately began to notice the acoustics of the place. It echoes like nobody's business. Our casual rallies sounded like an epic exchange of thunderbolts. Hitting a medium-paced winner up the line and having it sound like a cannon shot definitely added to your feeling of grandeur on the court. I'm sure to anyone watching, we were two moderately athletic guys having some fun, occasionally managing to look like we knew what we were doing. But with that amazing setting and the booming sound of every hit, we felt like titans.
And then, all too soon, our hour was up. As we walked off the court, a half-dozen young kids streamed onto the court for a lesson/daycare session, flailing about with their child-size racquets, with that little-kid thing of seeming to have no clue where they were. It helped return some perspective. We were no longer pro tennis players, or swashbuckling ad men of the '50s popping in to Grand Central for a quick set before grabbing the 2:30 up to Ossining. We were just two guys doing something fun to celebrate their birthdays.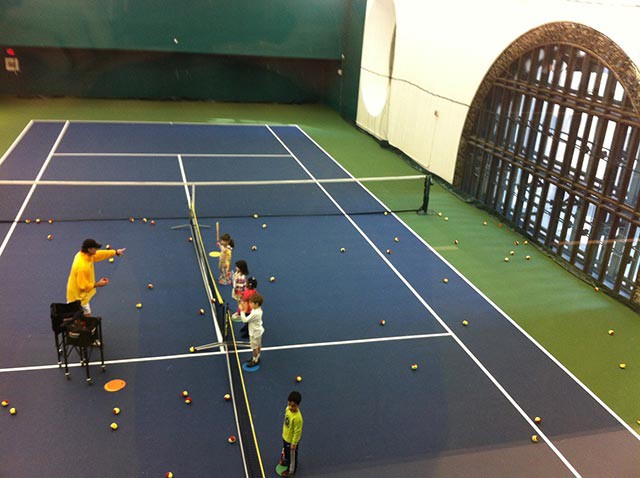 Related: Three Of New York's Odder Patriotic Relics
Ben Worcester is a writer who does not have anything close to a bankroll that would allow this curious luxury to be a regular thing.