New Hampshire, On a Rough Road Riding High
by Ray LeMoine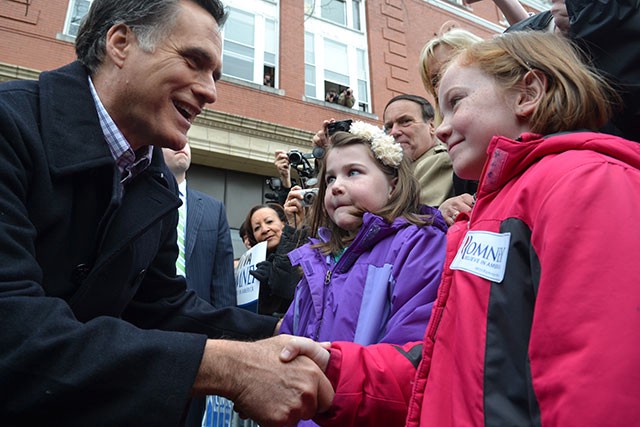 I arrived back in New Hampshire a couple days after Christmas, attending a Mitt Romney event at Geno's Chowder & Sandwich Shop on a wharf at the port's mouth in Portsmouth. A few hundred people showed up too, the usual Republican mix of dyed-blonde women in furs, size-38-pants men, Brooks Brother-y bros, and girls in those knee-high brown storm-trooper boots that have recently invaded the suburbs.
Mitt's DJ told me that he can't play The Boss or Mellencamp, his faves for campaign rallies (he is a professional political DJ), because they'd sue. "Freedom ain't free when it comes to 'Born in the USA,'" the DJ said. "But Kid Rock, man, I just called him up and he said 'Fuck, I don't give a fuck.'"
A campaign staffer said this was Mitt's largest crowd of the year, both in terms of attendance by media and voters. A veteran political reporter offered insight to his microphone and cameraman: "The rest of the field is fading."
Soon after, Mitt arrived in a black SUV, and Kid Rock's vox blasted "We were born freeeeeeee…." The usual baby-kissing ensued as Mitt made his way to a literal plywood-crafted stump. What was unusual was the difference in Mitt's vibration from 2008. Gone was the pure awkwardness, like the time he described an ice sculpture at a fair in Nashua as "hot stuff!" Here instead was a confident, funny candidate who suddenly broke into patriotic hymns, quoting lines from the national anthem "America the Beautiful." "I love these songs," he said. This was part of a new campaigning gag, and it proved effective. He's now using it in his stump speech.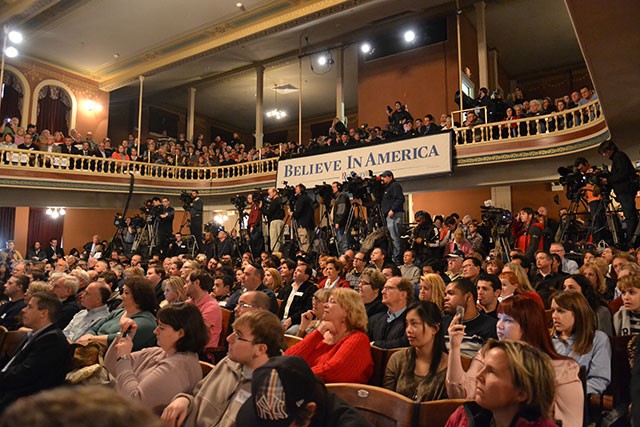 Two days later, Mitt won Iowa. New Hampshire had become a race for second. In fact, when asked who would win second, Howard Fineman, of AOL/Huffington Post, said "That's the only exciting question."
Rick Santorum, the former Pennsylvania senator and surprise second-place finisher in Iowa, was riding a wave of "momentum," as Donna Brazile actually put it. Apparently momentum in politics means "a moment." I saw him at a rally held in a barn on Saturday afternoon — ten hours later, during the debate, he'd talked himself out of the race. Santorum clearly wanted to be considered as the conservative alternative to Mitt. In the crowd were about 400 people (a number he'd later inflate to 1,200 during the ABC debate) who came to hear him hate on China and hype American Exceptionalism. Same types as the Mitt crowd. Those same damn brown boots.
For all his talk of freedom, Santorum has a constrictive stance towards women's rights; much of his talk centered on banning contraceptives and overturning Roe vs Wade as a main thrust of his platform, right up there with fixing Social Security. The coolest part of the Santorum event was watching Time photographer Christopher Morris shoot photos, circling the candidate, dressed in all black — boots, jeans, leather jacket and man purse. Unlike every other photog there, Morris had both a lighting assistant and a penchant for shooting the unusual — like cookie trays, in a portrait style — as opposed to spraying the room with snaps.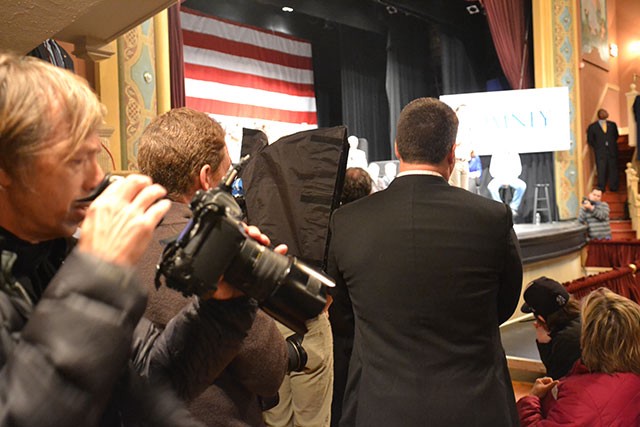 With the rest of the candidates taking Saturday off to prep for the debate, I headed to downtown Manchester. The brutalist Radisson tower is the primary's hub. Across the street from the hotel is a park where Occupy had set up. There were a dozen tents, some signage, and a guy playing an extended solo on a full drum kit. His message? "Fuck drum circles." Also there was John Ford, age 29, a "cult-hero" of Occupy Boston, according to the Boston Globe. "Wanna smoke a joint?" he asked. "Might make the debate interesting." Occupy had maybe a 100 folks in town. They were doing some "actions," Ford said, but nothing too disruptive or illegal.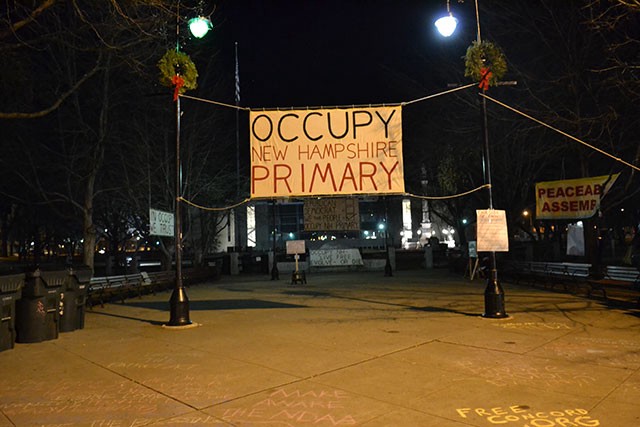 Later, MSNBC's "The Ed Show" was taping a debate party at a local microbrew pub.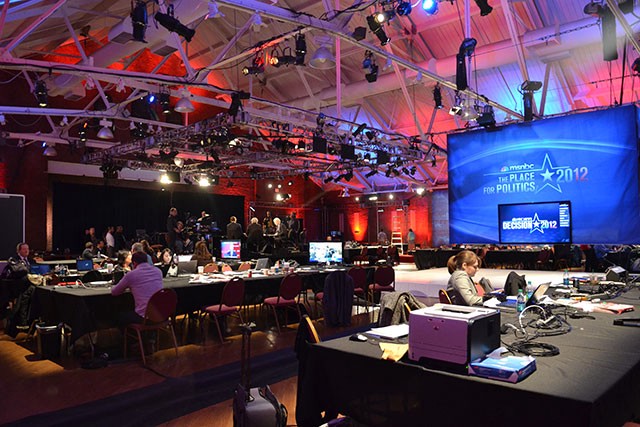 Former NH Congresswoman Carol Shea-Porter was co-hosting with some Obama hands. It was by far the most pleasant crowd I encountered during the weekend: A room full of liberal New Hampshire women equals lively conversation, and there was more whiskey flowing than wine. Sadly, a white-boy rap show was taking place at the same bar so Rihanna and Trey songs drowned out some of the debate.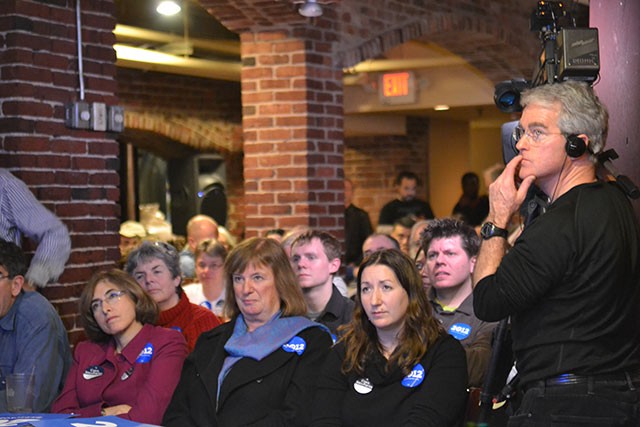 Over at the St. Anselm's College, where they've been holding the Saturday debate forever, the press hall was, just like 2008, in a gym repurposed with seating for 1,000 reporters. "They really should only have two people covering the debate, Karl Rove and Paul Krugman," a friend said, laughing at how many people were probably typing the exact same thing. The debate itself turned out to be dull, excluding the performance of Rick Perry, who, it turns out, also hates China. Santorum came off as a moron. He was polling well but what seemed like a second-place finish now looked to be third or fourth.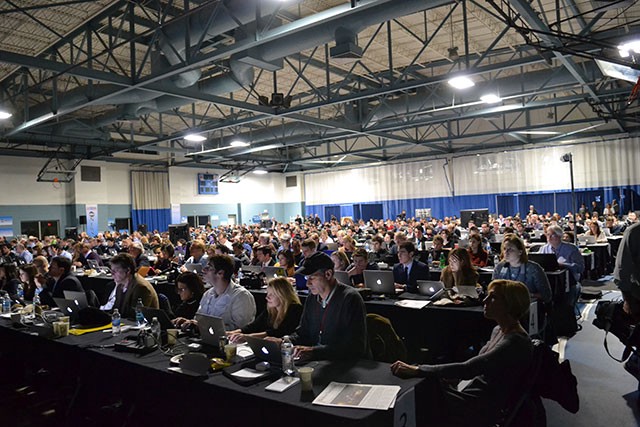 By debate's end, I had returned to the pub and found the crowd of lady-Dems there happy. "None of these guys can beat Obama," was the refrain. What if Karl Rove holds a gun to Condi Rice's head and puts her on the ticket? "Then we'll add Hillary!"
That night, at 1 a.m., Diane Sawyer was holding court at JD's Tavern and the Radisson Manchester bar was popping. Fifty ABC staffers partied in the generic dining area. Facing them, on the lower bar level, Chris Matthews, Howard Fineman and the "Hardball" crew repped. Insert Anchorman joke here ("Baxter!!!"). Jokes aside, the room had real energy. It was like the Boom Boom Room during Fashion Week except with more oxfords and people talking about actual things. And there was wine. These hacks and staffers love their wine. House glasses of red and white were going fast, a server told me, adding that Sawyer and Matthews had been the two poles of the bar all week.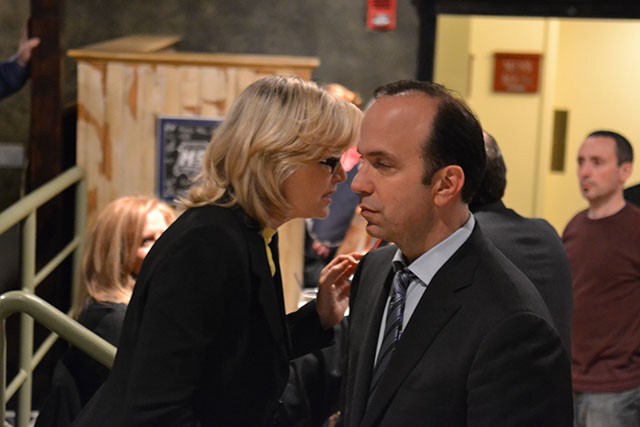 You could tell that ABC News owns New Hampshire. That night's debate was watched by 6 million, which is 3 million less than the Dem's 2008 debate got, but substantial. NBC brought in a huge staff and installed a studio, CBS had a futuristic glass house on a lawn, but ABC had tradition and Diane Sawyer. Now working the room with far more skill than any candidate running for the Republican nomination, her hair was still silky smooth, her black suit still crisp.
Oh, first-in-the-nation-primary, what a glorious non-event you've been!
Bleary Sunday, after the NBC-Facebook debate, saw everyone back on the trail. Mitt hit the gorgeous Rochester opera house, and sang some hymns to a tepid crowd of 600 (Obama "played" this hall in 2008 and drew 3000 chanting fans). According to Mitt, small business aren't hiring, and this is the main reason the economy's stalled, all due to Obama's policies. Oh, and Mitt wants to expand the Navy of all things, which makes him sound like Elihu Root in 1903.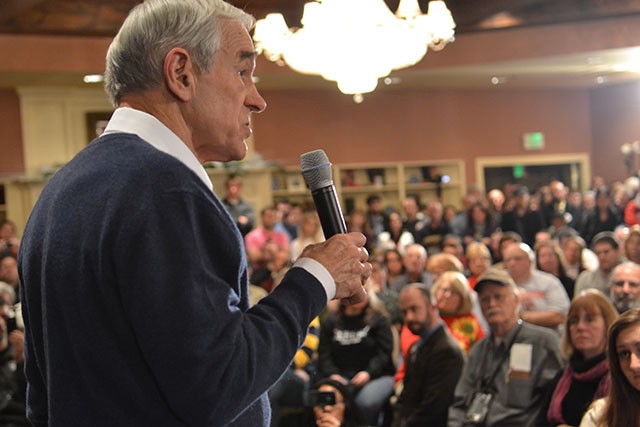 Later, Ron Paul was up on Lake Winnipesaukee, right by Laconia, which hosts an annual motorcycle week. Paul also drew a crowd of about 600 people, though a younger one. The Paul-ites have taken "revolution" as a slogan but Paul's really a reactionary. He wants to cut a trillion in government spending, but defense spending with the wars included is only $700 billion. Paul basically wants to shut down Washington in total, which is an interesting policy. One thing's for sure, Paul is this year's Huckabee (book deal and cable show surely forthcoming).
At a bar in Weirs Beach, a honky-tonk strip along the lake, I spoke to some nu-metal guys watching football. They convinced me to skip a Newt Gingrich event to do shots with them. The bar's owner recently had invented a new form of food, a hot dog wrapped in pizza dough. Any talk of politics was forbidden, the metal dudes said. So we talked about Godsmack and what a loser Sully Erna was. Pretty sure it was the right call.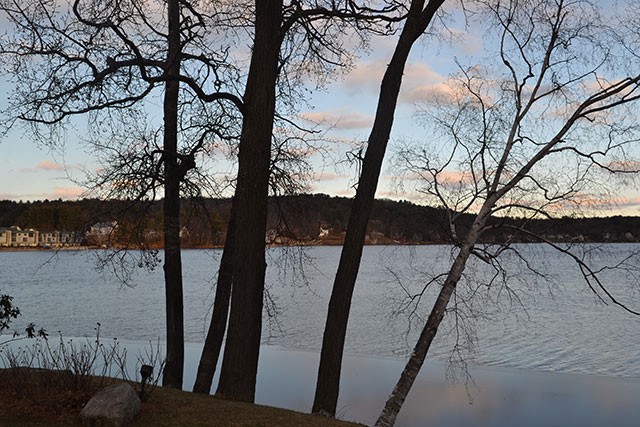 Returning to JD's Tavern at the Radisson later last night, it was NBC's turn to hold court. They'd done a debate that morning, with "Meet the Press" and Facebook. Chuck Todd was at the bar. Matthews, too, of course. "Morning Joe," the MSNBC early show, had set up in the back of the room, in preparation for this morning's taping.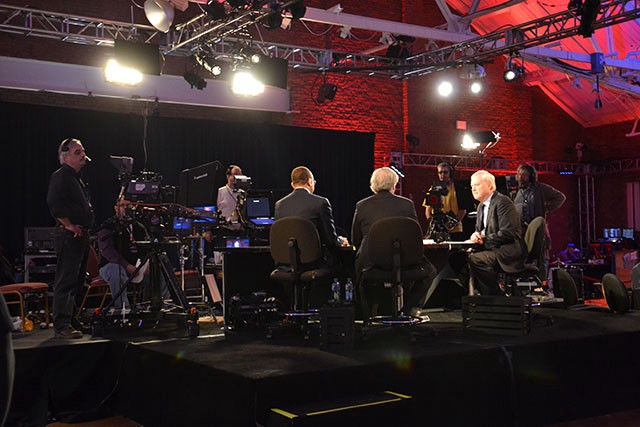 But try as they might, NBC just couldn't compete with ABC in terms of partying. Maybe it was because it was Sunday night, just one more day to go before tomorrow's primary, and everyone was tired. Or maybe it was because even if Brian Williams came in and bought the whole room a round of top-shelf liquor, he still wouldn't be as fun as Diane Sawyer. She was sipping pinot grigio, and listening to — not talking at — everyone who came up to her. Like a true journalist, not a talking head. If only the Republican candidates could act with the same civility.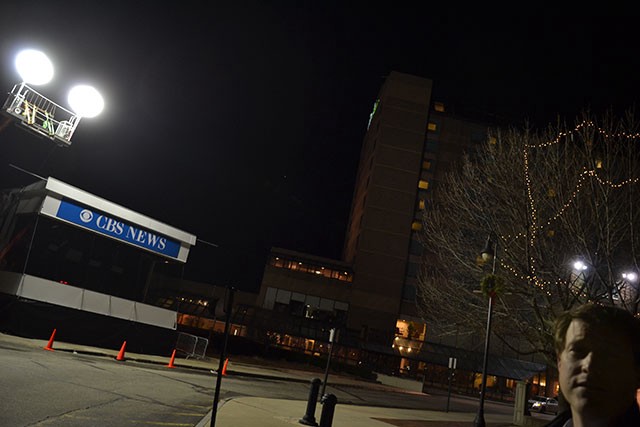 Ray LeMoine was born north of Boston and lives in New York.
Photos by Ray LeMoine and Annie Rosen.