Five Teams That Would Like To Forget Last Week Ever Happened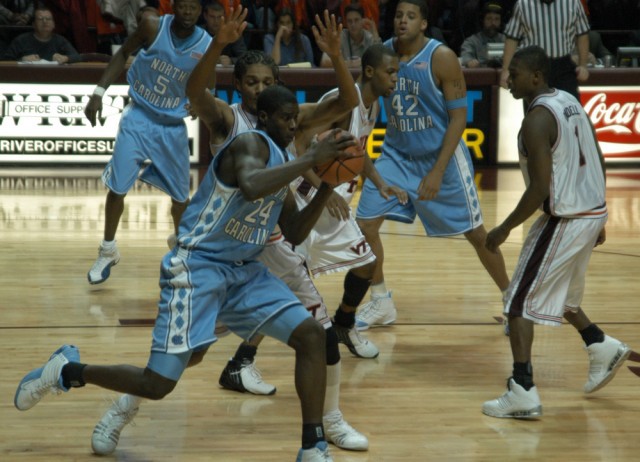 In the language of coaching, there's rarely a distinction given between a "good" and a "bad" loss. Listen to some post-game press conferences and the line is almost always the same: a loss is a loss, whether the difference was one point or 31. But anyone who's ever been a part of a team sport knows this is just bunk — if you've ever been on the receiving end of a real, honest-to-goodness beatdown, you know that it leaves a mark. Taking a licking inside the lines can make a team question whether it's actually capable of winning. Winning is often an act of mental fortitude, and one part of a coach's job is to convince his or her players that they — and only they — are going to be winners that day. Thirty-point trouncings make that job a lot tougher.
This past week saw five games that featured humiliating losses to conference rivals. Now those teams have to try to move past these losses — and quickly. Some will manage it; some won't. None will forget the feeling of walking off that floor.
Starting with most recent and moving back into the week of horror.
#3 North Carolina 58 at Florida State 90
Anyone see this one coming? Probably not. That the Tar Heels might have underestimated Florida State after 42 straight days in Chapel Hill isn't outside the realm of possibility. That UNC might have been a little flat after feasting on a month-long diet of wintery treats like Evansville, Nicholls State and an abominable Boston College team is also totally believable. That everyone's preseason number one team would travel to Tallahassee and suffer the program's worst loss under coach Roy Williams? No, that just wasn't even on the radar. And yet, with ever-handy hindsight, some of the warning signs of such a performance were there.
The Heels have struggled against teams that play aggressive defense, especially on the interior. Star swingman Harrison Barnes, in particular, is a thoroughly finesse player who seems to shy from contact and fade on nearly every shot taken within the three-point line. John Henson's long arms and frame make shot blocking easy, but physical play turns him into a jump shooter, something he's improved on but isn't made for.
But the problem in this game wasn't really even the offense, as bad as it was. Rather it was UNC's continued inability to apply enough pressure to outside shooters. The Seminoles — a 31% shooting team from deep on the season — made 12-of-27 from three-point range, eerily reminiscent of UNLV's 13-of-32 earlier this season in a game the Rebels won in Vegas. North Carolina is the country's top scoring team at over 85 a contest. But it ranks in the 170th range in points allowed a game, and have given up 90 twice. Unsurprisingly, UNC lost both of those games.
UNC clearly has enough talent to win a national title. But games like Saturday's show that it takes more than immense skills to make it to a Final Four, much less win one. You have to have toughness and you have to play defense the entire game. Against FSU, at least, UNC failed miserably at both.
Oklahoma St. 65 at #4 Baylor 106
At first glance, the score may not seem all that remarkable. A bit one-sided, sure, but Baylor is undefeated and ranked in the nation's top five and OSU is just 9–8 on the year. But as we discussed last time, there are other factors at play in Stillwater these days.
Coach Travis Ford's team is young, and they're missing one of their most important players in J.P. Olukemi, who is out with an ACL tear. But in Ford's fourth season, why, with one player out, are only untested freshmen left in the lineup? Well, when you recruit seven players in a class and not a single one is still on your team two years later, as is the case with Ford's vaunted 2009 recruiting haul, then you can see how maybe your team might be a bit thin in the experience department.
Cross that lack of depth with a road game against a confident Baylor team that suits up at least three or four likely NBA draft picks, including a conference player of the year candidate in Perry Jones III (19 points, 12 rebounds) and you have all the ingredients for a colossal stomping.
For his part, Ford kept things pretty simple after the game. In a press conference that lasted less than 30 seconds total, he told the assembled media, "They played great. We played bad. There you go. They played really, really, really well. Really, really, really well."
Well, yeah.
Rutgers 62 at Pittsburgh 39
We recently looked at Pitt's surprising struggles so far this season.But just when you think you have seen a team bottom out, it can really, you know, bottom out more, apparently.
If he'd been pessimistic, Pitt coach Jamie Dixon likely wouldn't have imagined his team would begin the Big East season 0–5. And even if he'd been downright fatalistic, there's no chance he ever would have anticipated scoring just 39 points and losing by 23 at home to Rutgers to reach that 0–5 record.
How bad was the Pitt offense? Historically bad, it turned out. The Panthers managed just 19 points at the half on an unreal 4-of-32 shooting. Pitt then came out of the tunnel for the second half and, after cutting the lead to seven, went five minutes without scoring, allowing the Scarlet Knights to more than double the lead.
It should be noted that Rutgers has shown flashes of major improvement this season, having already upset Florida and UCONN this season. But both of those games were in New Jersey, and the youthful Scarlet Knights are not expected to finish in the top half of the Big East. On cue, Rutgers' next game was a 24-point loss at West Virginia. One thing does appear more certain, however. Rutgers will probably finish ahead of the Pitt Panthers in the Big East.
William & Mary 66 at Towson 49
Why would a game between a pair of teams whose combined record is 4–30 be on this list? It's because one of these teams has all four of those wins, and because the other, Towson, hasn't won a game in its last 36 tries. This loss , Towson's 17th of this season combined with the final 19 of last season, set the NCAA Division I record for consecutive losses at 36.
And it doesn't look like there is any mercy in sight. The Tigers play in one of the nation's top mid-major conferences, the Colonial Athletic Association. Still, new head coach Pat Skerry is confident that he can build a winner here. Maybe. Getting at least one victory would certainly help. Working in Skerry's favor at least is that the bar is now set very low.
#15 Louisville 59 at Providence 90
Louisville coach Rick Pitino doesn't seem to be having very much fun these days. His team has been hobbled by injuries and the players that have been healthy don't seem to be performing to their demanding coach's high expectations, dropping games against Georgetown and archrival Kentucky and then a double-overtime home game to Notre Dame. Louisville then traveled to Providence last Tuesday and got absolutely plastered by 31 points. Now an aggrieved Pitino is in crisis mode.
When a recent story in the hometown Louisville Courier-Journal implied that it was Pitino's aggressive practices that are wearing down his squad, Pitino responded as only a coach can, by blasting the offending reporter in public and accusing him of "hurting recruiting." And losing by 31 to Providence only helps recruiting, right?
Whatever the reason, Louisville's just not very good right now. Providence does have a new coach in Ed Cooley and the Friars have played fairly inspired basketball at different points this season, as if freed from the expectations of accomplishing much of anything. But Providence looked not just inspired, but impossibly good against Louisville during this game, which, as it happened, featured a halftime ceremony honoring Providence's 1987 Final Four edition, not coincidentally coached by one Rick Pitino. Providence sophomore Bryce Cotton channeled that three-point bombing bunch, going 5-of-5 on three-pointers on his way to 27 points.
Pitino was supposed to be a part of the half-time celebration but didn't appear to be a mood to celebrate. His current team trailing 43–25 at the break, Pitino went into the locker room and didn't return until the second half. His team then opened the second half with two missed threes, a turnover and a foul.
It may be some time before Pitino starts enjoying himself on the sideline again. Louisville is just 2–3 in the Big East and still has a killer conference slate ahead, including two games against No. 1 Syracuse. Watch out, local beat reporters!
Originally from Kentucky, Joshua Lars Weill now writes from Washington, DC. His take on things can be found at Agonica and on Twitter.
Photo by Michelle Donahue Hillison, via Shutterstock.