A Midseason Tally: Who's Up, Who's Down
A Midseason Tally: Who's Up, Who's Down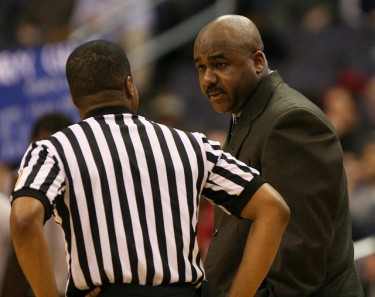 The non-conference season is over for most of college basketball, and midterm grades are out. Figuratively speaking, a few teams aced the first half, some have made a habit of relying on extensions and a bunch demonstrated that, frankly, they're not all that bright. None of the preseason top four teams is undefeated, and four of the preseason top 15 teams aren't even ranked (Memphis, Vanderbilt, Pittsburgh and Xavier).
Of course, there's plenty of season left. A whole slew of teams currently flying high will bottom out in the conference campaign, and a few teams no one is talking about will finish in the top half. The pre-conference games serve primarily as auditions for a national audience of pundits, coaches and fans as well as a way to generate ad revenue. While the wins and losses do affect NCAA at-large consideration, no one gets an automatic bid for winning the Maui Invitational. All the wins in November and December won't matter if a team flounders come February and March. As teams head into conference play, we look at who's crushing it — and who's getting crushed.
CRUSHING IT
Baylor: Last season, Baylor was picked by some to be among the elite of the Big 12 Conference. Instead, the Bears flopped, finishing 18–13 and missing the NCAA tournament. Then a couple of big things happened. First, star freshman Perry Jones III, often mentioned as a potential No. 1 overall pick in last season's NBA draft, opted to return for a second year despite knowing a brief suspension awaited at the opening of the season. Then Baylor coach Scott Drew, one of the nation's best recruiters, added versatile top-20 prospect Quincy Miller to the mix. Suddenly, there was a roster full of talent to work with.
Thus far, the Bears have played above even lofty top-15 preseason hype. Baylor is currently 14–0 and owns quality wins at BYU, over West Virginia and over a ranked Mississippi State. Most impressively, Baylor weathered Jones' early-season absence, in large part thanks to the play of the talented Miller, who sprang from the gates.
BU won't finish the season undefeated. Miller is already showing freshman inconsistency, plus the Big 12 is too solid a conference and possesses too many tough road gyms for that to happen. But unlike last season when early season stumbles put Baylor into a hole it never could completely emerge from, the Bears are in great shape headed into conference play.
Murray State: Anyone outside of the greater Murray, Ky., area who says they had the Racers ranked as one of only four undefeated teams in the nation at the turn of the calendar is certainly lying. With a new coach, the former lead assistant Steve Prohm, at the helm, some early struggles would have been more than understandable., but to date, there have been none.
Like many mid-major teams who find surprising success, Murray State relies heavily on upperclassmen. Seven of the Racers' top eight are either juniors or seniors, including leading scorer Isaiah Canaan.
Murray hasn't played an intimidating schedule. To be sure, no one is going to mistake first victim Harris Stowe University for UCONN, but the Racers do own a win over a talented Memphis team that was ranked at the time as well as one over Conference USA leader Southern Mississippi and another over a legit Atlantic 10 team in Dayton.
The Ohio Valley Conference has long been a better basketball conference than it often gets credit for, and there will be plenty of tough road games in the off-the-grid towns of Kentucky and Tennessee that will test Murray State. But so far so good for the Racers.
Georgetown: No one expected much from Georgetown this season: too young, too untested, lacking offense and minus its top two scorers and leading rebounder and shot blocker. But one of the benefits of being a "system" program is that if the replacement parts fit, things can still run smoothly even when there's not much experience on the floor. Coach John Thompson III's Princeton-style offense has helped alleviate the growing pains that might otherwise have plagued the youthful Hoyas.
Yes, 10 of the 13 players on the Hoyas roster are freshmen or sophomores, but luckily for Thompson III they are good freshmen and sophomores. Plus, the three upperclassmen have been outstanding so far, if not flashy. Jason Clark, Henry Sims and Hollis Thompson have been steady and focused, giving the younger players room to flourish.
The results speak for themselves. Unranked in the preseason, Georgetown has already beaten three ranked teams, two on the road, including last week's impressive win at Louisville. Certainly, the Big East grind will take its toll, but if you'd told most Hoyas faithful that Georgetown would be 12–1 at this stage with its roster of green players, they'd have gladly taken it.
GETTING CRUSHED
Oklahoma State: How bad has it gotten in Stillwater? Saturday's home loss to visiting Virginia Tech was free. As in, no one had to pay to attend. A holiday gift perhaps, but no one gives tickets for free when they're winning, which the Cowboys most definitely aren't.
They also aren't getting their $20 million worth out of head coach Travis Ford, who, in 2009, was handed a contract that at the time made him the nation's highest paid coach under 40. Since signing the deal, Ford has delivered 49 wins to 31 losses, including a meager 15–17 conference mark. This is including this season's unremarkable 7–6 record that includes three straight losses in December.
Perhaps more potentially troubling is that Ford's ace recruit to date, Le'Bryan Nash, has been maddeningly inconsistent. While Nash's ups have been well up, his downs have been brutal. Ford's job as a coach is in part to get his players to show up night in, night out and too often it seems the Cowboys are re-learning things each game.
The knock on Ford's teams generally is a lack of defense. OSU is 101st in the country in points allowed per game. Defensive intensity allows for an off night shooting or a bad rebounding game. Oklahoma State simply has no room for error since it gives up so many easy baskets. It needed overtime to squeak by Texas-San Antonio and double OT to beat Southern Methodist, neither world-beaters.
Unless something changes in a hurry, Ford is looking at another long conference season, plenty of NCAA bubble chatter and likely the loss of his star recruit to the NBA after the year.
Pittsburgh: At first glance, 10 wins isn't all that bad. Heck, a lot of teams would kill for such a start. But expectations for Jamie Dixon's Pitt run higher than that — as in preseason top 10 higher.
And the season's four losses showed atypical softness. First, Long Beach State stunned Pitt at home, ending the Panthers' long home win streak. Then came back-to-back losses to Wagner at home and on the road at a very mediocre rebuilding Notre Dame, followed, on Sunday, by a loss to Cincinnati at home. Now Pitt is 0–2 to start the Big East season. Add in the surprising transfer of frosh Khem Birch and you have the makings of a downward spiraling season.
History suggests Pitt won't stay down forever. The Panthers lean heavily on talented, experienced juniors and seniors and they've been through the Big East grind before. But the pressure is on after a slow start. Dixon will have to find some heart and some offense if he's to keep his players focused on the end game.
Originally from Kentucky, Joshua Lars Weill now writes from Washington, DC. His take on things can be found at Agonica and on Twitter.
Photo by Keith Allison.