Bad Blood, Great Finishes Mark Early Season Rivalries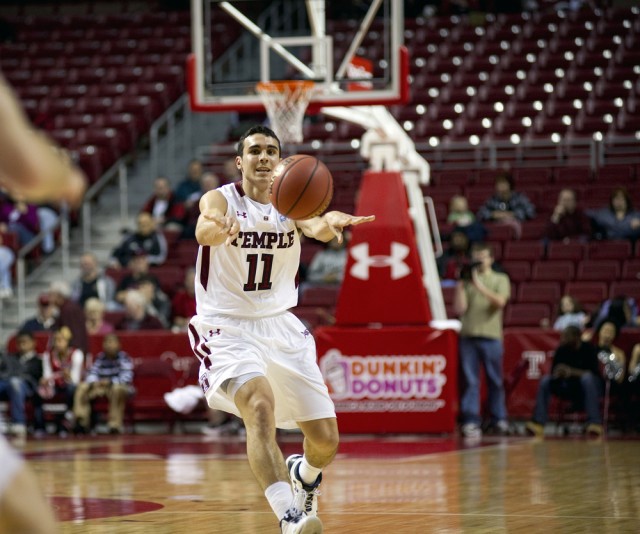 Each February, the ESPN mothership in Bristol, Conn., dictates one week in the college basketball season as "Rivalry Week." The games over that particular stretch of days contain some of the biggest and baddest conference match-ups in the nation. Typically, North Carolina against Duke in one featured game, Kentucky and Florida in another, perhaps Syracuse meeting Connecticut, too. But few of these games really ratchet things up to 11. You may see a cut chin or some yapping, but the stakes for really getting into it with a conference foe, especially late in the year when NCAA seeding and participation and jockeying for conference preeminence are at the forefront of everyone's minds, are too high for the real hate to flow.
It's in the pre-conference season that the ancient blood feuds really play out. The lack of a second chance at your bitter non-conference rival means you only get one shot for a year's worth of bragging rights. This past week provided a highly entertaining and even in one case a shocking look at a few of these squabbles, and the lessons learned from the outcomes are sure to be lasting, particularly in Cincinnati.
Xavier-Cincinnati
One of these two programs plays in the nation's most hyped, discussed, televised and fawned over conference — the other plays in the Atlantic 10. That Cincinnati, the school in the big-time conference, has been mostly an NCAA afterthought in recent years while the smaller one, Xavier, has become a tournament regular and a media darling fuels this annual basketball feud.
Cincinnati has been struggling to regain its foothold in the college game since former coach Bob Huggins was fired in 2006. Last season's NCAA tournament appearance was UC's first since. Meanwhile, over that same period, Xavier has been to three Sweet 16s and an Elite Eight. Maybe more significantly, despite its lower profile conference, Xavier has been the more highly regarded program, a fact that certainly rankles the Bearcats and their fans. Throw in a public-private school grudge and the fact that Xavier won four of the previous five Crosstown Shootouts heading into this season's tilt and you have the makings for some bad blood.
And bad blood is exactly what was shed on Saturday when the two teams finished off a 23-point drubbing by Xavier with a full-on brawl of the kind you don't often see in basketball, and certainly not at the college level. Emotions were already running high and the humiliation and frustration felt by the Bearcats was evident. They've struggled this season already, losing a couple of games they shouldn't have, and Xavier has been puffing its chest out behind its national Player of the Year candidate Tu Holloway.
The ending was unfortunate as it shows the bad edge of sports rivalry, when it turns personal and vicious. There's no place for it. This rivalry, already a physical and emotional game each season, didn't need to take it to the next level.
Indiana-Kentucky
Heading into this season's edition of the annual border clash between Kentucky and Indiana, one much-discussed topic was whether this rivalry was one even worth continuing. After all, Kentucky came into Saturday's game having won five of the last six meetings and nine of the previous 11. When Kentucky coach John Calipari took to social media to ask fans what rivalry game they would prefer to lose should that be necessary, the Indiana series was the runaway choice to die.
No one is talking about that anymore. Not after Hoosiers forward Christian Watford nailed a three-pointer at the final horn to stun Kentucky, 73–72, and send the IU faithful pouring onto the court.
Indiana has been rebuilding behind coach Tom Crean, and it's been tough sledding. For a program as rich in tradition as Indiana, finishing dead last in the Big Ten is humiliating. Still, give Hoosiers fans credit. They've been patient as Crean has taken the slow build approach, fielding scrappy teams that hustle but lack talent, and hitting the recruiting trail. It's finally paid off, as this season Crean welcomed his first blue chipper in local kid Cody Zeller.
After the Billy Gillispie debacle, Kentucky has been rebuilding too — in true Kentucky style, paying Calipari a king's ransom to get the Wildcats back in the national title hunt immediately. And he has. Kentucky came into the game ranked No. 1 in the country and boasted the nation's best recruiting class, the likely No. 1 pick in next season's NBA draft in freshman Anthony Davis. On the UK bench are any number of guys who could start for Indiana.
Crean's team played smart and hard, outhustling the taller and more athletic Wildcats for much of the game. Kentucky nearly still pulled out the game when its talent finally started to make the difference. UK freshman Marquis Teague — an Indianapolis native who spurned the Hoosier — repeatedly blew by his defender as the Wildcats caught up to and took a late lead over Indiana. But missed free throws doomed Kentucky, who couldn't finish the game off and paid the price when Watford's shot was true. Here's guessing Kentucky fans will no longer be so eager to cancel the series, especially as next year's game will be played in Lexington.
Temple-Villanova
Neither Temple University nor Villanova is a world-beater this season, but this installment of the two programs' annual Big Five game was still illuminating. And any of the games between the five schools that make up the Philadelphia Big Five warrant inclusion on this list.
Temple Coach Fran Dunphy is a no-frills guy, and his Owls teams have mirrored that trait. Never flashy, built to rebound and play stout defense and be opportunistic on offense, Temple's margin for error is never big. The Owls play in the Atlantic 10 and get a fraction of the national attention Big East member Villanova does. In recent months, there had been talk of the Big East adding Temple as a member, a move that Villanova has come out publicly against, much to the consternation of Temple followers.
The reasons are obvious. The money and prestige that come with BCS-level conference affiliation help Villanova recruit, and the school has been stocking up on McDonald's All-Americans for the last half-decade while Temple has more often had to go overseas or take guys who are talented but raw or underappreciated and hungry.
This season, 'Nova has experienced a changing of the guard. Gone are several staples of the last few seasons, replaced by three highly regarded but less seasoned players: Maalik Wayns, Mouphtao Yarou and Dominic Cheek. Of the three, only Wayns averaged in double figures last season. All three were big recruits and possess professional talent. Still, the Wildcats have been uncharacteristically mediocre so far this season.
On Saturday, Temple guard Ramone Moore, a fifth-year senior from Philly, scored a career-high 32 points — double his career output vs. Villanova — as Temple beat its Big Five rival, 78–67.
But while the players were focused on basketball, much of the background vitriol was left to the home fans at the Liacouras Center. At times during the game, Owls fans unfurled banners reading, "You're scared to make this a conference game!" and "Villainova." One sign summed up the sentiment most simply: "This is our City!"
VCU-Richmond
Last March, city rivals Richmond and Virginia Commonwealth both made trips to the Sweet 16. Coming off as unlikely a Final Four run as any you'll see in college basketball, VCU has accomplished the rare feat of retaining the young, fiery head coach that got it there. Shaka Smart, just 34 years old, had options to jump to a bigger program and a higher profile position — not to mention enjoy a major salary boost — but ultimately decided to stay where he was. His loyalty was rewarded with a new and better contract.
Smart's program has lost a few players since its Final Four run, and this season has already seen a few bumps in the road. The Rams lean heavily on their lone senior, Bradford Burgess. After struggling to get a quality win earlier this season, Virginia Commonwealth has now run off three straight over decent competition.
Chris Mooney was considered a coach on the hot seat at Richmond just a few seasons ago. But after the best two-year stretch in Richmond basketball history — 50 wins and a Sweet 16 appearance — Mooney, like Smart, was handed a huge contract extension to stay put. But as with the Rams, many of the players from that Sweet 16 squad have left the program — including its top three scorers and top two rebounders — replace by mostly untested former role players and freshmen.
This year's game was tight for a while, with Richmond rallying to within two at 47–45, before Burgess and the Rams went on a big run to blow the game open. Like Xavier and Cincinnati, these two schools are not just rivals but intra-city rivals in different conferences, which amps the intensity a notch. With both fan bases coming off historic seasons, not at all lost on the home faithful was the fact that VCU had toppled Kansas in the Elite Eight to reach their first Final Four last March a round after Richmond had been unable to beat the Jayhawks, leading the crowd at the Siegel Center to chant "Just like Kansas" as the final seconds rolled off the clock in VCU's 73–51 victory.
All fair game, and in good fun, and just the kind of localized intensity college basketball's pre-conference rivalries provide.
Originally from Kentucky, Joshua Lars Weill now writes from Washington, DC. His take on things can be found at Agonica and on Twitter.
Photo by Aspen Photo, via Shutterstock.