Let's Go Europe, NBA Edition
by David Roth and Bethlehem Shoals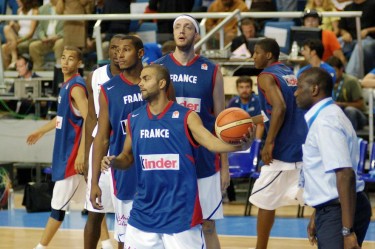 Paris or Phoenix. Barcelona or Oklahoma City. If you're planning a vacation, these aren't difficult choices. And if you're pursuing a career in professional basketball it's barely a choice at all. For all the fringe perks of gig hooping in Europe, playing in the NBA offers better pay and a higher public profile than playing anywhere else, as well as the opportunity to be posterized by Blake Griffin and endure reliably wrongheaded, weirdly passive-aggressive criticism from TNT's Reggie Miller.
But because of the long-running lockout, the NBA seems likely to make a lengthy stop in federal court before returning to the hardwood kind. This means that America's ballers are not making the easy-seeming choice between the Los Angeles Lakers and the Philippines Basketball Association's Tender Juicy Giants — their choice, now, is between an overseas basketball job and a gig disinfecting the massage-chair at Brookstone. The question, then, is where to take one's talents. We asked a few international NBA players the same question: Why should American basketball players consider playing in your home country?
TONY PARKER, FRANCE
"France is my home, obviously, so I'm biased. This country made me the player I am, and while I made a few All-Star teams in the States things are just different over here. I asked to review Bordeauxes for Le Monde, and they just said, "Tony, there is always room for you in the wine section of our newspaper." I mean, I'm a celebrity in Texas, but back home I'm actually a real movie star!" — note: Parker starred with Boris Diaw, Charlotte Rampling and Vincent Cassell in 2009's La Donc Galactique, a French version of the 1996 Michael Jordan vehicle Space Jam — "A lot of that has to do with me being French, so I don't know that everyone else would have the same experience. But I can really recommend playing in France to guys like Tony Allen and Tony Battie. Really anyone named Tony. They say it 'TUH-nee.' It's adorable."
DIRK NOWITZKI, GERMANY
"As a young man, I turned cartwheels and tooted on my saxophone in the Black Forest. It made me the ultimate soft-focus basketball weapon. Later in life, weighed down by failure, I wandered the countryside until I figured out the exact shape of my soul. Germany is a land of precision and metal, but above all, it's a place of learning. Who cares that we have the most important, and vital, economy in the EuroZone (our choice of name, by the way)? We are a virtual theme park of self-discovery. The NBA has taken a holiday, maybe, but Germany will teach you things about yourself you never knew. Or wanted to know. Or would ever believe, if not for the imperative suggested in even our most kindly dinner menus."
ANDREI KIRILENKO, RUSSIA
"Oh wow. My advice to anyone who wants to play in Russia is to get extremely comfortable with beets, and also to develop a very favorable opinion of Vladimir Putin. Without that, you're pretty much fucked. Also bodyguards. Can't emphasize that last bit enough."
VLADE DIVAC, SERBIA
"The quality of play here isn't as high as it was during the 1980s, I admit, before a lot of the best players went to play in the West. But there is still so much that's great about playing basketball in Serbia. It's a very advanced and open basketball culture today, not like when I was young and many teams did not even let players eat prdzyrzcski" — note: a Serbian boiled dough-nub traditionally filled with walnuts and veal — "during games. The coaches are still okay with you smoking cigarettes while you're playing defense, too, which is great for me. And with all due respect to the people of Sacramento, I think the Serbian fans are the best in the world. The example I always use for this is that Peja Stojakovic recorded two albums of jazz guitar that both went to number one on the Serbian charts" — note: these were 1999's III and 2003's Perimeter Explorations — "and this is despite Peja's being terrible at jazz guitar, and jazz guitar also being terrible."
JAKE TSAKALIDIS, GREECE
"It's a little-known fact that I began life as a Georgian, before becoming a citizen of Greece around the time my semi-professional basketball career began. It's pretty well-known that I am no longer in the NBA, to the extent that such a thing exists nowadays. My proposition to players thinking about joining me here is simple: Greece is a land in shambles, and ripe for conquest. I returned here not cloaked in failure, but with major dreams of making more cash, and wielding more power, than ever I could have as a back-up's back-up in America. Here, I am no mere athlete — I am something more akin to a warlord, or a king, or Bulgaria's wrestlers Josh Childress came here hoping to change the economic leverage available to American players and perhaps permanently alter management-labor relations. Now he commands a private army, lives in a floating circus tent high above the clouds, and comes down occasionally to play ball and collect debts. When this country collapses once and for all, it will land in our welcoming arms. Do you have what it takes?"
David Roth writes "The Mercy Rule" column at Vice, co-writes the Wall Street Journal's Daily Fix,, and is one of the founders of The Classical. He also has his own little website. And he tweets inanities!
Bethlehem Shoals is one of the founders of The Classical and FreeDarko.com as well as the Twitter account @freedarko.
Photo by Aitor Bouzo Ateca, via Shutterstock.