Class, Strategy And Shopping: What Happened At Occupy Black Friday
by Susie Cagle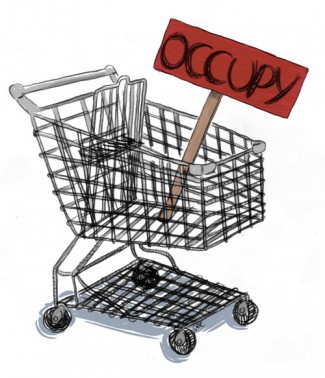 After weeks of what Shon Kay at one point described to me as "march, cops, march, cops," this was going to be something new. Occupy Oakland was going shopping.
Shon has been an integral member of the Occupy Oakland media committee since its inception. When I hear critics say OO doesn't understand media relations, I think of people like Shon — and I think of plans like this one, and their role in the days since all the encampments were cleared.
Over the course of the week prior, Shon organized a group of participants who planned strategy. Last Friday, on the busiest shopping day of the year, about 25 gathered in the bustling parking lot outside the Emeryville Target in the late afternoon. One by one they filtered into the store, took carts, and began shopping. Twenty minutes later, they moved back to the registers, leaving full carts in the lines. Then it was on to IKEA for more of the same, plus a dual banner drop. Shon told me the idea was spawned by the emergence of "the meme of the tent." He and others decided to "shop for all the tents in a store but then just use them to symbolically block all the shopping," nearly two weeks after riot police removed all the tents blocking the public plaza in front of Oakland's city hall.
I followed the group and cautiously tweeted the action as it moved from Target to IKEA to the Emeryville outdoor mall, Bay Street. Security and Emeryville police moved in quickly at Target; the banner drop on the parking structure at IKEA lasted mere minutes.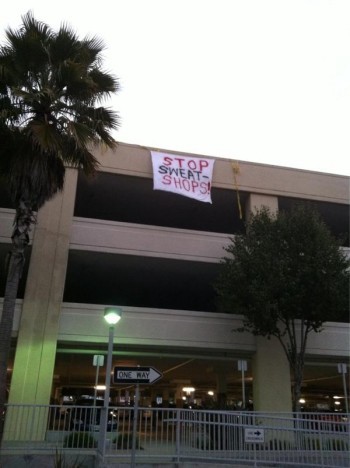 Customers snatched up the glossy flyers. A few even ran, grinning, toward occupiers handing them out. The flyers and banner drops were meant to make the action "less of a random drive by and more of a balanced statement," Shon said.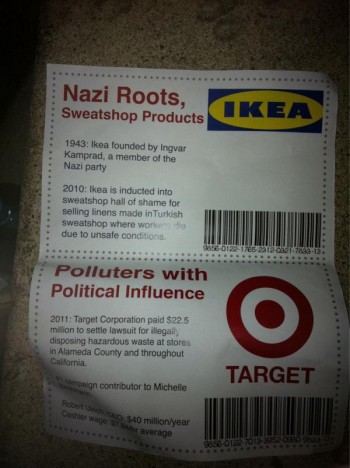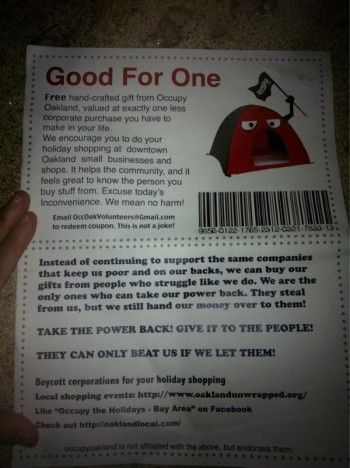 "Excuse today's inconvenience. We mean no harm!"
Passion has been running Occupy Oakland for the last two weeks. After the initial raid on October 25, the city cleared the plaza for the second time in the early morning hours of Monday, November 14. Without a camp, Oakland's strategic actions are more important than ever; they are the only physical manifestation of Oakland's occupation. But the high stakes have brought high pressure. Instead of that passion being channeled into meaningful and coordinated actions, I've seen great ideas rushed and bungled, like a failed West Oakland foreclosure defense that devolved into men throwing canned food, then fist fighting, then break dancing in the middle of the street.
That small proclamation of no harm is arguably the closest Occupy Oakland has gotten to a non-violence resolution since its inception on October 10th.
***
Despite the raids and chemical weapons, the barricades and the blood, Occupy is still a PR war.
Something I've heard often in Oakland: "The whole world is watching us!" This is most often followed by either a fantastic idea or a hellish one.
Something else I've heard often in Oakland: "This is gonna go viral!"
What tends to be popular among the masses — that beloved 99% — is 1. cute, and 2. funny. While marches, strikes and physical occupations of public spaces are central to Occupy's success in the immediate future, so is its perception amongst the public, many of whom are growing weary of marches, strikes and physical occupations of public spaces. Not to mention those are the top three places riot police go to beat on protesters. Mayhem and humor have the power to change the conversation and the tone of a political protest, if not an entire movement. Steve Lambert and the Yes Men distributed tens of thousands of fake New York Times on street corners in an act of "culture jamming" in 2008. A couple weeks ago, Mark Read's Occupy Wall Street bat signal was a new kind of public relations success for the movement. It was not laying ones body on the gears, but guiding popular attention with an actual light, a signal.
Improv Everywhere founder Charlie Todd was "a small part" of that New York Times action. "I was blown away by the scope of what they pulled off," he told me.
Over the year's, Improv Everywhere has been responsible for a wide variety of public pranks and creative projects, from flash mobs that freaked out Best Buy to Star Wars guerilla theater on the subway. "The large majority of our projects have been unauthorized, unpermitted and unannounced. I think the public should be allowed to use public spaces as stages to express themselves creatively. If our sidewalks and subway platforms can be covered with advertising, they should also be acceptable venues for harmless creativity."
Retail spaces are about as public as city plazas these days as far as Occupy is concerned: you can be there for a while, and then they will kick you out.
***
Black Friday did not mark but coincided with a shift in the nature of Occupy, following a spate of police violence across the country. After regrouping, new strategies — creative, and less confrontational ones — seemed welcome. Buy Nothing Day protests on the day after Thanksgiving have been a staple since the '90s, with various demonstration incarnations over the years. Over the course of the day, other Oakland occupiers visited Emeryville retail to do their own guerilla theater, and to protest the mall's construction on a Native American burial site with flyers disguised as coupons. Shon described his action as "a mashup."
In San Diego, Tampa, El Paso and other cities, occupiers mic-checked Wal-Mart shoppers with information on the store and its labor practices.
San Francisco occupiers blocked streets in the downtown shopping district.
https://www.youtube.com/watch?v=9BlS67ruylk
In Chicago, occupiers led a teach-in outside a Sears.
One of Occupy's biggest problems has been figuring out how best to reach out to the rest of that mythical 99% — the ones so pumped to get deep discounts on electronics that they camp out for days and mace each other in the face. Plus of course all the ones who wait peaceably in the long lines to make purchases, necessary and otherwise, that they might otherwise not be able to afford in this economy were it not for that day of deep discounts.
Also: the ones who work the registers for the mace-sprayers fleeing with their Xboxes.
How do you attack consumerism without attacking consumers — or workers?
During and after my coverage of the Occupy Oakland action in Emeryville, several people wrote to me on Twitter over the weekend expressing concern; the majority were retail workers themselves, annoyed at the extra work of having to replace large amounts of stock on an already very busy day. A common refrain was, "We're the 99% too."
Charlie Todd again, on Improv Everywhere: "I've seen some criticism that some of our retail pranks were rude towards the minimum-wage workers in the stores, but those workers usually react very positively to something fun happening during their work day. The managers and security guards at Best Buy called 911 and threw us out, but the average employees were laughing and taking photos when their bosses weren't looking. I worked retail for years, and I know I always appreciated breaks in the normal routine of working the floor. I do think it's important for protesters staging stunts in retail stores to consider everyone involved."
https://www.youtube.com/watch?v=KgUIbPfhSuo
When I asked him about the Twitter criticisms I heard, Shon was incredulous — were these people from Occupy Oakland? I said I didn't think they were.
"It is very easy for disengaged people to rest their heads on the pillow of criticism."
The Internet is certainly full of armchair revolutionaries, but lately Oakland's occupation is full of cardboard-on-cold-concrete revolutionaries — although over the last week, not quite enough of them to meet quorum at the general assemblies. Occupy Oakland needs to convince warm bodies to come out into the cold. Shon is confident that more creative actions are the future of the movement, at least here, and an effective form of outreach to the greater public. He said this was "an experiment, a template, a model." "I see every new action that is done in this movement as one."
For next time, I might suggest: try making them laugh.
Susie Cagle is a journalist and editorial cartoonist with pending misdemeanor charges from the county of Alameda. She is livetweeting this revolution from Oakland, CA.