Choosing Who To Root For (And Who To Hate) At The U.S. Open
Choosing Who To Root For (And Who To Hate) At The U.S. Open
by Thomas Golianopoulos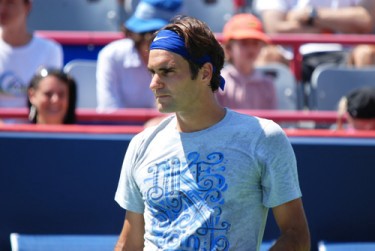 One of the best things about tennis is that you can switch allegiances every decade or so. That's unacceptable in team sports. Changing teams reveals serious character flaws. There is one exception to that rule: If the franchise relocates to another city, then you, the fan, can pick a new favorite. (For example, when the New York Islanders leave Nassau County in 2015, I can acquire a new favorite hockey team. They'll probably be Canadian. The Winnipeg Jets, perhaps?) Tennis is different. We're not rooting for laundry. We're rooting for individuals. And individuals get old and retire.
Growing up, my guy was Goran Ivanisevic. There were a few reasons why I gravitated to him:
1. He was left-handed. (I was always jealous of southpaws.)
2. He had the most fearsome serve in tennis. (I was a young stat geek and would keep track of his aces during a match.)
3. He was a little nutty, often berating himself in some Eastern European language. (Personality!)
4. He was Croatian. (As a kid, I rooted for Yugoslavia, and, later on, Croatia, in international sports competitions. Maybe it was because Vlade Divac was on the Los Angeles Lakers? Yes, I know Divac is Serbian.)
Ivanisevic retired in 2002. His replacement was Roger Federer. It was an easy pick.
1. He played a very unique, stylish form of tennis.
2. He won Wimbledon in 2003 and appeared to have a promising future. (There is nothing wrong with being a front-runner as long as you jump on the bandwagon early.)
3. He defeated Pete Sampras in the round of 16 at Wimbledon in 2001, ending Sampras' streak of four consecutive Wimbledon titles. (Sampras beat Ivanisevic in the 1994 and 1998 Wimbledon Finals.)
Even though it's a bit irrational, tennis is way more fun when you live and die with each point. And with the U.S. Open reaching the Championship rounds, it's time to choose your horse in the race, if you haven't done so already. But for whom to cheer? Choosing a favorite because of nationality is a cop out. So is basing it on hotness. (Good thing Ana Ivanovic and "Deliciano" Lopez are already eliminated.) Here is a completely fair and unbiased ranking of the 5 Most Likable and Most Annoying Players remaining in the draw.
MOST LIKABLE
1. Roger Federer
The 16-time Grand Slam winner earns the top spot because, simply put, no one else is as fun to watch. The guy once attempted a between-the-legs shot on match point! In a Grand Slam semifinal! His 6–1 6–2 6–0 victory over Juan Monaco late Monday night into Tuesday morning was the most aesthetically pleasing match of the tournament, a storm of unlikely winners, crackling one-handed backhands and deft volleying. Here in New York, he's got another going for him: The aging champion playing for one…last…title. Think Connors in '91, Sampras in 2002 or Agassi in 2005. The old man is also refreshingly honest.
2. Andrea Petkovic
The personable German — oxymoron alert! — lacks Federer's flair on the court but is the most interesting character on the tour. Petkovic dances after victories and updates her YouTube channel with fun behind-the-scenes videos: Look! There's she is hula hooping with Novak Djokovic during a rain delay! She's gritty too — Petkovic is playing with a slight tear in her meniscus. It's easy cheering for the wounded warrior.
3. Jo-Wilfried Tsonga
The Frenchman is an athletic marvel: No one that big should move that well or have such soft hands at the net. Tsonga also hits gobs of winners (with his punishing inside-out forehand), and is a tough competitor (7–2 record in 5th sets) with his own victory celebration. While always a fan-favorite, Tsonga moves up because of how he reacted on Monday after American Mardy Fish called him "a dumbass."
4. Andy Murray
Murray is the sympathetic favorite. He's the best player to never win a Grand Slam title and has the pressure of the British tabloids magnifying each failure. (When he's playing poorly, it's said that "Murray is looking real Scottish.") Murray also survived the Dunblane Massacre — Murray, who was eight years old at the time, hid under a desk during the shooting. Then, there's this speech he gave after losing the 2010 Australian Open Finals.
5. Serena Williams
This was a tough one. Serena Williams is ungracious in defeat, way too religious and withdrew from a tournament last month to attend the Kardashian wedding. She has even ambushed tournament sponsors. Oh, and this. Despite those faults (or maybe because of them?), she's still the most mentally strong athlete in sports and her comeback following life-threatening blood clots is remarkable. On the court, she's an unstoppable force — the hardest hitter and the fastest mover. She also has a good sense of humor.
MOST ANNOYING
1. Rafael Nadal
The defending U.S. Open champ picks his butt, is preposterously superstitious, takes too long in between points and might have cheated in last year's final.
2. Caroline Wozniacki
Pushers get no love.
3. Andy Roddick
Roddick would be the sympathetic veteran if he weren't still a bit of a petulant brat. He also tugs on his sleeves way too much. His playing style, meanwhile, is maddening: He is too aggressive when he needs to structure points. He is too passive when he has an opening to rush the net. Rooting for Andy Roddick will leave you in tears — my girlfriend cried when he choked away that second set tiebreaker against Federer in the 2009 Wimbledon Finals.
There's a lot to admire here — the impersonations, the incredible movement, the willingness to improve — but, yeesh, the overbearing parents! Young American star Donald Young almost captured this spot but his parents interfered primarily behind the scenes. Mr. and Mrs. Djokovic have been publicly insufferable for years. After Djokovic defeated a lethargic, mononucleosis-stricken Federer at the 2008 Australian Open, Dijana Djokovic was reportedly heard shouting, "The King is Dead! The King is Dead!" Later that year, she even heckled Federer during a match. (His response was priceless.) Another reason why Djokovic trumps Young? Donald Young Sr. hasn't worn this shirt.
5. Samantha Stosur
Stosur has all the tools — great kick serve, lethal inside-out forehand, soft hands and big biceps — but typically gets unnerved in big spots. She also wears ugly sunglasses.
Thomas Golianopoulos is a writer living in New York City whose work has appeared in The New York Times, New York Observer, Spin, Vibe and a few other places. You can follow him on Twitter.
Photo by meunierd, via Shutterstock.