A.J. Pierzynski's Mid-Coital Yawp
by David Roth and David Raposa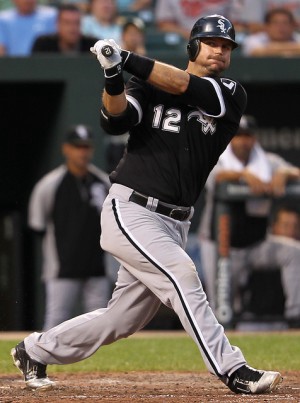 David Roth: Do you think VH1 is ready for "Baseball Wives" as a spinoff of "Basketball Wives"?
David Raposa: Do you think Jerry Seinfeld asked the world if it was ready for "The Marriage Ref"?
David Roth: He only asks rhetorical questions, but you're right. I am picturing the same level of heated incoherence and wine-faced ill will as "Basketball Wives," definitely the same turn-back-the-clock-on-gender-perceptions vibe. But everyone wears eye-black in the opening credits and it is set in Boston. And the cast is someone who divorced Bill Mueller back in 2003, Curt Schilling's wife, a kind of trampy lady who says she dated Mark Bellhorn, and a diva type who smokes Virginia Slims nonstop and claims to have a relationship with "a certain devout and oft-injured outfielder" but won't be more specific.
David Raposa: You just want Kevin Millar to crash the set, don't you?
David Roth: Oh, he's in the cast, too. He's the Sassy Hairdresser Buddy.
David Raposa: I was gonna say he pulls a "Kids In The Hall" and shows up in a very slimming pants suit.
David Roth: "Beth" Millar.
David Raposa: Or he pulls a Matsui and shows up with a drawing of his special lady friend.
David Roth: You are really finding the darkness in this. I am so happy to have you working as my co-producer.
David Raposa: Who needs Mario Lopez and reality TV sub-celebs when you have baseball's finest ex-centerfolds? To be honest, though, it feels less like we're pitching a grade Z reality show and more like we're pitching a grade Z slasher flick. Something like Psycho meets a middle-aged Prom Night. With the aforementioned eye black.
David Roth: We need to develop another show called "Middle-Aged Prom Night." Where are we going to put all this money?
David Roth: I think of this not just because I just saw some of "Basketball Wives" just now — a show which is pitched at a truly proctological level of enlightenment and empathy, and is basically the loudest possible opposite of entertainment — but because SOMEONE is married to A.J. Pierzynski, right? Does she like pro wrestling as much as he does? (And secondarily, could anyone?)
David Raposa: Turn-ons include Wet Willies as foreplay, endless "Jackass" reruns, jock itch, and random mid-coital yawping.
David Roth: I guess you're right, plenty of ladies are into that.
David Raposa: Okay, pop quiz, hot shot. Is Mariano Rivera better than Mickey Mantle, better than Joe DiMaggio, or just a little less good than Babe Ruth?
David Roth: The jaded whatever-to-that-closer-bullshit answer is that he is the best at getting three consecutive outs before allowing more than three runs. But I just kind of think he's the best. He is the only Yankee I really and legitimately enjoy watching and think is kind of neat, and has been since, I guess, Glenallen Hill.
David Raposa: Glenallen Hill belongs to all of baseball, though. And not just because his MLB passport looks like a Carmen Sandiego prop.
David Roth: It is good to know that Three True Outcome wind turbines like Glenallen Hill will always be with us. That's why I have J-A-C-K and C-U-S-T tattooed on my knuckles.
David Raposa: For Glenallen, I think the actual abbreviation is TMO (for Three Majestic Outcomes) — majestic sound-barrier-breaking homers, majestic plane-buzzing pop-ups and majestic spine-altering strike-outs.
David Roth: All of which I enjoy.
David Raposa: As far as Mr. Sandman goes, I only wish I was making up those "better than" examples up there; two of the three (the Mantle and the Ruth) were pulled from Today's Headlines! Leave it to Yankee beat writers and columnists to overstate the greatness of one of their own. And at the expense of the franchise's own legacy! George Steinbrenner just rolled over Billy Martin's grave!
David Roth: Well, the general unpleasable weepy bipolarity of the Yankees Discourse does make Yankees Players less appealing. But Mariano does have a certain objective awesomeness going on. Although you're a Sox fan, so does that apply for you?
David Raposa: Yes and no. I can appreciate the enormity of his accomplishments, but at the same time, watching that cutter not-cut is wicked awesome. Not to infringe on The Sports Guy's copyright, but that '04 happened against him made it so much sweeter.
David Roth: Yeah, it makes me like him more that he isn't perfect. For instance, the Mets scored a run off him once, I think. Or… sorry, I mean they had two runners on base against him once, back in '01.
David Raposa: Well, he's pretty close. It's the infrequency of his failures that makes them stand out. And the fact that he's on the hook for blowing an ALCS and a World Series. And yes, I'm twirling my moustache as I type that.
David Roth: I hope they make Mariano 600 t-shirts and put him in some budget-y Ford commercials. I also wish someone would actually make this not-real t-shirt some Mets fans mocked up for Miguel Batista's 100th win. Do you remember where you were when M-Batis won his 100th? (It was a month or so ago.)
David Raposa: Do I? I can remember it like it was last month! I was sitting in the chair I'm in right now, regretting what I ate for dinner and watching that 88 MPH heater swerve and teeter like a car on a vaguely wet road.
David Roth: He holds this year's Elmer Dessens Emeritus Junkballer Chair on the Mets pitching staff. Big stipend, and all you have to do is not laugh when Terry Collins's voice gets really high during tirades.
David Raposa: I'm sure he composed some sick verse commemorating that honor. You do know of MB's illustrious writing career, yes?
David Roth: I do. He wrote a short story for ESPN The Magazine's Fiction Issue and it was not very good. Also: ESPN The Magazine's Fiction Issue.
David Raposa: To quote Yakov Smirnoff, "You are having the fun with my full-of-shit leg, da?"
David Roth: My favorite story was Lorrie Moore's re-imagining of Jim Leyland as an English professor in a failing marriage whose brisk humor masks a deep sadness. It was cool to see her stretch. Also, Aubrey Huff displays a surprisingly Borgesian playfulness in his prose. (Although it's admittedly less surprising if you've read his essays.)
David Raposa: I was particularly fond of, "Repent, Mark Quinn! Said The McCutchenman," by Joe West.
David Raposa: Speaking of milestone memorabilia, who wants a Wakefield 200 hat?
David Roth: Good thing the Sox didn't spend much money on those hats. If you peel off the knuckleball-200 patch there's a Nantucket Nectars logo underneath.
David Raposa: My citizenship in Red Sox Nation has lapsed some, but I'm guessing loads of Sullys are blaming Wake for the recent Red Sox "collapse" (or, if you prefer, "injury-aided deceleration").
David Roth: I'm happy to see the Rays winning/the Sox taking a couple weeks off making a race of it. Ditto for the Angels and Rangers. As long as I don't have to watch the drunken sack race that is the AL Central.
David Raposa: If only the Tigers or Twins had ADRIAN BELTRE HEAD RUBS.
David Roth: I didn't know about this thing. He appears not to like it. The Late Josh Bard. Killed by a punch from a fuming Beltre. RIP.
David Raposa: And now you know why Victor Martinez signed with Detroit.
David Roth: The walk-off head-bop one is great. The situation turns so quickly.
David Raposa: Please note that there are multiple sightings of that rarest of beasts: Having-Fun JD Drew.
David Roth: I assume that JD then drove 40 minutes into the suburbs, went to a giant and extravagantly air-conditioned mega-church, and repented.
David Raposa: At first, I thought you misspelled "hyperbaric chamber" as "mega-church." But then I noticed that the UmpBump post links to an article about Drew's faith. From JesusJournal.com.
David Roth: Good site name. I need to get into URL squatting. I remember a McSweeney's list a long time ago that was a list of former MLB players whose names were still available as URLs. I remember BobbyGrich.com was on there. Now it's owned by a Bobby G. Rich. TomCandiotti.biz is out there.
David Raposa: EsixSnead.com: still available. BillPulsipher.net and PaulWilson.org, however, redirect to Goatse.cx — how strange!
David Roth: I have an Esix Snead autograph rookie card at home that I lifted during my days at Topps.
David Raposa: Intrigue! I'll put the over/under on number of laser grids you had to weave through at 4.
David Roth: I was a lot like Catherine Zeta-Jones Entrapment — like, more than usual — but my glasses kept falling off. And instead of Sean Connery watching leeringly, there were a bunch of broken Geronimo Berroa game-used bats leaning against a wall.
David Raposa: That sounds about as exciting as the "new" film Connery's threatening to make. Here, have the interminably long trailer!
David Roth: The "About" section of this website is baffling. It's all about the co-founders and, like, their hobbies. "Theresa, his wife, enjoys spicy food." How is that relevant to your film? Also, the trailer looks like one of those The General insurance commercials.
David Raposa: I was gonna say that my friends made a claymation short back in 6th grade that had better production values.
David Roth: I also like that this trailer for kids includes a sentence that begins "Can this octogenarian…"
David Raposa: AND HIS BILLY GOAT.
David Roth: Do you think there are Florida Marlins articles that begin "Can this octogenarian and his billy goat(s)…" And then goes on to discuss Jack McKeon trying to motivate his team?
David Raposa: I guess you saw Old Man McKeon take Ricky Nolasco out back for a caning?
David Roth: There's a thin line between being an old grump who probably shouldn't have a job and just being a total asshole, isn't there? I can barely see it sometimes it's so thin.
David Raposa: It's George-Lucas-neckbeard thin. Given the Marlins' situation, though, I think Trader Jack's earned himself a few faux-Ozzie outbursts. Also, if push comes to shove, he can just say he learned it from Earl Weaver YouTubes.
David Roth: I want endless .gifs of his pained waddle to the mound. The Metamucil commercial that is his face during games, the palpable, visible-in-a-thought-bubble-above-his-head wish to be napping in front of an episode of "In The Heat of the Night" on WGN. Being the saddest old person in Florida is quite an achievement, if you think about it.
David Raposa: True. And the Marlins clubhouse is a pluperfect mixture of justifiable and inexplicable disgruntlement. Meaning you have players getting dicked over by management, and players just being dicks. (Hello there, Han-Ram!)
David Roth: Hanley Ramirez should've just gotten fat. It's the fastest way to show your disdain. Surely it's easier than just doing everything 75% as quickly as you did it last year.
David Raposa: He's still too young, though. He's at that age where even the fattiest foods and liquors get metabolized all hummingbird-like.
David Roth: He could hire professionals. Who makes Adam Dunn his six-egg breakfast sandwiches?
David Raposa: "The '7' in my 7 Layer Burrito refers to the number of tortillas I use."
David Roth: There should be people who help guys get out of the league. Give them profane neck tats, five unhealthy meals a day, set them up with brand-ruining celebrity buddies.
David Raposa: Joe Francis could always use a secondary source of income.
David Roth: I don't suppose that Francis and McKeon being in Miami at the same time ever led to… no, probably not.
David Raposa: That is a Penthouse Letter that writes itself.
David Roth co-writes the Wall Street Journal's Daily Fix, contributes to the sports blog Can't Stop the Bleeding and has his own little website. And he tweets!
David Raposa writes about music for Pitchfork and other places. He used to write about baseball for the blog formerly known as Yard Work. He occasionally blogs for himself, and he also tweets way too much.
Photo by Keith Allison.