Bronx Bombers, Defective Robots
by David Roth and David Raposa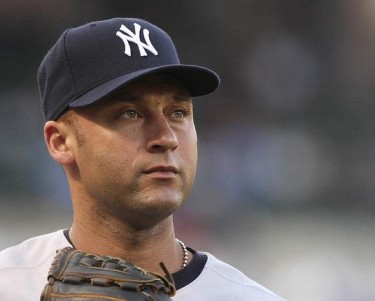 David Roth: I've been on vacation in a place without TV and alarmingly rich in Phillies fans. But I wanted to clear something up with you in re: Yadier Molina's Crazy Eyes Killer routine with that ump.
David Raposa: Thank you for reminding me to witness that bit of TV history (before MLB brings the Sledge-O-Matic down on YouTubers). What is your question, esteemed colleague?
David Roth: Do you think that, since he got that neck tattoo, Yadier feels like he needs to act tough? Like step out of Bengie's shadow, not be known as The Molina Who Can't Eat All That Many Pancakes?
David Raposa: I thought Coco Crisp cornered the pro baseball market on neck ink.
David Roth: I mean, he's definitely the most gangster Molina at this point. Although previously I think it was Jose, because he wore an edgy "hockey-style" catcher's mask.
David Raposa: Given the youngest Molina lost his cool over a pitch that looked like a pretty good strike, I'd say he's just taking after his reasonable and sober bastion of a managerial genius.
David Roth: That is, he is tanked up on Old Grand-Dad and listening to Bob Knight's "I'm Fucking In, You're Fucking Out" motivational tapes and doing his best not to start screaming profanities at all times.
David Raposa: Something like that. So, since you're a professional sports writer, maybe you can answer this: is there an easy one-stop place to find contact info for former or current MLB players?
David Roth: Not really. The Beef 'O' Brady's near Dodgertown is good during Spring Training. Also if you could hack Ken Rosenthal's cellphone, that would be good. I'd imagine the pictures are horrifying, but at the very least I bet he has Brandon Inge's number.
David Raposa: I'll call up Rupe and see if he can set that up.
David Roth: What's this for? Not that I don't endorse hacking Ken Rosenthal's phone for no reason.
David Raposa: I'm working on a "where are they now" piece about Moneyball. Now Scott Hatteberg has my cell phone number.
David Roth: How deep are you going? Did you Google "Mike Magnante Kia" and find his dealership?
David Raposa: I have been greasing palms to get the won-loss records of Chad Bradford's high school teams. Getting my Pappademas on and all that.
David Roth: Here's a thing that happened while on vacation: I was in a liquor store with my dad, and the Phils were on TV. Ryan Howard at the plate. My dad turned to me and said, "Look at this big boob."
David Raposa: Go, Mr. Roth!
David Roth: And then Howard hit a 840-foot homer, on the next pitch.
David Raposa: No, Mr. Roth!
David Roth: He kind of like stood up while he did. It was a monstrous home run.
David Raposa: Did he glare at your dad through the TV camera before starting his trot?
David Roth: As he rounded second base, he threw one of those Subway Big Philly Cheesesteaks through the TV and it hit my dad in the mouth.
David Raposa: "Eat fresh, asshole!"
David Roth: So what'd I miss while I was down there? Did A-Rod act like a replicant with frosted tips? Did the Cubs make ridiculous personnel decisions? Did the sun come up?
David Raposa: Well, A-Rod's guilty of playing poker!
David Roth: So guilty. I love that the first iteration of that story was him playing with Ben Affleck and Tobey Maguire.
David Raposa: Engaged in illegal activities with Daredevil and Spider-Man! J. Jonah Jameson does not approve!
David Roth: Nothing A-Rod does is recognizably human at this point. I guess that can manifest as grace on the field, but holy shit is it ever full-tilt poreless-marzipan-faced robo-weirdness off the field. Even his mistakes — which should be the place where the very handsome, very rich, very virtuosic superstar dude comes down to earth — just make him less identifiably humanoid. Losing $300,000 to Tobey Maguire is so embarrassing. Because you know he's just going to spend it on… actually, I have no idea what Tobey Maguire does. With his money or in general. You have to assume designer drugs, right?
David Raposa: Hairplugs and ab implants, of course.
David Roth: Money well spent, I guess.
David Raposa: Oh wait, are we talking about Maguire or A-Rod? Oh! Look at me, stunting like a NY Post columnist.
David Roth: You've got what it takes. Now gain sixty pounds and buy a Hawaiian shirt and repeat that joke for 30 years.
David Roth: Nothing that A-Rod does will ever be stranger or more objectionable than dating now-school Madonna. Going to secret kabbalah classes. Getting $85,000-per-session spiritual backrubs from Deepak Chopra and thinking it's okay.
David Raposa: Watching the "Music" video alone, wearing a centaur t-shirt and nothing else, manscaping his unmentionables.
David Roth: That's Wednesday for him. I think he has a Connecticut manse that's just for that. What's the Madonna song where she raps? There's something about "I do yoga and pilates/And the room is full of hotties." I like to imagine A-Rod putting that on to pump in the weight room.
David Raposa: Oh lord, "American Life."
David Roth: A-Rod rapping it in Buffalo Bill mufti is disturbingly easy to imagine.
David Raposa: What is it about A-Rod that makes everything he does a) a league-wide concern and b) utterly embarrassing in a ripped-my-pants-bending-over way?
David Roth: It is amazing, A-Rod's permanent clownshoes. But Jeter is basically as weird. It's a bad look to date Madonna — and it's really bad — but Jeter was in a relationship with Mariah Carey. Which is like living in a cave in a diamond-studded mountain of cocaine that periodically erupts, volcano-style, with champagne-lava and high-E notes.
David Raposa: And no one cares about any of it! You didn't watch the HBO "Derek Jeter 3K" special, did you?
David Roth: No, I didn't. There's too much to live for. Was there a searing interview with Jordana Brewster? "He never flushed. I mean never."
David Raposa: His Jeteness was like some sort of cliche automaton that was about to blow a sprocket and start disobeying the laws of robotics. He'd be going on about blah blah teammates blah blah career, and then he'd say something like, "I have lots of multicultural friends. Like Gerald Williams and this Hispanic guy."
David Raposa: I think he runs on a slightly more robust version of Windows Vista than LeBron James.
David Roth: So how close to off-message did he get? "I love Jorge (Posada), we're like brothers. So I'm especially sad that he'll be left behind when the Rapture happens because of his stupid fucking ears." He's like McCain on the campaign trail in 2000 — every time he says something catty in re: his obviously diminishing skills, the press dudes take him off the record.
David Raposa: Well, he did threaten revenge on some conditioning coach for some practical joke, and he didn't come off quite as charming as he had hoped. He should've kept the machete out of the shot.
David Roth: I have lots of multicultural friends in baseball, too, you know. But imaginary.
David Raposa: You like to surround yourself with a variety of people from different boroughs of New York to keep yourself grounded?
David Roth: No, I imagine an Ichiro Dunn-Guerrero and we go to dinner. But it's similar. They both keep me grounded.
David Raposa: Oh, wait, I have an actual, honest-to-goodness, mind-blowing quote (not really): "I like to eat … I guess that's the best way to put it."
David Roth: That is essential information! What is it in reference to? His ill-fated pro-bono endorsement of Chi-Chi's?
David Raposa: His personal chef cooking a meal for him and his Rainbow Coalition.
David Roth: How is he less embarrassing than A-Rod? I am coming around on this.
David Raposa: I don't know! Is he so unbelievably handsome in person that beat writers can't bear to besmirch his good name?
David Roth: He's not going to set you up with his exes, dudes. Mariah Carey is off the market. She is married to Xanax now.
David Roth co-writes the Wall Street Journal's Daily Fix, contributes to the sports blog Can't Stop the Bleeding and has his own little website. And he tweets!
David Raposa writes about music for Pitchfork and other places. He used to write about baseball for the blog formerly known as Yard Work. He occasionally blogs for himself, and he also tweets way too much.
Photo by Keith Allison.