Selections From V.S. Naipaul's Yelp Account
by Mike Barthel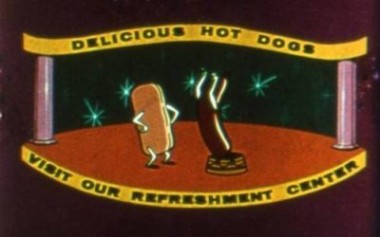 Wienerville, USA
Categories: Fast Food, Hot Dogs
My fellow Yelpians, do not be fooled by the exterior trappings of this eatery. Yes, the vividly saturated jonquil marquee and the weathered red-brick façade are a beacon to lusty travelers, promising the sensual delights of a meat well-cured. But this covenant is dishonored by the feminine banalities littering the menu. Consider their description of the Southwestern Dog: "Howdy, partner! This all-beef dog is smothered in red-bean chili, melted provolone, jalapenos and white onion. Yee-haw!" How like a woman to keep one's view so resolutely in the kitchen! How like a woman to express nature's redness of tooth and claw with the limp descriptor "all-beef"! How like a woman to reduce the ravages of colonialism to a "Howdy" and a "Yee-haw!" Wienerville? I think not.
Central District Fitness
Category: Gyms
I am afraid I must report to the Yelp community that I have been forced to cancel my membership to this once-honorable establishment. Where there were rows of bare metal hulking and gleaming under caged bulbs, there are now the sentimentally curved atrocities of the elliptical machine and the treadmill; where there was the simple soundtrack of men's guttural exertions, there is now some frightful teenage bish-bash. And, quite frankly, there is an unpleasant odor now to the place that sticks to one's clothes long after one's visit. All these hamster toys and work simulations serve to do is provide a woman the illusion of mastery — whether over her affairs, her home or her own body. I refuse to pay $59 a month to subsidize lies.
Barnes and Noble Union Square
Category: Bookstores
I made my way here one afternoon to look at my own books, and to eat a triple chocolate Cheesecake Factory® cheesecake slice from the coffee counter, but I found myself quite unable to make my way through the aisles here due to the presence of some woman book-maker named, I believe, Toni Morrison? (That is what my assistant, a lovely woman who makes an excellent pot of tea and cannot write her way out of a paper bag, tells me.) There were throngs of admirers, mostly women of low taste of course, and they made it entirely impossible for me to move freely. Well! I made my way roughly through the crowd to the reading area and I cried out, "My dear, how dare you get up on that podium when a writer of such greater capabilities wanders the floor, unacknowledged?" I may not have put it quite that grandly, but that was the gist of it, at least. I do not know how exactly they managed to remove me bodily from the store what with the supernatural power I am able to pull from the presence of my magnificent books, but next thing I knew I was out on the sidewalk. I will certainly not be returning to a bookstore with such a low regard for high art.
Mindy K. Singh, MD
Category: Proctologists
I would prefer not to discuss the details, but suffice to say that this country's supposedly top-notch medical schools have been making some very, very questionable decisions in recent years as regards the gender ratio of their student bodies and the areas in which they encourage specialization. What has become of the noble arts of nursing and midwifery? Whence the doulas of tomorrow?
Frank's Transmission Repair
Category: Auto Repair
I must confess to a certain bafflement as regards the other reviews on this page, which seem quite negative. I failed to encounter the hostile service others faced. Instead, I found the all-male staff here uniformly professional and efficient. Frank's features no cowardly kowtows to women's fear of the mechanical and physical, no frilly curtains on the cashier window to placate the new mother coming in to have the air filter changed on the Prius she's wasted her husband's salary on as a pathetic shield against her own inexorable mortality, no "relatable" women taking your information to soothe the shattered nerves of the ancient biddy there to have a noise investigated on the BMW thrice as beautiful as her ruined face. There are just men, puissant in their skills, matching outfits damp with their sweat and the industrial effluvium of their trade, doing what they do best. Perhaps $300 is a bit more than is customary for an oil change, but after all, it is impossible to pay too much to be in the presence of true greatness.
Penthouse Executive Club
Categories: Steakhouses, Adult Entertainment
Could've used more boobs.
Mike Barthel has a Tumblr.