My Two Days as a Russian Tabloid Sensation
by Michael Idov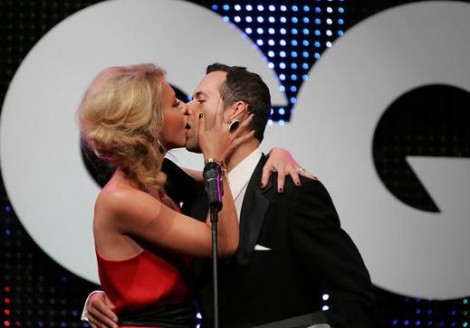 Had I bothered to put "walk through Moscow in a tuxedo" on my list of things to do in this life, I could now safely check it off. The sidestreet in front of the theater was a static maze of Benzes and Bentleys, with no place to pull up. Arriving as I was in a regular taxi, the jam gave me a face-saving chance to get off around the corner and hoof it to the red carpet from there.
The Russian GQ had rented out the theater, a hideous 1990s edifice glowing at the sidestreet's end, to hold its Man of the Year awards: "the unofficial start," in the breathless tabloid formulation, "of Moscow's social season." In New York, I don't usually get to such events without a reporter's pad. Here, I couldn't have a deeper cover if I tried. I was a nominee in the Writer of the Year category.
A few months earlier in 2010, my novel Ground Up had come out in Russia, translated by my wife and myself and rechristened The Coffee Grinder for want of the needed pun in the Russian language. It only sold a few thousand copies, but they seemed to have been the right few thousand copies. There is a certain kind of Muscovite, mostly young, mostly employed in mass media, that eats and breathes New York; they glommed onto the book, which details a yuppie couple's misfortunes on the Lower East Side, like it was Sex & the City — a guide in the guise of a novel. Given the demographic, the ratio of readers to reviews was close to one.
The other nominees in my category were Sergei Zhadan, Roman Senchin, Mikhail Elizarov, Andrei Astvatsaturov (whose last name I, in case I got the chance to thank the other nominees from the stage, had practiced for hours), Aleksandr Terekhov and Pavel Pepperstein. They comprised a remarkably accurate cross-section of the modern Russian literature.
There are two kinds of serious novel in Russia right now: "extreme" and phantasmagoric. The first kind deals with the most wretched dregs of the society, which by implication stand in for the society as a whole. The reader, trained by decades of Aesopian Soviet satire, knows that if the novel's action takes place in a mental ward, that mental ward is Russia; if it's a prison, the prison is Russia; if it's a tiny Siberian village populated by, say, cannibals, the village is Russia and the cannibals are the government.
The second kind is a conspiracy fable, devoted to the thesis that the world is run by shadowy magic forces. Supernatural cabals figure in a staggering percentage of Russian highbrow prose — Pavel Krusanov's Angel's Bite, Vladimir Sorokin's Ice, and just about everything by the bestselling Viktor Pelevin, whose 1999 satire Generation P (published in the U.S. as Homo Zapiens) explained that the world leaders are CGI cartoons. In Pelevin's three subsequent novels, the world government is revealed to be, respectively, a gay mafia, werewolves, and vampires. This mode of thinking has a rather touching teenage tinge. Earlier this week, when the culture portal OpenSpace.ru asked prominent Russian intellectuals to respond to bin Laden's death, half dutifully answered that bin Laden had never really existed, or was a projection of "naively dualist American consciousness."
A week earlier, I had asked novelist Alexander Garros — one half of the well-known Garros-Evdokimov writing duo and, conveniently, my high school classmate — how this happened: why, instead of Tolstoy and Dostoyevsky, Russian scribes in the 21st-century find bedrock inspiration almost entirely in Gogol. Garros was the right man to ask. His and Evdokimov's debut novel, Headcrusher, was about a man whose life becomes an ultraviolent computer game.
Alexander and I had stood on the rickety balcony of his Stalin-era apartment building, overlooking a dark bight of the Moskva river. "I mean, don't you want to write a novel," I asked, "about, God, I don't know, some group of idealistic Muscovites slowly getting corrupted by the 1990s' crime and the 2000s' money?"
"Sure I do," said Garros. "But you see, when you start writing out the details of everyday Russian life, the absurdity just overwhelms you. At some point, you give up. Your characters start flying around, they sprout fangs and tails. Because that's the only way to stay true to the material. Russian reality is too phantasmagoric to fit into realist logic."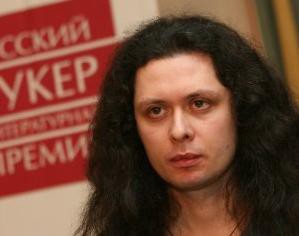 My fellow nominees for Writer of the Year provided a good illustration of his thesis. Senchin and Elizarov were realists, but only in the Russian sense. Elizarov once wrote a novella called Nails, which culminated in the main character (an adolescent mental-hospital patient) eating his dead friend's (another patient's) fingernail, and dying from cadaveric poison. In interviews, he and Senchin showed a brutally nationalistic bent and were considered "fascists" in the more genteel literary circles. "For instance, I hate gays," said Elizarov in a recent interview. "I'm not going to stand up and cheer when the TV tries to convince me that they're good and talented. My job is to uphold the right of the people to say the same. But since I'm craftier than our government, I can do it in craftier ways.") Pepperstein was also "anti-American," but in a cerebral, postmodern, French fashion: in quotation marks. He was as famous for conceptual paintings of Uncle Sam and Pepsi cans and American flags as he was for his avant-garde novels, which bore titles like Mythogenic Love of Castes and The Swastika and the Pentagon and jumbled fairytale, propaganda and pornography archetypes. (His contribution to OpenSpace's bin Laden discussion: "I listened to Obama's speech. Charmingly childish. Very Lion King. I didn't like it. It could have used more gags, like 'The Simpsons.'")
Terekhov, for his part, wrote an 800-page historical novel about a Stalin-era murder case that one reviewer called "fantastically unpleasant, not to say revolting." It was meant as praise.
Among this bunch, The Coffee Grinder looked like a city dandy arrested for jaywalking and thrown into a holding cell with hardened criminals: skinny, overprivileged and profoundly hateful. It's probably why it won, too.
I had known about the results for three months. The Man of the Year winners were supposedly decided by readers' online vote right up to the day of the ceremony; the vagaries of the long-lead publishing cycle, however, meant that in order to get the winner's photo and profile into the right issue, the magazine needed to interview and shoot him well before the official end of the voting. "You have a commanding enough lead," the magazine's marketing director had told me. She sounded a little embarrassed.
I tried to play along, but judging by friends' winking commentary, the cat had been completely out of the bag for weeks before the awards. It thus felt crushingly fake, the whole thing, which is the way a Russian feels about every public surface of life: politics, media, table manners. In the Russian mind, and more often than not in the Russian reality, things like awards and elections are all a paper plastered over a yawning chasm, a lie to distract from the Real State of Things, which is unspeakably tragic and accessible only by chucking social convention (and thus accessed nightly, through drink and cocaine and hashish, by everyone around me). This, perhaps, was what my accidental competitors were writing about, and what Garros meant. They were right — and I would reap the benefits of my collusion with the absurd. I may not have been about to grow fangs, but I'd already sprouted tails.
* * *
"Now Yuri is a real star," said someone loudly. A big black Mercedes behind me had just disgorged Yuri Nikolaev, the wizened former anchor of a Soviet song-and-dance program called "The Morning Mail." "Anyone can roll up in a Benz nowadays. Yuri had one twenty years ago" — when it required staggering amounts of financial, political and social juice. The platoon of red-carpet photographers turned around to snap Yuri, and I was able to sneak inside the theater unmolested.
The vast foyer crawled with what I assumed were celebrities. The women were dressed impeccably; the men, forced into tuxes, looked miserable. I imagined them clawing at their bow ties when nobody looked, like a cat in a new flea collar. The bar proffered a muddy "exclusive" variation on the Bramble cocktail, called the Black Tie. I took one and watched the crowd. Every once in a while, a ghost of my Soviet childhood would flit by — a face half-remembered from television or an LP cover, plus twenty years of hard living, minus the same in plastic surgery.
The rest were someone's children. Sofiko Shevardnadze, the socialite granddaughter of the last Soviet foreign affairs minister, strolled in a scarlet dress past Ksenia Sobchak, "Russia's Paris Hilton." She is the daughter of the Leningrad mayor who'd given Vladimir Putin his start. Sobchak waved to Fedor Bondarchuk, a glamorous filmmaker who happened to be the son of Sergei Bondarchuk, the Soviet director who'd once been given a blank Kremlin check to film War and Peace. Muscovites harbor a genuine dislike of their social scene — not the eye-rolling tolerance New Yorkers have for the Upper East Side debutante set, but actual burn-the-mansion hatred — and I began to understand why. Here we were at the tail end of 2010, with Russia rounding up its second decade of capitalism, and every diamond in every earlobe was still traceable back to the great big trough of government connections.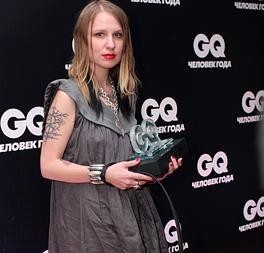 I was relieved to see Valeria Gai Germanika. A wildly talented young filmmaker, she was a nominee in the dubious "Woman of the Year" category. Germanika's was a much more interesting case than all the heiresses' and scions' around her. Hailed as a genius after her very first picture, a minimalist, shaky-cam high school film Everyone Will Die and I Will Stay, the 24-year-old woman was feted so much that she immediately went into a full diva mode, throwing tantrums and walking off sets and dressing like Lady Gaga before even starting a second film. In a way, she would not even have to start it now: she had fully found herself as an all-purpose celebrity. Tonight, Germanika came in massive diamonds and a baggy metallic dress that showed off her bicep tattoo of a violin clef. She brought along a shivering Chinese Crested named Moni. The dog wore a more casual denim ensemble.
I came up to Germanika to tell her that I really wanted her to do It's Me, Eddie. This was, I knew from interviews, her dream project: a film adaptation of the 1976 novel that made a celebrity of Eduard Limonov. Eddie was a chronicle of New-York-a-go-go decadence as experienced by a Russian outsider. The main character, a broke and horny poet living in a grim SRO, mostly details his sexual conquests. It culminates with a scene forever seared into every reading Russian's brain: a tussle with a black thug that somehow turns into oral sex. (In France, the book came under the title Le Poète Russe Préfère les Grands Nègres; the Germans published it as Fuck Off, America). It wasn't a coincidence that the book came out the same year, and wallowed in the same milieu, as Martin Scorsese's Taxi Driver: in Eddie, Russians had their own Travis Bickle.
And it was a perfect fit for Germanika's sensibilities. But, alas, in the 1990s, Limonov had become a political opposition figure, which meant that no producer in Russia would lend a kopeck to a screen version of one of his novels. This detail hadn't even occurred to me: the faraway prancing Eddie of 1976 and the current "National Bolshevik" blowhard Limonov hardly even seemed like the same person. The novel was 34 years old, and Limonov wouldn't even get paid for the rights — he waived his fee for Germanika, lest she were accused of enriching him. And still she couldn't find the funding.
"Take me to New York with you!" Germanika cooed as soon I told her I was from the city and I really wanted her to shoot it there. "Marry me and whisk me away from here!" She had a manner about her, grand dame inching toward drag queen: a kind of ironic hyperfemininity at the edge of the vapors. It was a fun performance. "I'll do anything! I will wash your floors! I will babysit your children!"
"Well, maybe not that one," I said. "But I'd love to help out somehow. I'm a big fan. I'd tell you all sorts of compliments but I suspect compliments are not your thing."
"My thing," said Germanika, "is black bogs of despair."
At this point, not a second too soon, we were ushered from the hot lobby into the somewhat cooler theater itself. The fake awards got underway.
The opening montage, set to a live suite conducted by Vladimir Spivakov, was a quick refresher on the main events of 2009–2010. It was an idiosyncratic mix of the tragic and the trivial, and a pretty handy document of what the Russian view of the year was. President Medvedev's first tweet; Cameron's Avatar; a militia officer slugging a protester on the Triumfalnaya Square; Icelandic volcano, belching smoke; Gulf Coast oil slick; smog over Moscow.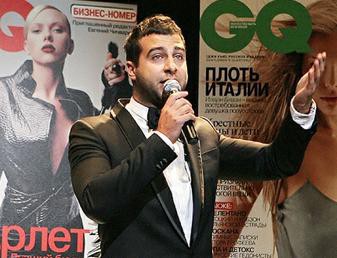 Ivan Urgant, the event's young, slightly Middle Eastern-looking emcee, started with a bit that merits transcribing.
"We have gathered here tonight to celebrate," he began, stumbling on the magazine's title, "the whatchamacallit — I forgot. And why, come to think of it, should I remember? All these ceremonies have melded into one in my mind. Same two hundred people in every auditorium. You're all showing up in my dreams by now. I know everything about you, and you about me. Must we keep this up? I didn't go to college for this crap, I'm an artist! Uskov," he continued, addressing the magazine's editor in chief in the front row, "aren't you a historian by education? And what have you done with your life? Why are we lying to each other right now, acting like we don't know who's going to get these awards? Everyone knows everything! Do something genuine for once. Skip a shave. Buy a shirt from Zara. Christ."
The laughs were scattered and tentative. Just when I thought Urgant's scripted freakout was over, it revved up in earnest. "Enough! Admit it, we're all sick of this! Let's all get up and march out of here! Come on! Do it!" he bellowed, pacing up and down the stage and eventually descending into the audience to grab a female plant's designer clutch and tear it apart. (The punch line: an Federal Security Service officer's ID inside). The bit ended with a rotund older sidekick stepping from the wings to remind Urgant how much he got paid for his appearance. "There, there," the sidekick cooed. "Think of your country house. Think of your BMW."
If the routine wasn't very funny, it wasn't really meant to be. It was disgust masquerading as a bit masquerading as disgust, and it infected the entire evening. The first two presenters, actress-director Renata Litvinova and ballet star Nikolay Tsiskaridze ("the only ones who would get on this stage for free," Urgant said, belaboring his point), caught the same bug and could barely make it through announcing the nominees. Their derisive snorts and blatant eye-rolls accompanied every name.
The second duo, announcing TV and cinema categories, was a stranger one: Sergei Selyanov, a big-time producer, and Irina Hakamada, an opposition politician. I later learned that she had been put onstage as a last-minute substitution for another presenter. It was an awkward fix to say the least: Hakamada had been blacklisted by the state-owned Russian TV since 2002. "Television doesn't like me," Hakamada deadpanned when Urgant asked her whom she liked out of the five nominees in the category.
"I would like to add that I'm also working for free tonight," she then ad-libbed.
"I got paid for the both of us," said Selyanov.
It was that kind of night. But then again, every society night in Moscow was like this. The air thrummed with collective self-loathing, the only remedy for which was cynicism: one could fully relax only when everyone around was impugned equally and there was none left to judge. The meshing gears of contempt and complicity, with me a passive cog.
* * *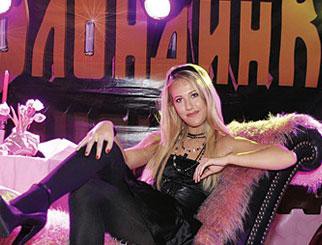 My category's presenters were Igor Krutoi, a shaven-headed pop composer and impresario with the look of a retired thug, and Ksenia Sobchak in a fire-red dress. Sobchak, as I've mentioned, was the daughter of a Leningrad mayor and a kind of Paris Hilton manquée. Her last name put her as close as the New Russian society gets to old money, and her exhibitionist streak did the rest: she was now a self-perpetuating tabloid fameball, covered today because she was covered yesterday, her every dalliance and feud spelled out in smeary block type. Instead of pop celebrity, however, Sobchak's ambition ran to more complicated ends. Her dream was to be taken seriously, in any medium. She gave public talks. She hosted TV shows. A month or so earlier, she had put out a book called The Encyclopaedia of the Lokh, a satiric taxonomy of the titular creature. ("Lokh" is a Russian slur whose meaning resides in the sad space between "sucker" and "loser"). "The sweet lokh," she wrote, in not-bad prose, "is the main ornament of our social skyline. It is in him, for the lack of anyone better, that our nubile kind finds an inexhaustible wellspring of genuine and unmediated experience." She also flourished as an ace interviewer, coming on as a naïf and then asking sharp questions. (It is admittedly easy to be fearless when your dad gave Putin his first job). Still, the intellectual Moscow was wary of her and eyed her as a weird intruder, like a group of high-school misfits unsure why the prom queen wants to sit with them at lunch. Recently, trying to say the word "existential" on air — in itself a telling detail — Sobchak had tripped up and said "existentional." This malaprop caused squalls of mirth around Café Mayak and Jean Jacques. In a way, the bohemians were as nasty to Sobchak as the tabloids; she was dead stuck between two worlds. "I consider her a tragic figure," Andrei Loshak, an opposition TV reporter, once told me, without a trace of irony.
Even knowing the award was mine, when Sobchak announced the seven nominees for best writer I experienced a combo of goosebumps, sweats and dry mouth. I wasn't afraid of a last-minute switch; I was more worried about what I was about to do myself. The thing was, minutes earlier I had decided to use my time onstage to lobby for Germanika's It's Me, Eddie. Why the hell not, I thought. Might as well make this memorable. Plus, the venue seemed receptive to mild dissent. The evening's opening montage included shots of the Triumfalnaya Square protests, which was far more subversive than what I was going to do.
"And the writer of the year is Mi — " said Krutoi with zero enthusiasm.
"You look like you've read all of those books, Igor," interjected the emcee.
"Oh, yeah, right," scoffed Krutoi. "So, anyway, the writer of the year is Michael, uh, Michael Idov."
I trotted onto the stage, accepted the Plexiglass letters G and Q and an expensive watch that came with them (the sole, triumphant thought that crossed my mind at that moment: eBay), and launched into my spiel. At first I concentrated on one task: thanking all six other nominees, one of whom, I repeat, was named Astvatsaturov. "And finally," I said, breaking out in sweat once again, "I'd like to think that there's a person in this room with enough bal — uh, guts, to finance Valeria Gai-Germanika's next movie, It's Me, Eddie. Thank you all." Hey, that went well! I turned to leave the stage with my loot.
"Wait, where are you going?" said Sobchak. "Haven't they told you?"
"Michael, it's a trap," said Urgant. "Go. Go now. The dragon has chosen her victim." Little puddles of laughter were pooling in the crowd. I knew I was walking into something, a skit of some sort.
"As many are aware, Michael," continued Sobchak, "I have a certain tradition here at the GQ awards. Every year I pick the best-looking man and bestow upon him my kiss. This year, I have picked you."
With these words, Sobchak grabbed me and kissed me on the mouth. Dozens of cameras snapped away, ornamenting the periphery of my vision with silvery flashes. The center, meanwhile, was taken up by a red-and-blonde blur with tongue. It was not unpleasant. In fact, she initiated the withdrawal, as this lokh kind of got into it. The whole thing lasted seven or eight seconds.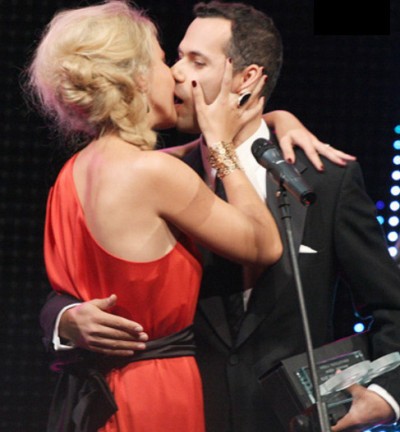 "Well," I said into the microphone, catching my breath and rather uncinematically wiping my mouth, "At this point I think I should also thank my wife, Lily." The line killed. I happily retired backstage to pose for a line of photographers with my prize and, in a courtesy to the evening's sponsors, a bottle of French vodka. Then I came back to watch the rest of the show, which ended with a live reggae musical number.
As we pushed toward the exits in the narrow aisle, Alexei Kazakov, an executive at the channel that would be broadcasting the awards later in the week, slapped me on the shoulder. It was not a friendly slap.
"Thanks a fucking lot, man," he said. "Thanks a whole fucking lot for the Eddie thing. You really fucked me on this one."
"I'm sorry, I had no idea," I said.
"Limonov's name is one of, like, five taboo words on TV."
"I didn't say Limonov's name!"
"Doesn't make a difference."
"You can cut it out of the broadcast."
"Yeah, well, I don't want to cut it. But you've put me in the position where I have to be the asshole and cut it."
An hour later, though, Kazakov cheered up. From the afterparty chatter, it was fast becoming clear that the Sobchak kiss was the highlight of the entire evening. The crowd, whittled down to fifty or so luckiest invitees, had moved over to a restaurant called, with remarkable simplicity, Meat Club. Before me stood a plate with a filet mignon the size of a fez; sitting across the table was Sergei Minaev. He was the first Russian author to wangle a million-dollar advance. I knew this because he had just told me, between bites of steak.
Minaev's novels were about Moscow nightlife: cocaine lines off toilet bowls, that sort of thing. Before becoming a bestselling writer, he was a successful businessman, and immediately parlayed his new fame into a small empire of media properties. Minaev owned a publishing house and hosted talk shows on television and radio, using each of these platforms mainly to promote his own work. Throughout it all, he had kept his day job, which was importing high-end liquor. The award, and Sobchak's kiss, had clearly elevated me to a whole another stratum. Forget Astvatsaturov and Pepperstein. Now I got to hang out with writers like Sergei Minaev.
"You know, Misha, right now you have a chance to make a very decent career," said Minaev with a godfatherly inflection. He wiped his hand with a napkin, finger by finger. Then he gave me his business card.
* * *
Next morning, a hungover Yandex search for "idov + sobchak" netted 1,700 hits. The kiss was everywhere. The morning after that, it reached print. Ksenia Throws Herself on Married Man. Ksenia Sobchak Pushes Writer to Cheat on Wife. Sobchak Kisses Another Woman's Husband. Sobchak Seduces Married Writer in Front of Spouse. (My wife was 2,000 miles away). For some reason, the two trashiest and most vicious Moscow tabloids today used to be Young Communist publications in the Soviet era: the Komsomol Truth and the Moscow Komsomolets. Neither has changed its old title ("Komsomol" un-portmanteaus into "Union of Communist Youth") or logo, which in the case of the Truth incorporated an Order of Lenin. Except now Lenin presided over such items as "Fresh Pix of Planet's Hottest Butt."
The Komsomolets even included a fabricated quote from me. I supposedly told them, "in an exclusive interview," that my wife was intelligent and reasonable and she'd understand. I suppose that's how tabloids get away with it: by having you say things you'd feel idiotic refuting. What was I going to claim: "I never called my wife reasonable?"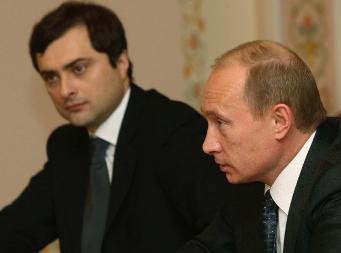 The establishment was embracing me as a sort of plaything. I was invited to an event thrown by Vladislav Surkov, Putin's grey cardinal who famously liked to keep tabs on "culture." I went to a channel called TVC and taped a groggy hit for their morning show. "No questions about Sobchak, please," I overheard my publisher's PR girl instruct the segment's producer, as if I was Katie Holmes or OJ Simpson — someone with verboten topics of my own.
My friends, meanwhile, were uniformly disgusted. In the circle of young liberals with whom I had fallen in, people like Minaev were deemed nerukopodavaemyi — a great synthetic word that means, literally, unshakehandswithable. Shakehandswithable people ate at Mayak, not Meat Club. TVC was a despised channel: a slush fund, someone indignantly explained to me, for Moscow's mayor Yuri Luzhkov and his buddies. My new patron Nikolai Uskov, the editor of the Russian GQ, was slightly suspect too, for reasons unknown. In short, Sobchak's toxic aura had rubbed off on me. I was doing everything wrong. Back in New York, my wife, while every bit as understanding as the Moscow Komsomolets had presumed, was not exactly delighted either, objecting less to the hoopla itself than to the horrifyingly fake aw-shucks attitude I had adopted in response to it. In short, everyone agreed that it was a good idea for me to lay low for a while.
So I did just that. I even suspended my Facebook account. The incident pursued me for a few weeks more, and then it blew away in the news-cycle gyre. Sobchak kissed someone else (I felt a pang of jealousy); GQ threw another party hosted by Urgant. My fameball moment's last faint echo came in December, when an FM station called Love Radio nominated it for "Kiss of the Year." Sobchak and I handily lost out to Lady Gaga and Harry Potter (kissing their respective partners, that is, not each other). It is, however, still the first thing that comes up if you search for my name in Russian. The Coffee Grinder — the book that put the whole pinwheel in brief sparkling motion — rates second.
Michael Idov, born in Latvia, is a contributing editor at New York magazine and a frequent guest of Moscow. If he ever gets to writing a book about the latter, this will be a chapter in it. Meanwhile, his Made In Russia: Unsung Icons of Soviet Design, a photo collection of alternately modish and sad Soviet stuff, is out from Rizzoli. Idov also has an electropop band, because why not, called Friends of the Oval, whose first EP you can steal here.