Eight Great Commercials With Writers As Pitchmen
Eight Great Commercials With Writers As Pitchmen
by Sean Manning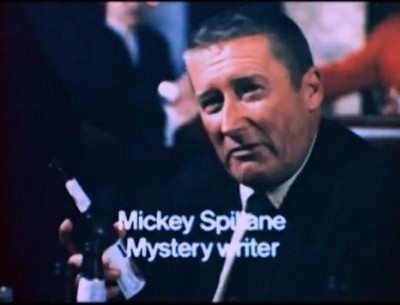 A recent New York Times Book Review essay on author brand-building cited Ernest Hemingway's and John Steinbeck's stints as a spokespersons for Ballantine Ale. (Not mentioned was The Poseidon Adventure author Paul Gallico, who appeared in the same series of print ads for the beer.) Of course, they weren't the first or last authors to shill. Mark Twain's name and likeness were used (not always with his permission) to sell everything from shirt collars to passenger trains. Émile Zola, H.G. Wells, Alexandre Dumas, Henrik Ibsen and Jules Verne all provided testimonials for the cocaine-infused French elixir Vin Mariani. More than a century later, Allen Ginsberg and Jack Kerouac plugged Gap khakis — in Kerouac's case, posthumously. A couple years after his death, Hunter S. Thompson was co-opted by Converse.
So why then are contemporary authors so utterly neglected by Madison Avenue? Sure, there's John Hodgman and Apple. But where's the Ray-Ban campaign featuring Jonathan Franzen, Jonathan Safran Foer, Zadie Smith, Junot Diaz and Gary Shteyngart? The Best Buy commercial in which Jennifer Egan receives a visit from the Geek Squad? The Planters endorsement deal for Mr. Peanut author Adam Ross? Most puzzling is authors' absence from e-Reader commercials. Of the big four device-makers — Amazon, Apple, Barnes & Noble, and Sony — only the last has used an author in a TV spot. (While various authors, including Toni Morrison, Michael Lewis and James Patterson, have done mini-infomercials for Kindle, these appear only on Amazon.com.)
In case today's Sterling Coopers need still further evidence of authors' promotional skills, here are some other memorable examples.
1. Mickey Spillane for Miller Lite. During the 1970s and '80s, the legendary crime novelist appeared in more than a hundred promos for the "great taste, less filling" beer:
2. Kurt Vonnegut for Discover:
3. George Plimpton for Intellivision. The most ubiquitous modern author-spokesperson, The Paris Review patriarch lent his name to Saab, Pop Secret popcorn, Carlsburg beer, Dry Dock Savings Bank and even a Hamptons pool company. But his most indelible pitches were for this eighties' home video game system:
4. Stephen King for American Express:
5. Stephen King for ESPN:
6. William S. Burroughs for Nike:
7. F. Scott Fitzgerald for Calvin Klein. One of a series of David Lynch-directed commercials for the Obsession fragrance that also featured passages by Ernest Hemingway and D.H. Lawrence. And yes, that's a young Benicio Del Toro and Heather Graham:
8. Norman Mailer and Gore Vidal for Tyde. In this SCTV spoof, Eugene Levy and Martin Short send up one of literature's most famous feuds:
Sean Manning is the author of the memoir The Things That Need Doing and editor of several nonfiction anthologies, most recently Bound to Last: 30 Writers on Their Most Cherished Book.