On To the Sweet 16!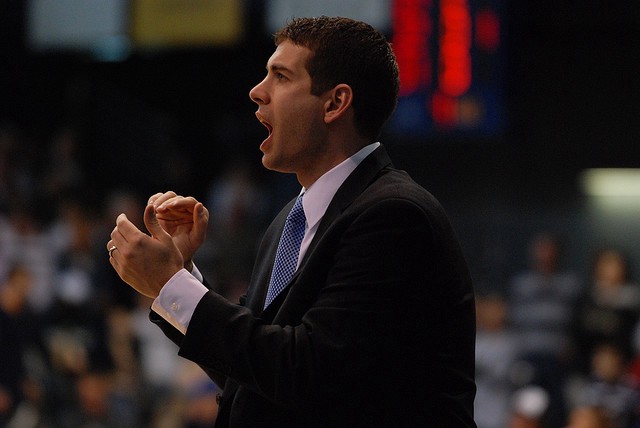 After four bustling days of NCAA tournament action, a few truths have become clear: the Big East Conference was every bit as overrated as it looked before the tournament began; the era wherein referees' decisions were considered sacrosanct is over; and Virginia is for basketball lovers.
Of the preposterous ten Big East teams that we were told deserved at large bids to the tournament (University of Connecticut earned the automatic bid), only one remains in the field. And the two Big East teams left, UCONN and Marquette, each played and defeated Big East teams in the Round of 32, meaning that, in theory, had they faced non-conference foes instead, we could well have been rid of the entire lot of them. Instead, we'll have to wait until Friday.
But the Big East's failures are as much a symptom of the hype machine we've created as anything else. There are more teams in that conference, which means more televised games; and all are in or near or involved in competitions centered around New York City, the largest media market in the country. The sheer volume of coverage alone can make it seem like the Big East is the most important — and ergo the best — conference in America. This is completely by design. Why else would anyone want to have an 18-team conference? It's unwieldy and it damages the teams at the bottom of the conference, keeping them forever striving for a turnaround season that would enable them to finish … 14th? It might also be notable that the two teams remaining both finished 9–9 in that mega-conference, good enough for 9th (UCONN) and 11th (Marquette) in the league.
Meanwhile, five schools from outside the so-called power conferences reached the second week of the event: BYU and San Diego State from the Mountain West; Butler from the Horizon; Richmond from the Atlantic-10; and Virginia Commonwealth from the Colonial Athletic. That those last two teams hail from the same city, and one far off the traditional basketball power grid, is remarkable unless, by chance, you've had the opportunity to see them play, as I have, living in nearby Washington, D.C. In all, five teams from Virginia made the field and three of them won at least a game. Only the state of Indiana also had three winners, but two of those fell in their next game, each to lower seeded teams. In fact, what makes the Commonwealth's feat doubly impressive is that none of the state's three teams that won on Thursday and Friday was favored to win. In fact, one of them, VCU, had to win a play-in game in the new "First Four" round to even reach the round of 64.
By the way, both of Virginia's Sweet 16 teams came out of the same Southwest bracket. And in that region, being favored to win proved poisonous this year. Three double-digit seeds reached the Sweet 16 round in San Antonio, a first for a single region. Richmond and VCU were joined by grind-it-out Florida State, who pushed, shoved and irritated a much more skilled but less physical Notre Dame to oust the Big East's highest remaining seed.
So what does all this mean? I guess that sort of depends on your basketball worldview.
For those of us who view the NCAA tournament as more than just the culmination of another college season, as something more akin to a snapshot of where the game is and where it's going, the results indicate a tectonic shift away from a centralized base of influence toward a more multi-polar basketball order. The reasons for this shift are less than dramatic, however. An overall thinning of the talent pool of experienced elite players at the upper end of the college basketball spectrum means that schools like Butler, VCU, Richmond, San Diego State and BYU can all compete on the level of Big East or Big 10 programs, which might enjoy large exposure but where the actual margin of error is shrinking rapidly. Put more simply, the talent gap has closed considerably in recent years.
Not that anyone should read too many tea leaves based on a single weekend of tournament play. Every year has its upsets, of course, and several of the non-power teams still alive this season are actually top seeds while two of the lowest seeds remaining are from the Big East and ACC. But, overall, the emergence of a new non-elite class in college basketball indicates a larger swing away from the notion that talent accumulates mainly at a few traditional powerhouses.
The exceptions here are mostly found in the East region, where all four of the schools remaining come from power conferences. Marquette — the lowest seed left in that part of the bracket — may be the 11th seed in the region, but the team still hails from the Big East. Kentucky, North Carolina and top overall seed Ohio State are all tradition-rich programs featuring multiple high school All-Americans. Duke and Kansas are still in the bracket, too, so admittedly it's a bit premature to anoint a New World Order in college hoops. But there's no denying that increased parity among the haves and have-lesses makes for a better opening to the tournament: closer finishes, increased drama, surprises abounding — and more Gus Johnson yelling.
Ohio State emerged from the first weekend clearly the class of the field. Their reward is a better-than-seeded Kentucky. North Carolina has yet to appear as dominant as its roster of blue chip recruits would suggest; however, the Tar Heels did manage to make it to Newark. Meanwhile, the All Americans that landed at UNC's ACC rival Duke must be thanking the stars that there weren't two more minutes left on the clock after squeaking by Michigan. I question whether Duke's decision to play super frosh Kyrie Irving after he missed two months was the best thing for him or the team's chemistry, but time will tell. Kansas had little trouble with its first two opponents and now moves on to face a region full of Cinderellas.
This was the first year I've ever gotten to see NCAA games in person. I went to the games held at the Verizon Center in D.C. and, thanks to the Butler Bulldogs, got to witness the best buzzer beater and arguably the biggest upset of the tournament so far.
Butler's insane win over Big East regular season winner and No. 1 seed Pittsburgh in Saturday's Second Round was a prime example of how tough it is to referee a big game — as well as the tough climate in which college basketball officials now operate. I can't remember a time when calls were being questioned with such vehemence. Coaches, players and a highly motivated basketball media appear intent on bringing to college basketball the second-guessing and replay rules that football and baseball have already adopted. But I've long been a staunch opponent of bringing too much technology into the game. The refs are humans, and humans make mistakes. I've always considered the refs as, essentially, the frame in which the game operates — the less I see of them, the better. But there were multiple instances this weekend when crucial refereeing decisions late in the game either affected an outcome or opened the door to the idea that they had. But in no case I saw was a referee's decision solely to blame for a team losing. For example, when the Pitt player committed that late foul on a rebound, there was no reason the player should even have been in that position, so blaming the ref for calling that foul is silly. Ditto for the other calls that got so much chatter. Sure, it's natural to give the refs a quizzical look in these situations — but the truth is that, usually, it was a player or a coach (or both) who made the true boneheaded decision.
But it was a great first weekend, wasn't it? Especially the opening Thursday. There were brilliant individual performances by BYU's Jimmer Fredette and UCONN's Kemba Walker, impressive team performances from Ohio State and VCU in particular, and a better-than-usual array of unforgettable finishes, including Morehead State's shocker over Louisville.
But a special award for unforgettable finishes goes to Tennessee and coach Bruce Pearl. Pearl's situation with the NCAA has been well documented, and his athletic director's untidy remarks only two days before the team played Michigan on Friday cast doubt as to whether Pearl would be coaching his final moments for the Vols. Usually when teams go through tumult like this, they'll rally behind the coach and over-perform. But, as has been the case for the Vols all season long, things didn't happen as expected. The Tennessee players absolutely quit on Pearl in a humiliating 30-point loss to the Wolverines. The destruction was so thorough that Michigan became the first team in the history of the tournament to win despite not making a single free throw. Yes, Tennessee lost by 30 to a team that didn't make a free throw. Ouch.
Hard to cry much for Pearl, though. He made his mistakes and now he's paying for them, perhaps with his job. And who knows, maybe we'll be watching the next Tennessee coach when Shaka Smart and his Rams from Virginia Commonwealth take the court in San Antonio next Friday.
Originally from Kentucky, JL Weill now writes from Washington, DC. His take on politics, culture and sports can be found at The New Deterrence and on Twitter.
Photo by bradjward.