Why the "GameDay" Guys' Deal with Nike Matters for College Football
by Graydon Gordian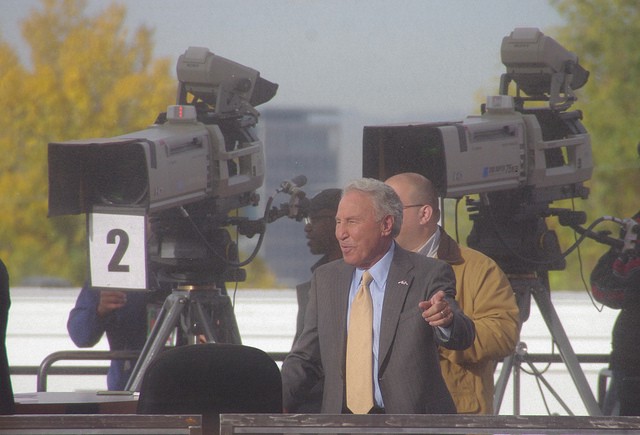 So it appears that some of ESPN's on-air personalities — namely, Chris Fowler, Kirk Herbstreit and Lee Corso — have "deals with Nike that Corso described as a joint arrangement that largely involves speaking engagements for the athletic shoe and apparel company." Along with Heisman Trophy winner Desmond Howard, the men are the faces of ESPN's "College GameDay," a weekly college-football showcase that airs Saturday mornings in the fall before the early slate of games begins.
In the tepid wake of the New York Times article, there's been some criticism of the three men, although no one I've read has gone so far as to feign shock. This is ESPN we're talking about. As Richard Sandomir, the Times reporter who broke the story, pointed out himself, many sportscasters, including ESPN's Chris Berman and Erin Andrews (another member of the "GameDay" team), endorse products. But they disclosed that fact to ESPN and the public. ESPN learned of Corso et al.'s relationship with Nike from a reporter's phone call.
The role of Nike and the media in college football makes Fowler, Herbstreit and Corso's relationship with the company more complicated than, say, Berman shouting his way through an Applebee's commercial, jowls flapping in the grease-scented wind. The landscape of college football is so nakedly political, and Nike such a major element of that landscape, that their relationship with the company merits an eyebrow raise.
(Disclosure: I founded a website that grew into an ESPN-affiliate and have written for ESPN.com but, honestly, I don't feel beholden to them in any way.)
It's worth noting that I don't really think sports analysts and play-by-play announcers have as much responsibility to avoid conflicts of interests as, say, political analysts do. Not that cable news pundits make an effort to avoid conflicts of interest, anyway. But however resigned to it we may be, it can still be sickening to recognize that these days political "victories" consist of little more than getting a critical mass of the pundit class to view your speech, poll or protest in a positive light. Then, and only then, can you go on to achieve victory in actual political contests, such as congressional votes and elections.
By contrast, in sports, games are won regardless of which team a studio analyst thinks will win.
TNT and ESPN were roundly criticized for employing Magic Johnson as a NBA commentator while he was a minority owner of the Los Angeles Lakers. Admittedly, the situation felt a shade duplicitous, but I was never that troubled by his presence. The warm, fatherly manner in which Magic talked about L.A. didn't affect the level of skill or talent on the floor.
But in college football, it's not that simple. As I wrote about in rather extensive detail near the end of the season, college football is a caste system, and the media holds a set of keys to its upper strata. Most notably, media votes are one of the factors that go into deciding which two teams play for the national championship. As much as he may have wished he could have, Magic Johnson couldn't talk his team into the NBA Finals. Fowler, Herbstreit and Corso have the ability to affect which teams get a shot to play for the national championship in the first place, both through their highly popular television show and their actual votes.
Still, it's not as if Nike is competing for a national championship. (It's disturbing how that idea only feels a little farfetched.) The concern among some critics is that the "GameDay" crew will feel pressured to favor teams that Nike sponsors. And when they say, "teams that Nike sponsors," they mean the Oregon Ducks.
Nike Chairman Phil Knight's relationship with the University of Oregon is a unique one. Aside from possibly T. Boone Pickens at Oklahoma State University, no one man who is not a coach or athletic director has so much power over an athletic program. Knight — whom Forbes estimates has a net worth upwards of $11 billion dollars — has poured tens, if not hundreds, of millions of dollars into the university. (According to Sports Illustrated, Oregon's new $41.7 million "academic support building was paid for entirely by Knight.)
Knight's patronage has produced results. The school, which doesn't have an especially illustrious athletic tradition, has gotten damn good at football. The Ducks were a tremendous yet deeply misunderstood team this season. Plenty of people dismissed the Ducks' success as being overly dependent on finesse, pace or a gimmicky combination of both, when in fact nearly flawless execution, boatloads of talent and ferocious blocking on both the interior and perimeter had a little something to do with it as well.
Early on in the season, Herbstreit, Corso and Fowler (who has decided to end his relationship with Nike) recognized Oregon as the well-oiled touchdown machine that it was and proceeded to talk about the team that way. For some, their praise is further evidence that they are knights in Nike's service, but it's hard to be sure if, like me, you thought their stance on the Ducks was pretty accurate.
Admittedly, I find their stances on plenty of subjects to be pretty accurate. College GameDay is probably the only ESPN program, aside from live game coverage, that I actually enjoy. It is smart without taking itself too seriously (an uncommon balance in the world of televised football commentary), and manages to respect the traditions of the sport without drowning the audience in bombast.
Corso, a melon-headed, silver-haired septuagenarian known as "Coach," spends most of the show emphatically gesturing with a pencil while Herbstreit, handsome and sober, doles out simple but not necessarily obvious insights about the day's games. Howard chuckles, Fowler plays the straight man to Corso's over-enthusiasm and, at the end of every show, "Coach" dons the oversized head of the mascot of whichever team he thinks will win the day's marquis game. If Corso picks the home team — the show is shot live at the site of said game — the thousands of sign-bearing students who have been collecting behind the set since the early morning hours go wild. It's one of the few sports shows that has established itself as an institution while actively cultivating a fun atmosphere.
Their willingness to frankly discuss college football's darker corners before they get to the shenanigans is what has allowed them to achieve that balance. I've always been impressed by their readiness to acknowledge and condemn the persistence of racism in coach-hiring processes throughout college football, especially in the wake of Auburn's decision to pass up on Turner Gill, a black man with a white wife, for Gene Chizik. It's a conversation far fewer people are willing to have than you might think.
I'm just saying it's kind of a good show. However, I do think the show has been compromised by a conflict of interest, just not the one that's been discussed over the last few days.
Although critics have been quick to mention Nike's relationship with Oregon, I find the more telling case to be that of TCU, another Nike sponsored program that was a topic of frequent discussion on "GameDay" this season. Along with Oregon and Auburn, the teams that played for the national championship, TCU finished the season with an undefeated record. However, TCU plays in the non-BCS Mountain West Conference, which is generally viewed as having a less-arduous schedule than the conferences with an automatic BCS-qualifying bid. Largely because of that (I would argue, accurate) perception, TCU finished third in the rankings, earning a bid to the Rose Bowl
TCU went on to beat Big Ten champ Wisconsin and join the ranks of teams, such as the 2008 Utah Utes, 2004 Auburn Tigers and both the 2006 and 2009 Boise State Broncos, that have gone undefeated without ever having a chance to play for a national title.
As far as Fowler, Corso and Herbstreit were concerned, this was a fair and just outcome. All three are proponents of the current system of determining a national champion and ascribe to the proposition that BCS-conference teams are better than their non-BCS counterparts. All season long they made clear their belief that TCU could not stand up against the elite teams of the major conferences.
Those positions are certainly defensible — in fact, I think Herbstreit makes the most articulate defense of the BCS system I've yet heard — but what they're not is unequivocally good for Nike.
But there is one hulking, profit-swollen corporation that benefits from the structures and perceptions the "GameDay" crew defends — ESPN itself.
ESPN doesn't just report on and analyze college football. As with many sports, it broadcasts games as well. It has an interest in drumming up the largest audience it can for those broadcasts. But it doesn't broadcast every game — it only has contracts with certain conferences. In particular, it has contracts with all the BCS conferences, and practically none with the non-BCS conferences. As of this past season, it also owns the rights to televise all five BCS bowls.
It doesn't benefit ESPN if a team like TCU, whose games it doesn't own the rights to broadcast, is considered a legitimate national title contender. It's far better for ESPN if fans believe that the undefeated and even one-loss teams in BCS conferences whose games it shows are superior. The network also benefits little when TCU earns a spot in a BCS-bowl and goes on to defeat one of those one-loss teams that analysts like Corso and Herbstreit were touting. All that does is further the argument that college football's postseason should be replaced by a more competitive playoff system, the rights to which would not necessarily land in ESPN's lap.
Fowler, Corso and Herbstreit's opinions about non-BCS conferences and the BCS system as a whole may have little to do with their employer. The appearance of a conflict of interest doesn't mean they are disingenuously towing ESPN's line. However, when the distance between the promotion of an event and the coverage of that event narrows to zero, it's worth asking the question.
Graydon Gordian lives in Brooklyn with his girlfriend and their two cats, Beesly and Bea Arthur.
Photo by zaui, from Flickr.