Sports Bars For Foodies, The Sports-Averse
by Robert Lanham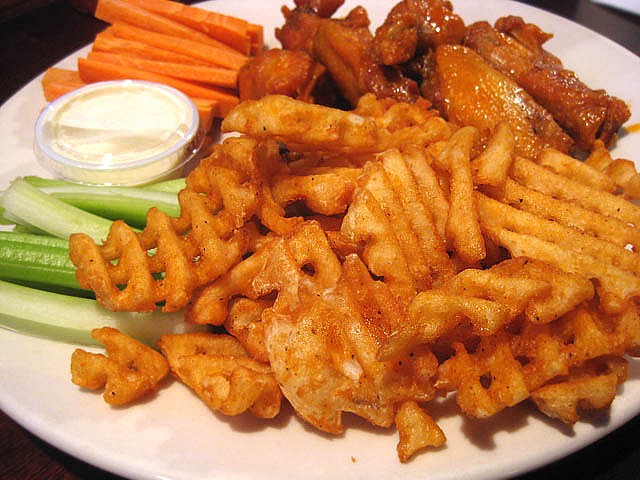 With the NFL playoffs underway, multitudes of jock-averse women and effeminate, girlie men (like me) find themselves facing a challenging predicament over the next couple of weeks. On one hand, forgoing a "Millionaire Matchmaker" marathon on Bravo to watch a playoff game at a sports bar seems excruciating. Still, missing out on the camaraderie and, more importantly, the gluttony of the playoffs is even more upsetting. After all, nothing's more fun than gorging oneself on well-prepared wings, burgers and quality beer, activities which can make any sporting event — even basebal! — entertaining.
The question, of course, is where can New Yorkers go to make the experience bearable. Those who are disinclined to jerseys, vomit, beer pong and getting their asses beat, should obviously steer clear of Nevada Smiths, the Pourhouse and the other frat houses that make up Third Avenue's bro-row. Especially since there are plenty of superior alternatives. Granted, there's no way to avoid the crowds or the meatheads when a big game is on, but here are a few establishments worth checking out for those among us more interested in the food and the beer than the homoerotic opera known as the NFL.
Park Slope
200 Fifth Restaurant & Bar
200 Fifth Avenue, Brooklyn, NY
718.638.2925
www.200-fifth.com
Park Slope is more World Cup than NFL these days (football makes expats from Vermont and San Francisco almost as uncomfortable as being more that 100 yards away from a park) so it's fitting that 200 Fifth doesn't conform to the traditional mold. Part Italian restaurant, part ESPN Zone 200 Fifth hosts a raucous scene where gluttons can order some old school shrimp scampi after they've warmed up with some first quarter jalapeno poppers.
Frat Boy/Meathead quotient: Medium
Suds: Forty beers on tap including Arrogant Bastard Ale and Dogfish 60 Minute IPA
Food highlight: Grilled Turkey Meatloaf Sandwich
— –
Chelsea
Ainsworth
122 W 26th Street, New York, 10001
212.741.0645
www.ainsworthnyc.com
I'm not sure which is more of an oxymoron: 'Chelsea sports bar' or 'locavore football food' but this elegantly-designed, 6,000 square foot bar strives to make your football viewing experience très chic. Book a table ahead of time to secure a spot.
Frat Boy/Meathead quotient: Low
Suds: Rogue Dead Guy, Goose Island
Food highlights: Lobster po' boy sliders, smoked-pork empanadas
— –
Meatpacking District
Bill's Bar & Burger
22 Ninth Avenue., New York, NY 10014
212.414.3003
www.billsbarandburger.com
I preferred going here when it was a shady dive known as The Hog Pit — a country-themed bar that was the restroom of choice for transvestite hookers circa 1998 when the neighborhood was still remarkably seedy. Still, there's no denying the food is better now. Go for the burgers, stay for the game.
Frat Boy/Meathead quotient: Medium, but sometimes made worse by out-of-towners and Eurotrash
Suds: Six Point Sweet Action, Brooklyn Brown
Food highlight: Burger with cheese fries
— –
Queens
Blackbirds Bar
4119 30th Avenue, Queens, New York 11103
718.943.6898
www.blackbirdsbar.com
It's hard to find a sports bars in Queens where you don't have to worry about getting beat to a bloody pulp should you fail to have a Jets tattoo on prominent display, but Blackbirds is the exception. A generally friendly establishment, Blackbirds has something that's even more difficult to find in the borough's sports bars: a selection of good beers on tap. Plus, they have a special NFL menu featuring all the standards prepared to greasy perfection.
Frat Boy/Meathead quotient: High
Suds: Twelve brews on tap including Weihenstephan Dunkel and Peak Organic IPA
Food highlight: Wings (Get them mild. Frat boys who frequent sports bars prefer them HOT — the ability to eat "nuclear" wings evidently compensates for having a small penis.)
— –
Williamsburg
Brooklyn Bowl
61 Wythe Avenue, Brooklyn, NY 11211
718.963.3369
www.brooklynbowl.com
Sure it's a bowling alley, but it's a bowling alley with an enormous bar, several screens and excellent comfort food by Blue Ribbon. Sometimes you'll have to compete with live music or DJs, so if your friends enjoy the always-hilarious banter of Jimmy Johnson, Terry Bradshaw and that Dolph Lundgrin-wannabe with the sweaty flattop, they may be out of luck, but the food should make up for any disappointments.
Frat Boy/Meathead quotient: Low
Suds: Kelso, Brooklyn Brewery, Six Point
Food highlight: Fried chicken, wings, Brooklyn brisket
— –
Chelsea Piers
Chelsea Brewing Company
Pier 59, West Side Hwy., New York, NY 10011
212.336.6440
www.chelseabrewingco.com
Yes, it's a walk from the train, but Chelsea Brewing Company is out-of-the way enough to avoid getting too crowded, even on game day. Plus it's huge and has a lovely view of, um, Jersey. In a town that's short on microbreweries, Chelsea Brewing Company is a nice choice if you're simply watching the game as an excuse to down some good beer.
Frat Boy/Meathead quotient: Medium
Suds: Try the sampler, it's the easiest and cheapest way to taste all of CBC's bestsellers.
Food highlight: The food is nothing to write home about, but the brick oven pizzas are serviceable after a few pints.
— –
East Village
Croxley Ales
28 Avenue B, New York, NY 10009
212.253.6140
www.croxley.com
I didn't even know that frat boys knew the meaning of cask beers, but they've proven me wrong at Croxley Ales. Plus, the wings here are so cheap (20 cents a wing on weekends) you'll feel sorry for the chickens.
Frat Boy/Meathead quotient: High
Suds: 31 taps including a beer on cask and over 100 seasonal bottles
Food highlights: Guinness Stew Pot Pie, Wings
— –
Lower East Side
The Draft
157 Ludlow Street, New York, NY 10002
212.777.7708
www.thedraftbarnyc.com
Formerly Blue Seat (a slick but ill-conceived sports bar with a raw bar — sorry, raw oysters and the Packers don't go hand-in-hand) The Draft is a now a more traditional sports bar with a twist: the food is good and they have 10 craft beers on draft.
Frat Boy/Meathead quotient: High
Suds: Kona Fire Rock Pale Ale
Food highlights: Asian sesame wings, Sloppy Joe sliders
— –
Park Slope
Dram Shop
339 9th Street, Brooklyn, NY 11215
718.788.1444
Four words: fried mac and cheese. Dram shop is a spacious sports bar with a neighborhood feel, even if the neighborhood in question bears no resemblance to its former self. Locals consider the burger to be among the best in the Slope.
Frat Boy/Meathead quotient: Medium
Suds: A dozen beers on tap including Smuttynose IPA
Food highlights: Double cheeseburger with chipotle or garlic mayo, fried mac & cheese
— –
Williamsburg
Mulholland's
312 Grand Street, Brooklyn, NY 11211
718.486.3473
www.mulhollandsbklyn.com
Yes, Williamsburg has a sports bar. And if you thought baggy jerseys were a fashion faux pas, wait until you see them paired with hobo beards and skinny jeans. The food is mediocre, but is much cheaper (if less satisfying) than Brooklyn Bowl.
Frat Boy/Meathead quotient: Low to medium
Suds: Kelso, Brooklyn Brewery, Six Point
Food highlight: Their amazingly-junky chili-and-cheese wiz nachos
— –
West Village
Mr. Dennehy's
63 Carmine Street, New York, NY 10014
212. 414.1223
www.mrdennehys.com
One of the better and more authentic Irish pubs in the city, which is perfect if you're in the mood for a Guinness and a bartender who will feign confusion if you refer to the NFL as football.
Frat Boy/Meathead quotient: Medium
Suds: Guiness, what else?
Food highlight: Irish Nachos: Pulled Pork, Pickled Jalapenos & Red Onions, Sour Cream
Beach Trilogy, which includes the titles Pre-Coitus, Coitus, and Afterglow. More recent works include The Hipster Handbook and The Sinner's Guide to the Evangelical Right. He is the founder and editor of FREEwilliamsburg.com.
Photo by Jason Lam, from Flickr.