by Mike Barthel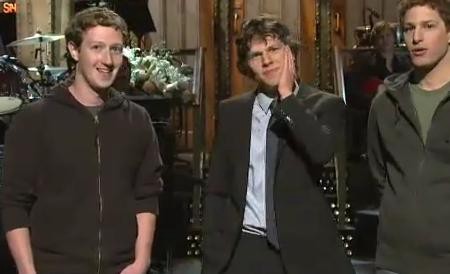 Apparently, if Facebook wanted to repair its reputation, all it had to do was seem like it was helping to topple an authoritarian regime. Now that the U.S. media is loudly pushing the idea that social media can change Egypt — and next, the world! — it makes Mark Zuckerberg's tendency to monetize every aspect of our online lives seem less important.
But the same apparatus that causes commentators to overstate Facebook's importance to the Egyptian protests makes the service a growing threat to our ability to control our own identities. Facebook makes other people's previously-invisible mass of interpersonal interactions into something visible — something that can be quantized, aggregated, sold, tracked and controlled. And as useful as that can be to people trying to organize collective actions (and to people trying to tell a story about those actions), having the identity we've built through our actual social network placed under a hierarchical corporate system like Facebook makes it vulnerable to manipulation by private and government interests. As useful as social media can be to people trying to overthrow governments, it's also becoming the kind of thing we need our own government to keep an eye on.
Also, let's not get all Malcolm Gladwell here. It's silly to say that social media has made political action less likely. But social movements and revolutions seemed to get along just fine without Meetup groups, too. Social media may make these things easier or more likely (though even if that does turn out to be true, it'll probably be more like they make some things easier and some things harder). But we can't say anything like this without having some sort of useful comparison to make. How did social movements organize themselves before Facebook? Word-of-mouth, mostly, and organization and outreach, and through actual friendships, or posters, or whatever. Was something preventing this from happening in Egypt? Would it not have happened without Facebook and Twitter, or happened less effectively? There's no particular indication that this was the case. People just use whatever communication technology is closest at hand to organize collective action once momentum for such action builds, and the technology at hand this time was — in part — social media.
So, the digital forms of communication that are among the tools people are currently using happen to be very good at broadcasting actions to the rest of the world, to the people outside the participants' social network. This is a big shift, but we have to be careful to remember that it's not a shift in what's happening. It's a shift in how we experience what's happening.
The functionality that makes Facebook and Twitter so valuable to outside observers (not all of whom are always necessarily beneficent, it should be said) can make it problematic for users themselves. The problem is that when you post information online through a service, you probably think you're posting it in the context of your group of friends or followers, an "imagined community" that roughly corresponds with your online social network. As many times as we repeat that things you post online become public property, even Internet experts operate under the assumption that they're able to control the people who have access to their various online content. But it's impossible to use social media (or, you know, e-mail) without exposing yourself to the possibility that your private information will suddenly be made visible to the outside world, as happened most notably with Google Buzz. As long as you are using unregulated private companies to conduct business online, your information is their property.
Facebook brings together a whole series of functions, all of which are linked both to each other and to remarkably detailed information about who you are — and to independent verification of this information in the form of a list of the people you know (and their data, too). Facebook represents an extreme case of the recent tendency toward smoothing out the anarchy of the Internet by allowing users to trade control for convenience. And sometimes that may be a worthwhile deal! If social media has had a political impact, it has only been made possible by amassing a user base large enough to distribute information beyond the usual Internet circle-jerk of first adopters. But it can easily turn terribly wrong.
There was a lot of talk after Egypt successfully shut down Internet access nationwide about how great it was that such a thing could never happen in America. But while it would be politically unpalatable, there doesn't seem to be any legal reason that such a thing couldn't happen. After all, the telecoms all willingly gave the government access to our private conversations as soon as they asked, and there's no legal prohibition on ISPs here restricting or even shutting down access if they feel like it. Facebook, too, is a private company, and so has the freedom to do nearly whatever it wants with our accounts or our data. We don't just need to oppose Lieberman's call for an Egyptian-style "off" switch the government can impose on the Internet in a time of crisis. We also can't allow private corporations to use the power of the platform to control users' access to their own material.
We need to reconsider how we think about what it means to provide your information to a website — and what it means to store all of our most sensitive information in a corporation's cloud. The current conception seems to be that Facebook and Google are a kind of market exchange — that you are given free access to their services in return for your data. But that's not really the way it works when the service is itself unusable without your information.
We're not giving our information — we are simply storing our information, and just as banks can't touch what we put in our safe deposit boxes, neither should websites be able to give away our personal information to outside parties. They do. Information is not fungible in the way money is — you can send out one dollar and replace it with any other dollar, but my address, once given out, loses its value. (If you give out a phone number or e-mail address too much, it may lose so much value that you decide to abandon it entirely.) As such, there need to be consistent regulations on how websites are able to use your information.
At the extreme end, U.S.-based companies should be forbidden from revealing your identity to foreign governments — as Yahoo! did with Chinese dissidents. And that goes for police or courts, too. You should enjoy the reasonable expectation of privacy when you privately provide your information to a website, but currently, this isn't the case. And it's just where the bloom falls off the rose of social media. While it's looking likely the revolution in Egypt will succeed, should it fail, there's nothing preventing a newly empowered Mubarak from pressuring Facebook to give up the identities of organizers, in the same way it successfully pressured ISPs and telecoms to shut down service.
And at home, what roles will Facebook step into? Facebook is already the dominant provider of linked, real-name online identity. Should Facebook become even a de facto provider of online identity verification, there are good reasons for the government to step in as well. In his book Protocol: How Control Exists After Decentralization, NYU media ecologist Alexander Galloway makes a maybe overly-broad but compelling argument that authority is exerted on the Internet through the design of technological processes. There's a good example, from Ruben Rodrigues, from a year ago:
Let's say a user no longer feels comfortable with having their photos on Facebook because of its recent privacy-degrading trend. (After all, most of my friends are shocked when I point out that all their photos are now publicly viewable by default.) There's an incentive there for some other photo-sharing site to develop a tool to help people export photos, but interacting with Facebook through its approved channels won't allow for this. Sharing your username and password with a trusted competitor on the photo-sharing front, however, would. The effect is to create an incentive for Facebook to remain privacy friendly, but Facebook's basically neutralized the threat of any such competition. They're also preventing any service that might help you port content from one social network to another (thereby reducing the transaction costs of switching entrenched users from one site to another), and has sued Power.com for trying.
The idea here is that by designing their API in such a way that you can't export your pictures (and by using the technological apparatus of the law to enforce this goal), Facebook is asserting control over your behavior. Sure, you can just download all your pictures and re-upload them into another site, but the transaction costs of doing so (in the form of your time and labor) means that Facebook is essentially charging you to leave their service and go to a competitor.
And we're just talking about pictures of you doing Jager bombs here. Imagine what could happen if the validity of your own existence was trusted to Facebook's technological infrastructure. They would control the facts of your life, and set the terms of disputes about who owns a particular identity. The ensuing black market for identities would, instead of simply causing economic problems, as stolen Social Security numbers do, cause you to lose control of your entire online existence. That may seem silly now — "oh no, all my witty comments and cat pictures credited to someone else!" — but as the material realities of life, from civic duties to legal actions to friendships and families, are increasingly transacted online, that becomes more and more important.
The sort of existential dread we feel at Facebook's privacy lapses, however, stems from a different concern. As the border between our offline and online lives dissolves — as what we do online becomes "real" — the unintended circulation of linked bits of information constituting our identity could easily take on a life of its own. What does it mean if who we are becomes not a thing we carefully control but a construction loosed online, bought and sold over and over again to various advertisers? Are we what we say we are, or are we what private corporations have decided we are? That confusion isn't new, but it can only become a real concern if we continue to pretend that the Internet doesn't matter, or that what we do online doesn't count. If the Internet can assist a country overthrow a government, then yes, it counts. And our government should take that just as seriously as anything in the physical world.
Mike Barthel is on Facebook. Right below this essay will appear a little button that asks you to recommend it to your friends on Facebook.