Brief Interviews With Hideous Football Players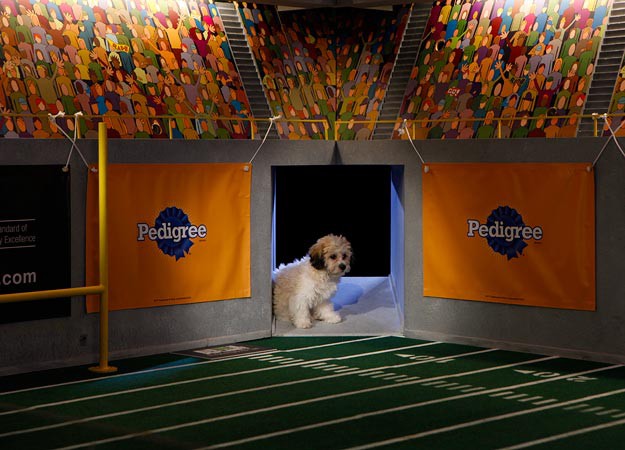 Pro Bowl week. Concussion-recovery week. There is not a lot of football to talk this week, so Jeff and I will not be talking football in our usual fashion. That said, I'm still thinking about it, and the success of Yakkin' About Football has afforded us unparalleled and unprecedented access to some of the NFL's elite. And so, mostly because I could, I did a few short interviews with some Yakkin' About Football favorites about how they will spend the offseason, and deal with the possible work stoppage.
Mike Singletary, Unemployed
Q:
A: I don't understand that question.
Q:
A: The same way you communicate with any athlete. Unblinking stare, full-spectrum sternness, period. I'm not concerned about it. I'm not concerned about it. Because I feel like I can win with anyone who wants to win, and it doesn't really matter how many feet that particular person has, is that person housebroken, is that person a Shih Tzu mix or an actual person. It's a question of do they want to win. If they don't want to win, I don't want them on my team. That's simple. That's universal. And I didn't make that up. Read Corinthians.
Q:
A: Because I was looking for something new. Because I missed coaching and because at a lot of the places I applied to work I was told I was, personally, too frightening. But also this is a great opportunity, and I'm excited to be coaching in the Puppy Bowl. For one simple reason: because the Puppy Bowl runs a tight ship, it's an organization that is well-run, and their approach just really fits with the way I want to do things. So my job now is to take this group of, I don't want to call them puppies, but this bunch of young dogs and I want to teach them how to play the right way. I want to take these young dogs and I want to make them a team.
Q:
A: Well, it seems like they know "how to play" because they're playful. But this is what I said to Mr. Colucci at Animal Planet when we first started talking about this — there's a big difference between being playful and knowing how to play. Any puppy is playful. That's not hard to find, that's a dime a dozen. What you want to do is take a puppy that's playful and teach him how to play the right way. Are there challenges? Yes. Yes there are challenges. They will really only ever understand the world through their sense of smell. They, in many cases, do not respond to coaching the way you might hope. Duncan, and I don't want to single anyone out because there's a lot of work to do in the next week, absolutely, but Duncan will pretty much take dumps wherever.
Q:
A: To a certain extent, yes. Yes, to a certain extent. But I'm a cat person.
Q:
A: Absolutely. Eric Mangini's a great coach and a good man, and I'm sure he's going to have some really interesting looks to throw at us. I trust Chih to take care of the ball, because we've been working on that in practice. I trust Big Red to make good decisions. But I know Coach Mangini, I coached against him in the NFL, and I know he's going to make it tough. He's going to make it a battle. That's the way I like it.
Bart Scott, Linebacker, New York Jets
Q:
A: Because it's court-ordered, is why. You know I wouldn't be going to that shit if it wasn't court-ordered. Don't need it, don't want to do it, would not be doing it if I wasn't put in a position to the point where I had to do it.
Q:
A: The fuck you think. Because there are people that believe I have a rage problem. Because there's people that don't want to see me out there doing what I do. Because some people just want to pull you down, and because some people evidently have not straight-up stolen a parking spot from another person in a Safeway and come back to find a shopping cart put through their windshield and their car filled with bleach. There are people like that, always has been people like that. Look, end of discussion. We're not talking about this anymore.
Q:
A: Oh, probably spend some time with my kids.
Q:
A: Mostly just be a dad, you know. Be a dad and seek vengeance on my enemies and maybe play some golf. And I own a couple Red Lobster franchises, one in Scottsdale and one in Phoenix proper, so I'll probably stop in at them and see what's up, keep an eye on things. And like the usual offseason stuff. Hit the weights, scream at the laundry and punch couches apart at Ikea.
Q:
A: Can't wait. I fucking hate Ikea couches.
Jeremy Shockey, TE, New Orleans Saints
Q:
A: No brainer, bro. Just a total no-brainer. Guy Fieri asks, you say yes. "Want to do a line of signature appetizers with me?" Answer is yes.
Q:
A: I wouldn't say there's a focus, no. We don't, and this is where Guy and I were really like on the same page, and where Houlihan's was really awesome to work with, but look. Obviously there's a reason why Guy Fieri's calling Jeremy Shockey for this, right? And why Houlihan's wants to be a part of it. Houlihan's and me and Guy are not into labels. That's why he's Guy Fieri, you know? I see, like, a green pepper. Just as an example, I see a green pepper and I'm like "This green pepper fucking sucks balls, this green pepper is for faggots." Or, actually, edit that out. PC police. Say I'm like, okay, "Fuck this stupid green pepper." Use that. But this is where it's amazing because Guy sees the pepper and he's like, "why don't we make this pepper rock balls, you know? Let's fill this pepper with fettucine alfredo and KC Masterpiece chips, let's fucking dip it in Caesar salad dressing, and then fry that bad boy. Do that, boom, hit it off with some thousand island dipping sauce, shred some pepper jack on it and there it is, right, the Pep In Your Step.
Q:
A: It's one of his signature appetizers. You didn't know that?
Q:
A: Well you should know that. It's a fucking interview about me and Guy Fieri.
Q:
A: I'm just saying that you weren't prepared and that reflects badly on you, and that could reflect badly on me. Whatever, the point being, the dude just sees things differently. Guy sees, like, two plays ahead. He's already thinking, like, before you even are like "southwestern egg rolls" he's like, DIPPED WITH WASABI CREAM CHEESE BRO. You see what I mean? Guy just understands it at a deeper level. And the energy is just so high, and you can't be around the dude without getting psyched about appetizers.
Q:
A: Yeah, obviously it's rubbed off. Do I not seem psyched about appetizers? I've never been more psyched. It's just… you don't get a chance to work with a guy like Guy Fieri that much. I've been around a long time. I've worked with some great people, lot of great experiences, but this is really special. It's been really special and I'm really just proud to…
Q:
A: I'm not crying.
Q:
A: If I'm crying it's because these wings are really spicy. But I'm not crying.
Albert Haynesworth, DT, Washington Redskins
Q:
A: Any kind of snack food, doesn't matter.
Q:
A: Ranch dressing.
Q:
A: I believe that was asked and answered.
Q:
A: I told you, man, ranch dressing. What do you make your smoothies with?
David Roth co-writes the Wall Street Journal's Daily Fix, contributes to the sports blog Can't Stop the Bleeding and has his own little website. And he tweets!