What's the Worst Thing a Man Believes He Can Call a Woman?
by Hillary Frey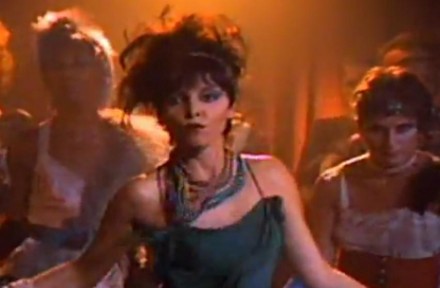 On my last night in Washington, D.C., where I've been working, a very weird thing happened: a drunk guy in a bar took an instant personal dislike to me, insulted my short haircut, told me I looked like the child from The Omen and said that I had "666" written on my head (I have to assume this is also an Omen reference). At the end of this string of craziness, he also called me a dyke.
I wasn't alone in the bar: I was with three co-workers (who are also friends) having a drink to cap off my going away party. The guy who was obsessed with my haircut — late 20s, Vineyard Vines-style prep wear, face slightly puffed from too much beer — was with a friend of similar appearance. We'd all gotten off on the wrong foot: As we four women entered the bar, a place called Urbana in the ground floor of the Palomar Hotel in Dupont Circle, the two guys lunged for the empty seat next to them, and announced their intentions to save it for a friend. (This left my group with three seats together, next to their 'saved' empty seat. There was also another empty seat on the other side of them, further down the bar.) Naturally, my friends and I wanted the barstool. But, sensing their desperation, we let them keep it. One of my friends dragged a stool over from the other end of the bar, and we crowded together and sat down.
The bartender would not accept one of my friend's ID (she is not American) and she asked to speak with the manager, having had drinks in that bar before without incident. I asked for a bottle of some kind of beer on their list of seemingly randomly selected brews, but they were out of Peroni (I got a Dos Equis, instead). As these two dudes sitting in front of a sausage pizza watched us, they started to get angry: Apparently hoping to use an empty chair, asking to be served when you are of age and have legal identification and ordering a beer were all offensive things for a gaggle of women aged 23–35 to do.
So offensive, in fact, that as the two guys got up to take a smoke break, they told us we were "entitled" as they walked out the door to the patio.
When they came back inside, one of my companions could not stop herself from uttering the word douchebag, loudly, many times, while looking in their direction. This got the non-haircut-obsessed guy going. His friend kept pretty mum. Until he looked at me and told me I had both "the ugliest haircut" he'd "ever seen" and "hate on my face." Hence the 666 comment, I guess. The dyke comment was clearly because of my hair (which, by the way, is sort of like Janine Turner circa "Northern Exposure" meets Pat Benatar. Sort of).
A similar thing happened to me once, and so as not to just bash D.C. for its high proportion of jerks in too-big pleated pants, blow outs worthy of Judd Nelson in "St. Elmo's Fire" and print button-down shirts with white collars, I will be up front about the fact that the other instance took place in New York City. It was the 90s at the Brooklyn Inn, where I was having a beer with a friend. A beefy dude kept trying to talk to me, telling me I had a pretty face but "why did I have the short hair?" I kept asking him to leave me alone; I said I was having a drink with my friend, who I rarely saw. That was when, if I remember correctly, he called me "a fucking lesbian" and suggested a few things I could do with my friend, as his face conveyed a level of anger and ecstasy I'd never before witnessed in a public space. This 'insult' really seemed to be a turn on for the guy, and then he REALLY couldn't leave me alone. But this was New York: The bartender got involved and threw the guy out, and bought me and my friend a round of Brooklyn Lagers.
I had once relayed the story about the Brooklyn Inn to Kathleen Hanna when I interviewed her for a profile in The Nation. I think we were talking about how sometimes it was still hard for women to be left alone by aggressive men in bars and clubs, and about how young women needed safe and fun places to dance, and I told her the story. We ended up talking about how complicated and bizarre it is for a guy to try and insult a woman with words like 'lesbian' and 'dyke.' If you don't take it as an insult — because it isn't an insult — how do you respond?
I don't remember what I said to the guy at the Brooklyn Inn. Last night I momentarily started to raise my left hand to display to the clearly conservative prick (he had a heyday laughing about my name, since of course Hillary Clinton is surely the biggest secret dyke of all!) the wedding ring on my fourth finger. The words "I'm married to a man!" started to crawl up my throat. But my brain — and all the reasonableness it managed to contain whilst encountering crazytown — kept my hand in my lap and quieted my tongue for a few seconds, allowing me to think of what I actually wanted to say.
Being married should not give people privileges over others — social, material or otherwise. Nor should it be something that grants people special reprieve from certain assholes. In other words, just as being called a dyke isn't an insult, the fact of my being married wasn't a defense. For a few seconds I thought deeply about what could have possibly motivated him (or another guy like him) to be so angry at me.
I thought: Someone like me had rejected him at some point.
So instead of telling him I'm married and straight, I said instead: "I'm sorry that it's been such a long time since you've had sex."
This actually shut him up. He didn't even protest.
I wish I could say that put an end to our hotel bar strife, but it didn't quite; though my non-American friend told the men she found them 'repulsive,' they kept exclaiming over her cuteness. After their 'friend,' a woman who seemed fully aware of the awfulness of her man-pals, sucked down a pink drink in a martini glass, the three of them left without saying a last word.
At first I thought the lesson of the evening was that my return to New York was happening just in time. We don't have people like this at home! Brooklyn is a paradise of love and diversity and happiness and SHORT HAIR. But, actually, the truth I gleaned was sadder. As my friend, desperate that I not leave a city she loves thinking that everyone in it is rotten, said to me, "assholes are everywhere."
I wanted to protest, but she had a point: the guy who told me I looked like the kid from The Omen was born and bred on the Upper West Side.
Still, Hillary Frey is pleased to be back.