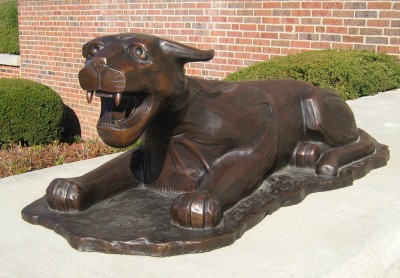 American culture is full of stories of the underdog triumphant. It is one of our most fundamental and beloved visions, with roots deep in our national soil thanks to our struggle for independence from England and our Judeo-Christian traditions. The underdog is also a powerful element of the mystique of the American Dream — the idea John Q. Everyman can humble the powers that be with grit, ingenuity and a little (or a lot of) luck. It's a mythology as pervasive as apple pie, Ayn Rand and the country's first black president. And it is perhaps most visible each spring in college basketball's annual season-ending extravaganza, the NCAA tournament.
Never mind that, on the court, Goliath almost always prevails in the end. No school from outside the big six, or BCS, conferences (Big East, ACC, SEC, Big Ten, PAC 10 and Big 12) has actually hoisted a national championship trophy since the anomalous, NBA-talented UNLV squad of 1990, a full 20 years ago. But enough little guys have their giant-killer moment in earlier rounds to propagate this attractive and lucrative idea (most recently Butler's run to the NCAA finals last spring).
In truth, the aura surrounding March miracles is a huge reason the game's popularity has never waned despite various member schools' scandals, ebbs and flows among elite talent, defection to the professional ranks and the subsequent effects of parity. Tuning in to watch the school that shouldn't be there make it through is (along with pervasive illegal betting pools) what makes the first two rounds of the tournament the best live sporting event on the planet. There are no round robin pools, no weed-them-out home-and-away aggregate series, no second chances. If you don't show up to play that day, you may be gone. And if you're a nobody, and you do show up to play, legend awaits. It's the American Dream writ large, and streamed into homes nationwide.
But as beloved as the NCAA tournament's anything-can-happen vibe may be in March, it's a much different scenario in the season's opening weeks. In the dog days of November, the Cinderella story more often takes a substantially darker, if more realistic, turn.
November basketball is generally a pretty ragged affair. With the advent of ever-stricter rules for coaches' access to players, an ever-increasing attrition rate among big program rosters and, some argue, a significant deterioration of fundamental skills among elite prep basketball talents, schools in the power conferences need more time than ever to work out their kinks. Usually this means much more time than an abbreviated early-season schedule allows for.
To help speed up this maturation process, big schools pony up six-figure paydays to smaller ones from off-the-radar conferences to line up as sacrificial lambs for a night, either in exhibition games or in actual on-the-schedule ones. And smaller schools jockey for the opportunity. But why? Why put yourself on the line for that kind of humiliation?
Simple economics. Say you are the coach or athletic director at Charles Dickens U, a small school in a corner of a state that time and ESPN forgot. You play a schedule entirely devoid of televised games, are not expected to make any postseason tournaments and yet still have a roster of players to feed and clothe and a season's worth of travel to account for. And, despite it all, you still harbor hopes of rising above your current piddling station in hoops life. A game or two getting your ass handed to you at Cameron Indoor Stadium or Rupp Arena can not only provide your team with the invaluable experience of playing against superior talent and and provide much-needed exposure for future recruiting pitches, it can literally make your program's budget for the rest of the season. All for the low, low cost of getting waxed in a game no one but your players will ever remember you even playing. Setting it up this way, it doesn't sound quite so humiliating after all. It sounds, well, totally understandable.
So they do line up: the Libertys and the McNeese States and the North Floridas. If your school's name prominently features a direction or takes its name from a dead rich guy or religious zealot, you're already aware of this.
But it's not all about economics. Certainly, coaches at the non-power programs see value in performing on a grander stage. That one game may offer your players a chance to play a regionally or even nationally televised game. For some talented players off the major college basketball grid, one fine showing against a big-name school, even in a loss, can mean a potential pro future. The same goes for the coach. Small schools are the breeding ground for future big-college coaches, and making a splash in an early season tune-up game can bring exposure in a way no amount of press releases from the A.D.'s office can.
Of course, the opportunity for humiliation does still exist, just not in the way one might expect. No one really begrudges Charles Dickens U for getting its clock cleaned in a play-for-pay game in November. After all, that's what was supposed to happen. Conversely, there is really only one thing you are absolutely, positively not allowed to do if you are a power conference school in the opening weeks of the season, and that's lose one of these November tune-up games.
Just ask Wake Forest, who clanked the rims to the tune of a 10-point loss to Stetson in their home opener on Friday. Even worse for Wake, this was the Demon Deacon debut of former Colorado and NBA coach Jeff Bzdelik, whom the school hired to replace Dino Gaudio (let go despite the fact that he led his team to the second round of the NCAA tournament last March). Ouch. Ditto the result for new Iowa coach Fran McCaffrey in a loss to South Dakota State. In fact, if your coach is brand new, you might just want to steer clear of the nobody school, can't-lose game altogether.
The quintessential example of this phenomenon came three seasons ago when blueblood Kentucky — ranked 22nd in the country and featuring much-hyped new boss Billy Gillispie — hosted also-ran North Carolina school Gardner-Webb in a second round game of the 2007 2K Sports College Hoops Classic. Kentucky's undergraduate enrollment is roughly 30,000. Gardner-Webb's? 4,000. Kentucky has won seven NCAA titles. Gardner-Webb has yet to reach an NCAA tournament.
The teams were only playing because they were paired by the organizers of the 2K Sports College Hoops Classic, one of a slew of early season made-for-television sham tournaments where hand-picked power schools host (supposed) patsies, then advance to play real games against other hand-picked power schools, all for television money. The plan was for the winners of the regional rounds to advance to hallowed Madison Square Garden for the semifinal matchups. After Gardner-Webb scored the game's first 14 points and humiliated the Wildcats 84–68 on their home floor, sending the Bulldogs on to play Memphis in a half-filled MSG a week later, pretend tournaments everywhere panicked, deciding they would no longer take the chance of such an unpredictable outcome. Now marquee schools in these events "advance" to the nationally televised rounds automatically, results be damned. So much for tradition.
Then again, it's always been this way for underdogs to some degree. The Romans may have accepted a lion chomping a few guys, but eventually the gladiator has to win. No one pays to see the bull gore the matador. OK, well, a few do, but it's not the way it's allowed to happen long-term. Even here, in America, where the underdog strand is woven so deeply through our cultural history, stories of the little guy emerging triumphant are memorable precisely because they are so rare. NCAA basketball is no different.
Anyway, America's underdog story is never quite as simple as it seems. The schlep in the mailroom doesn't just work his way up the corporate ladder with guts. He's a conniving, scheming bastard, too. And America's Revolutionary War patriots who braved those staggering odds to best the world's foremost military power were essentially guerillas, eschewing their era's ethical rules for war because (a) they were idiotic and (b) they didn't stand a chance otherwise. Does this make these stories any less heroic or memorable? I guess that depends on how caught up on ethics you are. For some folks, it's known as pluck. For others, it's considered being a cheating asshole.
But even potential cheating assholes need new Nikes to play in, and that's why Concord University of Athens, West Virginia, happily made the trek across the state to get pasted 112–65 by Marshall in an exhibition game a few weeks back. And it's why Concord will be happy to do it again next year. For a tidy fee, of course.
Originally from Kentucky, JL Weill now writes from Washington, DC. His take on politics, culture and sports can be found at The New Deterrence and on Twitter.