Blueberry-Cranberry Sauce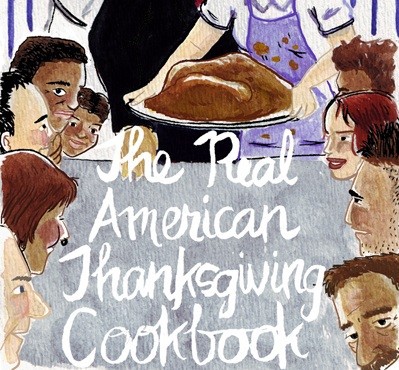 One of my father's better tendencies is to take in human beings who have somehow been led astray. He never once coddled me or my brothers in our childhood, and I've always known him to look at even his few close friends with a hint of suspicion in his eyes. But around loners, rejects and the generally downtrodden, the old man opens up, guffawing at their jokes and putting his arm around their burdened shoulders like he's an old fraternity brother of theirs.
As a defense attorney in Ohio, my dad would accept food in lieu of money from his poorer clients, and work into the night as if he were being paid in bullion instead of sweet potato pies. On a family trip to Alabama when I was eight, I remember slowly backing away from a truckload of bearded white men who'd parked their primer-gray truck, complete with dozens of Confederate flag stickers, next to my family as we fished on Lake Martin. The men were grizzled, blasting country music and covered in bad tattoos, some of which were still more Confederate flags. Yet no more than 20 minutes had passed before my father, the black, Yankee, jazz enthusiast lawyer, was having a beer with them and laughing about Crimson Tide football.
"There's no such thing as a bad person," he once told me after I called a bank robber on the news a "bad guy." "There are only people to whom bad things have happened."
Though the instances are numerous, there's no better example of my dad welcoming in outcasts than when he did literally that. I was about 14 when I came home from school one day and discovered a stranger putting his things into the dresser in my brother's old room. He was a Latino kid, shorter and skinnier than me, but he narrowed his eyes like a man. "This is Alexis," my dad said, as I peered into what was no longer my video game dungeon. "He's going to be staying with us for a while."
After dinner that night, when Alexis had gone to bed, I would find out that my father met the 15-year-old via a family friend of ours. This friend, a high school counselor, said that he knew Alexis could do well if only he were allowed to live in the right kind of environment. Alexis was a smart kid, but he would act out in class, and at night he would return home to an alcoholic father who kicked his ass. My dad agreed to take Alexis in until he could find somewhere more familiar and closer to his high school to live.
Our conversations were shaky at first — Alexis was raised in South Tucson, a place not too far from my northern suburb in miles but tremendously distant in culture and income. (To this day, the craziest thing I've ever seen happened in South Tucson: a man riding a bike down the center of the street, smoking, his left hand on the handlebars, his right arm clutching a naked baby. This was at midnight.) But we eventually found common ground in rap music. I taught Alexis about East Coast artists and DJ Premier, while he schooled me on the funk-inspired gangsta rap that boomed out of practically every one of Tucson's low riders.
As the weeks went on, Alexis and I grew closer, and we'd sometimes venture out to Tucson's most popular attractions for young people — the mall or teen night at the roller rink. Alexis was the first guy I ever knew who wasn't afraid to openly hit on girls, but he'd never make fun of me when I proved time and again to be a nervous, utterly silent wingman. He also never seemed ashamed of me, a relative spoiled square, when he'd introduce me to his friends from the south side, each of whom had the same age-belying swagger with which Alexis was blessed. "This is Cord," he'd say. "He's cool." And like magic I was pounding fists with cholos named Puppet and Eduardo.
When November came, and Thanksgiving with it, Alexis told my dad that he didn't want to impose on our family's celebration. "I can go home," he said. My father shook his head and said, "You are home. You're a part of this family now, too."
That Thanksgiving was the first for which I'd ever tried to make a dish, a simple, sweet cranberry-blueberry sauce I'd learned in Home Ec. It was a hit, and after the meal I leaned back in my chair to torpidly revel in my new culinary status. It wasn't until I went to ask Alexis to play Nintendo that I'd noticed he'd left the table. Also missing were everyone's plates, and most of the serving dishes.
Looking beyond my brothers, who were play-fighting and hoisting their children into the air, I saw then that Alexis was in the kitchen, the sleeves on his Ben Davis work shirt rolled up to his elbows, silently washing the tipping towers of plates and pans. He hadn't said a word to anyone, just stood and gone to work.
"Do you want some help with those?" I asked. But he shooed me away. "Nah, man," he said. "Go chill out. I'll be there in a second."
Never had someone just a year older than me made me feel so young.
Alexis left our home for a friend's place a little before Christmas of '96. And in 1999, he graduated from high school — barely, but it was something he once told me he'd never do at all. When I went away to college, Alexis and I mostly fell out of touch, but I'd get updates from my dad about his progression, his struggles, how he was trying to balance his old life with his desire to succeed at something.
Three weeks before Christmas in 2004, Alexis was shot 10 times after getting into an argument with a man at a house party. His killer, who'd eventually be convicted of first-degree murder, said he feared for his life when Alexis shoved an iron coat rack at him. Alexis was 23, and he left behind a new wife, a steady job in sales and hopes for a family of his own. In an e-mail notifying me of the murder, the only thing my dad wrote was "I truly thought he was going to make it."
Nowadays, I'm still mostly useless in the kitchen, and my veganism doesn't allow for many great Thanksgiving dishes. But when the food's all gone, and people are retreating to whatever corner of the couch on which they'll fit, I like to make up for my dearth of cooking skills by clearing the table and taking my place at a big sink. I like to submerge my hands in some warm water and scrape at the tough spots on the casserole dishes. I like to do what little I can to make things clean.
10-ounces of fresh cranberries
10-ounces of fresh blueberries
1 cup of water
1 cup of sugar
1. Pour the cranberries into a large saucepan and add the water and sugar.
2. Turn the heat to medium-high and stir until the sugar melts and the berries begin popping.
3. Add the blueberries and bring the mixture to a boil.
4. Reduce the heat to simmer the mixture and cook for 10 more minutes.
5. Remove from heat and cool to room temperature.
6. Do those dishes.
Cord Jefferson writes for The Root, Wonkette and The American Prospect.