Solomon Burke, Still Just Out of Reach
by Bethlehem Shoals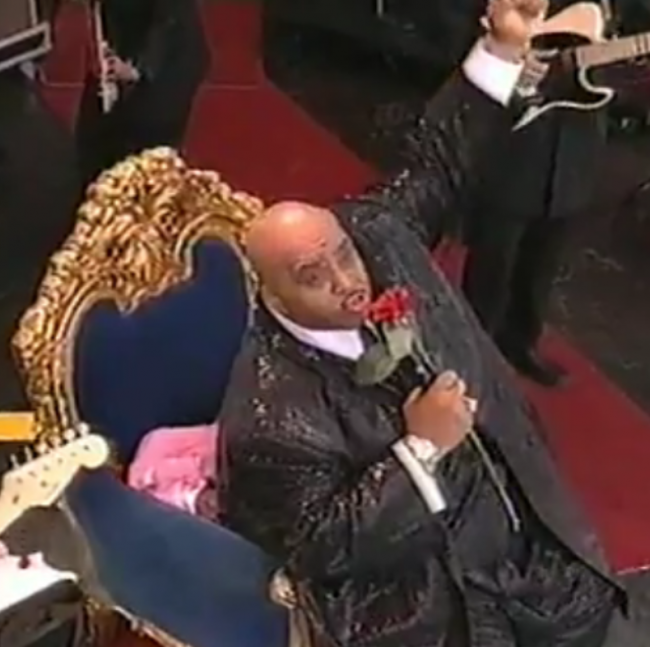 As callow as it sounds, I used to be really into trying to see so-and-so just once before he passed away. If it wasn't downright morbid, a close cousin of ambulance chasing, it was a waste of time that too often left me grasping at those few seconds during which I could feel the past right in front of me. Then again, I did see Solomon Burke play for half an hour at Penn's Landing in 2002.
Philly native Burke, who passed away this weekend on an airplane on his way to a gig, was only in his early 60s when I saw him and yet he spent most of the show on a giant velvet throne, too big to stand for more than a few seconds. When he did, it was witnessing a faith-healer in action, except in this case the lame hath healed himself.
Possibly to save strength, or maybe out of the same generosity that animated even his gruffest vocals, he gave up part of his minuscule set to badly anachronistic songs, dances, and raps performed by his grand-kids, nephews, and nieces. The set was compact, fragmentary, and by-the-numbers. We got early sixties hits like "Cry to Me," "Down in the Valley," and "If You Need Me"; a few songs from that year's Dylan, Costello and Brian Wilson-assisted reboot, Don't Give Up on Me; and a medley of numbers by Sam Cooke and Otis Redding. It was unclear whether that last part traded in some notion of a shared legacy and days gone by, or was a canny, seasoned pro's attempt to milk a musical version of "they all look the same."
But Solomon Burke had the kind of voice that made you forget what year it was, question whether or not an ambulatory body was necessary for a showman, and scoured away dancing kids. He was bigger than all that, and it started and ended with that voice. That's probably the only time I've felt like I was eavesdropping on a soul singer when the music didn't need to explain itself. Back before history intervened, when it was still a part of popular life.
The strange thing about Burke, though, was that history intervened when he was at height of his powers. He played a key role in the birth of the music, found its ideal voice, and then was left by the side of the road as younger artists-all of whom pointed to him as an influence-struck it big. He wasn't just ahead of his time, he was ahead of himself as a record label commodity. Despite all this, that voice-guttural, piercing, honeyed, and allusive-always provided something for the listener to latch onto. Burke wasn't so much a great interpreter of the human condition as he was the whole mess of it thrown together at once. He laid the groundwork for every sweet-and-sour shouter who followed. Yet so many of them were singers toying with songs. Solomon Burke was consistent, he was elemental.
Burke should have been a towering figure on the order of Otis Redding or James Brown. Based on historical milemarkers, he was. Except that he wasn't; history, circumstance and the business-the very things he could so effortlessly render moot the second he opened his mouth-conspired against him even as he enjoyed a long career and got endless dap from his slightly younger peers, the Rolling Stones, the Blues Brothers and the rock luminaries listed above.
In 1961, Burke's scored his first and biggest hit for Atlantic, "Just Out of Reach," penned by V.F. Stewart and made famous by Patsy Cline. A black man singing country with a gospel quaver; modest as it sounds today, this fusion was key in setting Stax on the road to eternal victory. Or, at the very least, its success convinced Atlantic that this crazy little studio down in Memphis was worth distributing nationally.
Just as important was the follow-up, "Cry to Me." Seven years earlier, Ray Charles cut "I've Got a Woman," which scared the shit out of everyone by making the church funky and profane and the dance floor holy. They even made a movie about it. Ray sounded like he had been brought up in the church all right, but also sounded like someone who'd left it far behind him. When Burke erupts halfway through "Cry to Me," it's the full dynamic range of begging, pleading, and jubilation that you find in gospel and maybe even in religion itself. Ray Charles wanted the sonic depth of the church, but not its emotional baggage. Solomon Burke wasn't about to lose all that world of feeling just because the words had changed, and the choir now sounded like the Five Satins, and the cha-cha beat lacked the rhythmic thrust of gospel (what Ray wanted most of all).
Then came "Down in the Valley," "Home in Your Heart," "If You Need Me," "Everybody Needs Somebody to Love," "Got to Get You Off of My Mind," and his version of Dylan's "Maggie's Farm," one of the earliest times a soul singer took on one of Mr. Zimmerman's compositions-there's Sam Cooke's "Blown' in the Wind", from Live at the Copa in 1964, and, though she was likely doing them live, recordings of Nina Simone performing "I Shall Be Released" and other Dylan songs weren't released until 1969, years later. (And that's a compilation someone should release, since it's one of the great untold stories of American pop.) All these singles (and some of the b-sides) were masterpieces of a music in transition, with that voice backed by all manner of proto-soul and pop-soul arrangements. Ungainly and yet unmistakably vital, Burke's "King of Rock and Soul" moniker speaks volumes.
And then suddenly it's 1965 and Solomon Burke-a singer so insistent and powerful that no less an authority than Atlantic founder Jerry Wexler always called him his favorite-was suddenly past his prime. The same year that Otis Redding's "Otis Blue" came out. The voice may have been timeless, but to the marketplace Burke simply belonged to a less hip era. Everyone covered his songs, and Burke was included in the Soul Clan, an ill-fated supergroup with Joe Tex, Wilson Pickett, Redding, Ben E. King and Arthur Conley, where he came off as both loftier than his peers and strangely irrelevant.
The voice though, it never missed a beat, and while charts shunned him, Burke did just fine for himself on the road. His last Atlantic releases, 1967's King Solomon and the follow-up, 1968's I Wish I Knew, seemed to acknowledge that Solomon Burke could make the same kind of record as Pickett or Tex. But by then, it was too late to establish Burke in an era that was already slipping away; following the lead of James Brown, the music was getting harder, more cyclical, and funkier in ways that didn't suit King Solomon's gigantic heart. At the same time, the prevalence of rock lead Pickett to record a drone-y "You Keep Me Hangin' On" and cover "Hey Jude" with Duane Allman on guitar. It didn't help that-and maybe this is personal bias-I've always found these Atlantic sessions to be strangely tentative, with both Burke and the band waiting to be provoked and no spark ever catching.
Maybe Solomon Burke really did thrive on the ridiculous, clamorous tension at play in the phrase "rock and soul," or in the sound of those early hits. Or maybe all Burke wanted, needed or expected was a decent song and a band that knew how to stay out of the way. At any rate, from that point on, the voice was an entity unto itself, a nomad snaking its way through several decades' worth of discography.
Although it limits itself to Southern soul, Peter Guralnick's Sweet Soul Music is probably the single best book written about the genre. Burke, while neither Southern nor part of the golden age that began with Stax, is one of Sweet Soul Music's main characters. The book expands to make room for him, a reflection of both Guralnick's deep appreciation of Burke the musician and his friendship with Burke the man. It was confounding to find Burke cast as every bit the equal of Redding, Pickett or James Brown, all household names who, as someone new to the genre and looking to learn more, I saw as basic training. Guralnick, appealing to the voice, insists that some of the genre's most essential singles still bear the stamp of the Brill Building, from a man who, as the Guardian put it in their obituary, "found himself eclipsed" at his label by the very acts he had inspired. Pop moves fast; to realize that Burke's versions of "Down in the Valley" or "If You Need Me" destroyed those of his admirers, with or without the right groove, is to fundamentally throw its engines in reverse. It's a powerful way to shake up one's understanding of pop's mythology of endless, mercenary progress.
Or, to put it another way: after his death, I asked a friend-who probably wouldn't identify himself as a music dork-if he had heard of Solomon Burke. He said yes, that he's heard the man via this decade's much-hyped, alt-friendly comeback records. In his mind, Burke was "kind of like Buena Vista Social Club." I asked him if he knew about O. V. Wright or James Carr; he responded, enthusiastically, that he had some of their stuff. Solomon Burke was a major figure turned invisible, too regal to be an underdog, and without any of the quirks that made Wright, Carr or Howard Tate into shibboleths of a sort. He invented the mainstream, then was denied it, even as he remained its single most powerful instrument. I guess that's a sad story, but then again, it presumes that the market is mightier than that voice.
Bethlehem Shoals, a regular contributor to NBA FanHouse, is a founding member of FreeDarko.com, whose Undisputed Guide to Pro Basketball History
will be published by Bloomsbury, USA in November.