You Can Put Your Top Back On Now: Rediscovering the Women of Fluxus at MoMA
by Seth Colter Walls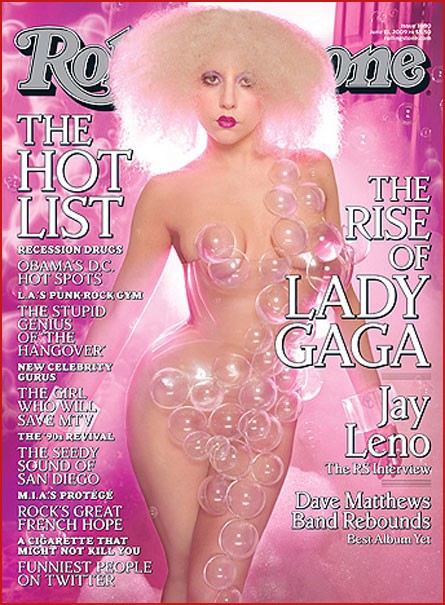 To talk about gender and its impact on art in 2010 is to lower yourself onto a playing field strewn with lots of dead and injured (or just plain exhausted) culture warriors. Franzenfreude! The pastiche of Gaga! And don't forget Paglia on Gaga! It's a total combat zone-which is fair enough, given how long, and how unthinkingly-slash-purposefully the whole culture scene has been dominated by the straight white male outlook.
And yet, at the close of many an IM chat or comment thread, you will frequently see some throwing up of hands. As if to say: yes, we've processed this new event, its gender consequences and the backlash to their having been pointed out. And what next? What are the "action items" we'll all be leaving with? How to be more conscious about processing the limitations of art history, even as art-future is barreling down on us?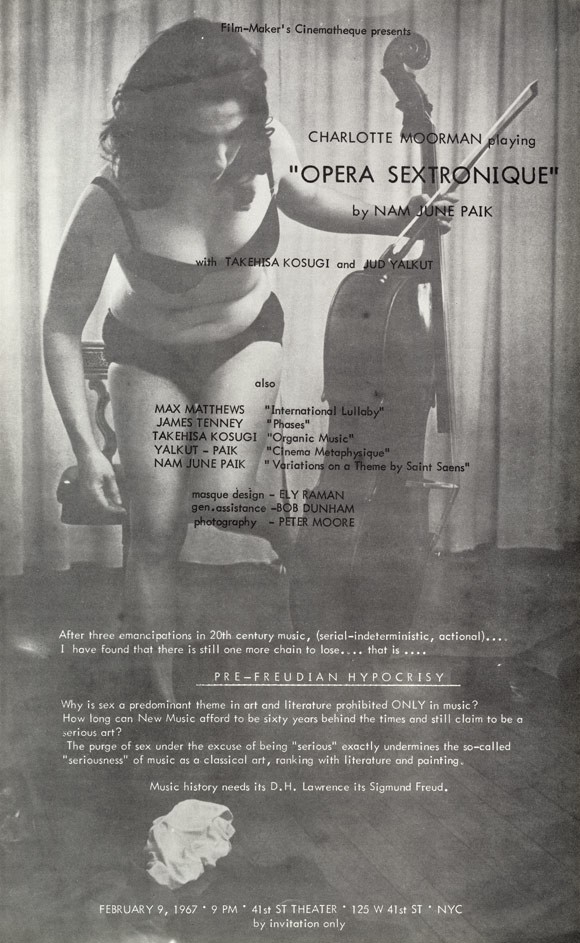 Meghan O'Rourke wrote something useful about this in Slate recently, regarding the debate over Franzen, his new novel and the fact that a splashy new book just so happens to come with that gendered, possessive pronoun attached. "I'm interested less in arguments about the relative merits of Franzen's latest novel, Freedom-I'm halfway through and find it artful and engaging," O'Rourke wrote, "and more in the deeper question raised by the debate: Namely, why women are so infrequently heralded as great novelists."
This goes some part of the way toward making a more useful conversation for everyone, in that it sets to the side the merits of one artistic practitioner to allow for the bigger discussion. But also very good was how, a few internet news cycles ago, Titus Andronicus guitarist Amy Klein took to her blog to register a complaint about the uber-sexualized nature of women as depicted by mainstream music publications. That is, she bracketed out the art entirely to talk about the media's manner of packaging and presenting it to a "reading" public.
In her post, Klein recalled watching her boy bandmates positioned at the magazine rack of a truck stop. Initially, she figured they were huddled around a pornographic publication, so focused was their collective gaze — in that conspiratorial, too-quiet manner of straight men looking at the female form (so sue us). She was wrong, in a way, but all too close, really, since the Rolling Stone cover image in question was "a photo of Lady Gaga wearing pasties and not much else," which prompted Klein to declare that she was becoming "increasingly alienated" by the magazine.
Sure, it's Rolling Stone, she wrote. And sure, magazines on the whole have to hustle for the requisite amount of paper that it takes to print things on paper, these days. But still, Klein wanted the community of arts-journalists held to a higher standard. "We deserve to see ourselves as present in pop culture in some capacity that does not totally dehumanize us, and overly sexualize us, and turn us into objects for the straight male consumer to ogle," Klein wrote. "And since there are women fucking DOING incredible things in the music scene these days, we deserve to see images of women DOING things, alongside men, and not just passively posing, semi-naked, for those men's titillation. Got that? Okay!"
And so this is where it hit home, as it were, for me.
When reading Klein's post, I felt a catch at the back of my throat — one that reminded smug, experimental-arts-loving me that I couldn't just dismiss this as a mainstream arts-journalism problem. As much as consumers of the more obscure pleasures may like to think that ours is a world free from the same old unexamined privileges — liberated from the mainstream, liberated from its constraints! — it ain't necessarily so.
To wit: at the Museum of Modern Art, the most radical exhibit of the moment isn't being displayed in the building proper. Its off-to-the-side status is as telling about the nature of an underlying issue as anything written in the curatorial text (about which — the curatorial writing is also great). But the fact that the exhibit exists at all is a small miracle. Perhaps because of this status, it is also one of the most intense pleasures of the city I've encountered so far this year.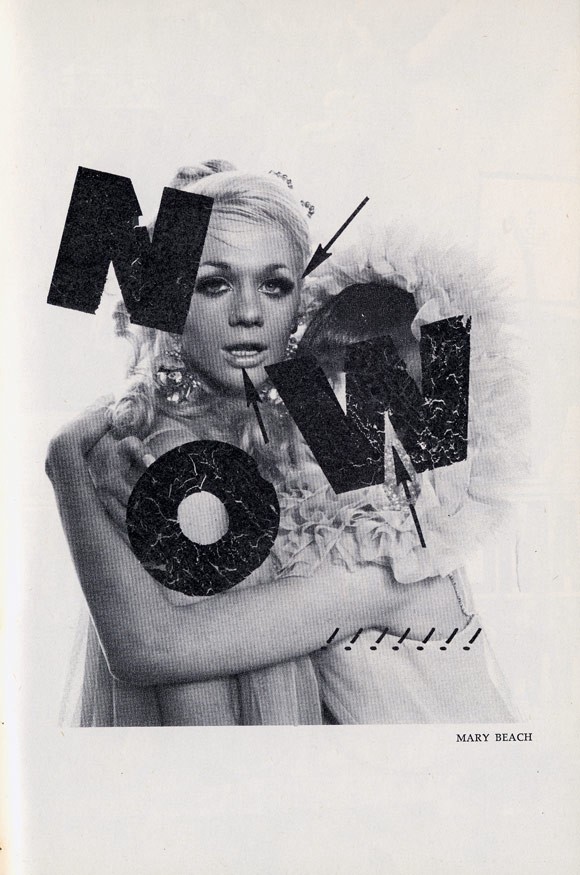 Mary Beach. Concrete poem. In The San Francisco Earthquake 1, no. 3 (1968).)
Accessed either by walking to the rear of the sculpture garden, or else via the separate entrance at 4 West 54th St., the basement level of the Cullman Education building is a place for MoMA's library department to play around with the organization's formidable holdings. In addition to a space for some community-minded outreach projects, such as work by high school students (thus the "education" bit), there is a small space for some inspired curatorial work. The current show in this space, "Experimental Women in Flux," is the work of two MoMA librarians — Sheelagh Bevan and David Senior — who have dedicated the half-dozen vitrines in the space to focus on, in many cases, the lesser-known women who participated in the Fluxus movement of the 1960s. (This primary-source material — recently purchased by MoMA from The Gilbert and Lila Silverman Fluxus Collection — has yet to make it into the main museum, though it may down the road.)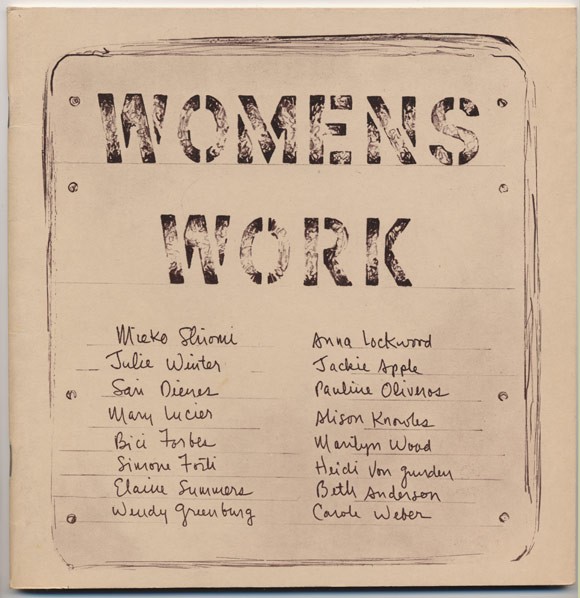 "I would say that the works by these women have been ignored for the most part," Bevan said. "Alison Knowles, Yoko Ono, and a couple others have had international careers. But so many of the other women who were central to the movement — their names are always last. You'll hear about Joseph Beuys, and other men who were just involved briefly, before you'll hear about them."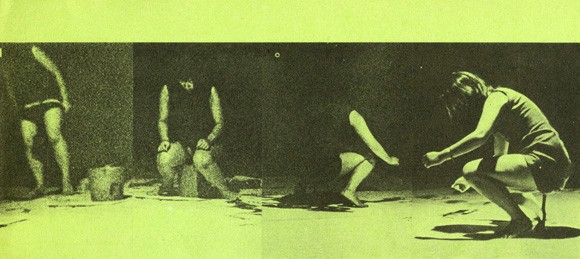 Body art — maybe you know a little bit about that? The look-at-me-I'm-naked school of things? It has its roots in the performance works of Carolee Schneemann, Ono, and other more tertiary Fluxus figures like Charlotte Moorman, who was dubbed "the topless cellist" after she removed her bikini top during a performance with Nam June Paik (see the image at top, next to Gaga). But then, these women all did more than just strip down — even if the mostly straight dude-edited Fluxus journals of the time (many on display in this exhibit) tended to focus on that aspect of their participation.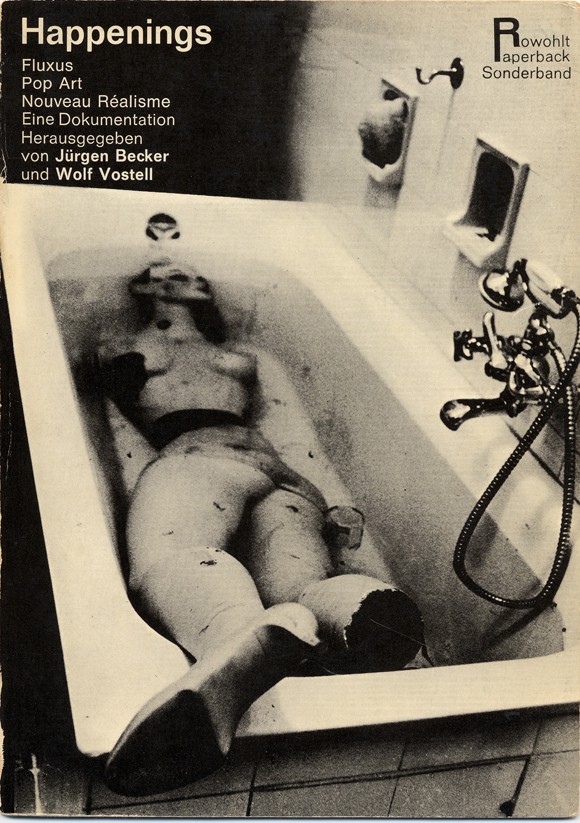 "Women involved in Fluxus have primarily characterized their experience in these events as liberating," Bevan and Senior write in the exhibition text. "However the images of women in these early catalogues and magazines — all of which were edited by men — tell multiple, contradictory stories of artistic agency and vulnerability." Boy and how.
Schneemann's most famous work was a absurdist piece of performance nudism called "Meat Joy," in which men and women rolled about groping sausages and chickens and such.
More than a decade later, however, Schneemann had a less enthusiastic take on Fluxus's nudity economy. In a selection from a 1990 poem highlighted by Bevan and Senior at MoMA, Schneemann wrote: "Showing my pussy / I could always make it onto the happenings boat." Later on in life, Schneemann felt sufficiently limited by her reputation for "Meat Joy" that a retrospective book of her words was actually entitled "More Than Meat Joy."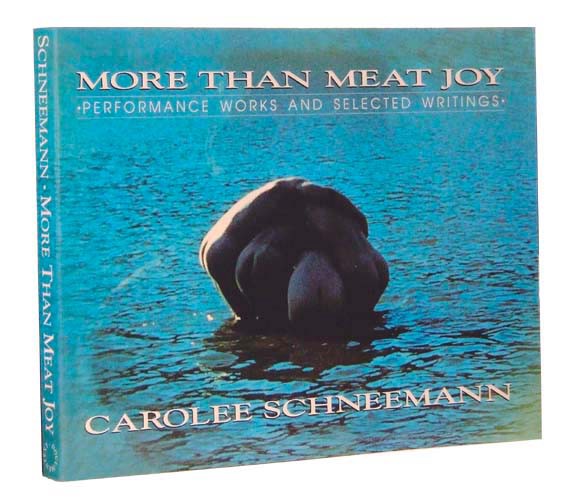 Recently, I checked out a book from the library about Fluxus founding member George Maciunas, called Mr. Fluxus. Described by its editors as "a collective portrait" that is told from "from so many points of view," there is one notable non-participant who does not turn up on the "contributions" page, or even in the index. That would be Carolee Schneemann. Same goes for Charlotte Moorman, who, if you consult the primary source documents and period press coverage, isn't even listed as an "official" member of Fluxus.
Still, Bevan and Senior include Moorman in their exhibit, and in doing so, offer a generational corrective to the cramped gender politics that may have precluded a stronger overall role-or recognition of that role-for women in Fluxus at the time. "That's a difficult issue," Bevan said. "George Maciunas named Fluxus and was certainly the central figure organizing concerts and performances — both in New York City and in Europe. He also expressed a lot of opinions from time to time about who truly was in Fluxus who was not. At the performance of Stockhausen's "Originale" — which Moorman helped organize — Maciunas was outside ticketing the performance as elitist. But Charlotte Moorman was definitely part of the overall experience. At the Pompidou right now, they're also showing Moorman as part of Fluxus. But that's not the official history."
Not everything in the MoMA library exhibit is so focused on the intersection of misogyny and body art, as performed by women. The more straightforwardly delightful half of the small exhibit has to do with learning about artists you've never seen much by (even if you've heard of them in a footnote-y sort of way). I had never actually listened to the music of Mieko Shiomi, who, in addition to working with book-art (like with her "Spatial Poem"), also contributed graphic scores to a volume edited by John Cage (yeah, Bevan and Senior have that on display, too). There is a pair of headphones attached to one of the vitrines, via which you can hear a series of Shiomi's compositions dedicated to various members of Fluxus. I stood and listened for about 15 minutes, basically in heaven.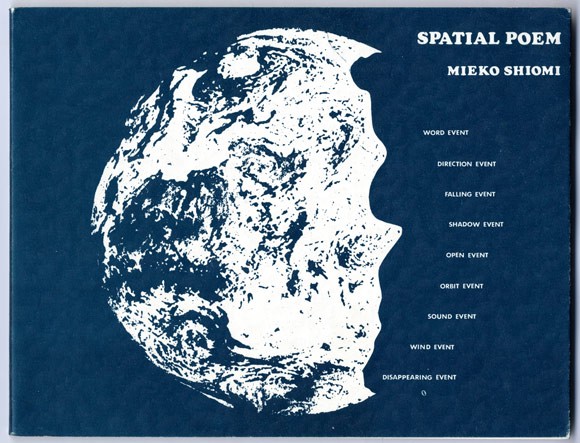 The exquisite overall quality of this work — in printmaking, in graphic composition, and in performance installations — broke my heart a little bit. I lingered in the Cullman Education annex for over an hour, trying to vacuum up as much knowledge about this material as possible. Once I was home, I found a trove of Moorman performances hosted on the essential avant-garde archive UbuWeb. Of particular note was Moorman's take on a piece by Karlheinz Stockhausen, "Plus-Minus," that the cellist debuted in New York.
[wpaudio url="http://www.mischiefandmayhembooks.com/Plus-Minus.mp3″ text="Plus-Minus" dl="0″]
"Moorman is a unique case because she was sort of left out of every history," Bevan said. "She wasn't really a full member [of Fluxus], or accepted at the time, even though she was a prominent performer and interpreter of Nam June Paik's works. I used her image at the top of the website because she really began to crystalize a lot of these issues for me. There was something about her being a woman performer, and so adventurous, but also selfless — facilitating other people's work. But whenever she does appear in art history, it's with her shirt off. Even though, at the time, she was also performing in army fatigues and football uniforms and all sorts of weird getups. She was more than just 'the topless cellist.'"
If it sounds like I'm making a helluva lot of fuss over six cases of archived pamphlets, you should know that's not all that Experimental Women in Flux represents. On the level of user-experience, it's also the best show of book-art I've ever seen. Obviously, you can't flip through the publications under the glass. Each pamphlet or book is open to one page, chosen by the curators, and bam: that's it. But Bevan and Senior have one last good idea in store here, which is a trio of HD monitors bolted over the vitrines. The major books and publications have all been filmed in sequence, with appropriate pauses given between pages, so you can actually get a substantial view of the most important Fluxus books in MoMA's new collection.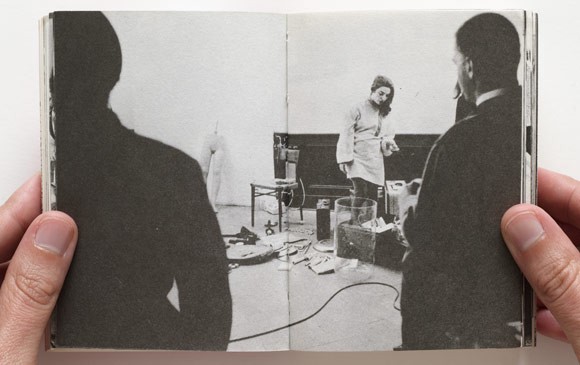 "That was a really exciting thing for us to do," Bevan said, "because we wanted to figure out how to make the book exhibitions come to life. These books are even more absurd under glass, since they're interactive and reliant on reader responses and manipulations by nature. The boundaries are so blurry."
So listen — I can't help you out with the Rolling Stone business. It's above my pay grade. And I enjoyed Freedom, myself! But if you're at all despondent about the status of women being taken seriously on their own terms as artists: please go see this show. As large in ambition and heart as it is small in size, it suggests that we're not just in a permanently descending spiral of dumbness. It shows how posterity can be reclaimed from the harrowing narrowness of any age — and how maybe the good art will out, in the end.
Experimental Women in Flux runs through November 8 at MoMA's Cullman Education building. In MoMA's main space, you can currently see Carolee Schneemann's edited version of "Meat Joy" on a video display outside the Roy and Niuta Titus theaters. In January, Alison Knowles will be present at MoMA to perform her seminal work The Identical Lunch.
Seth Colter Walls is The Awl's chief correspondent for the difficult arts.