TV Recap: "Three's Company": 'Chrissy's Cousin,' Season 7, Episode 85
by Robert Lanham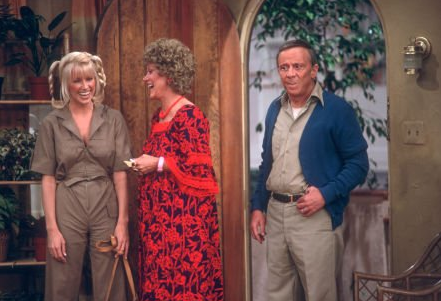 Last night on "Three's Company," there were hijinks. Hijinks, wacky scenarios and sexual innuendo. And, spoiler alert, somebody overheard a conversation while standing outside of a door and misinterpreted it as somebody else having sex. (Well, that happened!) In fact, the whole episode was a comedy of errors.
After months of all of us devoted recappers being stuck watching "Rhoda" reruns and nonstop hostage hysteria-and are we the only ones who think the way Jane Pauley whistles the s's in Syed Ruhollah Moosavi Khomeini is sexy?-America welcomed the return of its favorite platonic trio: Jack Tripper, Janet Wood and Chrissy Snow. Wait a minute, let me adjust the antenna. That's not our ditzy Chrissy in terrycloth short-shorts tripping over her own long legs at the Regal Beagle! It's her klutzy cousin, Cindy!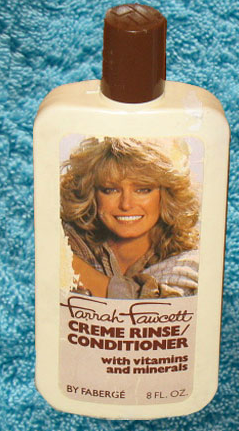 As reported before, our favorite bleached airhead Suzanne Somers is still having a Chrissy fit over her contract-she thinks her buns are worth $150,000 an episode-which, maybe they are. Still, she's not exactly as big a star as She-Who-Dons-the-Red-Bikini. I mean come on…. Somers doesn't even have her own crème rinse conditioner line yet!
Somers initially blamed her absence on a broken rib, a story that was almost as credible Greg Evigan's latest tall tale-sorry B.J., not even The Bear believes you had to quit The Best Little Whorehouse in Texas because you ate a "bad order of clams casino."
But back to the recap. Janet and Jack are having a hard time making rent since Chrissy is now living in Fresno. In walks trips cousin Cindy (Jenilee Harrison), an innocent farm girl in piggytails who offers to sublet the room. The dialogue is as sharp as ever, and from the moment we meet her, we know Cindy is every bit as ditzy as her cousin Chrissy:
Jack Tripper: I have two surprises for you two girls.
Cindy: Oh, I love surprises. It's funny that you never suspect them!
Later, our favorite building manager, Mr. Furley, shows up in a very cool Hawaiian-shirt with pineapples on it. He gets more bug-eyed than Al Jolson at a minstrel show (too soon?) when Jack and his best friend Larry pretend to be queer roller-skating partners. It was a moment of surprising character development.
Doubling the fun, Stanley and Helen Roper — is that a flowered muumuu or a bathrobe, Helen? — return in a cameo, no doubt to remind us of their spin-off "The Ropers." (When will this spin-off trend end? Before you know it, Larry will have his own show called "Gratuitous Chest Hair." Or God forbid, Joannie and Chachi will get their own show.)
But we digress. Attempting to show Furley how to fix a broken doorbell, Mr. Roper ascends a ladder propped against a wall in the gang's apartment. Hilarity ensues.
Helen Roper: I hope you two geniuses can fix the bell. I can't remember the last time Stanley rung my chimes.
Stanley Roper: Very funny Helen.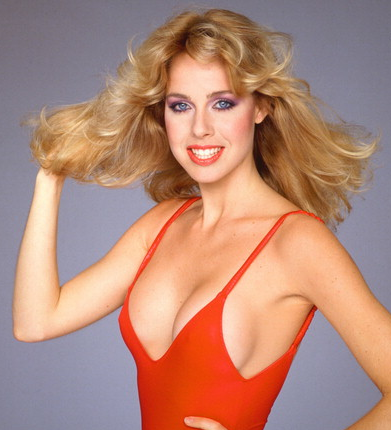 While still on the ladder, Stanley calls Jack a "Tinkerbell" and gestures in his direction with a limp wrist. "Can you flap your wings and fly up here," says the irrepressible joker with his signature smirk. It was hilarious. We haven't seen much of Jenilee Harrison before, but given those legs she'll be a shoe-in against Linda Evans in the long jump event on the next "Battle of the Network Stars."
According to People, Harrison's credits include a Prell commercial and an episode of "CHiPs" where Ponch pulled over a vanload of cheerleaders from the Oakland Raiders. Replacing Chrissy is clearly a huge break for this lanky Hollywood newcomer. If she's anywhere near as naïve as the character she plays on the show, we hope someone is looking out for her in Hollywood. We'd hate to see her get mixed up with the wrong crowd, doing poppers and huffing nose candy backstage with Deney Terrio after he tapes "Dance Fever"!
Next week, we have a very tough decision to make since two Richard Chamberlain miniseries, "Shogun" and "The Thorn Birds," will be premiering opposite "Three's Company" on the two other channels. Decisions, decisions.
Robert Lanham is the author of the beach-towel classic The Emerald Beach Trilogy, which includes the titles Pre-Coitus, Coitus, and Afterglow. More recent works include The Hipster Handbook and The Sinner's Guide to the Evangelical Right. He is the founder and editor of FREEwilliamsburg.com.